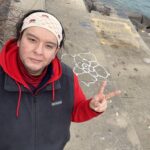 Luke Tanen and Paul Kitti speaking in front of a crowd before the show starts.
A warm and sunny afternoon helped set the stage to the outdoor event, with Wrigley Field's Gallager Way serving as the backdrop, highlighting innovation in the sports industry. Chicago Innovation presented "The Sport of Innovation," celebrating and discussing the technological achievements that helped shape the sports industry and culture.
| | |
| --- | --- |
| Luke Tanen, President & CEO  of Chicago Innovation | Paul Kitti, Vice President of Marketing & Events |
Luke Tanen, president and CEO of Chicago Innovation, and Paul Kitti, vice president of marketing and events, conducted the crowd into what was in-store for the evening by introducing the all-star lineup of Chicago sports industry leaders; the moderator of the night was none other than Ron Gleason – former director of news and programming of WBBM Newsradio, Tom Ricketts – Executive chairman of the Chicago Cubs, Michael Alter – Owner of the Chicago Sky, Kevin Cross – President and GM of NBC Sports Chicago and Telemundo Chicago, Sarah Spain – Co-owner of the Chicago Red Stars and ESPN columnist and SportsCenter reporter, and Danny Wirtz – CEO of the Chicago Blackhawks. Giving insightful knowledge and perspective on how they helped change Chicago sports for the better.
From left to right: Luke Tanen, Ron Gleason, Kevin Cross, Sarah Spain, Danny Wirtz, Tom Ricketts, and  Michael Alter.
"Chicago has all the ingredients for people to be able to find what they need. We have the venture capitalists and investors, companies that work in the needed local areas, universities with great talent and research abilities, you need all these pieces. The city serves as a great network for great ideas that want to take the next step," said Tanen.
The panel then discussed the challenges of the ever-growing new technological advancements and how they were able to adapt to it. Tom Ricketts spoke about how they were trying to drive-up fan engagement experiences in the ballpark. The Cubs and Valance have set up a mobile website for fans to enter their phone number to activate their SMS wallet, which can be redeemed for in-ballpark perks like store discounts and free drinks to name a few. On the players' side of technological advancements they were analyzing massive amounts of data to better determine how to approach the game – like compiling the data collected on pitchers and replicating a pitcher's throwing velocity onto a VR headset, so batters can familiarize themselves with a pitcher's throwing speed and get an advantage on hit timing.
| | |
| --- | --- |
| | |
Sarah Spain is a sports fan herself; she knows what fans are interested in knowing and what they're enthusiastic to hear. Whether it's tweeting instant news or providing analysis of what's going on behind the scenes, Spain is always up to date on most current events. Spain discussed on the difficulty of craving out a place for women's soccer in Chicago and being the co-owner of the Chicago Red Stars as a women, "I'm thankful and appreciative that the industry looks different now, but I still think there's room for improvement. Being a woman in the industry still requires having to deal with an unwarranted and unfair amount of harassment and disrespect. The industry has gotten better, the ceiling has been set high, but somethings still remain the same," said Spain.
"Women's soccer has gained national attention when the USWNT won the 1999 World Cup and the photo of Brandi Chastain on her knees holding her jersey after the winning the game became famous in women's soccer, that World Cup helped paved the way for the future of women's soccer and why we're able to market the Chicago Red Stars in the U.S.," said Spain.
| | |
| --- | --- |
| | |
In the media side of sports industry, Kevin Cross chimed in about the changing landscape of broadcasting live games and giving what fans want. "We're offering fans multiple streams or channels, which fans can pick and choose customized views into the game of their particular interests. Aside from sports content being delivered to fans, is the evolving personalization of what the content can look like," said Cross. "The 'multicast' simultaneous airing of a sporting event over different methods of media (TV, digital, social, in-app) but also with different announcers, personalities, and themes to offer a personalized viewing experience." There were some technological innovations that Cross was delighted of and helped make the game better to view. "There are some places that people are unable to reach where a drone can. Camera positions have been mainly static in most games. Not too long ago, the fly-cam was introduced, a camera attached to a wire that could deliver a great view from above. With drones however, they introduced a new ability to view the game in this new era of broadcasting," said Cross.
Chicago is store for exciting new innovations in sports media and the whole industry, with Chicago Innovation having a hand towards changing the dynamics in the marketplace of sports innovation, making the Windy city the center of it all.
For more information about Chicago Innovation and any upcoming events, please visit Chicagoinnovation.com.