Of the Remaining Seven
The  stately homes at 1250, 1254, 1258 and 1260 N. Lake Shore Dr.
By Megan McKinney
Ever wonder about those seven remaining North Lake Shore Drive mansions we keep hearing about? Maybe you've imagined what it would be like to live in one of them. They are so imposing, so handsome on the exterior. What are they really like? Who built them? How have they survived when the rest have vanished?
The four above are clustered together in the 1200 block, and three others—their blond façades glistening in a dazzling row—are just north of Rosario Candela's superb cooperative at 1500 Lake Shore Dr.
Well, you can forget about living in one of the golden three—two of which appear below. They may become residential again sometime in the future, but probably not in my lifetime or yours. However, they are not without history or romance, and Classic Chicago expects to publish two stories concerning them later in the year.
15l6 and 1524 N. Lake Shore Dr.
For now, we are concerned with Lake Shore Drive mansions that continue to be residential, which brings us back to the 1200 block. Many of our readers have actually been inside two of the houses, whose current and recent owners are members of the inner circle.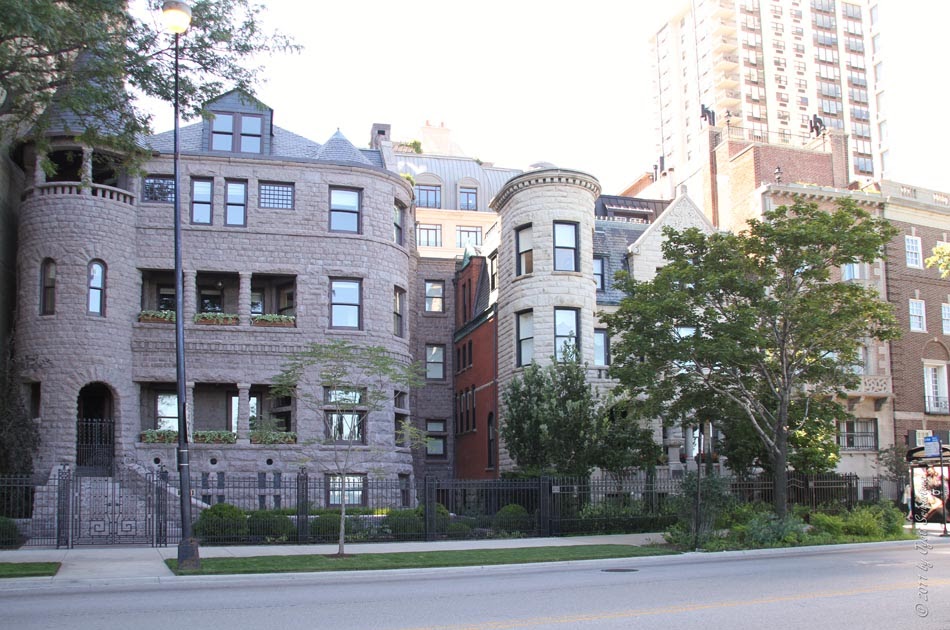 The partially hidden numbers 1250-1260 N. Lake Shore Dr.  from another angle.
We'll begin at the north end.
Number 1260, facing Goethe Street and tucked in between the Drive and Stone Street, is among the most desirable houses in the city.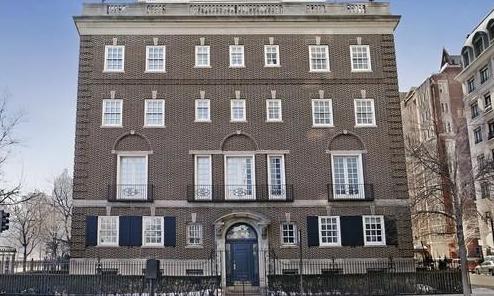 1260 N. Lake Shore Dr.
Twenty-first century taste responds to Georgian-inspired architecture, and, like the Arthur Heun-designed 1416 N. Astor a few blocks away, this house both excites and soothes the contemporary eye.
The 10-room mansion was conceived in 1911 by Holabird & Roche. And, until recently, the furnishings in its exquisite interior, created by London's revered Colefax & Fowler, were said to be more valuable than the house itself. Therefore, we should have a peek at what close to $6 million looked like.
Gallery.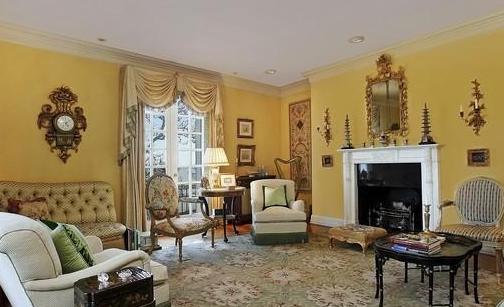 Sitting room.
Upstairs sitting room.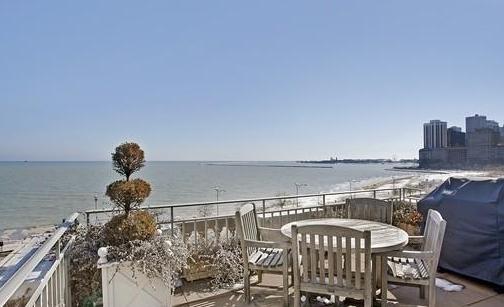 And what a view!
What we didn't see was the handsomely paneled third floor library and five stunning bedrooms, with baths. In addition, there is a finished basement apartment and connecting all the splendor, an elevator.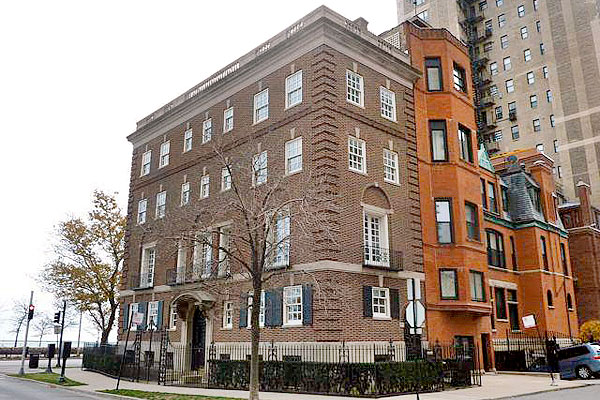 From Stone and Goethe Streets.
It is our policy not to print information about current owners; however, as one might imagine, occupants of these four buildings through the decades have included extraordinarily successful and sometimes colorful Chicagoans.
During the 1930s, 1260 Lake Shore Dr. was lived in by insurance tycoon/hotelier James William Stevens. He was Chairman of Illinois Life Insurance Co., which he founded in 1893, but that wasn't enough. In the early 20th century, Stevens moved on to add posh hotels to his holdings; first was the LaSalle Hotel at LaSalle and Madison, a Holabird & Roche design completed in 1909.  
Then, in 1927, he built the largest hotel in the world, the Stevens, now the Hilton Chicago. James W. Stevens was obviously a great aficionado of the designs of Holabird & Roche, the architectural firm he also commissioned to design the immense Beaux-Arts landmark on South Michigan Avenue.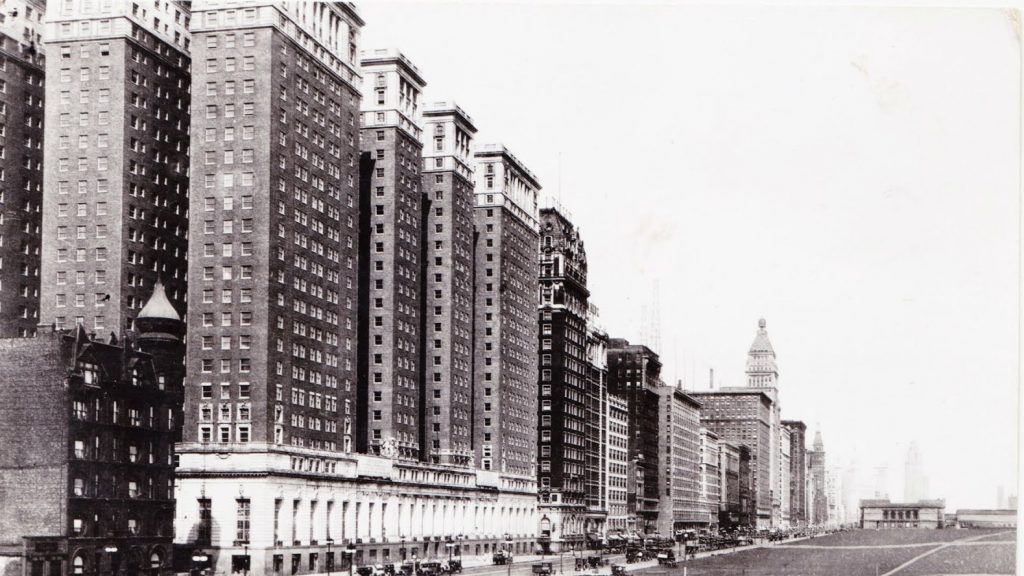 The spectacular Stevens Hotel in 1927; its Versailles-inspired ballroom continues to be home to Chicago's most prestigious social events, notably last week's Lyric Opera Opening Night and Ball and the December Passavant Cotillion and Christmas Ball.
The Stevens name continues its fame with James W.'s  grandson, 98-year-old retired Supreme Court Justice John Paul Stevens, who was in the national news again last week with comments regarding the Brett Kavanaugh confirmation.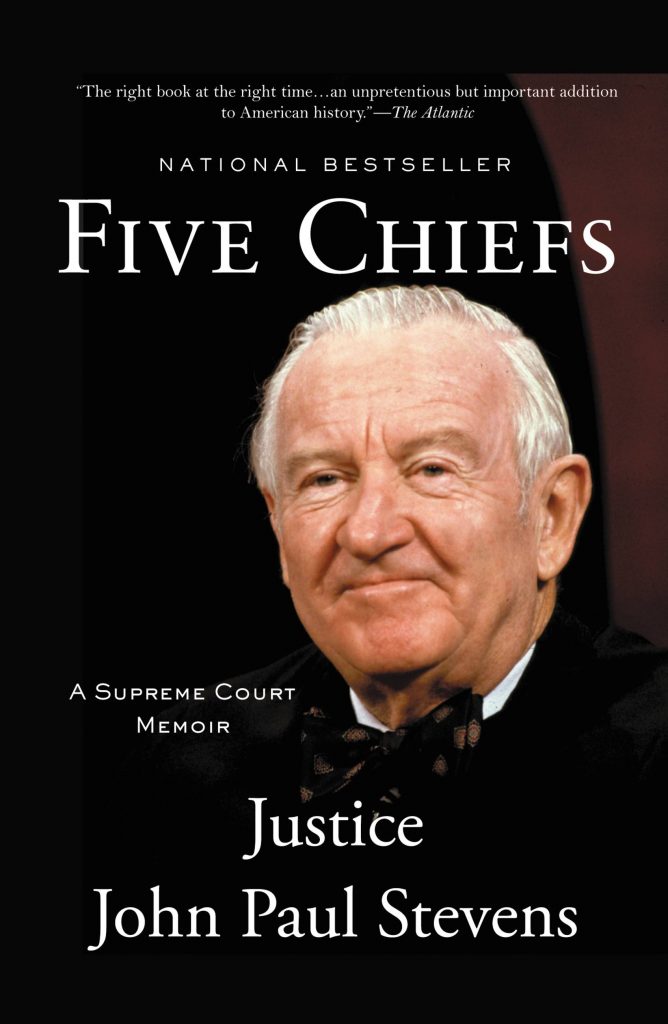 Next door to 1260 is the Venetian Gothic 1258 Lake Shore Dr., built in 1895 for Arthur Taylor Aldis, also from a Holabird & Roche design.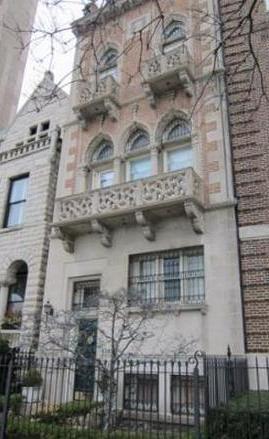 The exotic 1258 North Lake Shore Dr.
Arthur Aldis and his brother Owen, whose house was nearby on Bellevue Place, had come out to Chicago from St. Albans, Vermont, following graduation from, respectively, Harvard and Yale. Each was a former lawyer, and together they formed the real estate development and management firm Aldis & Co., with offices in the Monadnock Building.
During the mid to late 1880s, Arthur was engaged in ranching in Wyoming, but returned to Chicago to build this house and participate in the leadership of Aldis & Co., as well as to engage in an active involvement in the social and cultural affairs of the city.
He was a trustee of the Art Institute and belonged to the requisite clubs, Chicago, University, Tavern, Cliff Dwellers, Arts and Onwentsia—the last becoming more appropriate with a move to Lake Forest.
Arthur T. Aldis, the original owner of 1258 N. Lake Shore Dr.
Arthur's wife, Mary Reynolds Aldis, was known for her participation in theatrics, particularly the Aldis Playhouse, which she founded in 1910 at their Lake Forest estate, as well as the plays she wrote and produced there.
Although small and dark, this photograph conveys a sense of the artistic Mary Reynolds Aldis.
Mary was also a painter of watercolors, which were represented by galleries in Chicago and New York, as well as Orlando and Winter Park, Florida.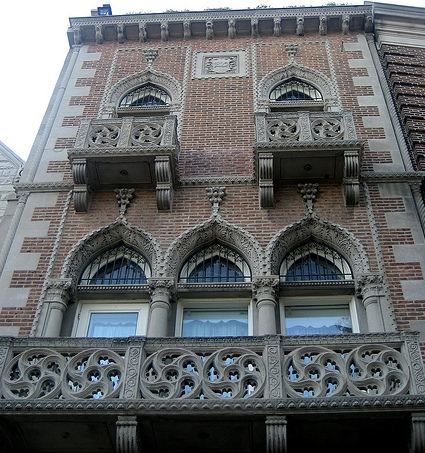 A closer look at the dramatic façade of number 1258, where Arthur and Mary Aldis were the first occupants.
The next house south, at 1254 N. Lake Shore Dr, was designed by Swedish architect Lars Gustav Hallberg for Chicago lawyer and railroad executive Mason Brayman Starring. Starring was not an appropriate surname for Mason, who was as elusive as some of his neighbors were attention-seeking.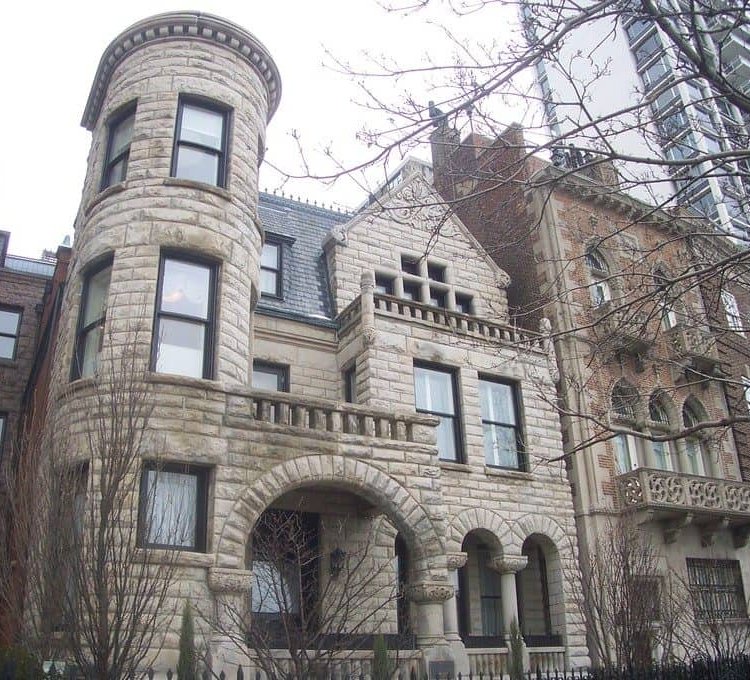 The Starring house at 1254.
He was a lawyer and the son of "a prominent railroad man," who had devised what was then the American system of baggage checking; after his father's death, Mason further perfected the system. He remained a railroad executive, but with very little fanfare.      
His mansion at 1254 was constructed around 1890, as was its neighbor to the south, 1250. Both are examples of the Richardsonian Romanesque style so highly regarded at the time. The two mansions, built within months of each other, are related in more than outward appearance, as will be examined in a companion article.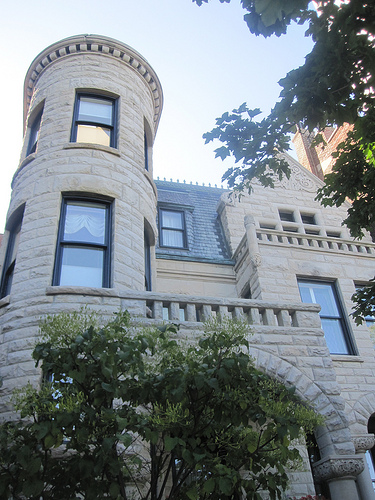 1254 N. Lake Shore Dr.
Coming soon in Classic Chicago is the story of 1250 and its first owner, Carl Constantine Heisen. Through his genius for self-promotion and second marriage to a 20-year-old beauty, German-born Carl became father of the British stage and film star about whom songwriters Rodgers and Hart dedicated their song, "The Most Beautiful Girl in the World." 
 1250 N. Lake Shore Dr.
Remember the above turrets. You will soon see 1250 from the inside looking out. And you will learn the story of the house itself and how it regained its own youth and beauty through the restoration and design skills of Chicago Interior Designer Kenneth Walter of Gray & Walter. 
Author Photo:
Robert F. Carl