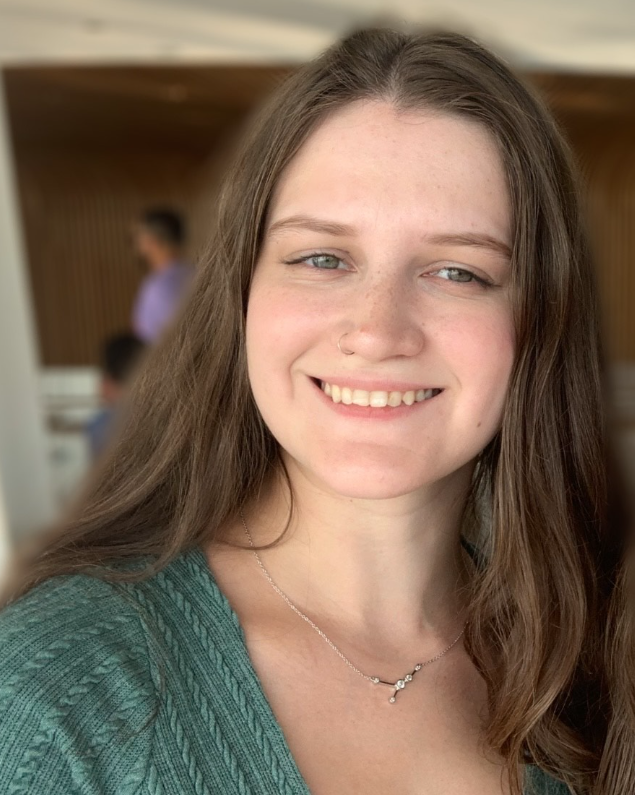 By Annie Delfosse
This spooky season, the opportunity arises to help out adoptable animals in a festive manner. The Bar Dog wine brand has teamed up with the Petfinder Foundation to host the fourth annual HOWL-oween Dog Costume Contest, in which animal shelters across the country will submit photos of their adoptable dogs sporting a costume. Every animal shelter that participates will receive cash prizes, and the shelter whose dog receives the most votes will win a $1,500 award. Our own local PAWS Chicago is a participating shelter.  
Past contestant Chai
At the beginning of the month, Bar Dog's Instagram page began to display photos and stories of shelter animals donning their Halloween costumes, encouraging followers to vote for a favorite pup. Voting will be open up until the very last day of the month.
Past contestant Popsicle
The purpose of the contest is ultimately to advocate for animal adoption and shelter donations through fun and engaging content. Each year, over six million dogs and cats end up in animal shelters, yet only 49% of those animals end up being adopted. PetFinder is a national non-profit which provides grants to animal shelters and rescues, aiming to find homes for more of those animals. Together with Bar Dog, they honor national adopt-a-dog month (October) with this contest, hoping to find forever homes for the costumed pups. 
Past contestant Ember
Toni Morgan, the Executive Director at the Petfinder Foundation, told us a bit more about PetFinder's overall mission. "The Petfinder Foundation has been helping animal shelters and rescue groups since 2003. We are the ONLY national organization that does nothing but give cash and product grants to adoption groups," Morgan said. 
Bubbles, current contestant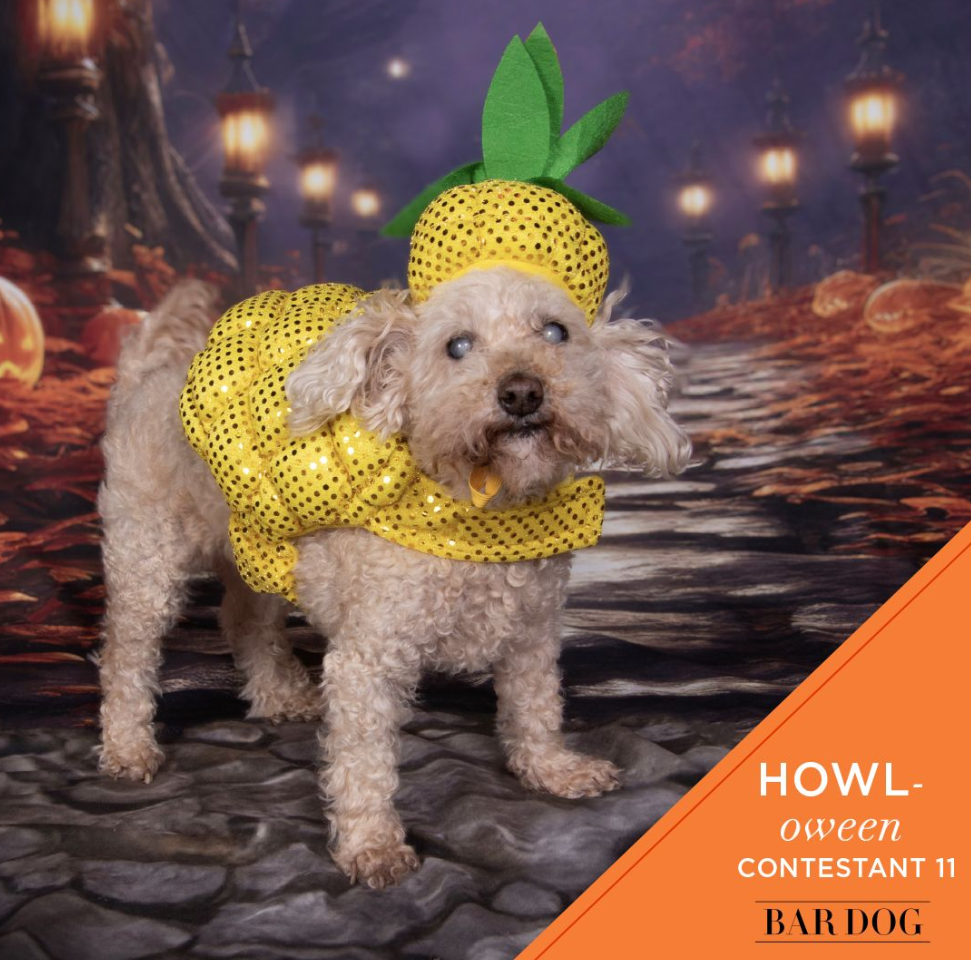 Daisy Mae, current contestant
"Our programs are designed to keep homeless pets physically and mentally healthy so they can find loving forever homes. Our grants put food in bowls, provide medical care, and help rescue animals from disasters. When pets are in need, we're there to help. We've given more than $25 million in cash and product grants since 2003. Our grant recipients include more than 10,000 adoption groups, caring for more than 250,000 homeless pets – from cats and dogs to birds and horses – throughout North America."
Morgan also shared with us that the participants are typically existing Bar Dog partners and that the contest averages about 10-12 shelter participants each year.
Biscotti, current contestant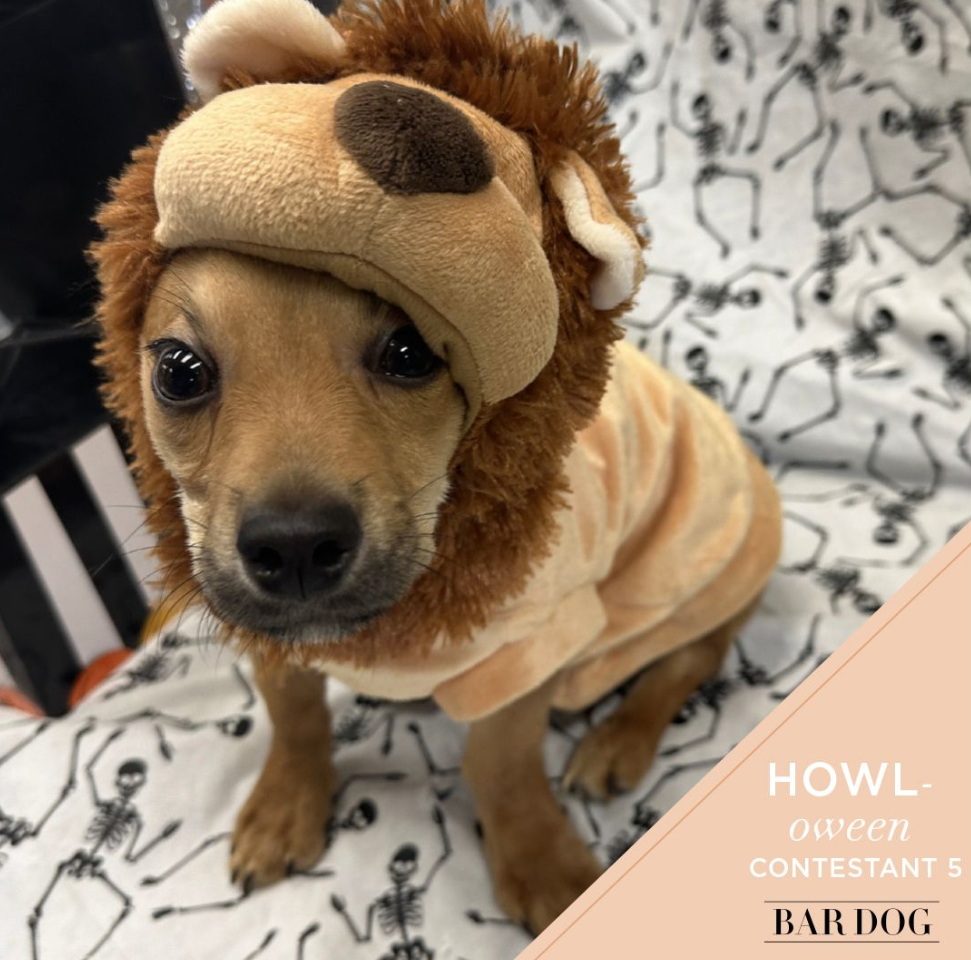 Swifty, current contestant
We also spoke with Tracey Mason, the Senior Vice President in Marketing for Vintage Wine Estates (the producer of the Bar Dog brand). On the partnership with Petfinder Foundation, Mason said, "Our mission statement at Bar Dog wine is, Wine for Humans, Love for Dogs. We found our way to Petfinder Foundation since so many of our wine-loving fans told us that they adopted their pet through Petfinder. We loved that fact that the Petfinder Foundation directly supports the rescue shelters. 
"We created the Bar Dog Gives Back Operations Grant as one way to put our mission into action. (The other way is making great wine of course!) The Bar Dog Gives Back Operations Grant is distributed directly to shelters who apply for immediate needs such as supplies, food and vet services. Many of these rescues operate on a very tight budget so the grants are very welcome."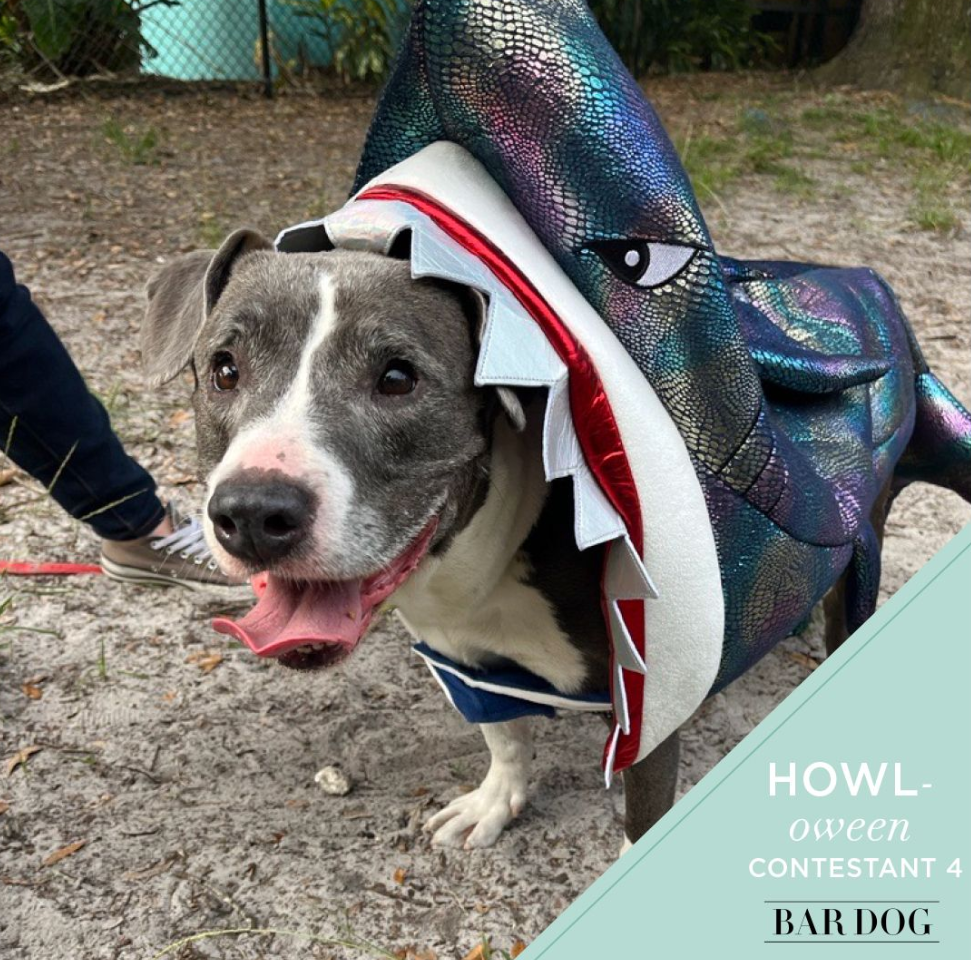 Bobby Elvis, current contestant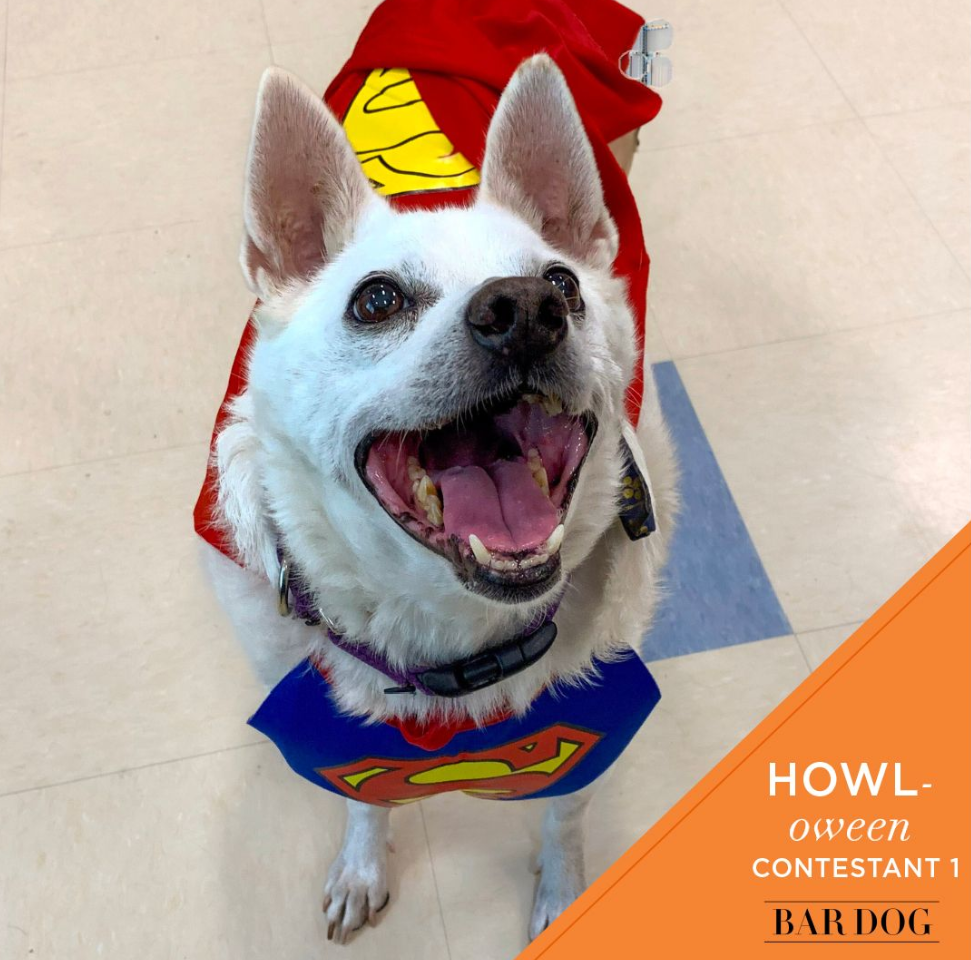 Shiro, current contestant
Mason also shared with us that the most positive experience that has come out of the contest in its four years is the number of dogs that have been adopted during the contest. "We've heard adoption tales not only for the shelter's pup ambassador but the adopters who went to the shelter because they saw the contest and found their new best friend. And these adoption stories aren't only about dogs. Many shelter pets have found their forever homes during the contest month. It's been a wonderful way to connect customers with Bar Dog wine who know they can be part of the campaign by purchasing and enjoying our wine."
Rascal, current contestant
DeVito, current contestant
Outside of the costume contest, Bar Dog has done a lot for the animal community. They created the Bar Dog Gives Back Operations Grant, which they fund each year by donating a portion of the proceeds from every bottle of Bar Dog wine sold. The grant supports Petfinder-vetted, no-kill adoption groups and their day-to-day operations.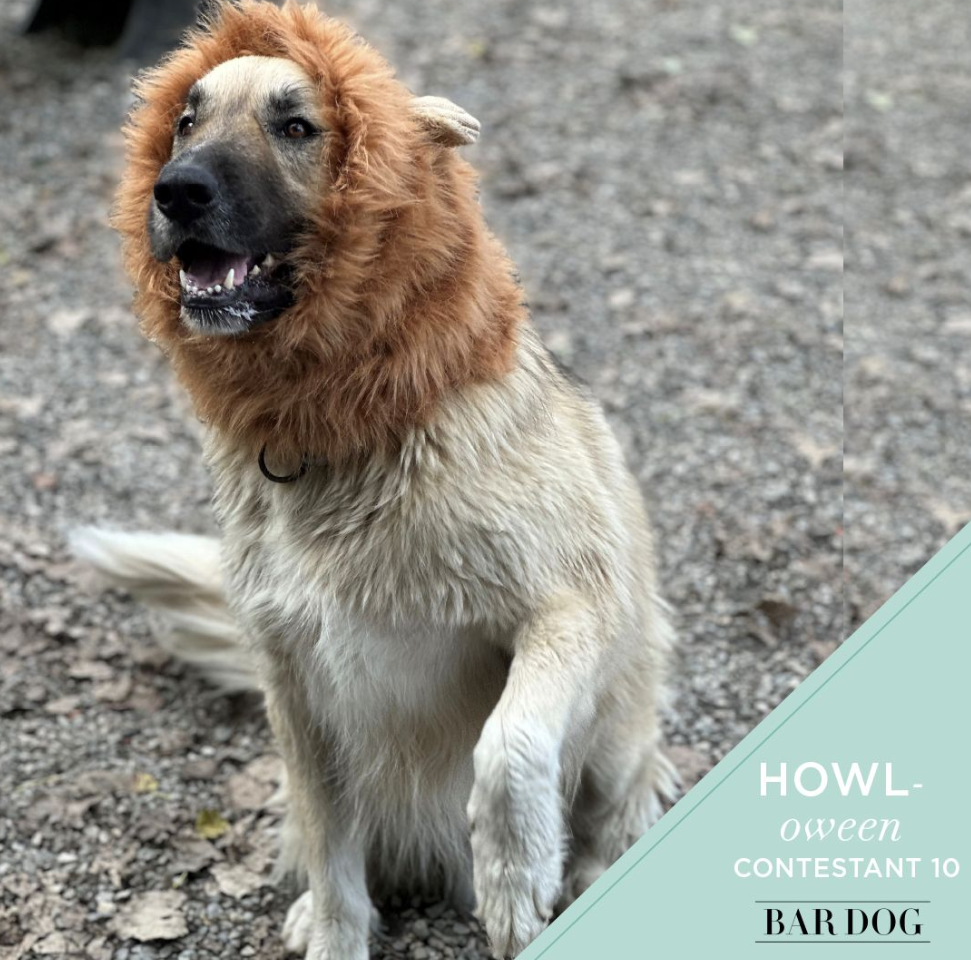 Howie, current contestant
 "Our grant distributes funds which can be used to purchase necessary supplies, food, vaccines, or anything else that may be needed to continue caring for all types of adoptable pets," Mason said. "Bar Dog Gives Back Operation Grants range from $250-$1000 depending on the adoption group need to support the number of adoptable pets they have listed on Petfinder. Grants are awarded monthly throughout the year. Bar Dog Gives Back Operation Grant details are displayed on Petfinder's website. In addition to learning about the program, you can also see several success stories—all of which we are very proud of."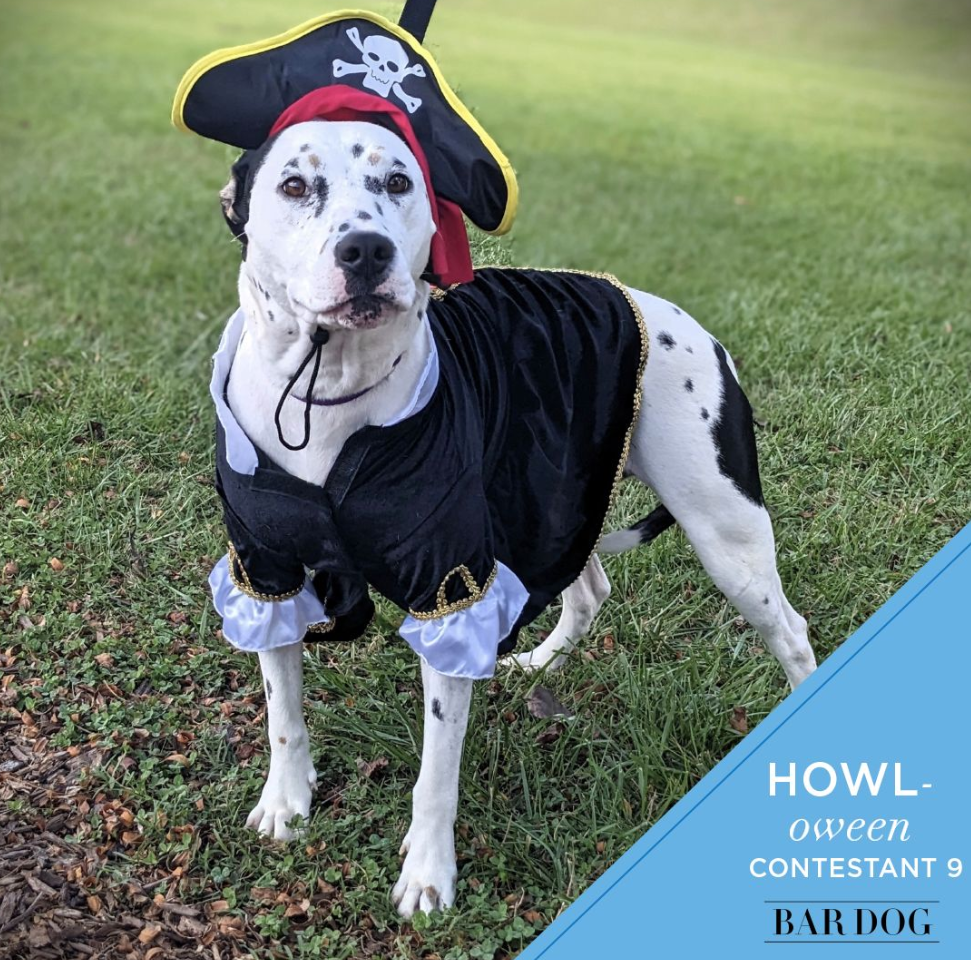 Ink, current contestant
Kenny, current contestant
Mason shares that the best part of the contest is the care that shelter partners take in selecting the pup ambassador and creating their pup's bio. "There is such dedication from the shelter teams to find forever homes for these dogs and all the adoptable pets. We've had several long-term residents and senior dogs entered which has boosted their visibility to potential adopters and resulted in so many forever home placements. Knowing that, I'm just so proud to be part of Bar Dog—a wine brand that supports these amazing shelters not only during the contest but also throughout the year."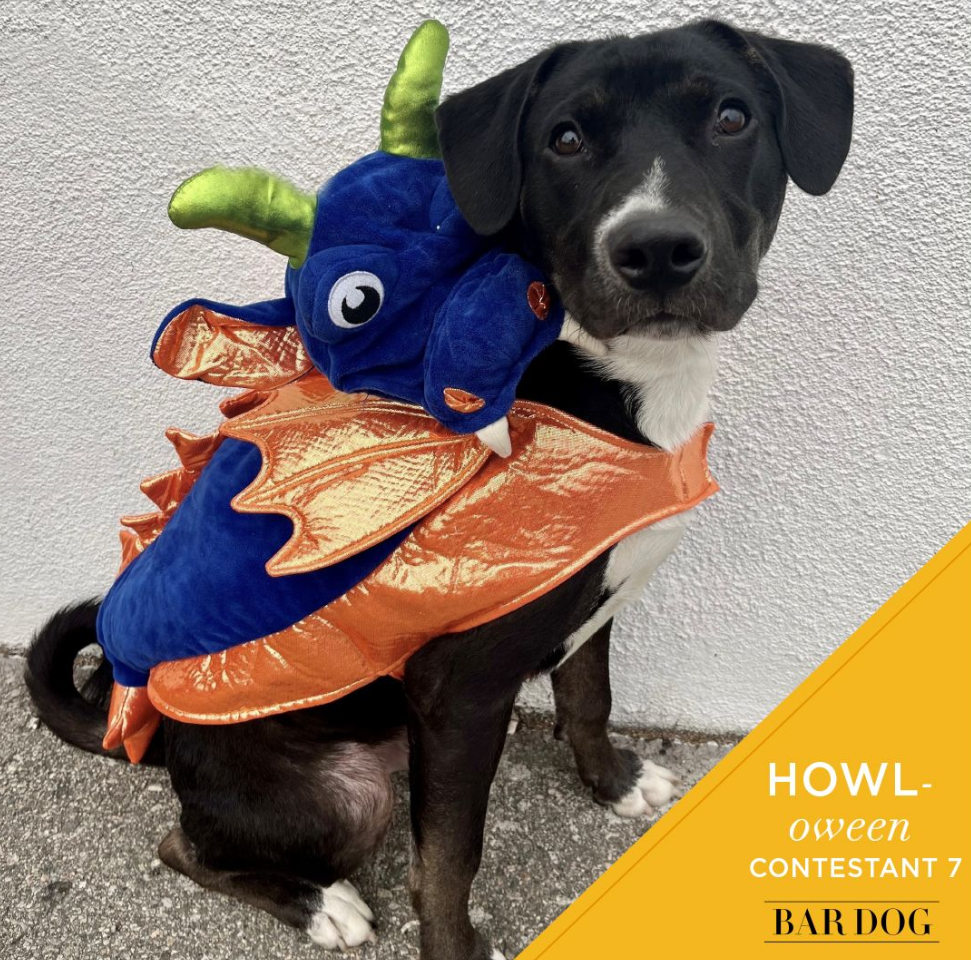 Mercury, current contestant
The contest is run for Bar Dog fans, animal shelter fans and anyone who loves and wants to help adoptable pets. Each and every vote counts toward the winner, though as Mason says, every dog is a winner and will hopefully be adopted before the end of the contest.
Last year's winner was Dash from the Sanctuary for Senior Dogs located in Cleveland, Ohio. He was 7 years old at the time and a fan favorite in his butterfly costume. Though, it was a very close call between all of the contestants. 
Last year's winner, Dash
You can place your own vote for the HOWL-oween contest here.