---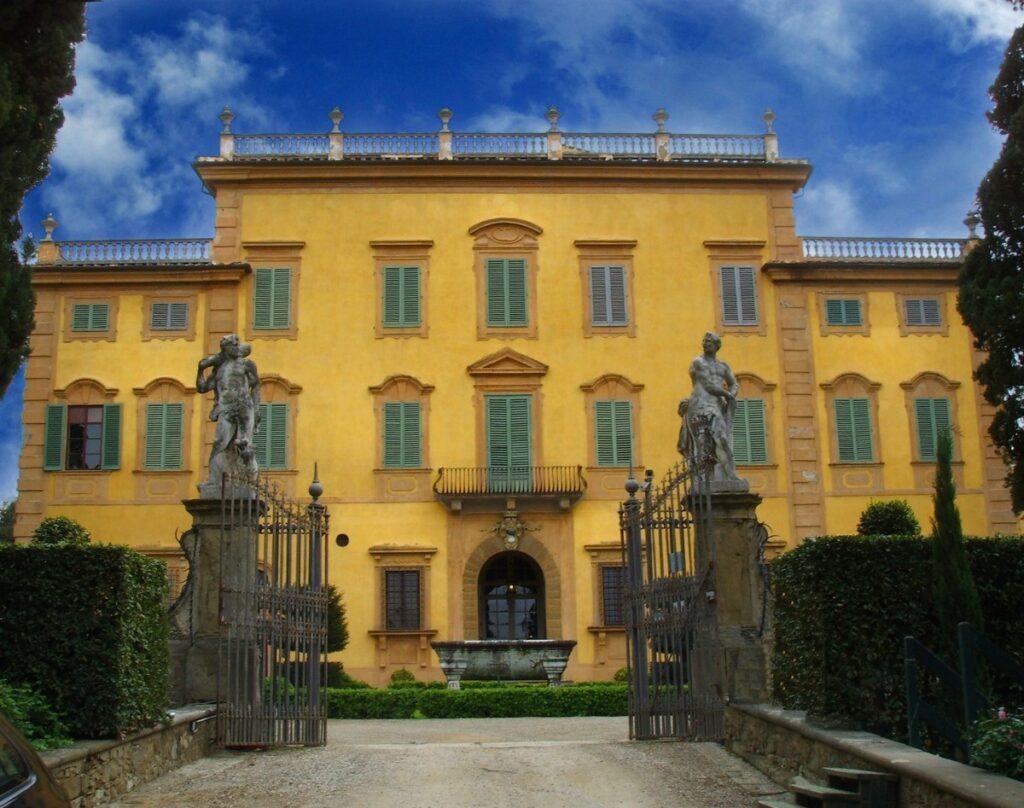 La Pietra, the spectacular Renaissance villa in the hills outside Florence

By Megan McKinney
The Chicago Mitchells are not household names in the sense of the Armours, Fields, Palmers and Pullmans, but they impacted the British Isles and the Continent—especially 20th century England and Italy—in a way no other Chicago dynasty can match.
Hortense Mitchell Acton by her friend James Montgomery Flagg.                    Photo Credit: New York University, Acton Collection, Villa La Pietra.
The Mitchells were bankers. Although Hortense Lenore Mitchell, born in 1871, was daughter of dynasty founder William Hamilton Mitchell and his then wife, Jane Mary Jewett, it was her half-brother, John J. Mitchell, who was the most powerful early Mitchell. He was president of Illinois Trust and Savings Bank and its successor, the Illinois Merchants Trust Company. It was from this Mitchell that an immense fortune was to spring
When British architect Arthur Acton visited Chicago, joining New York's Stanford White in providing Italianate features for a Mitchell bank of White's design, the Englishman met Hortense and the two fell in love. They married in 1903, and—after leasing the great 15th century La Pietra for four years—they  purchased the property with Mitchell cash.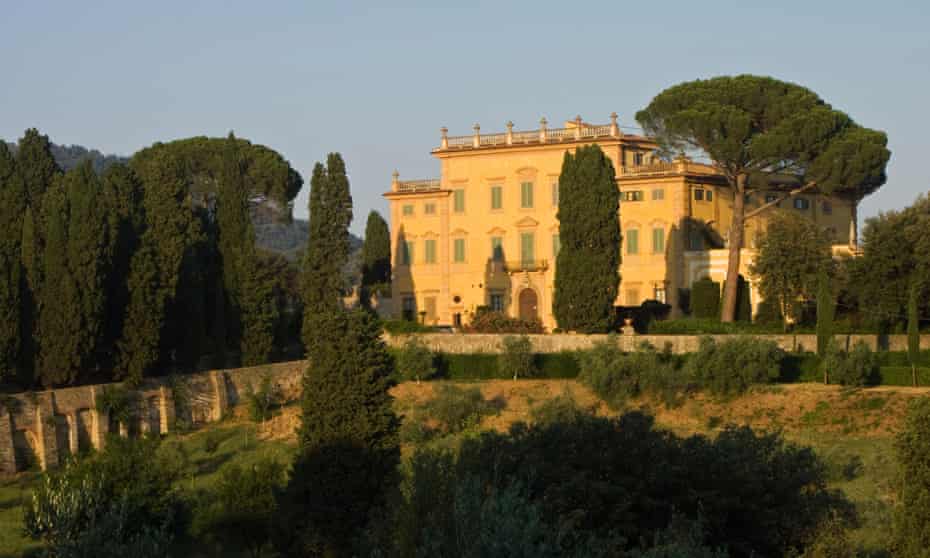 Another view of La Pietra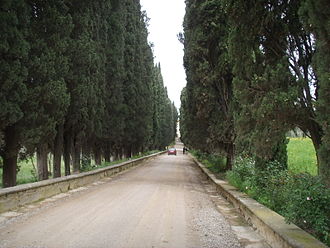 A cypress-lined avenue gives a formality to the estate's approach.
During the early decades of the 20th century the Actons continued to add to the property. There is immense variety in the 37 acres of grounds surrounding the villa.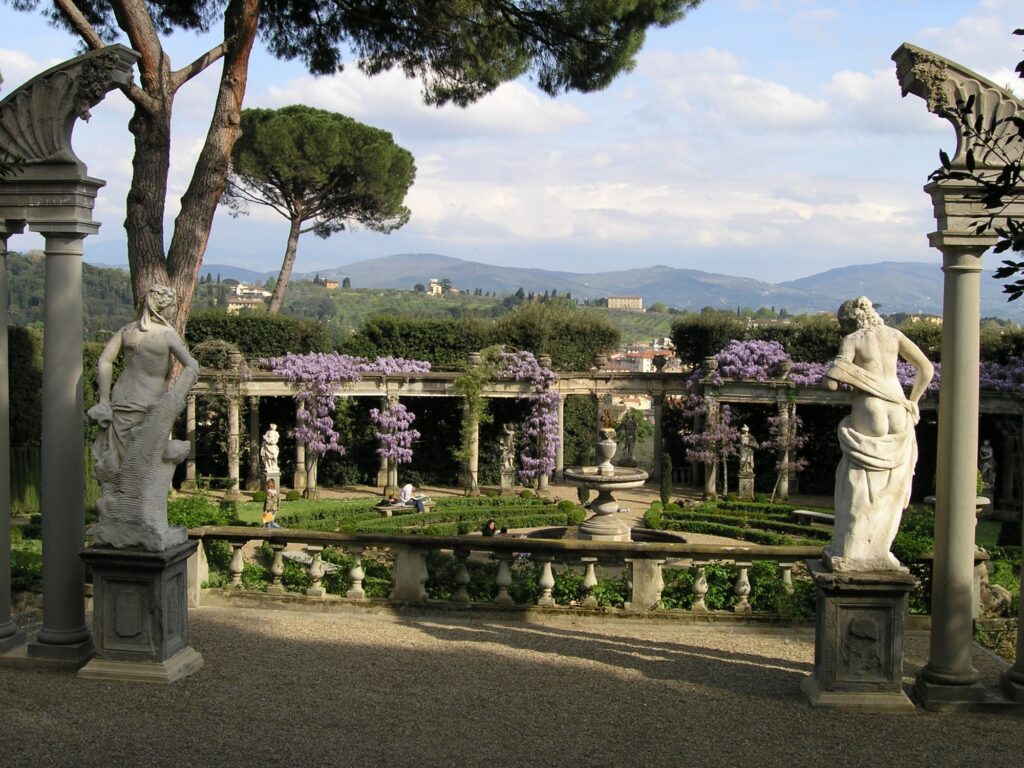 It is countryside but only a mile from Florence This is merely a preview of all there is to see in the grounds at La Pietra, which will be covered more thoroughly in our segment on the Acton's older son, Harold, who inherited the estate.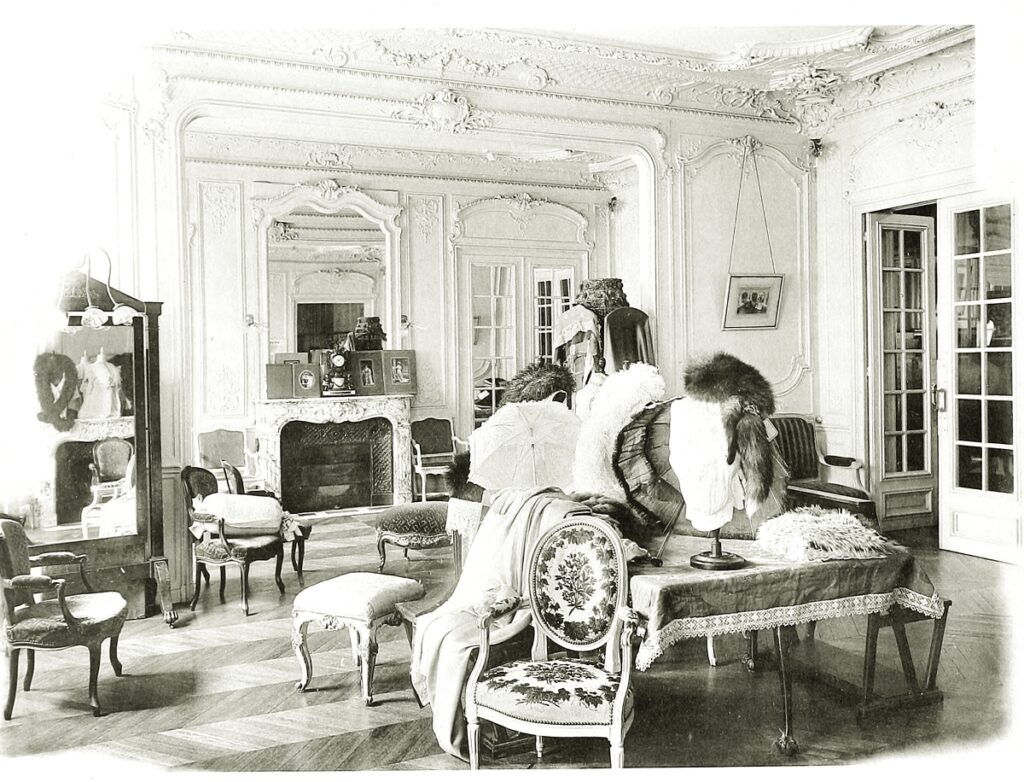 The Actons were social leaders in early 20th century Florence and Hortense's wardrobe was important for the grand entertaining in their sumptuous estate. Her favorite designers were Callot Soeurs,  designing "sisters" we scarcely hear about today, although they were contemporaries of still very current Coco Chanel.
An interesting facet of La Pietra's interior are displays from Hortense's collection of Callot Soeurs designs. She was a Callot Soeurs client  from the time the sisters opened their couture house in 1895. Individually, the ladies were Marie Gerber, Marthe Bertrand, Régine Tennyson-Chantrelle, and Joséphine Crimon  Following Joséphine's 1897 suicide the others continued as a threesome.
Her Callot Soeurs wardrobe was such a strong element in the image of Hortense Acton that the designs of the trio dominate the interior displays at La Pietra.
Another Callot Soeurs creation imaginatively displayed
Finally, it is noted that Hortense commissioned handmade shoes from André Perugia, in Paris, to wear with her Callot Soeurs dresses.
Photo Credits: New York University, Acton Collection, Villa La Pietra.  The New Yorker, Pari Dukovic