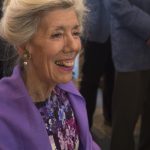 BY JUDY CARMACK BROSS
Alright, Mr. DeMille, I am ready for my close up. —Norma Desmond, Billy Wilder's 1950 classic, Sunset Boulevard.
Hollis Resnick wasn't quite ready to deliver that oft-misquoted final line, first uttered by Chicago-born Gloria Swanson, when we talked two weeks before opening night at Porchlight Music Theatre in the Ruth Page Center for the Arts: "We have been working nonstop, learning lines and sequences. There is so much memorization involved in a role like this. I am of the old school and just repeat and repeat until it sounds natural and honest."
She continues, "Many young actors use an app on their iPads to learn lines—I just push through it as I always have. I played Amanda Wingfield in the Milwaukee production of The Glass Menagerie and she never shuts up. I guess I am used to learning lots of dialogue."
"We all will blow our lines, but that is the nature of the beast, and we will just push through it," Resnick says. "I also haven't been in a play recently that was almost all singing. That's been a challenge."
But opening night, as she walked down a gilt stairway in her velvet-darkened Sunset Boulevard mansion to connect with her audience for the first time, Resnick was Norma Desmond. Removing her sunglasses, her words pounce on the young screenwriter who has appeared by accident at her door and asks if she was once big in pictures: "I am big. It was the pictures that got small." No one could have said it better. Her first song, "With One Look," captures what silent movie stars could do better than any other actors since: With one look, you learn all you need to know.
Resnick, a native of Cleveland, explained her goal for Sunset Boulevard—in her words a "sad story but a very compelling one"—when we talked: "My job is to tell the audience who Norma is and to take them out of their own thoughts for two hours and into the magic of this story. It is, at once, a scary, weird film noir and a musical."
With 12 Joseph Jefferson Awards, two Sarah Siddons Awards, the Helen Hayes Award, and a Lunt-Fontanne Fellowship at Ten Chimneys, Resnick and her talents stand admirably with those of others who have played the role of Norma Desmond around the world including Glenn Close, Patti LuPone, Diahann Carroll, and Petula Clark.
"I love shifting from Moliere to Shakespeare to Jerry Herman, experimenting with classical, contemporary, and musical theater," Resnick says. "The intensity of Regina, the Betty Davis character in The Little Foxes, which I played recently, has helped with Norma."
Her Chicago theatre credits also include powerful heroines in everything from Grey Gardens to Mame to The Cherry Orchard to Carousel: "Chicago is a very openhearted city for actors with lots of opportunity for talented young artists to grow. The best actors from all over the country have worked here."
At Porchlight, now celebrating its 25th year, she was last seen in the Porchlight Revisits Production of The Rink. "This theater does crowd-pleasing, innovative work, and they are very supportive of artists," she says.
When asked if she had particular routines to energize her during the play, Resnick shared, "I am not the type to meditate, although I wish I were. I just keep my body moving. I usually keep to my pace of working in three plays a year."
Porchlight Music Theatre's first Andrew Lloyd Webber play and winner of eight Tony Awards including Best Musical, Best Original Score, and Best Book of Musicals, Sunset Boulevard has already been extended to Sunday, December 8, due to ticket demand. Michael Weber directs, with music directed by Aaron Benham and choreography by Shanna VanDerwerker. 
Joe Gillis, played by Billy Rude, who has stumbled onto Norma's reclusive world while on the run from debt collectors, accepts her request to work on a screenplay that she is convinced will put her back in front of the cameras. Seduced by Norma and her luxurious lifestyle, Joe finds himself trapped in her clutches until the love of another woman leads him to break free with shattering consequences.
"She is enabled by her mysterious butler Max, who holds his own secrets. The story of her journey in reeling in her younger lover, and the uncertainty of it all, builds throughout the play until she finally breaks," Resnick describes.
We couldn't help thinking about Chicago's other Norma: Gloria Swanson, born Gloria Svensson, in 1899. A historian of Chicago's Old Town neighborhood once told us that Swanson rollerskated up Lincoln Avenue with a young Charlie Chaplin in silent movies produced by Essanay Studios. This movie studio, still standing on Argyle Street, was an international filmmaking mecca before stars decided that Hollywood sunshine beat Chicago winters.
Swanson grew up at 341 Grace Street and attended classes at the Art Institute. Her father owned the Relic House at 900 North Clark Street, across from Lincoln Park, a pub with relics of the Chicago Fire. It was demolished in 1929. At 17, an aunt encouraged her to audition at Essanay, where a first assignment was an uncredited part in Chaplin's New Job. After filming, the two would often drink at the Green Mill Gardens, later the Green Mill Lounge, on Broadway and Lawrence Avenue.
Famed and feared gossip columnist Louella Parsons began her career as a screenwriter at Essanay and other early stars—Mabel Normand, Wallace Beery (who became Swanson's first husband), and Ben Turpin—made films there, including cowboy movies shot in Rogers Park, featuring Bronco Billy Anderson.
Here's to Chicago actresses, Resnick and Swanson, who have captured the glamor and power of women in silent movies. They were big, and perhaps the pictures have gotten smaller.
For more information about Sunset Boulevard, visit porchlightmusictheatre.org.
Photo credit: Michael Courier, unless otherwise noted.