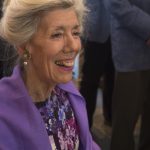 BY JUDY CARMACK BROSS
The Skyline Council of Landmarks Illinois hosted its 8th Annual Skyline Social recently at Wintrust's Grand Banking Hall, supporting the work of Landmarks Illinois. Held at unique venues that give guests access to spaces that are not always available to the public, Skyline socials are perfect for networking with people who love old historic structures.
Skyline Council Chair Allison Toonen-Talamo told Classic Chicago: "you do not need to be an expert or professional in preservation, but just have the love and passion for it."
Creating a lifelong passion for a non-profit is a bequest to the future from junior groups such as the Skyline Council.  In fact, Chicago was one of the first cities to aggressively pursue the formation of junior boards with leaders who have headed the boards of Chicago's largest charities and have in turn passed leadership down to the next generation. 
As a master of building the potential of younger leaders on non-profit committees, we asked Toonen-Talamo to tell us more:
What are the real pluses of junior boards or committees?
"One of my prior college professors, who also serves on a handful of boards herself, once said, 'If you are a leader within your organization, you are a leader in your profession.'  Junior boards and committees give the younger generation a chance to get their foot in the door, make waves and create change for a better future.
"They help teach you what your strengths are, how to be a better leader, providing the opportunity to network and learn from others. As someone who has served in different positions for many organizations, my hope is to inspire and motivate others to grow professionally and personally. Being involved in a junior board and committees also creates a sense of pride. Plus, you meet some pretty amazing friends along the way."
Do people often bring friends along to the events and then they join?
 "Yes, of course! Many of our Skyline Council and Landmarks Illinois members will bring friends, colleagues and family members to our events, with a good portion becoming members."
Do you think your members get interested in Chicago history as well?
  "Like most big cities Chicago has a wealth of history, development, abundance of architecture and engineering individuality, as well as, culture. Chicago's evolution to what it is now makes this city unique. While in college, we were taught that we didn't need to read about architects, engineers or buildings in book, but to go outside and walk around, and see it for yourself.
  "Even during my architecture studies, our classes were inside S.R. Crown Hall, which to many around the world is not only a gem, but an excellent example of the modern architecture of Mies van der Rohe. People come to Chicago because of the history, the progress and the opportunity to be part of its constant evolution. Also, the food is pretty amazing here as well!"
What other events do you have coming up, and are there other landmarks you want your group to visit?
 "The Skyline Council will be hosting our historic/holiday Pub Crawl December 13 in Portage Park, and on January 28 and 29, we will be hosting our annual Two Nights of Trivia event at Revolution Brewpub. Both are very fun events, and I highly recommend people to attend! Skyline Council and Landmarks Illinois members and supporters get behind-the-scenes looks at many landmarks throughout the year. For instance, recent tours have included Union Station, Merchandise Mart, the preservation award-winning rehabilitation of the 111-year-old former Sears Catalogue Printing building now known as Lofts on Arthington, and more.
   "I also think it would be beneficial for the younger generation to see historic places outside of Chicago and learn from communities about how they go about restoring places.
  "Another thing I love to see and want others to experience is the transformation of our champion properties in the city. What I mean by champion are places left vacant for so long or change in use and finally get someone to take on the challenge of giving it a new life. Examples of champion projects are the Old Cook County Hospital, the Post Office and Uptown Theater – places Landmarks Illinois has long advocated for the preservation of and has offered exclusive access to for its members so people can see the before, during and after. Another exciting adaptive reuse project would be the Tribune Tower. Seeing historic places like this transform from one use to another while still retaining the historic character and history is exciting. Plus, it demonstrates why restoring existing buildings are key to preserving our history and not creating more waste by utilizing what is already there."
We predict that Toonen-Talamo's leadership footprint will be a legacy for junior boards to come. 
Photos by Pivot-Photography
For more about the Skyline Council go to: Landmarks.org