By Judy Carmack Bross
Classic Chicago columnist and broadcast journalist Bill Zwecker asked Frank Sinatra's granddaughter, Amanda Erlinger, at an intimate pre-opening dinner celebrating the current photography exhibition of The Sinatra Collection at Hilton/Asmus Contemporary to talk about the man she called Grandpa. The exhibition that includes self-portraits Sinatra took in his early years, rare personal photos from family archives, and favorites from Capitol and Warner Bros. Records, runs through October 26 at the gallery on Wells Street.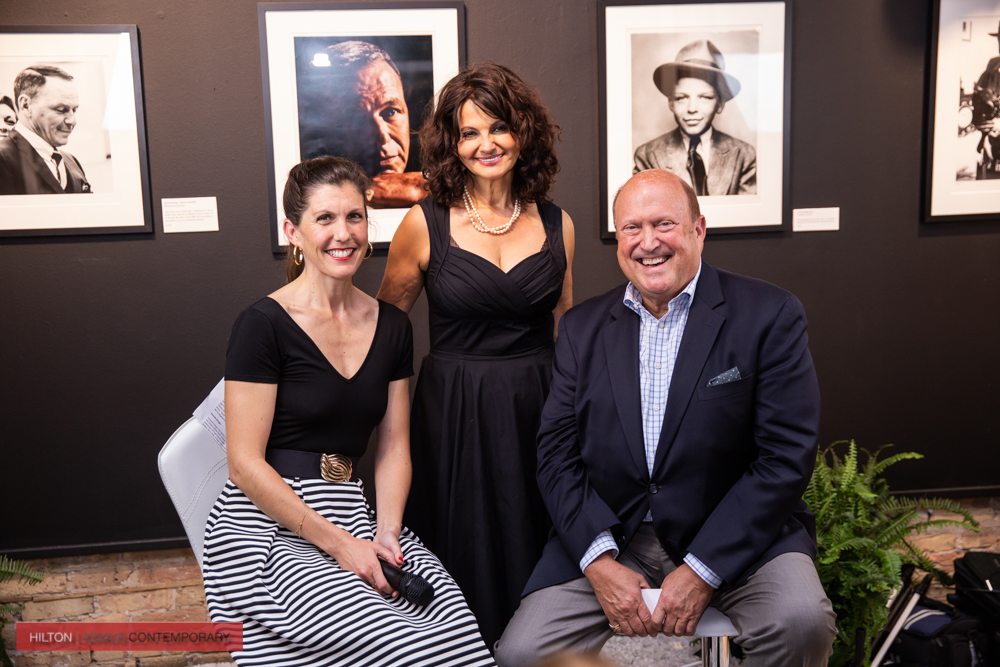 Amanda Erlinger, Arica Hilton, and Bill Zwecker.
As manager and archivist of her grandfather's personal photographic collections since 2002, Amanda told Bill not only about Sinatra's photographs but about their relationship as well. The daughter of singer Nancy Sinatra, Amanda is an artist and photographer. She recalled that her "Grandma Nancy" gave her several old file boxes with photos in them—many of her grandfather's early years which the family hadn't seen before—and asked Amanda what to do with them.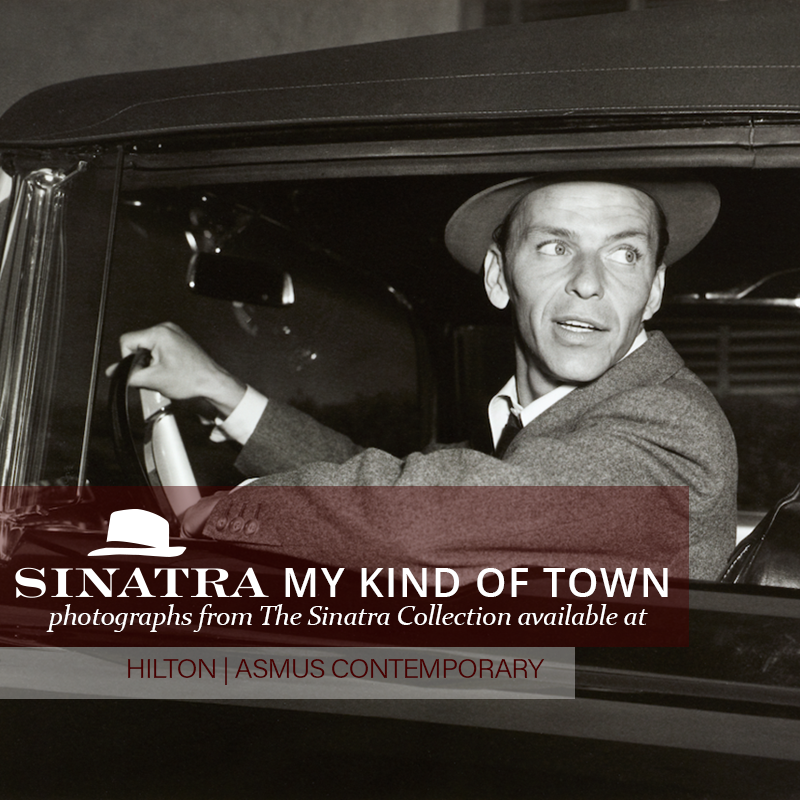 Frank Sinatra's hit song "My Kind of Town"  was about Chicago.
Here's some of what guests learned about the man who loved Chicago before they enjoyed some of Frank's favorite Italian dishes at Prosecco.
Your grandfather had a great connection to Chicago and spent a lot of time here with friends, and even recorded two songs about Chicago. Did you ever visit Chicago with your grandfather and do you have connections to Chicago?
I was young when my grandfather was coming to Chicago a lot. Chicago was a very special place for him. He had lots of friends here and liked to visit often. One thing about my grandfather, he loved sports and all of the Chicago sports teams. When my nephew was at Northwestern, I had the opportunity to visit more often. Chicago is a great city and I understand what my grandfather saw in it.
Stanley Paul sharing a memory of Frank Sinatra.
Jose Rodriguez and Abby Israel
Did you spend much time with him growing up?
My grandfather was very much a family man and loved to spend time with us. He wanted to be with his family and always wanted us around, which included his three kids and his grandkids. When we were in school he would call my mom and ask if we could fly out. Sometimes it would be New York or Philadelphia or Atlantic City on the East Coast. But most of the time was spent with him in Palm Springs or Vegas. During the school year, we'd take road trips to Palm Springs and Vegas just for the weekend because he wanted us there. He went out of his way on the weekends to spend time with us. He loved being a grandpa. He taught me how to paint and repaint together in his studio. We'd read the paper at breakfast together. Breakfast was usually around noon with him because of his schedule because he wouldn't get home until the early morning. He taught us all how to dive.
One of my best memories was when my grandfather and Barbara, and my sister and I took this incredible trip to London and around the UK when I was about 13.
                      The exhibition includes self-portraits Sinatra took in his early years, rare personal photos from family archives, and favorites from Capitol and Warner Bros. Records. 
Wendy and Gregg Elstien.
Both you and your grandfather shared a great interest in photography.
My grandfather taught me how to use my first camera. I was young, maybe seven or eight. It was one of those old Polaroid vintage cameras. We were sitting around the pool in Palm Springs and he showed me how to load film, pull out the picture, and then talked to me about being patient to let it develop before pulling off the strip. My dad had a love for photography as he was a choreographer who worked on a lot of the big variety shows like Ed Sullivan, Smothers Brothers—those type of shows. Sadly, my dad died when I was nine and it was my grandfather who really kept up my interest in photography because of his own passion. It was something we shared together.
Keith Dorman, Amanda Erlinger, and Sheila McGinn Dorman.
Susan Aurinko and Chris Flannery.
What would you like people to know about your grandfather that they may not know?
He never lost his appreciation and gratitude for the opportunities he was given. He never stopped working. He felt indebted to his friends and fans, his musicians and producers, and to everyone who helped him with his creative craft. He'd be the first to tell you he didn't succeed in balancing his private and public life, but he always tried to walk the walk. Most of all he wanted his family to be proud of him because he was a family man first. 
Maria Leone and Dr. Larry Wolin.
Bill remarked following the interview:
While we all have seen many, many iconic photos of Frank Sinatra, the show features so many pictures we hadn't seen from Frank and his family's own archives.
*****
Sinatra: My Kind of Town runs through October 26 at Hilton/Asmus Contemporary, 716 North Wells Street.
Photo credit: David Turner Photo