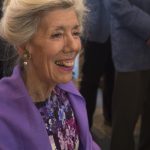 BY JUDY CARMACK BROSS
As Hindman starts the bidding June 16 on its first ever Antiquities and Islamic Art auction, the born-in-Chicago auction house has seen top results for online sales with a collective almost 150 percent sold by value across all categories this spring.
Many Chicagoans remember when Leslie Hindman's first auction house burst on the scene at its Ohio street galleries, "Tutmania" sweeping Chicago soon after with the Field Museum setting attendance records that still stand today. Corbin Horn, Senior Specialist and Director at Hindman, says Egyptomania will definitely be revived with this important sale.
"We have been encouraged by some leading players in the ancient art market to enter the field. There is a significant portion of material in the middle of the market that is left untouched by New York and London firms, who focus all their effort on the highest end. We saw the opportunity to have such an auction when, late last year, we pitched for and won the privilege of handling a large collection of antiquities from the estate of George R. Francoeur, an educator and philanthropist in Detroit," Horn says. "I spent several months seeking items from other collectors and dealers in the field to build on the Francoeur collection. The auction is led by 30 Egyptian lots, some of the earliest-made works of art available to collectors. Bronze Age, Greek, Roman, and Islamic objects follow."
We spoke with Hindman's Co-owner and Hindman CEO Jay Krehbiel recently, who talked about the auction house's Chicago roots. "Hindman has been a part of Chicago for almost 40 years, and we feel a very close connection to our Chicago community," he shares. "Now, as Hindman has expanded to 12 offices and salerooms across the US and attracts bidders from all over the globe, we strive to ensure that our Chicago roots are as strong as ever."
Krehbiel continues, "Leslie Hindman is an extraordinary visionary and entrepreneur, and I am proud that she is both my cousin and my friend. Leslie built a remarkable business and team from scratch, a business that has become known and respected nationally and internationally. I am excited that now as business partners, we will continue to grow Hindman Auctions, made even better with the addition of our third partner, Wes Cowan, and his team in Cincinnati and Cleveland."
We asked Horn to tell us a little more about the objects up for bid this month, their history, what to expect, and advice for collectors.
Why do you think we all yearn a little to be archeologists opening a hidden tomb when we think of Egyptian art?
There have been intermittent revivals of Egyptomania for 250 years. I'm thinking of Napoleon's campaign in 1798, or the Victorians' fervor for hoarding quantities—not always quality—of artifacts in the 19th century, or the British Museum's blockbuster show of Tutankhamun objects in the '70s. Egyptian art has a mysterious quality that appeals to and inspires artists, graphic designers, furniture makers and collectors.
I am thinking of two of the most interesting items in the Egyptian lot. One is a beautiful bronze statuette of the goddess Neith (Lot 20, $5,000-7,000, circa 664-343 B.C.), inlaid with gold and seated in a serene position. We also have an elegant bronze Osiris (Lot 18, $15,000-20,000, circa 1070-712 B.C.). Depictions of Osiris are common, but this one is notable because it is large and more of its detail has survived. Neith was the goddess of weaving, so maybe she belongs on the desk of someone who works in fashion or textiles?
Describe some of the objects up for auction.
We have a nice variety of small and very accessible sculpture, but the auction's heaviest variety is in Greek and South Italian pottery. There are figured vases in every shape and size, about 50 lots in all. One of the best is a hydria (water vessel) that shows Herakles with Athena, Apollo, Dionysos, and Hermes (Lot 56, $15,000-20,000, circa late 6th century B.C.). We have twelve lovely Roman glass objects, eleven Roman marble sculpture objects, an interesting group of Luristan (2nd-1st millennia B.C. Iraq/Iran) metalwork, and more.

Tell us about the Islamic art and its variety in the auction. Is this an area that is becoming particularly of interest to collectors?
Our Islamic offerings are minor in this auction. We are handling a small group of deaccessions from the Detroit Institute of Arts, so it will be interesting to see how those perform. We have a few other objects from individual collectors. There is often crossover between collectors of antiquities and arts of the Islamic world, so it was a natural fit for this auction catalogue.
What price ranges do you expect?  What do you expect will be the highest selling object?
We have items for both entry-level and experienced collectors. There will be lots that sell for less than $500, and lots that sell for more than $20,000. It is hard to predict which will be the highest selling object; as you know, there are always surprises in any auction, but I am keeping my eye on lots 100, 101, and 102, three Apulian fish plates painted with plump sea life. The Art Institute owns several like them.

If a person is a new collector of antiquities, where would you steer this person?
Read a lot, learn from other collectors, and become acquainted with good dealers. Visit the leading art fairs in New York and Europe—you can see a higher concentration of vetted, authentic objects there under one roof. Educate yourself about the laws governing sale and purchase of cultural property. It is generally ruled that an item should have been exported from its country of origin before the 1970s, and you need as much evidence (documentation) as possible to prove its ownership history during that time.
For a person with a fairly limited budget—perhaps for that young person wanting to be a part of the auction world for the first time—what would you recommend they consider?
It is possible to own something that is 2,000 years old for less than $1,000. A single object, presented well, casts its patina over an entire room, so it does not take a big investment to begin collecting. In our auction I appreciate the decorativeness of Lot 77, an Etruscan bronze horse bit shaped like human hands holding two rings ($600-800, circa 5th-6th century B.C.). There is a bronze head of Mercury that is very small but finely detailed (Lot 122, $800-1,200, circa 2nd century B.C.-1stcentury A.D.). It would be smart on a desk or a table. The best conversation-starter is surely this foot from a statue (Lot 155, circa 1st-2nd century A.D.), offered at only $2,000-4,000.

What can a person learn about the whole world of auctions from participating in this show?
Everything! Collecting antiquities has been a rewarding hobby for hundreds of years, and auctions are how the majority of these objects have traditionally traded hands.
What other auctions currently in the works?
Hindman has auctions throughout the year in numerous collecting categories. Other than the Antiquities and Islamic Art sale, that week we will also offer our Summer Fashion and Accessories sale, which will have a great deal of Hermes, Chanel, and Louis Vuitton. On June 23 is our Books and Manuscripts sale, and July 1 we will offer our Essential Jewelry sale online, including lovely, wearable, accessible pieces of jewelry.
My department is currently working on a beautiful catalogue of European furniture and decorative arts that is heavy with French and Viennese porcelain. That auction is set for July 21.

Finally, tell us about yourself and your interest as well as what your job entails at Hindman.
I want to emphasize that I do not have expertise in antiquities and Islamic art. I know a tiny bit, enough to speak to our buyers and sellers with confidence, but I work with a consultant who is the real source of scholarship and experience. My expertise, instead, is in knowing how to successfully market works of art to the right audiences around the world and in building relationships with would-be buyers for every category of collecting. I spend my days meeting people, reviewing their property and advising them on the current market value of their collections, as well as every aspect of how to buy and sell at auction. It is so much fun to see historic homes every day and meet fascinating people who have spent their lives pursuing an interest.
***
For more information on upcoming sales, visit hindmanauctions.com.
Showcase is a designated category of Classic Chicago in which valued advertisers and other select supporters convey timely messages to viewers.