By Michelle Crowe
A 1956 Diana Vreeland shoot for Vogue in India, photographed by Norman Parkinson.  Mrs. Vreeland famously said, "Pink is the navy blue of India."  As a student of history herself, she would love Hester Bly.
While covering fashion in the Y2K era, I've often developed an affinity for the collections of designers who visited Chicago and were especially gracious, charming, funny, or all of the above.  Richard Lambertson and John Truex, for example, were so delightful to be around that to this day I have a stash of their bags with which I refuse to part.
The Nadir Paisley Dress by Hester Bly.
These days, when I connect with a designer, it's usually via email or on Zoom.  While there is nothing quite like an in-person experience, this way of life has some charm to it.  Around this time last year, I was introduced via email to an English entrepreneur named Gemma Street.  When I say that her intelligence practically leapt off the screen, I am not exaggerating in the slightest.  Gemma is one of the brightest women I've ever encountered.
Her womenswear brand, Hester Bly, is focused on luxurious resort wear for discerning travelers.  Gemma is a student of history and motivated to help empower and celebrate female innovators.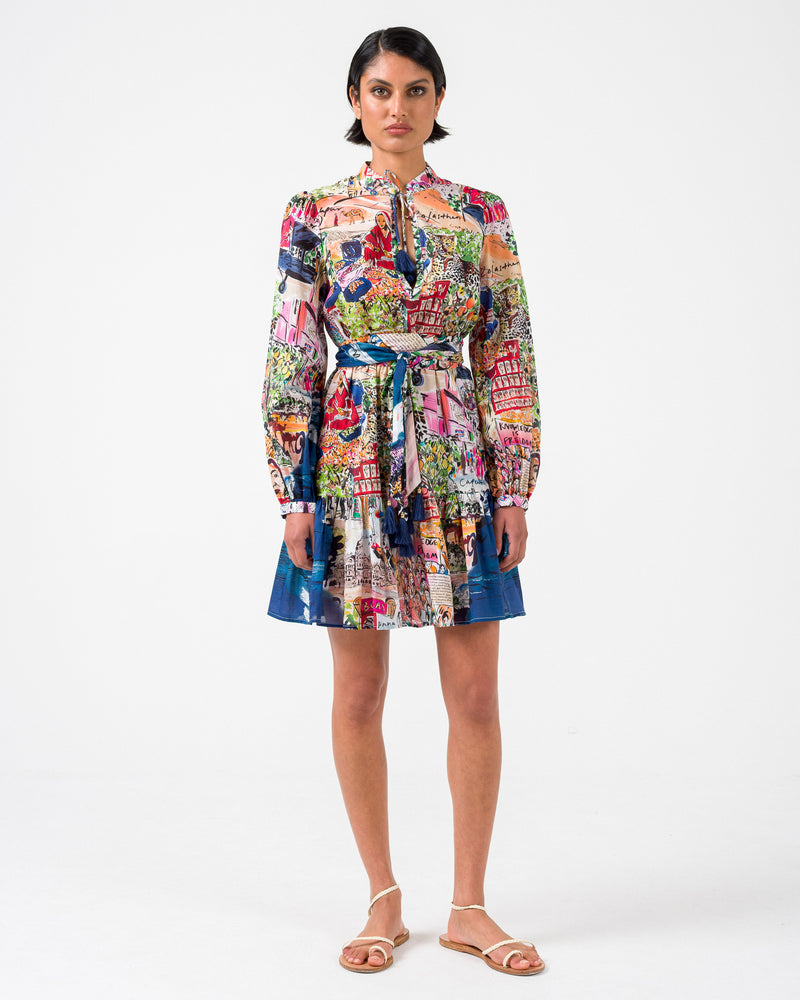 The Tigers of India Mini Dress by Hester Bly.
Hester is Lady Hester Stanhope, an adventurer and archeologist, who was one of the first Europeans to travel into the deserts of Syria and Lebanon. It is said that Lord Byron dived into the sea to greet her upon arrival in Athens.
Nellie Bly was the founder of investigative journalism, suffragette, and novelist.
Inspired by these heroines, Gemma creates one collection each year.  Hester Bly launched in 2019 with the Palm Springs collection, filled with Slim Aarons-eques 1960s glamour.  Bora Bora inspired the second collection in 2021.
The Noor Ema Dress by Hester Bly is perfect for a twirl.
2022 brings the extraordinary Tigers of India collection.  Gemma and her collaborator India Hicks, granddaughter of the last Viceroy of India and a globetrotting trailblazer herself, tell the stories of extraordinary Indian women.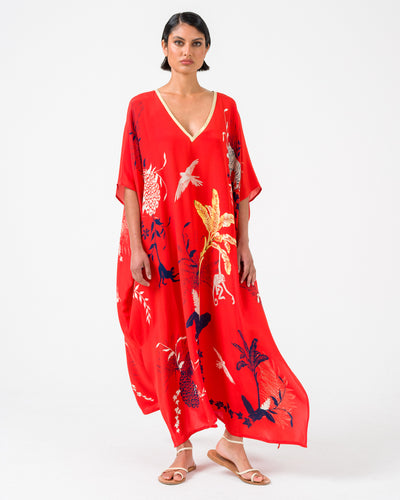 The Taakat Kaftan by Hester Bly.
I find it so wonderful discovering the stories of Noor Inayat Khan, an Indian princess, and World War II special operations executive spy.  I love that the glorious Taakat print, which brings to fabric scenes from the Ranthambore jungle of Gayatri Devi.
For warm weather travel and parties closer to home, it's worth taking a look at the Tigers of India collection from Hester Bly.  Each piece is made in limited numbers with the timeless sense of wonder that will have your daughter sneaking it out of closet in a few years and her daughter many years from now.
Find the collection at hesterbly.com