By Samantha Schwalm
Editors' Note:  Several readers have told us that trying new recipes is a surefire sheltering support.  We've asked our favorite chef and caterer Samantha Schwalm to share a new recipe with us each week in May.  Let's begin with brunch!
Brunch, a meal that combines Breakfast and Lunch.  Whether it is meeting up with friends to recap a fun night, or going out with your family after church. Brunch is definitely something here in Chicago we can all get behind. I know, it is one of the simple things I miss. Especially, as the days get warmer, sitting on a patio of your favorite place, watching the city go by you as you eat.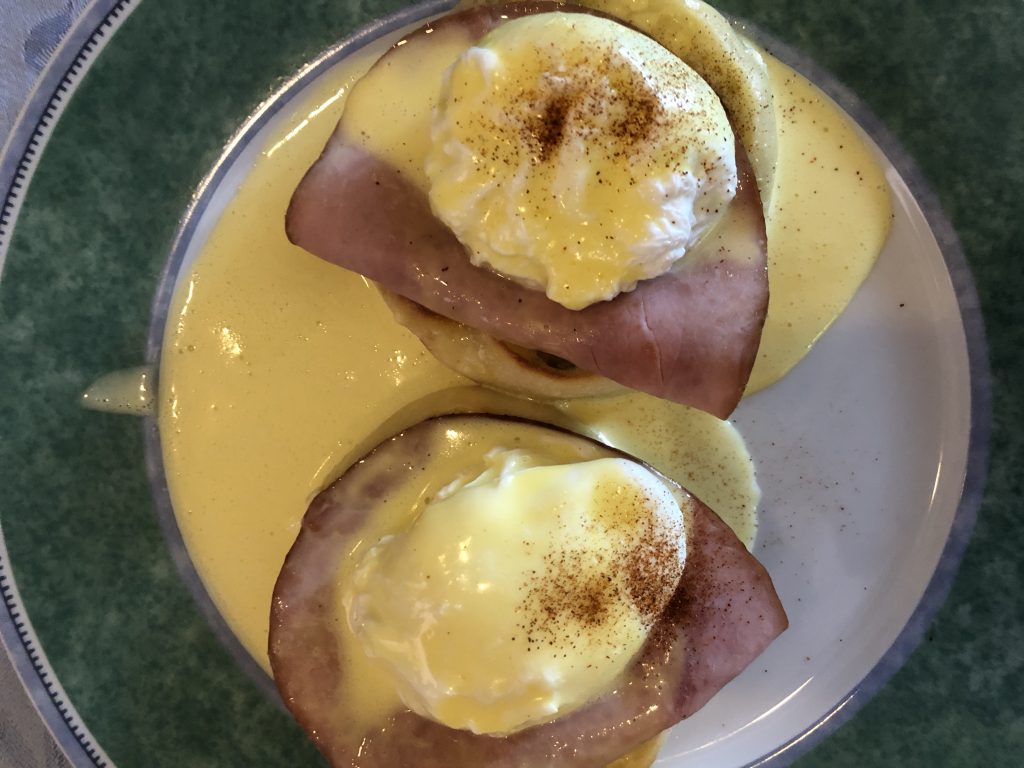 They say it was "invented" in England, due to their love for early morning hunts.  It became popular in the United States, when the "stars" were headed out West. They would stop in Chicago by train, and eat a late breakfast. This breakfast was a combination of eggs and lunch items, Brunch.  
While we wait for the days we can return to going out for brunch, there is zero reason to deprive yourself from sitting on your own balcony or deck to eat this delicious meal. One of the favorite things to eat at our house is Eggs Benedict. A poached egg, Canadian Bacon, all sitting on top of a perfectly toasted piece of English Muffin. Then to make it even more perfect, it is covered with creamy, rich, Hollandaise sauce.  
If you have a hand blender or regular blender, You can make simple easy Hollandaise sauce. Here is what you need:
3 egg yolks
1 tablespoon of lemon sauce
1 pinch of salt & white pepper to taste
1/2 stick of melted butter
melt the butter

Place the first four ingredients into your blender. Turn on the blender, and slowly and continuously, add in the melted butter. Once it is fully emulsified, you have easy hollandaise. 
Poaching an egg:
Bring 2 cups of water and 1 tablespoon of white vinegar to a simmer. I find if you use a ladle it is easier. Crack a hole egg into the ladle. Slowly set the ladle into the water for about 30 seconds, and then tip the egg into the water. Pull the ladle out while swirling it in the water at the same time. Eggs will rise up to the top when ready. I am not going to lie, it takes a few times if you have never poached an egg. 
Put it all together and enjoy this little piece of joy!  
If you have any questions, or would like me to talk about how to make something, please tweet me @ParisKabatChef, and I will try to answer any questions.