---
Kay Whitfield

By Megan McKinney Whitfield
Kay was always a delight, but we moved into an especially memorable time when she and I began publishing this magazine together in its backend during late Saturday nights, particularly early on when nobody else was there. It was just the two of us, connected by telephone, beginning at one minute past midnight on Sunday, New York time.
She had begun working on a column with her long-time friend, the astrologer Victoria Martin and they decided to Illustrate the piece with jewelry in the style of the Hearst astrology magazines.
My favorite was her Halloween Eve photo of a black cat wearing a Harry Winston necklace. Kay's cheeky caption for the image was Scary Winston.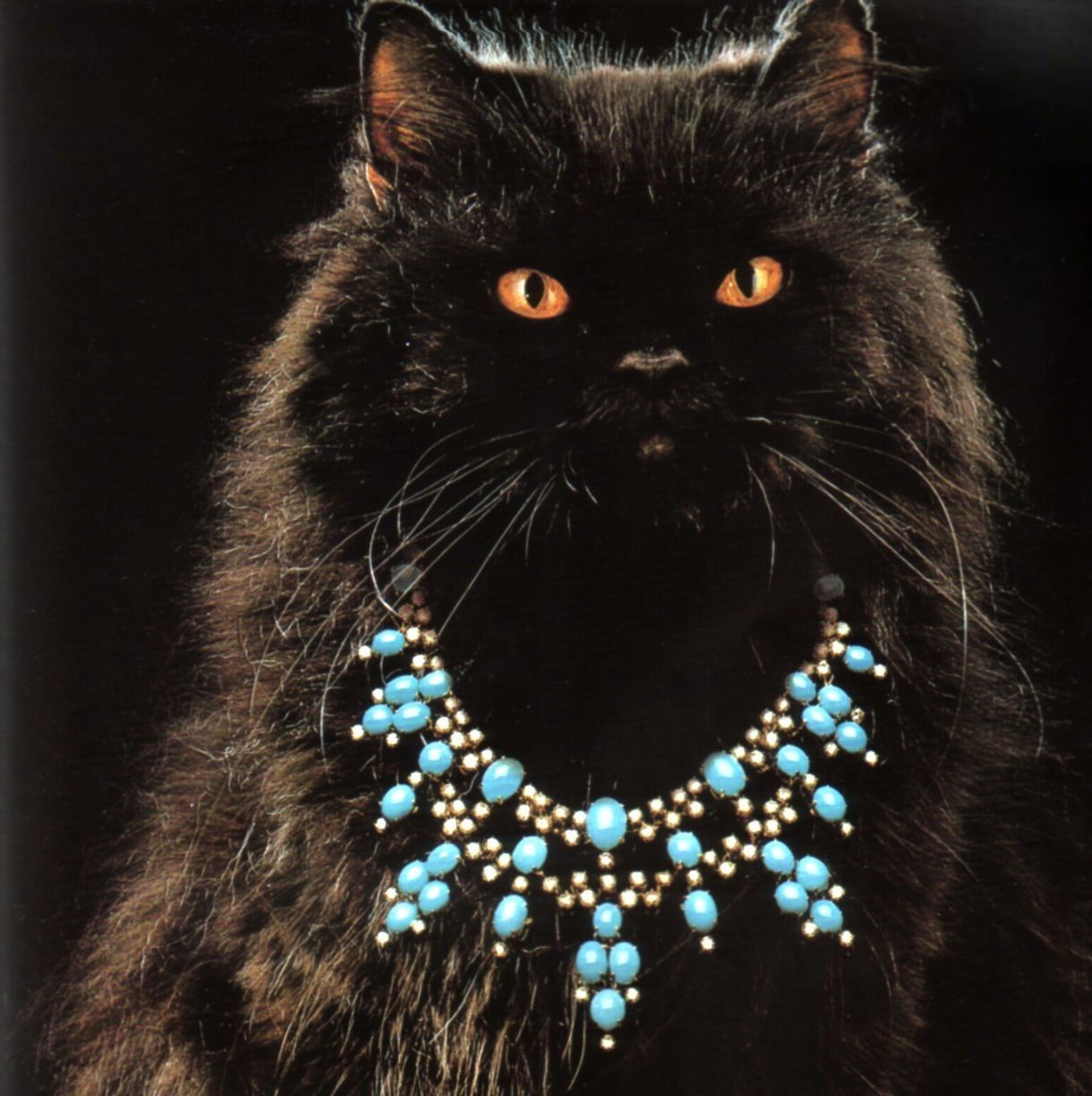 Scary Winston
This is what Victoria wrote about Kay this week.
I knew Kay during the 1970s and she was witty even way back then! Recently– at the Cliff Dwellers Club in 2018– she seemed to be channeling Dorothy Parker… it showed another fascinating side of her talent! It was a treat to work with her on the Classic Chicago Magazine during the past few years. Always amazing it was to see what jewels she would find to adorn the Astro-Cast column. Clever people like Kay are hard to find!
Another long-time friend, Charles Schneider, wrote this about Kay.
Kay Whitfield: OH! Such a glowing superstar kind-of-person with that special Kay charm. Born an 'old-soul,' even at age 17 she informed our lives with books, films and aesthetics – which we still cherish & carry 45 years later. These include a love for Brideshead Revisited, Edie Sedgwick and all things dryly ironic. Kay was singular, special, magnificent; forever marching to the beat of her own fabulous drum. We will always love you madly, Kay.
Most people who knew anything about Kay knew she was a photographer. She studied with the School of the Art Institute and was Director of Photography for Frank Sullivan's Avenue M magazine long before her Classic Chicago days. But how many remember the modeling years? She worked with an agent who sent her on great magazine and catalog assignments, particularly Sears, which was an enviable source for modeling jobs in that era. However, her best job was with Head & Shoulders Shampoo, for which she spent the good part of a year scratching her head on the back cover of national magazines during her Latin School years.  
In reality, Kay's modeling career began in New York at age four when she was borrowed on Thanksgiving afternoon by my brother, Kent, who needed a charismatic child to accompany him to a celeb-filled Macy's Thanksgiving Day Parade watch party in an apartment high above Central Park West.
Kay was born a dancer thus, with a Beatles record blasting away as she and my brother entered the apartment, she began her dancing-to-the-Beatles routine at the threshold. One of the celeb guests, actor Alan Alda, grabbed her hand, they began dancing and Kay never stopped.
The following day, my phone rang with a request to again borrow my charismatic child, this time it was for the great Magnum photographer Elliott Erwitt to shoot my little girl in Kenneth's Salon on East 50th Street, the only place in town to have one's hair done at the time. The photo would appear in McCall's magazine the following spring.
By that time, we would be living in London, with Kay a student in the "baby class" at the legendary Lady Eden's School in Kensington. The school was begun for neighborhood children in an Eden mansion during the Blitz days of World War II. Its founder was not the wife of Sir Anthony Eden—the Earl of Avon, who succeeded Winston Churchill as Prime Minister of England—but the wife of his brother Sir Timothy Eden.
There was a Lady Eden's summer uniform and a Lady Eden's winter uniform: Kay is wearing the summer version, with its white gloves and classic blue boater, in the photograph below. Again, she was a model—but this time for real.
Her teacher was a viscountess, to whom Kay and the other students were required to perform a handshake/curtsy as they entered the classroom. This routine was not because of Lady Garnock's rank; all little English girls in certain circles were expected to perform this ritual when greeting every adult.
Kay's father and I soon moved the preschooler back to plain old New York where hoity-toity has never gone beyond dancing to Beatles hits with Alan Alda. Even the Erwitt portrait from McCall's magazine had vanished when I looked for it today.