By Stanley Paul
Happy 100th Birthday Judy Garland
It's hard to believe the little girl who followed the yellow brick road remains such a beloved memory after all these years. As we know, Judy Garland was probably one of the greatest entertainers of the twentieth century. Through her countless films and sold out world concerts, she remains to this day such a cherished icon to people of all ages.
Judy performed many times in Chicago, one of her favorite cities. Her last visit in Chicago was in 1967 which was a little over a year before her untimely passing. During that visit, she would come in nightly to the Pump Room after her sold out shows at the Civic Opera House. I, being the young orchestra leader at the hotel, had the unique opportunity to spend time with her.
In saluting Judy Garland's birthday we run Stanley's two marvelous columns about her extraordinary life from our archives
Here is that story!
At the End of the Rainbow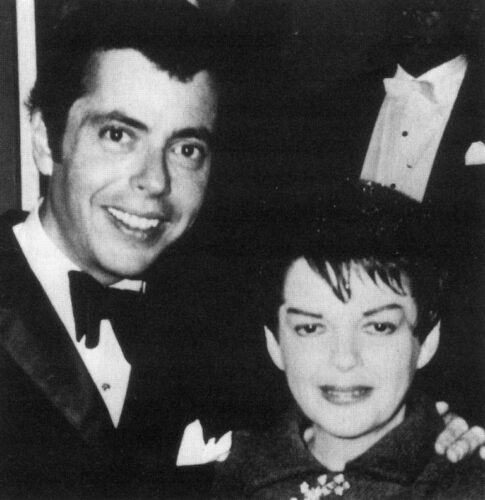 With Judy at the Pump Room, 1967
Though my acquaintance with Judy Garland was a brief one, it was powerful in a lot of ways… an experience I'll never forget.
My first glimpse of the legend came in the spring of 1967. It was late in the afternoon and there had been a big rainstorm in Chicago. The basement of the Ambassador East Hotel was flooded and the elevators weren't working. Judy was staying in the penthouse.
The assistant manager came running through the lobby, breathlessly saying, "She's coming! And she's hungry." Judy arrived soon after, wearing a big hat with which she had just descended sixteen flights of stairs. After being seated in Booth One of the Pump Room, she couldn't help but laugh about the whole experience, like a kid who'd just been allowed to do something totally out of the ordinary for a change. She was in Chicago on her way from Los Angeles to New York, having just been fired from the upcoming movie Valley of the Dolls.
A few months later, in the fall of 1967, she was back at the Pump Room again, having just completed her opening night at the Civic Opera House here in the city. Her voice was just a whisper of what it once was, but audiences everywhere still went wild every time she opened her mouth. The unspoken questions always lingered though:
"Will she make it?"
"Will she even show up, let alone perform?"
She was a legend whose reputation had followed her everywhere, along with her fame. And now history and expectation mingled in a sort of frenzied way whenever people thought of her. Sadness and admiration mixed with an undeniable affection and produced a hope that her tomorrows would be better than her todays. It's hard to explain. But there wasn't another performer alive who could generate those kinds of feelings from an audience.
That evening, I struck up the band as she walked into the room, playing all the songs she was known for. She wasn't in Booth One that night, simply because there were too many people who wanted to sit with her. Instead, she was seated at a long table in the center of the room… along with every newspaper columnist in town.
She sent a note to the bandstand later that evening, thanking me for remembering her songs.
"What happiness you are bringing me tonight," it said.
It is a memento I shall always cherish.
The next evening, Judy was back at the same table, with just as many people. Sid Luft, her ex-husband, was managing the tour, and was with her every night. So was Bobby Cole, her conductor. When things wound-down around 1:00 AM, I was invited up to Judy's suite along with a few other people. She wanted us to hear her new recording – Judy at the Palace – which had just been released earlier that day.
The hallway outside of her suite smelled like a flower shop, the fragrance growing ever-stronger as we approached. And once inside, it was like a scene from Al Capone's funeral! Every flower in Chicago had to have been collected and sent to her suite! There were stacks of letters and telegrams all over the place.
She walked over to the phonograph and put on her new record, then took a seat on the floor and invited us to join her. When the music started to play, I was curious about her own reaction to the recording. She never said a word, but her expression said she was aware she'd sounded better in the past. The record was from her Palace Theater concert a month before; her voice was nowhere what it used to be… and you could tell she knew it.
What struck me most as the evening wore on was how tiny she was, how frail she looked. With the dark circles around her eyes, she seemed so tired. At around 2:30 in the morning, it was as though a bell went off that everyone heard but me. Sid left and returned to his room, then Bobby Cole stood up and said he was tired. Before long, the only person who remained was me.
I'd figure out much later that her ex-husband and conductor kept her company each morning on the road, as she couldn't bear to be alone. And me? Without any advance agreement, I was the relief… for tonight at least. I was completely in awe of her, and loving every minute of it.
"Stay and have a drink with me, Stanley," she pleaded, sounding so much like a little girl when she said it. "I'm not even close to tired yet."
"Oh my God!" I thought. "What am I going to talk about?" Then I spotted a little spinet piano in the corner of her suite, sat down, and started to play. She lit up a cigarette and took a big puff, sat down beside me, and started to sing. They were soft, whispered melodies, perfectly in tune. It was beautiful. I couldn't believe I was sitting there beside her, the legend singing so intimately to me. I was entranced.
"If only she'd sound that way on her recording," I thought, but studios weren't big on recording whispering those days. I'd give anything today to have a tape of the way she sang that night.
No sooner would I finish one song than she'd chime in, "Stanley, do you know this Gershwin or Irving Berlin song?" I eventually figured out that music was a refuge for her, that music stilled whatever demons roamed within. I was never more grateful than I was that night to have learned all those songs so many years before.
People ask me if she was drinking all the time, if there were drugs and so on. Well, the truth is, there were watered-down vodka and tonics; she always had a drink ready, but was never drunk. As far as the drugs are concerned, I really don't know for sure. But she had to be on something, as she would disappear into the bathroom pretty often and was always filled with a sort of nervous energy.
At the End of the Rainbow
With Judy before the close of her Chicago appearance, 1967.
Judy returned to the Pump Room the next evening and was seated in Booth One, this time with her ex-husband Sid, her conductor Bobby Cole, and two of her children: Lorna and Joey Luft. (They were part of her show and had accompanied her on the tour.) After dinner, she excused herself and took the children upstairs, promising to return once they were asleep. Lorna was around 13 at the time, and Joey was somewhere near 10.
"You mean those kids were sleeping last night while we were listening to records?" I asked Sid just after she'd left. "While we played the piano until nearly dawn?"
"Sure!" Sid answered me. "Those kids could sleep through a hurricane by now!"
Judy came back just after midnight, and then, like the previous evening, I was invited up to her suite. This time she put on her famous concert of 1961: Judy at Carnegie Hall. She'd never sounded better and preferred her voice then, I suspect, to her voice now.
After about an hour, Sid and Bobby left (as they had the night before), and I suggested we go to my suite instead of hers this time. It was only a few floors down, and had the advantage of a grand piano to play on. "We could really have some fun!" I said. The truth was, I felt uncomfortable making such a racket with two kids trying to sleep just a wall away. We spent hours at my piano that night, going through my collection of music books. It was the thrill of a lifetime and one I shall never forget.
It was nearly 7:00 in the morning when I escorted her back up to her suite. She had to get up "fairly early," she said, because she was going to sing for the guys at the Great Lakes Naval Air Station in just a few hours. Fairly early! It was fairly early already! "Did she never sleep?" I kept asking myself.
I was out like a light the minute my head hit the pillow, and I didn't get up again until 2:00 in the afternoon. When I asked at the front desk just what time it was that Judy had actually left the hotel, I was told she'd walked out the door at 10:30 that morning. I couldn't believe it!
I showed up for work at the Pump Room that night, literally dragging myself to the bandstand. Once again, Judy was there in Booth One with a group of people, including the actor Forrest Tucker. "Come up for a drink," she offered as usual just around closing time, adding, "We're leaving early tomorrow though, so it'll have to be an early night."
Early night? It was already 1:30 a.m.! Half the city had been asleep for hours, and she wanted to make it an early night? That night, 15 minutes or so after everyone else left her suite, I made my excuses too: "I'll be going then. You'll want to get some sleep before you catch that flight in the morning." But Judy had no intention of calling it a night. "Whattaya mean? You just got here, Stanley! And you have to hear Liza's new album. Tell me what you think?" We listened, as I stared off somewhere into space, forcing myself to stay awake.
"Did I ever tell you about the Gumm sisters?" she said when the record ended. For the next half hour, she told one hysterical story after another about her childhood days, when she and her sisters were in Vaudeville. She accompanied every story by singing and dancing around the room. I was beyond tired by then, so to this day, I can't remember a single one of the stories she told. All I remember is that I have never laughed so heartily as I did that night!
No one had a better sense of humor than Judy Garland!
Her stories were beyond priceless!
It was nearly 4:30 in the morning before I finally persuaded her to try to get some rest. I went down to my suite and put a Do Not Disturb sign on the knob, closing the door behind me and sleeping through much of the next day. About 8:00 on Tuesday morning, the phone rang so persistently that I – regretfully – had to answer it. "Have you seen the Tribune?" a friend was screaming excitedly. "You and Judy Garland are the lead item in Herb Lyon's column!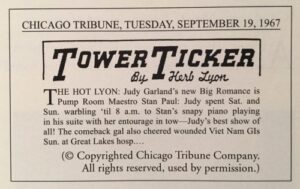 Wherever I went for the next few weeks, someone would started humming Somewhere over the Rainbow, or kiddingly ask how the new romance was going.
The truth is, one more week of "Dorothy" and I'd have been over the rainbow myself!
This concludes Stanley Paul's two-part feature, Judy Garland: At the End of the Rainbow.