By Michelle Crowe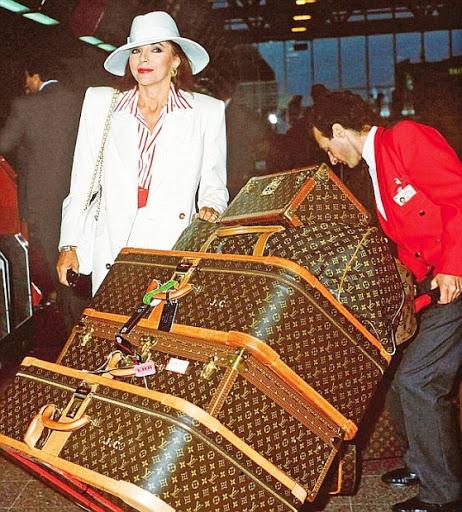 Joan Collins may have a dolly full of Vuitton yet remains effortlessly hands-free with a shoulder strap bag.
Like many accessory aficionados I strode through the last twenty years with a beautiful bag slung over my forearm, ready to face whatever came my way. My favorite was an anaconda Tod's bag that arrived one Christmas, fresh off the set of Sex and the City. Cynthia Nixon wore it in a scene where the four friends were shopping for fragrance. It made its way to me via the very lovely and hardworking press office team (those were the days) and currently rests in a place of honor in my closet, stuffed with tissue and tucked inside a dust bag.
You can just glimpse my bag over Cynthia Nixon's shoulder.
In 2020, I've joined many others in going hands free. Rather than face the day buffered by a big bag, a small pouch with room for a phone and some hand sanitizer are all anyone wants. Sleek cross-body shapes or elegant shoulder straps that can go cross-body in a pinch feel right for the moment and call to mind beautiful power women of the past.
These pretty bags remind me of the long, lean ladies striding through Charlie perfume ads or a character from Bonfire of the Vanities heading off to lunch.
 Vintage Charlie advertisement.
The best picks right now are designed to be worn and loved for quite some time. Save the more delicate leathers and exotics until the social swirl is a little closer to normal. Take a cue from my mom, who, in that Charlie/Tom Wolfe era admired a red lizard Judith Lieber at our Saks Fifth Avenue. Saks, I. Magnin and Neiman Marcus had recently opened at Oakbrook Center and the new wing was without a doubt, the absolute height of suburban glamour. I dragged my dad off to buy it for her.
It was a hit, but not for every day. She was too busy balancing a busy life to worry about dings or nicks. That's us today. We're busy, we're not letting challenges slow us down. We're hands-free and ready for anything.
The Mini Saddle Bag from Cuyana on Oak Street is a perfect choice.