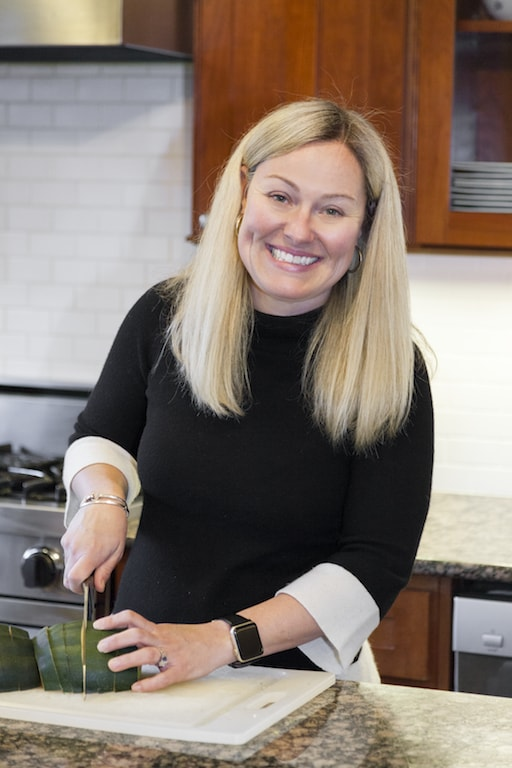 By Samantha Schwalm
This week let's discuss Halibut.  Halibut are a large flatfish that can be found from the Bering Sea in Alaska to northern California. The fishing season is March 14 – November 15. During the 1980's it started to be farm raised in Canada, Iceland, the UK, and Norway. Thus, making it a fish you can usually get all year round. That said, it always better to eat freshly caught fish. 
Halibut is mild in flavor. Almost a sweet tasting white flesh. However, halibut filets are thicker and firmer than cod. Because the flavor is so gentle, it is easy to pair it with bolder flavors. In this recipe, I am using goat cheese whipped with dill and cilantro. The recipe is a twist on the  Charlie Trotter's recipe for halibut, in his cookbook: Charlie Trotter Cooks at Home, published in 2000.  It is a wonderful cookbook, and unlike his other cookbook; Charlie Trotter's, the ingredients are easily found.  
The Halibut was purchased from Wabash Seafood company, which you have to order the day before, and they have curbside pickup. Call when you arrive and they will put it in your car for you. Dirk's Fish Market is another amazing market. Not only, will they do curbside pickup, if you would like, they also have delivery now! Check out both websites or call them with any questions. 
Ingredients:
4 6-8 oz Halibut Filets
8 oz of Goat Cheese
2 Tablespoons of Plain Greek Yogurt
1 Tablespoon Dill
2 Tablespoons Cilantro 
A pinch of salt and pepper to season the fish fillets
3 tables spoons Olive Oil
Preheat your oven to 375 degrees.  Rinse filets and pat dry with a paper towel. Set them skin side up and sprinkle with salt and pepper.  Next, with either a kitchen Aid (with paddle attachment)or hand mixer, combine goat cheese, plain yogurt (mayo or sour cream would work too), dill, and cilantro.  Beat until smooth and soft enough to spread. Set aside.
In a cast iron pan, or a sauté pan if you don't have cast iron. Cast iron gets very hot and helps to sear better, for that caramelization we love. Heat your pan and olive oil.  Then place the halibut skin side down,  unto the pan, and let sit for 2 minutes until it has a gold sear, and flips easily off of the pan. Flip the halibut, and spread your goat cheese mixture over the top. Place your pan and fish into the oven. Bake for 10 minutes. Then turn your oven to broil. Broil until the goat cheese mixture gets a golden brown on the top.  Serve immediately and enjoy!