By Sophie Bross
LYRA Restaurant
Contemporary Greek cuisine has grown in popularity throughout the Chicago area in recent years with the opening of such amazing restaurants as Avli and Andros Taverna.  Lyra is the latest entrant to open on Fulton Market.  Brought to us by the restaurant group DineAmic Hospitality (Bar Siena, Prime & Provisions) Lyra is located in the West Loop still considered by many as Chicago's hottest restaurant scene.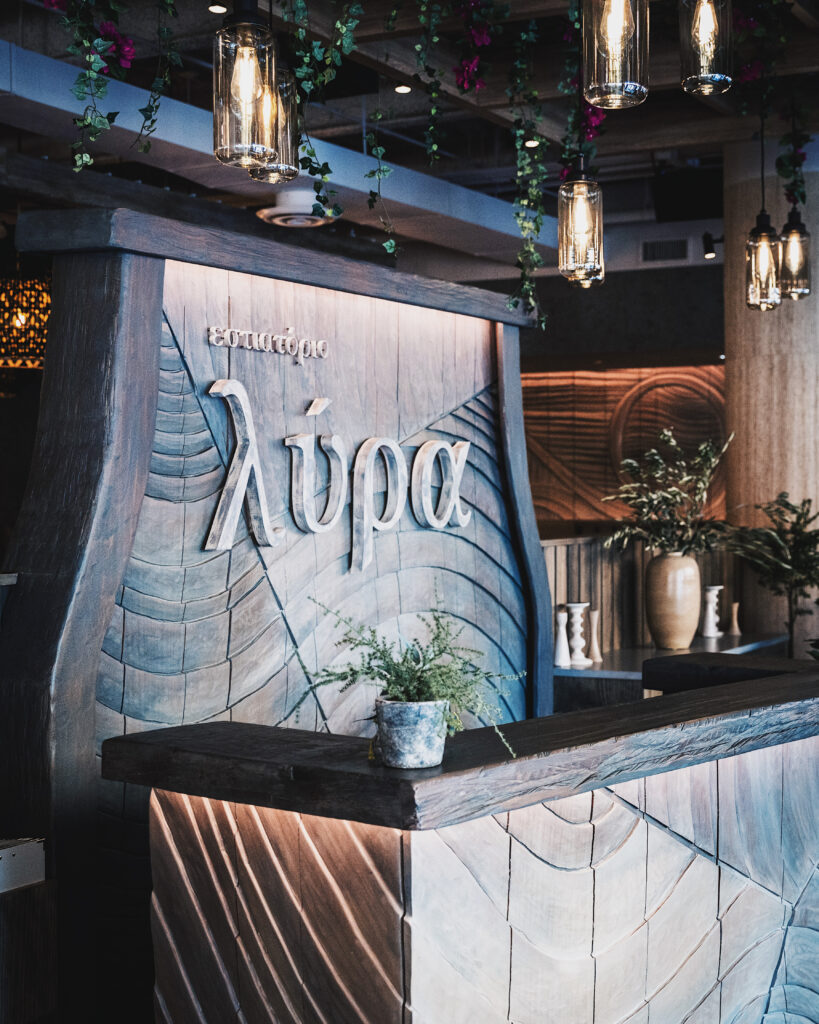 The two chefs, Athinagoras Kostakos and Alexis Zopas came directly from Greece to open this new venture.  Kostakos became famous as the winner of Greece's version of "Top Chef" and is the culinary director at Scorpios on Mykonos, which is owned by Soho House, and a partner in London's Greek hit Meraki.  He also recently opened NOEMA, a contemporary restaurant and bar in Mykonos.  Alexis Zopaswas the executive chef at Scorpios in Mykonos and is known for infusion of Mediterranean and Asian flavors into Greek cuisine.  Executive chef, Joseph Rizza, from Prime & Provisions, who was born and raised on the south side, is helping with the overall operations of Lyra and tailoring it to Chicagoans tastes and expectations.
Expect simple dishes with quality ingredients.  Bold flavors and modern interpretations of Greek classics prepared with island cooking techniques over wood and charcoal ovens.  Start with the dips to share including the tzatziki, spicy feta and charred eggplant with vegetable crudité and pita crisps.  Move on to the grilled octopus, shrimp saganaki, deconstructed pastitsio (Greek version of lasagna), and spanakopita.  Lyra's version of spanakopita is spinach and feta in crispy individual triangle shaped phyllo.  For main courses we tried the Greek roasted chicken with garlic and lemon and the slow roasted lamb shoulder "gyros."  The lamb is braised for over 18 hours and then cooked over charcoal for a soft yet crispy finish.  For lamb lovers this course is a must!  Charcoal grilled lamb chops prepared in a more traditional manner and daily fresh seafood selections are also on the menu.  Everything was divine!  Although service is not on par with the food, yet the restaurant has barely been open less than two months.  The expectation is this will continue to improve over time.
| | |
| --- | --- |
| | |
As for drinks, Lyra has an excellent mix of wines from Greece, France and the US and many clever cocktails that incorporate Greek ingredients.  My favorite cocktail was the Hades comprised of patron silver tequila, fresh grapefruit, dehydrated Greek sugar, lime and serrano chile.  Several innovative variations on the classic martini including one with olive juice and feta blue cheese olives.
| | |
| --- | --- |
| | |
The inspiration for the name Lyra came from a street performer playing the harp in Mykonos.  As for the space, it has a Mediterranean vibe with light earth tones, hand carved wood, pots urns, and lots of greenery that extends from the main bar into the patio.  The enormous windows open out into the patio creating an incredible indoor-outdoor space which I imagine will be the place to be seen when the weather warms and Chicagoans flock to outdoor dining.  It is quite a scene on Fridays and Saturdays and takes on a lounge supper club atmosphere late night with live music.  Reservations are challenging but worth the effort.  If you are motivated, there is a beautiful oval bar available on a first come first serve basis that it fills up fast.
With the arrival of Lyra, we now have evidence that Modern Greek cuisine has become a desirable choice for Chicagoans and is here to stay.  If you want a quiet delicious Greek meal in a beautiful setting, go early.  If you prefer a lively club atmosphere, go late.  Cheers to you or as the Greeks say, Yamas!
Lyra, 905 W. Fulton Market, Chicago, IL  312-660-7722
www.lyrarestaurant.com
Reservations on Opentable