BY Ben Hess
Please give a hearty cheer for Ben and Ashley. Those words from emcee Candace Jordan ushered my dance partner, Ashley Downs, and me out onto the stage at the Park West as contestants in the 13th annual Dancing With The Giordano Stars competition. There was no turning back from the crowd of 450 I faced in what would become my "professional" dancing debut (and perhaps retirement?).
Contestants had gathered at the Park West hours earlier for final walkthroughs. Relatively relaxed throughout the day, I admit to trying to calm my nerves with a bit of boxer-like bouncing up and down in the moments before Candace announced us, something I was accustomed to doing before big track races as a college runner. Despite being a self-proclaimed wedding dance floor "enthusiast," I had no prior dance experience, no pre-wedding dance classes, nothing in my background that would compel me to dance live on stage in front of hundreds of complete strangers.
What I did have was a passion for Giordano Dance Chicago and its mission of enriching lives through dance. That passion compelled me, as it did for 11 other contestants, to "take a leap" in what is arguably (in my humble opinion) Chicago's most exciting fundraiser. Each year Giordano's professional company dancers are matched with individuals from Chicago's social, civic, and business communities for a "one night only" show that features each pair performing a foxtrot and dance of choice—in my case, a jive. It's a night full of energy that this year helped raise over $262,000 for Giordano, the most successful event to date. As in the TV show of a similar name, a mirror ball is awarded to the best male and female dancers based on scores from a panel of third-party celebrity judges (Jim Karas, founder of of Intelligent Fitness and Wellness; Ji Suk Yi, Chicago Sun-Times media star; and Ashley Wheater, Artistic Director of Joffrey Ballet).
As you might expect, "Stars," as the event is affectionately called, doesn't just happen. It takes considerable time and dedication on behalf of both contestants and their professional partners. My experience began three months prior at the Vista Sales Gallery with a kick-off event. Following round robin dancing, contestants were matched with their Giordano partner. When I was matched with Ashley, I remember thinking she was the perfect combination of fun and fierce, a good representation of the Giordano dance company itself. She remembers thinking I was "energetic and personable," descriptors an accounting and math double major like me rarely hears. Needless to say, I knew I was in for some fun. Ashley describes how the Giordano dancers want to make contestants' "journeys together a fun and memorable ride! That's what Stars is all about."
From the kick-off, it's straight into a whirlwind of rehearsals. I chose our music—"This is Me" for the foxtrot, and "3-6-9 feat. B.o.B." for the jive—and Ashley created the choreography. We met 1–2 times per week for three months. We no doubt worked hard, and I felt like I sweat more than I do at the gym at times. Trying to keep up with a professional dancer can be intimidating, so I often tried to "save" my missteps by turning them into "real" dance routines in an attempt to pretend I knew what I was doing. Of course, we shared a few laughs at my expense. Ashley remarked, "The early rehearsals are always interesting as a choreographer because you never know how your ideas will play out. Having a partner who is open and responsive is so important. Ben even made some great suggestions that we incorporated into our dances—it was true teamwork every rehearsal!" I guess I really was able to save a few of those missteps.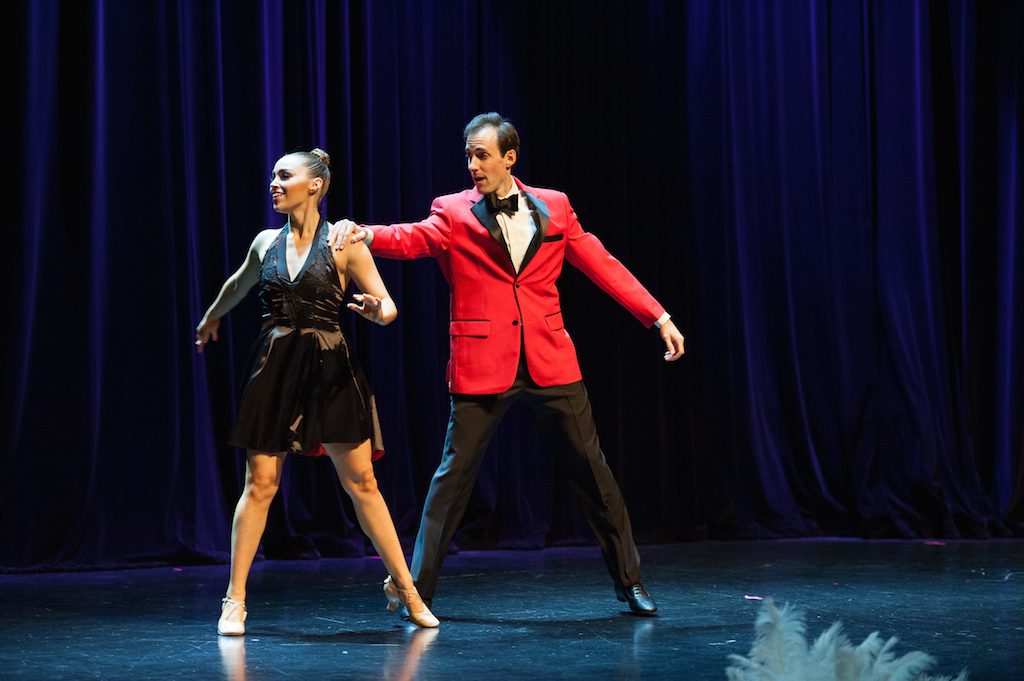 For me, the experience granted a new appreciation for the hard work, detail, precision, and athleticism that goes into Giordano bringing its world-class dance art to life. Feet, form, facials—a good routine is more than just getting basic steps right. A judge later told me that Ashley and I seemed to "get each other" on stage, which played into our success (we won the mirror ball!). We tried not to take ourselves too seriously in rehearsals and stayed relaxed, which I think that helped keep perspective throughout the experience. The Giordano leadership and staff were fantastic too. It's an organization that welcomes you into its world with open arms. I think of Giordano as much as a community as I do a company. "Stars" is a perfect microcosm of that experience.
The day of the competition is a whirlwind. It's the first time you see many other contestants because everyone is so busy with rehearsals in the months preceding. Contestants all share the same passion for Giordano, and the support everyone shows each other that day is truly special. Of course, all the performances are amazing, and the energy in the room is unbelievable, in classic Giordano style. Moving through the crowd afterward, you feel like something of a celebrity with people in the audience you've never met coming up to shake your hand and tell you what a great job you did. It's a truly once-in-a-lifetime experience, at least for someone like me whose day-to-day is otherwise as a strategy consultant to family-owned and privately held businesses.
"Stars" is an equally meaningful experience for the Giordano dancers. "The actual day of 'Stars' is one of my absolute favorite days of the year," Ashely told me. "It is the day that everyone's hard work, sweat, and stress all pays off, and the Park West is overflowing with soul, passion, and energy for an unforgettable night!"
When people ask me what I enjoyed most about the experience, I talk about not being able to think about much else when I was in the studio "box" rehearsing. For three months, I was able to truly immerse myself each week in something entirely new, fun, artistic, and thought-provoking. I get that same feeling of engagement each time I attend a Giordano show at the Harris or Auditorium theatres or elsewhere. Engagement and positive energy is a big part of why I support Giordano, and something I think we can all do more to seek out and share in our everyday lives.