John Monek Has Brought a Cane Collection Started by His Father to New Heights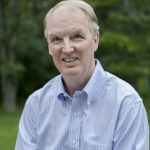 By David A. F. Sweet
Unlike today, canes in the 19th century were not purchased to help unsteady people walk. Instead, they were considered the mark of a gentleman as well as a fashion statement. A graduate of Harvard University in 1850, for example, was likely to receive a walking stick as a gift before he entered the world.
Few know the history of canes better than John Monek. Living in the Chicago suburbs, antique canes decorate the entryway to his house. Many more reside upstairs in a room the collector visits every day: he polishes them, checks for cracks, or simply enjoys looking at them (his most valuable canes are offsite for safety reasons).
Plenty of famous names dot the collection. One cane was created from wood extracted from Abraham Lincoln's log cabin (another he sold was owned by John Wilkes Booth). Topped with a tooth from a sperm whale is Ulysses S. Grant's cane when he ran the country. Henry Clay owned another, as did John Sutter of California Gold Rush fame.
Then there are the unusual ones. A ladies' decorative cane holds a compartment for snuff, not a vice often associated with ladies. A Nazi cane features a devil's head and swastikas. A few in the collection are stunningly old, fashioned from mastodons and mammoths who died 25,000 years ago. Others are mere babes — 250 years old, such as the large flute cane from Austria that Monek attempts to play, noting that one of his sons can do it with much more prowess.
How did Monek enter this rare world, whose denizens in the United States and Europe number perhaps 1,000? His father Francis — a successful trial lawyer best known as Frank — started his own collection in the 1950s. As a boy in Lake Forest, John often sat in his father's den listening to him as he demonstrated gadget canes to collectors.
"These were always exciting times for me because I could learn about the unusual sticks and handle them," Monek recalled. "Dad would always say, 'Pay attention, Johnny, because someday these will all be yours and Frank's (John's older brother).' "
When John's father passed away in 1996, a challenge arose: What do you do with 4,500 antique canes?
The vast collection weaved its way throughout the family's 28-room home. Though his father and mother had agreed the canes should go to the boys, John and his brother decided their eight sisters should receive some as well. After separating the canes into nautical, gun, gadget, gold-handled and many other categories (even one for hearing-aid canes), they loaded nearly a dozen 55-gallon fiberboard drums with the walking sticks. Over 32 hours, each of the 10 children chose the canes they wanted. John stayed up the entire time.
"That experience was absolutely the most fascinating time ever spent," he noted. "Only a true cane collector can imagine what the feeling was like to be surrounded by all these sticks, all this history."
Still, the brothers found themselves with canes they didn't want or need. They hosted 20 auctions in Richmond, Illinois over a number of years. They distributed glossy magazines to potential buyers, featuring pictures of European nobleman's canes, ones with heron-head handles, others used to attend the French theater, and more. Collectors around the world called in, and one even bought a cane owned by a king of Spain for $32,000 without touching it.
Monek's passion for his collection — one of the best in the world — is evident. During a two-hour chat (far from our first, as John is my brother's brother-in-law), it is hard for him to stay seated, as he always wants to share the story behind another cane. He has written descriptions of his nearly 1,500 canes so his two sons will know what they're dealing with when they inherit his collection — the third generation to own it.
"Canes are fascinating," Monek said. "They're almost always unique, made for different individual desires and purposes. Some were made for going to the opera, while others were made for walking the dog."
Others were crafted for those who weren't exactly gentlemen. Showing me examples of his gun canes, one features a Pepperbox revolver created circa 1880.
"With this one you can shoot six rounds," he said, "but if you miss your target, you can stab him with the stiletto on the end."
Then there are two he holds that appeared during the bloody French Revolution. With a simple twist of Monek's hand, one known as La Terrible pushes razor blades onto the cane's exterior. La Diabolique exposes nails.
Monek is well versed in assessing the age of canes, which is a good way to authenticate them: he said one should check hallmarks (prominent on gold-and silver-handled canes), eyelets and the length of the ferrules, which are often made of brass or bronze and sit at the bottom of the cane.
"In the old days, they had dirt on the streets. So unlike today, when it rained, the canes got muddy," Monek explained. "Owners didn't want the fine wood to rot, so they had longer ferrules then."
One of his favorite canes he inherited from his Dad. Containing a telescope and a tripod inside, it was manufactured for His Royal Highness Prince Albert and sent to the address engraved on the cane, 33 Bond Street in London in 1839. It was a wedding gift for his upcoming marriage to Queen Victoria.
To find new canes, Monek scours the Internet, old magazines such as Shotgun News and lesser-known auctions (he'll avoid auctions at a place such as Christie's, where deals are hard to find). Said he, "You can't just go to the store and buy these canes. You've got to react when the chance comes."
Unsung Gems columnist David A. F. Sweet can be followed on Twitter @davidafsweet. E-mail him at dafsweet@aol.com.