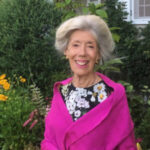 By Judy Carmack Bross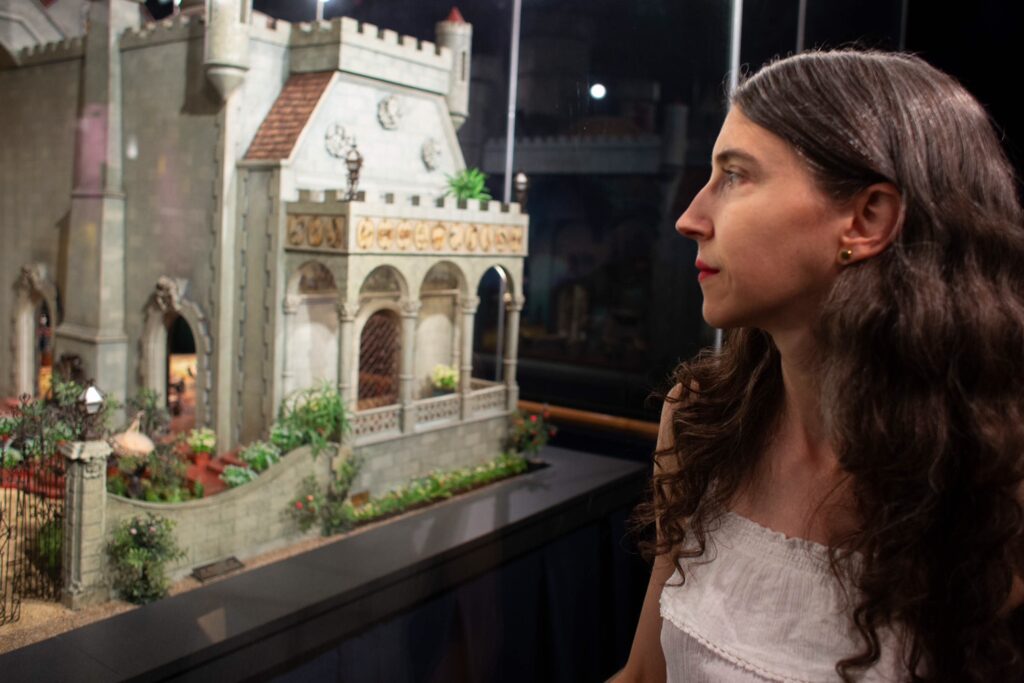 Author Kathleen Rooney at MSI's Colleen Moore dollhouse.
The Passavant Cotillion debutantes to be presented on December 22nd and the thousands of visitors to the Museum of Science and Industry who will cluster around a fairy castle these holidays have something magically in common.
Colleen Moore
They wouldn't be there if it weren't for Colleen Moore, named the top box office draw of 1927-29 who invented the modern woman dubbed the Flapper. Always known for making magic on screen and off, she must have whispered in the ear of Chicagoan Kathleen Rooney about Hollywood in the Jazz Age and the Fairy Castle Moore built, capturing in From Dust to Stardust the language of those fizzy times and the dazzle of the silent stars idolized around the world.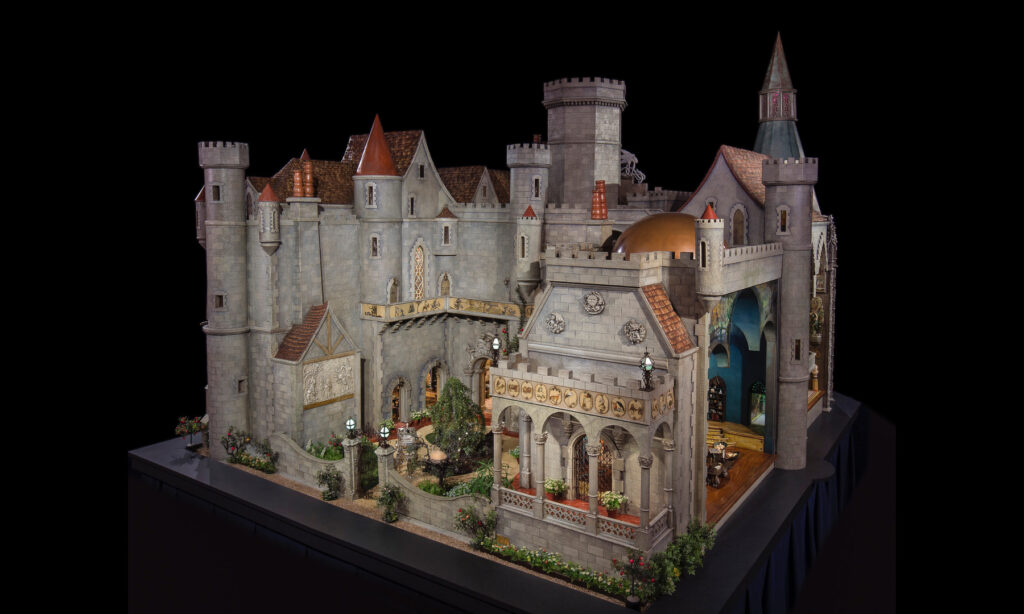 The Fairy Castle at the Museum of Science and Industry.
Or should we call her Doreen O'Dare? In her latest historical fiction, author Kathleen Rooney gives Moore her Hollywood name and takes the 14-year-old Chicagoan on the train to Hollywood with her Irish grandmother where Moore learned to take charge of her destiny by bobbing her hair, and then back to Chicago to start a 3.0 finale with a fabulous family, including children she could not have herself, and that Fairy Castle called the Colleen Moore Dollhouse at MSI.
On November 29th, Rooney will speak at Ragdale's Book Club in Lake Forest on her recently released novel and on January 27th Moore's step granddaughter Alice Hargrave and Rooney present what MSI is calling "a massive day of miniature marvels and movie magic." On February 6th at the Des Plaines Theater Rooney will be showing her favorite of Moore's films "Why Be Good."
"There are not many of her movies available, many have been lost or destroyed by fire, due to the instability of nitrate. That she was there during that brief period of silent film, that she was its first modern woman is remarkable. For thousands of years this beautiful art form did not exist and then all of a sudden, silent movies burst on the scene." Rooney, author of Lillian Boxfish Takes a Walk she calls an ode to New York, said, "I did research on the syntax, language, and slang of the time. I have done lots of historical fiction and this is very important step."
The novel begins in 1968 as Doreen records a tour of the Castle which she filled with miniature treasures from around the world including her own jewelry made into chandeliers, a piece of the true cross given her by Clare Booth Luce and books signed by, among others, F. Scott Fitzgerald, who conjured best the Jazz Age. Castle treasures in each room are interwoven with how Moore directed her career, personal tragedies along the way, as well as early love, director King Vidor, who never quite left the picture.
Little miniatures for the Colleen story from the Fairy Castle.
"I was eight years old I first visited the Fairy Castle. All the tiny objects fascinated me and I want to know the backstory. I have always loved history and wanted to know what happened before I got here," Rooney said.
"It used to be that when you picked up the heavy black phones at MSI you would hear Colleen's breathless voice taking you from room to room," Rooney said. "That is gone now, and when I visited the castle with my niece and nephew in 2016 it looked sad and dark in the basement. No one seemed to know anything about the woman who had steadfastly toured the castle at the height of the Great Depression and then donated the funds raised to help many needy children. Very excited to be returning with Alice to talk about this treasure and Colleen."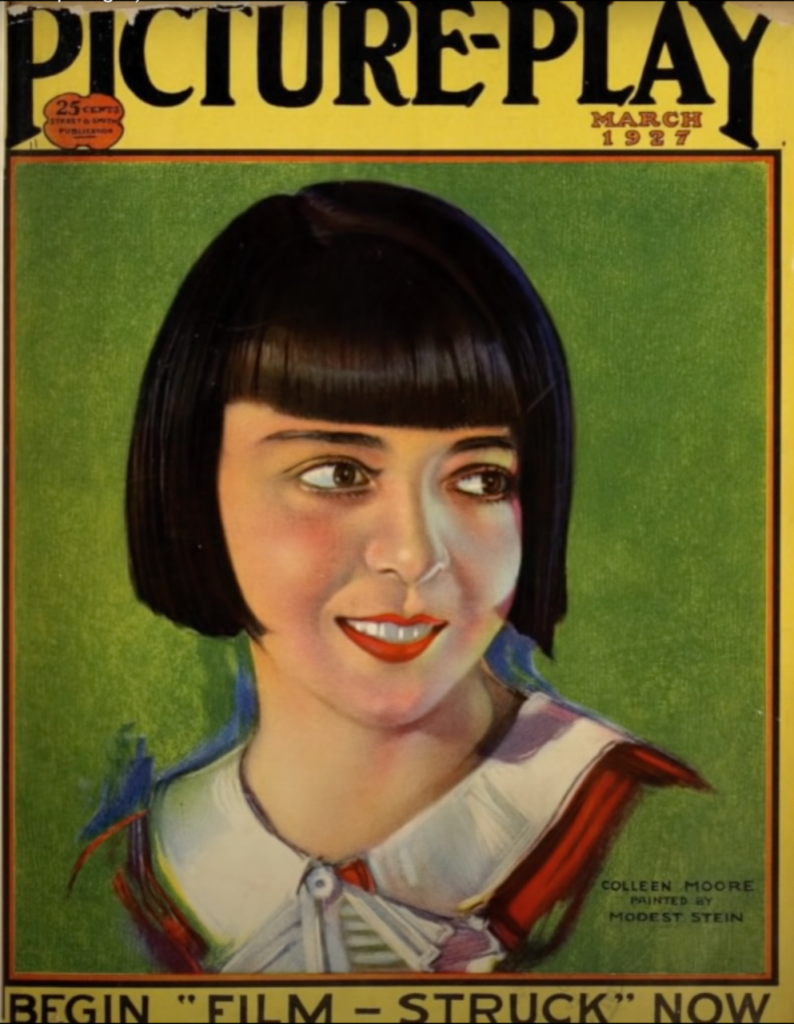 "I wanted to tell the story of this remarkable woman with one blue eye and one brown one, who never lost her childlike wonder, joy and enthusiasm yet was a philanthropist and even wrote a book on how women could make money in the stock market that still works today even though the markets have changed."
As Colleen Moore Hargrave, she was key in founding the Chicago Film Festival and lent hands-on service to many boards including the Woman's Board of Northwestern Memorial Hospital where she launched the Passavant Cotillion in 1949.
"The Dollhouse took over seven years to build, and over 100 people worked on it, many of whom were from the movie industry who specialized in scaled down versions of natural disasters and other catastrophes too costly to film at full size," Rooney writes.
Like Granny Shaughnessy, Doreen had great respect for fairies for whom equipped her castle, and Moore did too. "How could a woman be so levelheaded in business, and yet so mystical? It is one of Moore's fascinations. On set she transformed herself magically into someone else. She knew that wee people weren't fashionable, but she loved that magic and also her Catholic religion mattered so much to her."
Colleen Moore at the height of Hollywood fame.
In the novel, Doreen is born Eileen Sullivan. Her uncle Walter Howey was the legendary Hearst newspaper editor captured in the Broadway play The Front Page by Ben Hecht and Charles MacArthur. DW Griffith owed Howey a favor and he sent his star-struck niece to Essanay Studios where Colleen passed her screen test and headed to Hollywood with a six-month contract. "I loved to walk by Essanay, still there on Argyle Street. The Howeys lived in Uptown," Rooney said.
Moore was not a sexy star like Clara Bow and Louise Brooks nor the childlike waif portrayed by Lillian Gish or the perpetual child with ringlets that defined Mary Pickford. "She was jazzy, athletic and knew how to play to her strengths," Rooney said. "Colleen was deliberately more wholesome, she knew herself."
Although Colleen Moore had a voice perfect for talkies unlike Clara Bow, John Gilbert and so many other silent stars and made several of them, she knew when it was time to retire from Hollywood at age 26 and concentrate on her castle, her husband, step children, and grandchildren as well as the Chicago she loved so much.
Colleen as a Flapper in "Naughty But Nice"
"She was born at just the right time to be at the center of the Silent Film period of 1912 to 1929. Unlike so many starlets who had a terrible time, or a great star like Louise Brooks who ended up living as a recluse in Rochester, Colleen was not ground up by the system and went on to have a second and third act. No one had her joie de vivre.
To learn more about The Ragdale Book Club November 29, visit ragdale.org
To learn more and the Museum of Science and Industry's January 27th day of miniatures and movies, visit msichicago.org