BY GAIL GOLD
It was party central the minute I walked on the Air Tahiti Nui Dreamliner plane: turquoise blankets, pink and lime green pillows, island music, and flight attendants in flower-printed flowing floor length robes with bright flowers behind one ear. The announcement greeting was in Tahitian, French, and English, and then we were off for a long flight to the South Pacific Ocean. The small airstrip, the un-air-conditioned terminal, the ukulele music welcoming passengers, having a gorgeously perfumed lei put around my neck, and everything written and said in French—it was clear that we had descended upon a far away place.
After having temperatures taken by French medics, our beds and that first night of sleep felt very good. Arising in Papeete, Tahiti, the next morning, I was greeted by a very warm temperature of 90 degrees. A black sand island with waves crashing onto the shore, and the largest of the 5 French Polynesian archipelagos, Papeete, the capital, is a bustling town. Later that day I boarded a cruise ship to visit some of the 180 islands making up French Polynesia.
The first thing I learned was about the practice of tattooing. Developed over the centuries into a unique art describing cultures, legends, and history, it appeared every islander had a massive amount of tattoos over his entire body. Drawing symbols on the skin, tattoos kept—and still keep—history alive. Inspired by nature, animals, birds, oceans, and stars, generational stories are still going strong through this art form.
Onboard, a "sail away" is when the ship leaves dock. We left at 5:00 am for the first island in the archipelago. The sun was ready to rise, the waves were rolling, but there were no white caps in sight. Off in the distance were cloud formations, on the horizon were the mountains. Nature at its best!
Moorea was the first verdant island we visited with its giant ferns, pineapple plantations, varieties of palm trees, and saltwater shrimp farms. Moorea was first settled by Polynesians from the islands to the west arriving 1,000 years ago in canoes coming down from South Asia. The first Europeans arrived during the 18th century, the first being Captain James Cook and Englishman Samuel Wallis.
All the islands were formed from volcanoes leaving lush hills and valleys and jagged mountain slopes. Hibiscus, lilies, vines, and wildflowers all add to the beauty. Every island is surrounded by reefs, which break the ocean water and form sand bars. The first glimpse of that transparent, crystalline water was breathtaking. Never have I seen such colors going from turquoise to lime, to emerald to deep blue, to azure. You just look down and see marine life darting—it's very exciting. The first glimpse of the over-water bungalows brought a smile and thoughts of those lucky people who were on top peering at the magnificently colored fish.
Another delight after descending the tender: Fakarava, a very remote island measuring 37 miles long. Only 800 people enjoy this giant beach paradise, a mecca for scuba divers. Designated as a UNESCO Biosphere reserve, thus a very unspoiled ecosystem, we rented bikes and rode the entire length, with the ocean to one side, a lagoon to the other. In the blistering heat we turned inward, set down towels, and walked on the soft, white sand into warm, light blue-to-clear water. It is almost impossible to describe—so pristine, so see-through, an unobstructed view to the bottom, manta rays, sea turtles, and tropical fish within arm's length. The rustic remoteness and peacefulness is a great attraction of this island life.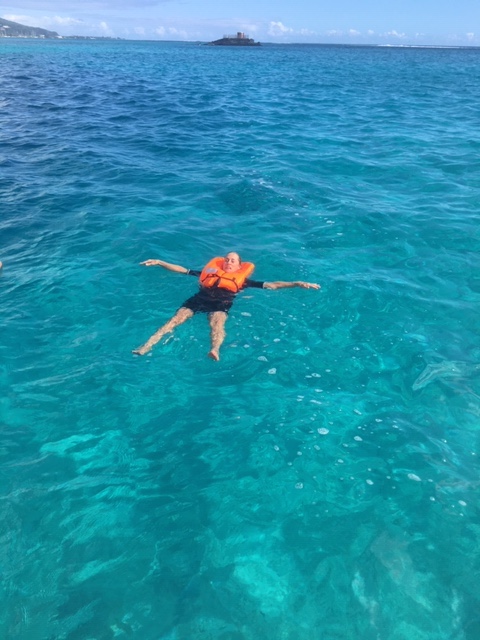 Rangiroa, home of world famous beaches, was our next stop. Independently we made our way down the gangplank to a waiting small boat operator. He motored us out to an open-air aquarium to snorkel, seeing abundant, colorful fish and various coral formations, as well as sunken plane wrecks. Coral looks so lovely and graceful, waving back and forth, but it is extremely dangerous. If touched, it can rip your skin open, and you don't know it until you surface and see the bleeding.
Tendering 15 minutes to the pier in Nuku Hiva, we saw 75 sailboats dotting the pale blue water. Thinking it must be one of the larger islands of the Marquesas, we learned it was the second biggest in French Polynesia. We walked to a non-commercial, non-touristy market selling local fruits and vegetables, plus a handful of traditional decorative arts and crafts: authentic shell necklaces and bracelets, wooden bowls, spears, and painted fabrics.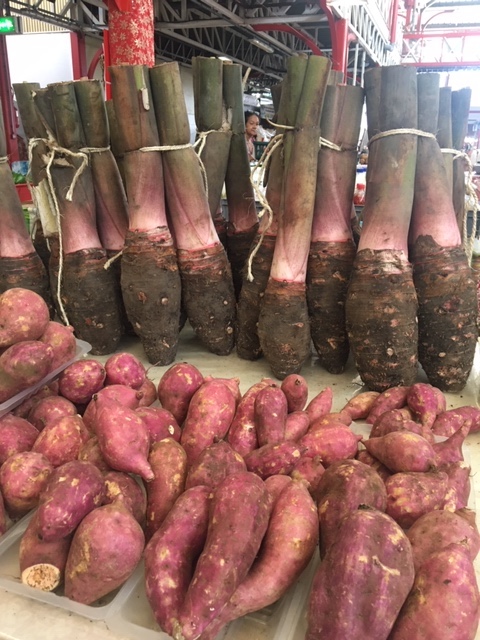 Quickly we decided to hire a 4×4 vehicle with another couple to see as much of the island's lushness as possible. The main village is located at the edge of an ancient volcanic crater that collapsed into the sea. Towering over the ocean and unprotected by any reef, horses roam freely, majestic trees reach neck-breaking heights providing shade, and wildflowers abound, all adding to the immense beauty of scenic views overlooking the bays. A very seductive waterfall cascades down full of mist, in a feathery stream, only adding to the romanticism of the island. The journey was spectacular and the views were stunning, maybe even intoxicating. Marlon Brando was sure to appear!
Herman Melville's famous novel Typee, was written about the Taipiva valley in the late 19th century. After jumping ship and spending 3 weeks in paradise, he was enchanted by the local people. He lived in the valley among the Typee, learning their culture. Melville's summation of Nuku Hiva as a "country that no description could fit the beauty" was more than accurate.
After a few hours, the driver pulled into a small isolated black sand cove. In two seconds flat, we brilliantly stripped down to our bathing suits, folded our clothes under a tree, and dove into the warm azure water of the South Pacific. One of the most delightful swims ever—think "Bali Hai." Although we didn't "wash that man right our of our hair," we did keep a sharp lookout for sharks that swim close to shore. Later, we stopped at an archaeological site where ancient stone tikis appeared. Ceremonies and human sacrifices were performed all over the island with remnants found by local villagers. Without seeing a TV antenna or satellite dish, I knew I was far, far away from the life I live in a big city.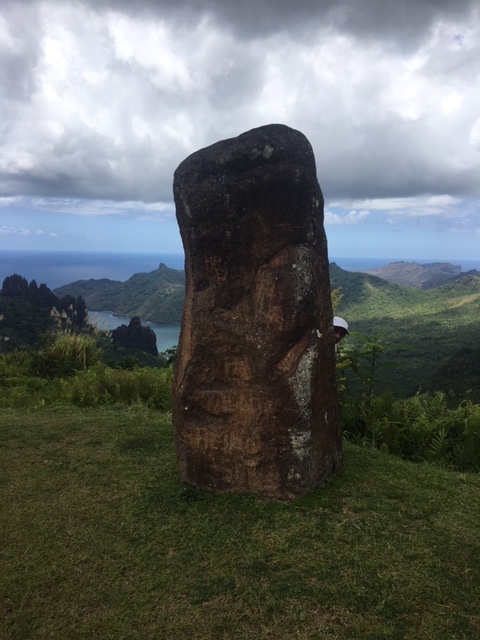 The last island to visit was Raiatea. By very good fortune, we were able to join a dive boat of scuba divers, but we went to snorkel. Donning mandatory wet suits, I took a life jacket, even though I'm a strong swimmer, and jumped into the very blue waters following a leader from French Guiana, to the waving coral aquarium. Fish were darting all around us: big fish, tiny fish, very large fish. Under the sea it is a silent world, except for hearing your breath through a snorkel, but the volume of color is dialed way up: brilliant turquoise, shocking blue, electric yellow, eye-popping purple.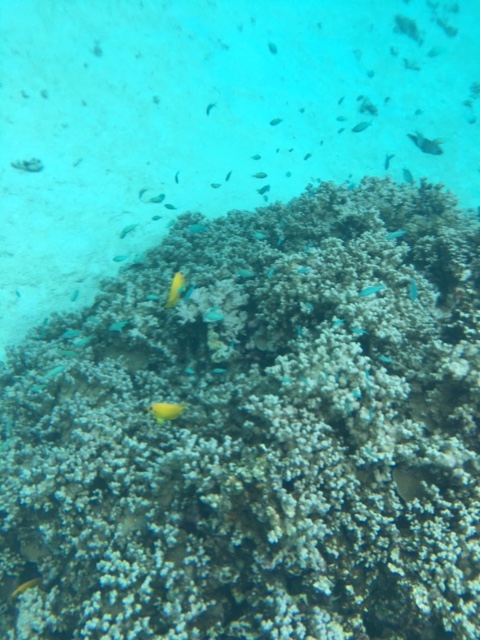 The world was far, far away—remote visions of the other life. In these very uncertain times, it was an excellent place to be for a few hours: on a bobbing boat in the middle of the Southern Pacific Ocean with the hot sun beating down. The first plunge into the warm, blue waters, and voila, as they say in French: done.
A memorable trip into a tropical paradise, never to be forgotten.