By Bob Glaze
Just under 30 minutes from downtown Chicago are the tree-lined suburbs of Oak Park, Forest Park, and River Forest. Here you can see some of Frank Lloyd Wright's most famous homes and tour his home and studio and the famous Unity Temple. Why not make a day out of it and enjoy the attractive downtown area and walk and drive the neighborhoods, while exploring his architecture. You can access the sites by car, by taking the Green Line from the Chicago Loop or the Metra Union Pacific West Line train from the Ogilvie Transportation Center.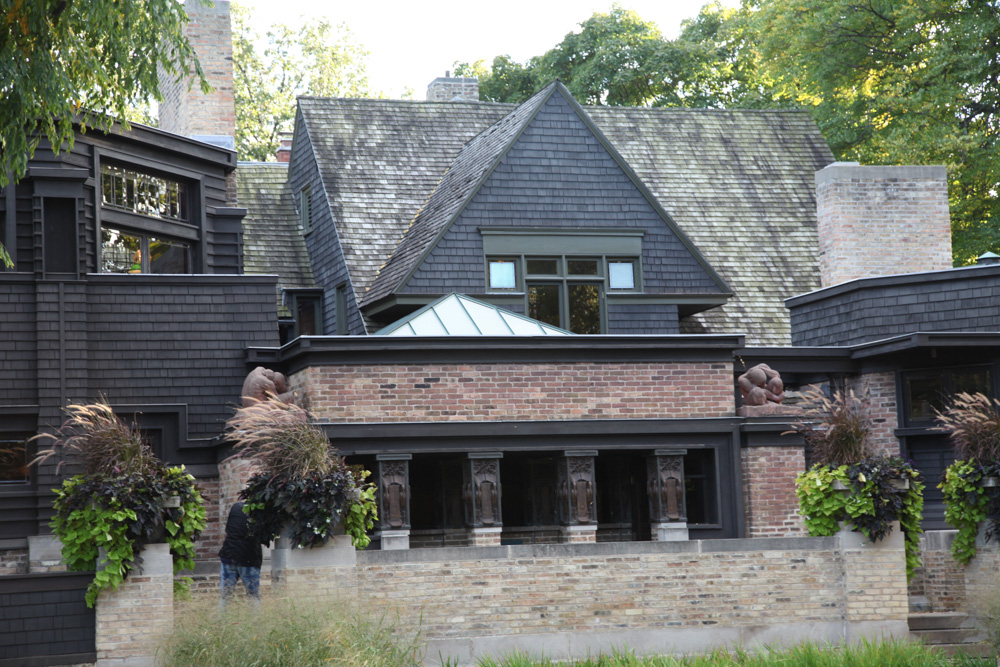 Frank Lloyd Wright Home and Studio
Start off at the Frank Lloyd Wright Home and Studio located at 951 Chicago Ave. in Oak Park, this was Wright's first home and studio where he developed the Prairie style of American architecture. I would book the guided interior tour online before you go. Photographers can buy a photography pass for an extra fee. I enjoyed seeing the home but the tour of his architectural studio, where he and his associates worked, was the highlight.
| | |
| --- | --- |
| The Arthur B. Heurtley House | Laura Gale House |
| Peter A. Beachy House | Hills-Decaro House |
Next pick up your map and audio guide from the Home and Studio to start your walking tour of the neighborhood. You can just buy the larger map or book an audio tour which comes with the neighborhood map and audio guide for narration; I did both. You will see some of his famous homes: The Arthur B. Heurtley House at 318 Forest, which was one of my favorites, The Laura Gale House at 6 Elizabeth Ct., The Peter A. Beachy House at 238 Forest Ave., The Frank Thomas House at 210 Forest Ave., The Hills-Decaro House at 312 Forest Ave., and the Nathan G. Moore House at 33 Forest Ave. This district has the world's largest concentration of Wright-designed structures.
Walter Gale House
On Chicago Ave. you can see some of his older homes, The Walter H. Gale House at 1031 W. Chicago, The Thomas H. Gale House at 1027 W. Chicago and The Robert P. Parker House at 1019 W. Chicago.
Oscar Balch House
Make sure to visit the Oscar Balch house located north of the Wright Home and Studio at 611 N. Kenilworth Ave. It is a large, very attractive property. It is across the street from Ernest Hemingway's boyhood home at 600 N. Kenilworth Ave.
Rollin Furbeck House
On my recent visit, I found the Rollin Furbeck House, at 515 Fair Oaks Ave., designed by Wright in 1897. The house was the second residence that he designed for the Furbeck family. It has a vertically oriented, tower-like structure, with colonnades on the second and third floors.
| | |
| --- | --- |
| Unity Temple outside | Unity Temple inside |
Next stop is Wright's famous Unity Temple at 875 Lake St. Make sure to book online, before you go, through the Frank Lloyd Wright Trust. Guided tours of the interior and self-guided audio tours are both available. Wright designed and built the church from 1905 to 1908. The building elements and architecture are great examples of his organic design. Make sure to take note of his use of natural light, his decorative art or stained glass, his light fixtures and furniture. You will visit the social area as well as the main auditorium or sanctuary. In 2019 it was one of eight of Wright's major works added to UNESCO's World Heritage Site list.
Sugar Fixe Patisserie
Spilt Milk
From the Unity Temple, walk a short distance to downtown Oak Park to grab a bite. Sugar Fixe Patisserie at 119 N. Marion St. is a great spot for a macaron or cupcake!  I loved the macarons. I was also just at Spilt Milk, a fun spot with great pies and bakery items, breakfast sandwiches and a small lunch menu including quiche. They are now at 811 South Blvd. Q-BBQ is also a good spot for lunch at 124 N. Marion St.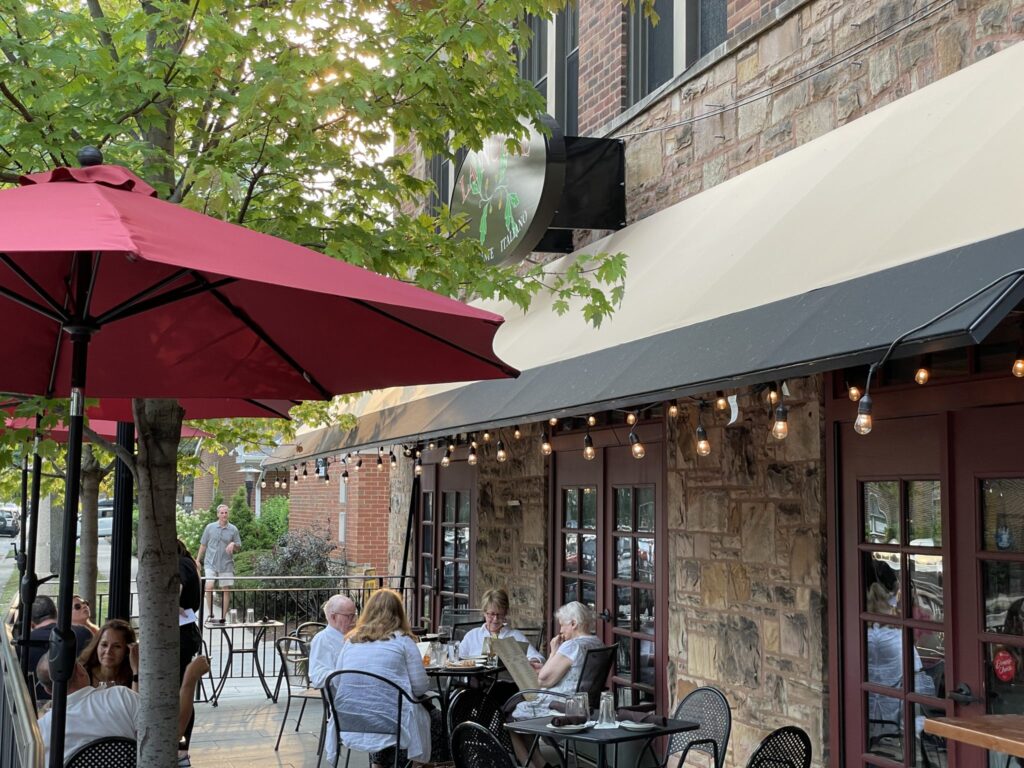 La Notte Ristorante
For a great meal, a close local friend recommends La Notte Ristorante for old-school Italian specialties. They are now located in the Carleton Hotel at 1120 Pleasant St. in the popular and growing Pleasant District.
Victory Italian
On a recent visit, I had a fun meal with friends at Victory Italian.  At 100 S. Marion, this is a good place for Italian specialties with both indoor and patio seating. I enjoyed my mussels and a tasty glass of red wine. They also have a large menu of pastas.
Kribi Coffee
Around the corner is Kribi Coffee at 1033 South Blvd. Their first location is in neighboring Forest Park, and a third is will open soon at 149 Forest Ave. in Oak Park. Now, Kribi Coffee is focused on sourcing green beans directly from their farmers in Cameroon, where the owner, Jacques Shalo, is originally from. In addition to excellent coffee drinks, they feature pastries, donuts, and bagels from other local sources. I enjoyed the experience.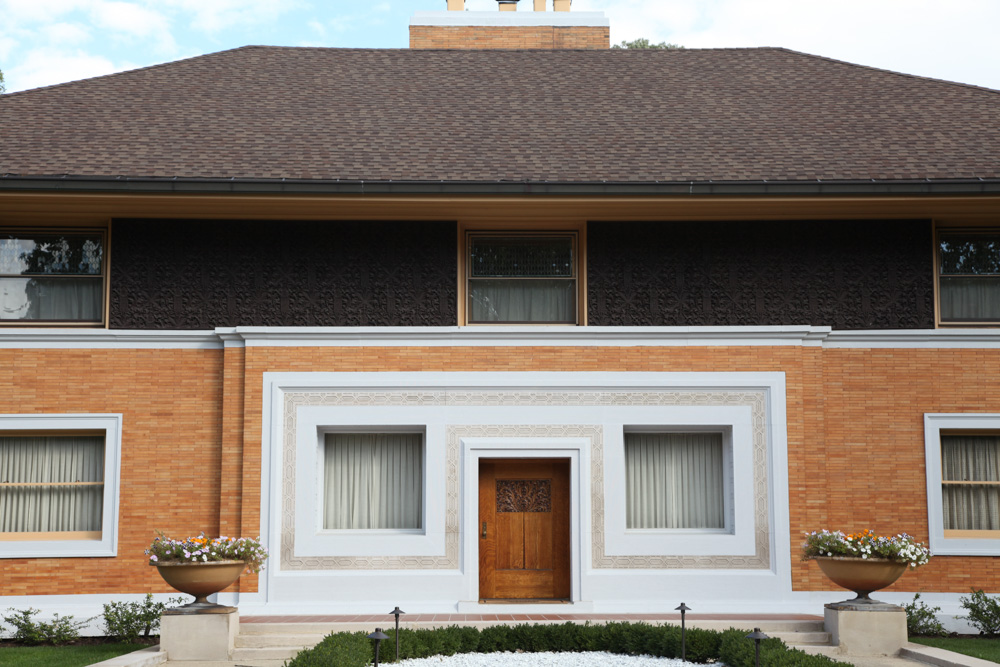 William H. Winslow House
Isabel Roberts House
Chauncy Williams House
Next, head west to River Forest where you can see his Waller Gates House at Auvergne and Lake St., The William H. Winslow at 515 N. Auvergne and the stunning Isabel Roberts House at 603 N. Edgewood from 1908. There is also the Chauncey Williams House at 530 N. Edgewood and the J. Kibben Ingalls House at 562 N. Keystone from 1909.
Wright Plus Housewalk
You might also enjoy The Wright Plus Housewalk, held on the third Saturday in May, where you can walk through the homes in Oak Park and River Forest. I have done it twice in the past. The tickets for the May 20,2023 event are sold out, but you can register to be on the waitlist.
Austin Gardens and Oak Park Festival Theatre
At the end of Forest Ave., you will pass the Austin Gardens, where you can enjoy The Oak Park Festival Theatre in the summer months since 1975. They feature plays by Shakespeare and others in a great outdoor setting and a perfect destination on a summer night. I enjoyed my past experiences there.
| | |
| --- | --- |
| Petersen's Old-Fashioned Ice Cream | Petersen's Old-Fashioned Ice Cream sundae |
After your Wright tour stop in for an ice cream break at Petersen's Old-Fashioned Ice Cream at 1100 Chicago Ave. in Oak Park. It is two blocks from the Wright Home and Studio and has been open since 1919 and in this location since 1931. I always love the butter pecan!!!
I hope you enjoy my recommendations and your time in Oak Park.
For more travel destinations and recommendations, visit globalphile.com.