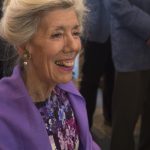 BY JUDY CARMACK BROSS
Editor's Note: Classic Chicago has covered Chicago's non-profits as they navigate the pandemic, reporting on their challenges and their triumphs in making fundraising virtual in large part. Today we turn to Fran Caan, President of Frances S. Caan Non-Profit Consulting Inc., for tips on how they can survive and thrive.
Fundraising, along with public speaking, ranks among assignments people fear most. How do individuals and organizations get around that in these crisis times? On the advice of Mary Ellen Christy, Classic Chicago columnist and fundraising genius, we spoke with Fran Caan to seek her advice after Christy told us that no one embraces fundraising more than Caan.
"In my 45 years of fundraising, I have never met a consultant who is more knowledgeable or more helpful," Christy says. "It is not only the diverse organizations she has served with her advanced degree in nonprofit management but also her calm, happy spirit and her hands-on engagement. It is all about helping organizations better express the benefits they bring to our community. Sometimes it is the consultant from the outside who helps you best accomplish your mission."
A member of the Service Club of Milwaukee, Caan learned early on about charity while growing up. "My parents were quite involved with the Children's Achievement Center and also with the Milwaukee Arts Center. I understand they masterminded the Art Center's first Bal du Lac fundraiser when I was quite young—a very proud recollection," Caan shares.
Having studied Philosophy in undergrad at Boston College, her first job was with the Jung Center of Chicago and since then she has worked with both small and large non-profits across the city. In 2015, as a member of the Evanston Lighthouse Rotary Club and chair of its fundraising committee, she led the group to start the Taste of Evanston, continuing virtually this summer.
"When I started taking courses in non-profit management, I knew that I wanted to spend my career working closely with leaders, devising new business models and helping them raise the funds they needed to carry out their missions," she says.
An expert on everything from annual giving to planned giving to capital campaigns as well as institutional startups, Caan trains boards, guides strategic planning, leads fundraisers, and knows non-profits from every angle. We talked with her about what non-profits should be doing right now.
"According to a recent article that appeared in Bloomberg Opinion, so far, the US financial system has survived the initial shock of the coronavirus crisis, thanks in part to the actions taken by the Federal Reserve," she reveals. "But, another shock may be coming, as millions of people and businesses fall behind on obligations such as mortgages and corporate loans. It would behoove leaders of nonprofit organizations with a June 30th year-end to give careful consideration to revising their 2021 annual budgets. We are seeing that virtual fundraisers are yielding 70% – 75% of what they would have pre-pandemic."
Caan says that it is essential for non-profits must remain relevant if they are to thrive: "These organizations were born of a societal need. Our needs are changing. The way we deliver healthcare is changing. Can you imagine the modifications our hospitals are making to their budgets?"
Additionally, she explains, a focus on social justice among nonprofits is going to be enduring for years. Savvy board members will request modifications be made to mission statements and cases for support to include this paradigm, as appropriate.
"Now is the time to invest in fundraising and communications staff. Do not accept inertia," Caan advises. "Keep up the no-cost newsletters and outreach and consider how you might modify your messaging and programming to address the changing needs of your community. For example, fewer camps are operating this summer. What do we do with all these children? Art is therapy. Gardening is therapy. Perhaps more local art centers will offer outdoor, social distanced, drawing classes for youth."
Caan, who now works with a number of Chicago-area nonprofits, told us that people are increasingly anxious about the dire news reports constantly swirling around us. They are lonely and feeling the financial repercussions of businesses being shut down. But, on the bright side, they are remarkably generous. She notes that charitable giving is not declining, nor has it in the past during times of disaster. "We still have homeless to care for. We still have churches to build and injustices to speak out against. What we are currently witnessing is a re-prioritization of our philanthropy. Our donors are turning their attention to NGOs and local charitable organizations whose missions support social justice and health related causes," she says.
UNICEF, The Red Cross, The Rotary Foundation, the Greater Chicago Food Depository, and homeless shelters, are among those effectively communicating with donors about the importance of their missions and people are listening.
Putting the whole Taste of Evanston online couldn't have been easy. We asked Caan how she went about saving the Taste: "Oh, it's not just me, that's for sure. We have a very devoted committee of Rotarians who work to put this event on every year. In March we convened via Zoom and immediately set in motion a means to direct patrons to all of the participating Evanston restaurants that were remaining open for business with curb-side delivery or pickup. Each year over 30 restaurants, wineries, and breweries generously donate their time and tastes. We wanted to do all that we could to help them remain in business."
"As for the event itself, we'll see how it goes! We are working hard to get the word out about the opportunity to make a real impact on organizations fighting to end homelessness," she continues. "It's a shame that we can't put on the huge party this year with incredible food prepared by incredible chefs, but in the end, we are hoping that Tasters take one for the team this year, knowing we'll be back in 2021. With the help of Linda Bouvilom of Admin Creative, we modified our existing website and created a new one for this year. Proceeds of the virtual event will benefit two worthy organizations: Connections for the Homeless and Reba Place Development Corporation. A portion of the proceeds also supports ongoing philanthropic projects of the Evanston Lighthouse Rotary Club."
Caan put giving in Chicago in perspective: according to a recent Indiana University Lilly Family School of Philanthropy study, in a given year, individuals, corporations, and foundations have been known to infuse over $10 billion in Chicago nonprofits. Chicago philanthropy is alive and well. With sound leadership, our charities will persevere and come out stronger and perhaps more relevant.
She counts collaborations among organizations as a silver lining out of all of this: "This is exactly what grant-making foundations want to see; the end result is that more people are being served with more efficiency. An example of this, that I've seen first-hand, is parishioners of St. Chrysostom's Church making hundreds of lunches and delivering them to the church. The lunches are then delivered to Catholic Charities where members of the Interfaith Council orchestrate further deliveries to homeless shelters throughout the city."
Caan also notes the rebuilding she is seeing in the faith and trust in nonprofits, following scandals of previous decades. This correlates with a current consistent rise in charitable giving.
She adds that staffs need to emphasize, more than ever, the importance of board members building stronger alliances with colleagues. Relationship building is key. "Make introductions, not just to an individual but to an entire family," she advises. "We are seeing a trend that the decision makers among Donor Advised Funds and private family foundations are increasingly millennials. While they may not have the actual wealth their parents do, they are serving on boards and actively participating as volunteers on site. They are the up-and-coming faces of philanthropy. This bodes extremely well for charities and messaging ought to be adjusted with this trend in mind."
Organizations also need to solicit testimony from board members, she explains, saying, "We are accustomed to asking for time, talent, and treasure. Add testimony to this list. Testimony translates to advocacy and can be a very powerful marketing tool when shared via social media."
Founded in 2016, Frances S. Caan Non-profit Consulting, Inc. is already having an immediate and sustainable impact on a number of charitable organizations dedicated to serving the community. Schedule a time to discuss your needs and how Fran may be of assistance by emailing fcnonprofitconsulting@aol.com. A meeting is worth much more than a thousand words.
Showcase is a designated category of Classic Chicago in which valued advertisers and other select supporters convey timely messages to viewers.