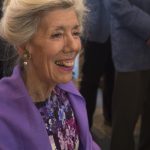 BY JUDY CARMACK BROSS
Chief Landscape Architect Susan Sevcik took us for a virtual peek behind the construction fences at the Chicago History Museum to imagine what's in store. Visions of flowering and native trees, vistas of perennials, history hints, and expanded plaza and plenty of benches gave us much to anticipate this fall.
The Scott Byron & Company designer describes the Jaffee History Trail that is currently in the works: "Not only will we be bringing more attention to the Museum by upgrading the existing plaza, we will also be beautifying and unifying the landscape. We will be taking history outdoors by creating an accessible interpretive path around the Museum."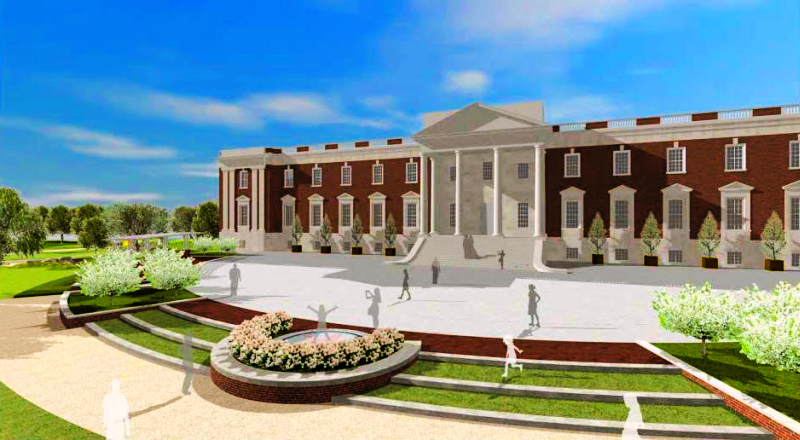 Sevcik adds that her inspiration has been Jens Jensen, the legendary landscape architect who designed many of the most glorious gardens for Chicago's parks and private clients, featuring a diversity of trees and plants with an emphasis on nature and history. Beds of native plants will attract birds and other pollinators. And watch for lots of bulbs to be blooming next spring.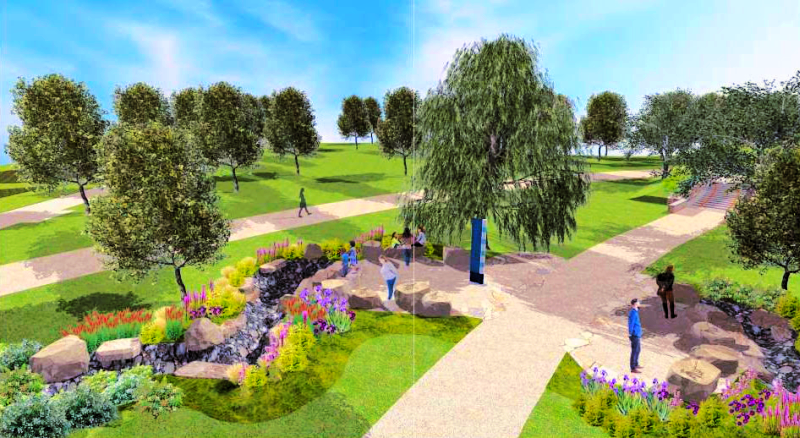 "We are focusing on Jensen's natural style and are planting 150 trees including long-lived bur oaks, fragrant and flowering Sargent crabapples, and swamp white oaks, with allees of lindens and elms, which give a softer feeling in contrast with the classical plaza, now expanded for outdoor gatherings. The History Trail both calls attention to the Museum while being a unification with Lincoln Park. We are delighted to expand the outdoor dining area for the museum's popular café," she explains.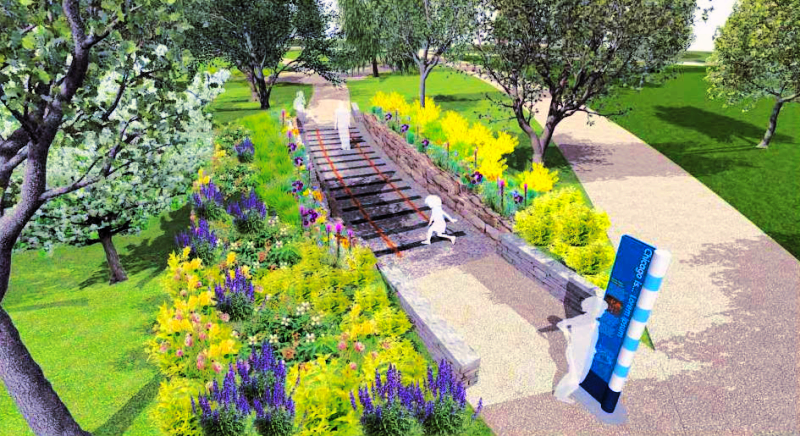 Bordering on Clark, LaSalle Drive, and North Avenue, the 4.5-acre Jaffee History Trail, named for long-time Chicago civic leaders and supporters of the Museum, Richard M. and Shirley H. Jaffee, will welcome visitors to both Lincoln Park and the Museum.
The Museum Plaza on the East will be expanded with inviting space for dining and outdoor gathering and will be flexible for events. They are also adding beautiful arched pergolas, which continue the more classic style of the museum and its long limestone columns.
Central to the project are the eight history stops along the way, including the famous Couch Tomb, the last above-ground reminder that Lincoln Park was once a cemetery. The Couch brothers, who were early innkeepers here, hired Chicago's first architect John Van Osdel, who had designed our initial City Hall, to build the family mausoleum. When the cemetery became a part of Lincoln Park in 1869, families were expected to move their relatives. Although the reason that it remains isn't verifiable, it is believed that the family thought it too expensive to move the 50-ton tribute to another cemetery.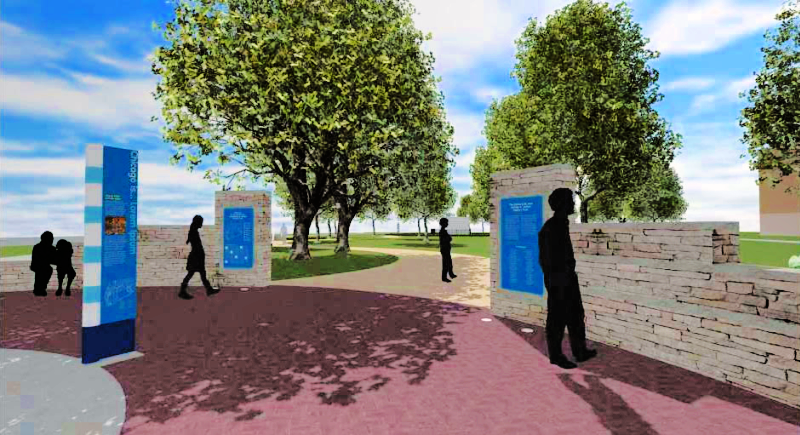 "One of our most weighty assignments for this project was moving the 'Fire Blob,' the massive relic weighing 13,400 pounds, from the Great Chicago Fire of 1871. It was in a rarely noticed part of the park, where it was overgrown with grasses. Now it has a key spot. Throughout the trail there are ways for children to learn more about these key times in our history," Sevcik says.
Additional elements of the trail will include a garden featuring native plants, a collection of weathervanes designed in collaboration with the Chicago Park District's 15 cultural centers and local artist Bernard Williams, and an open pedestal for visitors to consider what leadership means.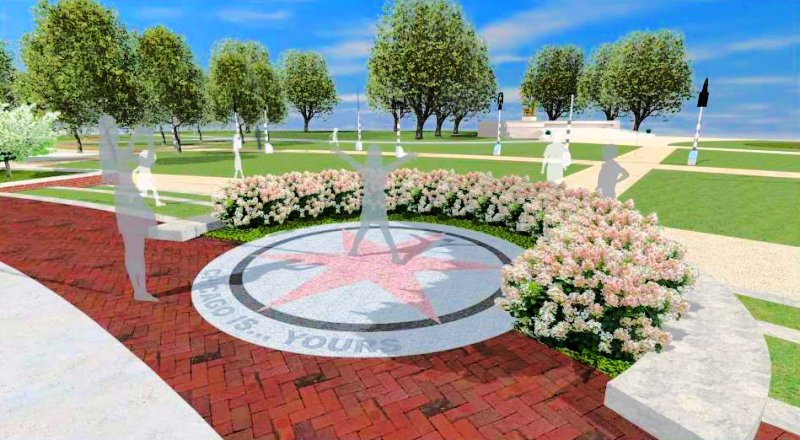 To Sevcik, landscape architecture was a natural career choice: "I knew I wanted to make beautiful spaces for people to discover what calms them and brings them joy, and I wanted to be part of moving our planet forward, making the right environmental choice."
John Russick, Senior Vice President for the Chicago History Museum who has been a key part in shepherding this project, shares, "The Chicago History Museum is proud to continue sharing Chicago stories in an innovative way that encourages learning and critical thinking outside the museum's doors. We are honored to work with the Chicago Park District to make this interpretive path come to life, and we are incredibly thankful to our supporters, community partners, and neighborhood residents for their ongoing support and guidance during this important project."
Chicago Park District General Superintendent and CEO, Michael Kelly, echoes those remarks, saying, "Enhancing park spaces for Chicagoans to enjoy and learn something new is the epitome of what the Chicago Park District seeks to support. We are honored to work with the Chicago History Museum on the Jaffee History Trail project and eager to welcome the public to the space."
This project also includes necessary renovations to CHM's underground collection storage facility, which sits directly below the plaza on the east side of the museum. The facility houses 23,000 linear feet of archives and manuscripts. Renovations will upgrade the structural integrity of the space and modernize the interior to preserve these Chicago treasures.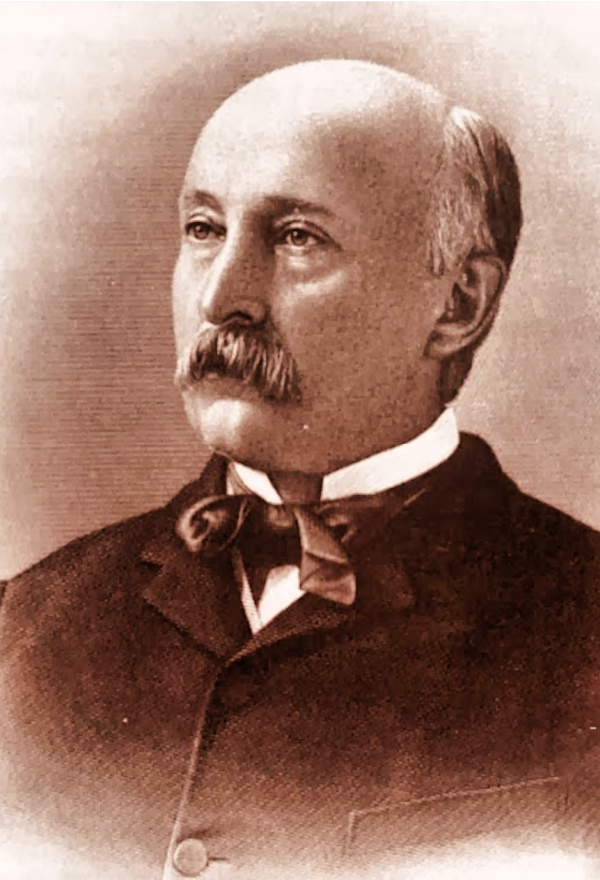 In anticipating the views once fences come down, I couldn't help but think of a long-forgotten civic leader who loved public outdoor spaces. Ezra McCagg was not only a founder of the History Museum, formerly known as the Chicago Historical Society, but was also instrumental in the creation of Lincoln Park, among other public gardens in our city. A friend of the landscape architect Frederick Law Omsted, he hosted Olmsted on his visits here when he designed several major parks and was a key planner of the World's Fair in 1893. Although the museum that he founded was first located on Dearborn Street, McCagg would surely love that it is now finding new ways to celebrate both history and nature 165 years since its founding this month.
Join John Russick for a virtual town hall on April 13 at 5:30 pm CDT. Russick will lead the presentation of the project and provide space for any questions during this time. To register, click here.