By Annie Delfosse
One can enjoy the autumn season year-round at the Northwest side's October Cafe. What most coffee shops deem "seasonal" menu items are the root of this cafe. Decked out in shades of fall colors and complete with bunches of pumpkins and crisp orange leaves, you can feel the love for the season as soon as you walk through the door. 
Norwood Park's October Cafe owners Audrey Borden and Michelle Gonzalez
The cafe was opened by Audrey Borden and her fiancée, Michelle Gonzalez, and serves as a symbol of their relationship . The couple fell in love in October of 2019 and are set to be married this upcoming October. Autumn has a very special meaning for this couple, and the cafe brings their love to life in a beautiful– and delicious– way. 
A proud Borden in front of her cafe
The cafe is a reflection of this couple and their story: they refer to themselves as the "Octobers," hence the theme, they offer a vegan-based menu due to leading a vegan lifestyle themselves, and the cafe serves a safe space, as it is LGBTQ+ owned.  The star item on their menu is arguably the coffee flight with a mini version of each of their specialty fall drinks, the flight being called "We fell in love in October," a direct homage to the couple. The four drinks in the flight each represent one of the years from Borden and Gonzalez's love story.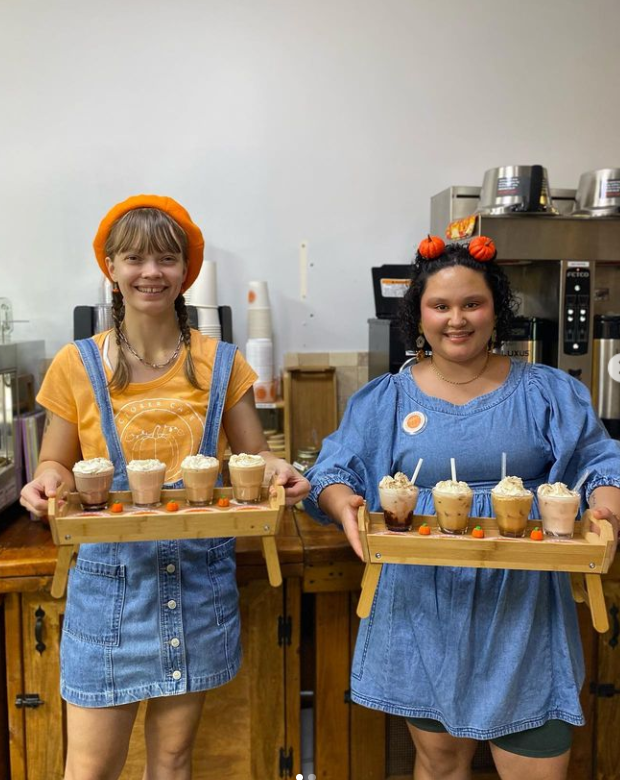 Borden and Gonzalez holding the coffee flight based on their story
While Borden and Gonzalez own the cafe, Gonzalez's family helped work to get it up and running. Although more local faces have been added to the team, it remains at its core a family-run business. Gonzalez's twin brother, Joel, is the head of the cafe's communications and marketing team. Their parents work as managers and business advisors. While they all hold these very important roles, when you step into October cafe, you will find each of them working hard behind the counter– either crafting drinks, assembling food items or taking orders. As soon as you walk through the front door, you are always immediately greeted with the words: "Hi, Pumpkin!"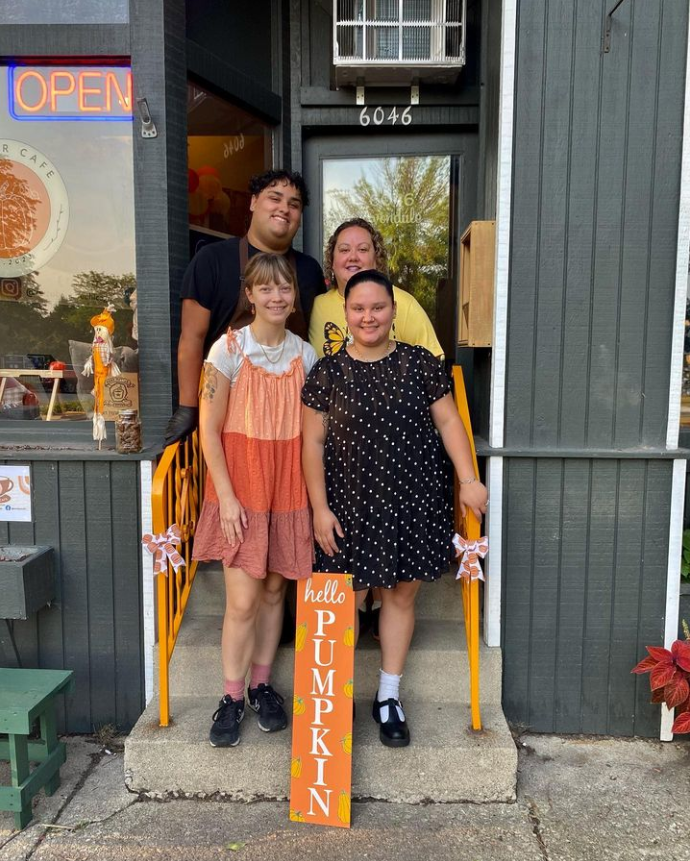 Borden and Gonzalez with Gonzalez's brother, Joel, and mother, Rosa
"It has been a fun, crazy and wild experience," Joel Gonzalez tells us about the family all working together. "We are a family-oriented cafe, and each of us plays a part in making the cafe run. We are open 6am – 6pm daily, so it can be tiring, but this is a dream becoming reality."
The Norwood Park cafe has worked to build connections with other local businesses. They source and vend coffee from Dark Matter Coffee, a Chicago-based coffee chain, and offer pastries from Defloured Bakery, a gluten-free bakery located in Andersonville. On this, Gonzalez says, "Our partnerships with Dark Matter and Defloured came naturally to us. We wanted to support small businesses, just as we are a small business. We thank them for taking a chance on a small business such as ourselves that just opened our doors on August 20th." 
October Cafe offers gluten-free pastries from Defloured Bakery
Dark Matter Coffee is also offered at the cafe
Local small businesses are not the only way October Cafe has established connections within the community. They have been working to create events that will draw in people from the community to not only enjoy drinks and treats from the cafe, but to come and connect with one another as well. Earlier in the month the cafe held a jewelry making event, as well as a ribbon-cutting ceremony. They also created a special called "Taft Tuesdays," in which students from the nearby Taft High School can stop by for a lemonade, grilled cheese and hash browns for only $5 all throughout September. This seems to be only the beginning of the cafe building a relationship with the community which has shown them an outpouring of support.
Gonzalez and Borden
"The community has supported us in every way possible," Gonzalez says. "Let that be posting, re-posting, or coming into the "patch" (the cafe). It has been amazing seeing how many people have really shown us love. Michelle also owns Peachy's Home Daycare, so the community is familiar with our family- we have lived here since 2007. As a family, we could not be any more appreciative and can't wait to build more memories with everyone."
Joel Gonzalez serving coffee to local Metra passengers
It is rare to see a local cafe so involved and engaged with the community it resides in. When you visit any of October Cafe's social media pages, it is clear that Borden and the Gonzalez family truly have been working to make every customer feel beyond welcomed, recognized and appreciated.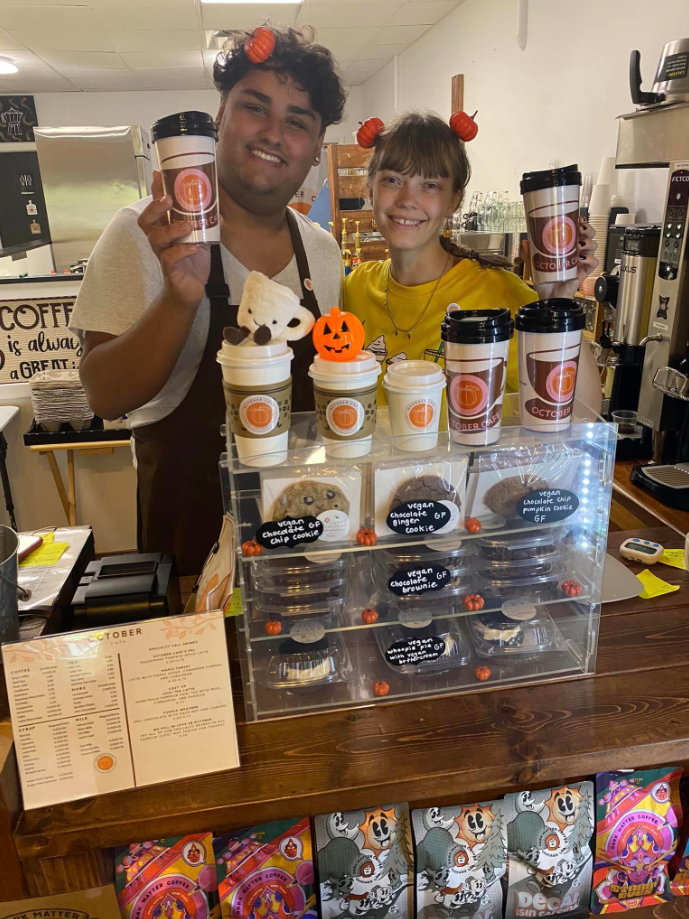 Joel Gonzalez and Borden
The cafe has a few more events scheduled for September, including Borden's birthday celebration on September 25th, and an Open Mic night on September 30th. The community is encouraged to attend and be involved. We patiently await the announcement of the events scheduled for October.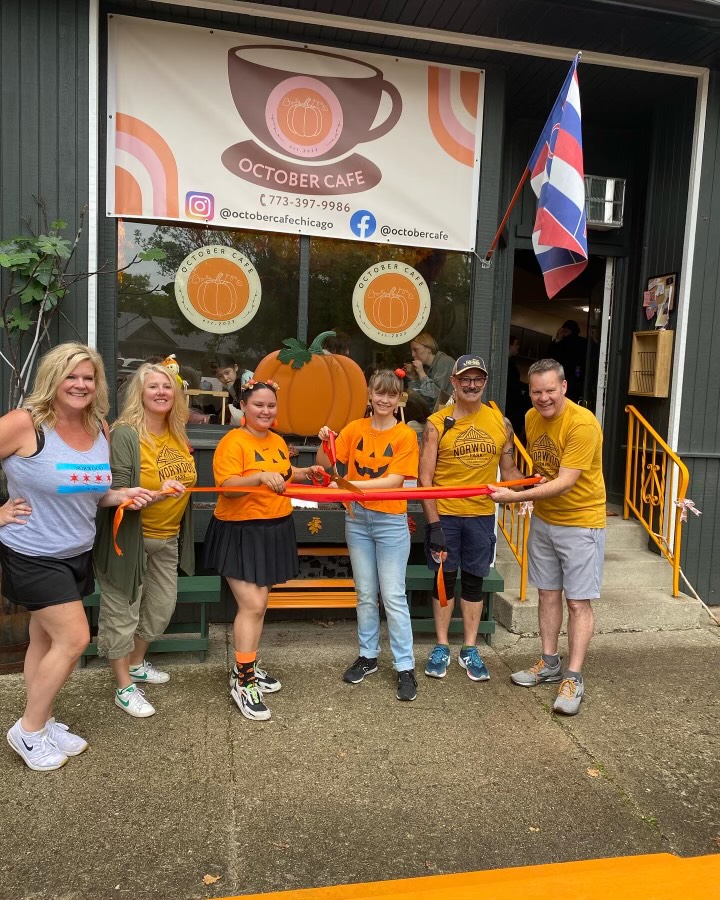 The cafe's ribbon cutting ceremony
While Audrey Borden and Michelle Gonzalez prepare to tie the knot, the community continues to fall in love with their cafe. Every pumpkin is always welcome at this patch. 
You can visit the cafe's website here