by Judy Carmack Bross
EXPO CHICAGO, the International Exposition of Contemporary and Modern Art, hosts its tenth in-person exposition April 13-16 at Navy Pier featuring 170 leading international exhibitors.  How can collectors and budding buyers best see the Show? We asked the noted art and antiques expert Roberta Kramer, who led the establishment of Heritage Auctions' first Midwest office in 2016.  Northern Trust serves as EXPO's Presenting Sponsor, and Heritage Auctions has been an official EXPO sponsor for five years.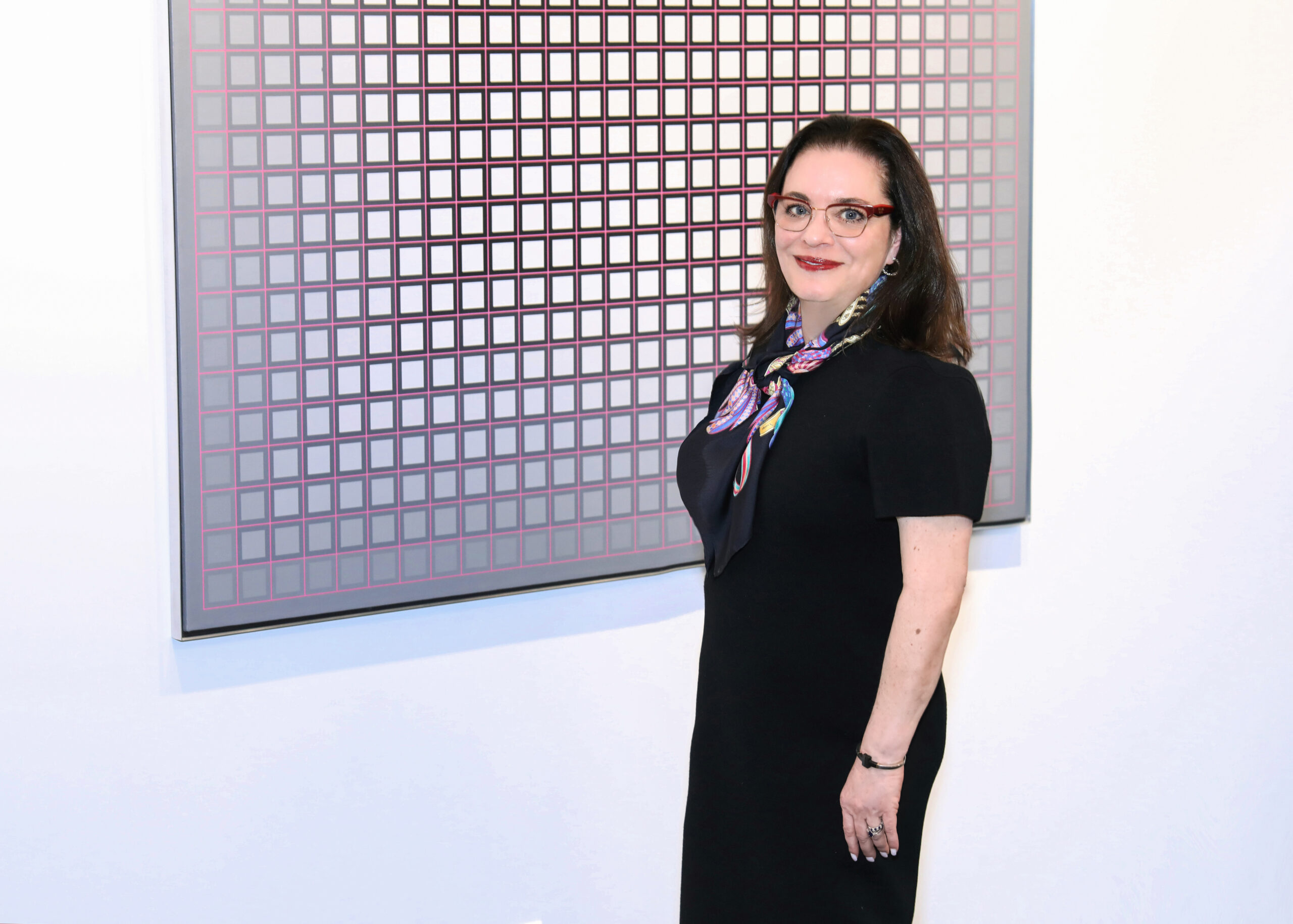 Roberta Kramer, Vice President, Strategy and Business Development at Heritage Auctions
We recently asked Kramer to tell us about her work.
"I've had a long career as an appraiser and advisor, which is very useful in my current role.  My expertise is in fine and decorative art, so I really enjoy working with all the specialists and learning about other categories," Kramer said.  "I also enjoy working with collectors and families to manage a collection and disperse it.  An individual's personal history and why they collected things is fascinating."  
As Vice President, Strategy and Business Development, Roberta spends a lot of time travelling among offices.  Heritage Auctions has headquarters in Dallas with offices in New York, Chicago, Beverly Hills and Palm Beach – as well as Hong Kong, London, Paris and more. 
"EXPO was founded in 1980 and was the first modern art fair in North America, modeled after Art Basel," she said. "Of course, it has changed with the times, and its location has moved and returned again to Navy Pier. Most importantly, it has always kept its finger on the pulse of what's happening in the art world while showing modern and contemporary art giants such as Picasso and Matisse."
CCM: What does it say about Chicago?
"Chicago has always been a city with wonderful collectors, collections and world-class museums, and our city is an incubator for fantastic artists.   It's important that we have a fair of this caliber that puts Chicago on the international calendar and keeps us on the map as a destination for international collectors. There is truly something for everyone at EXPO.  Exploring the fair is a wonderful way to spend the day!"
EXPO CHICAGO 2022
EXPO CHICAGO 2022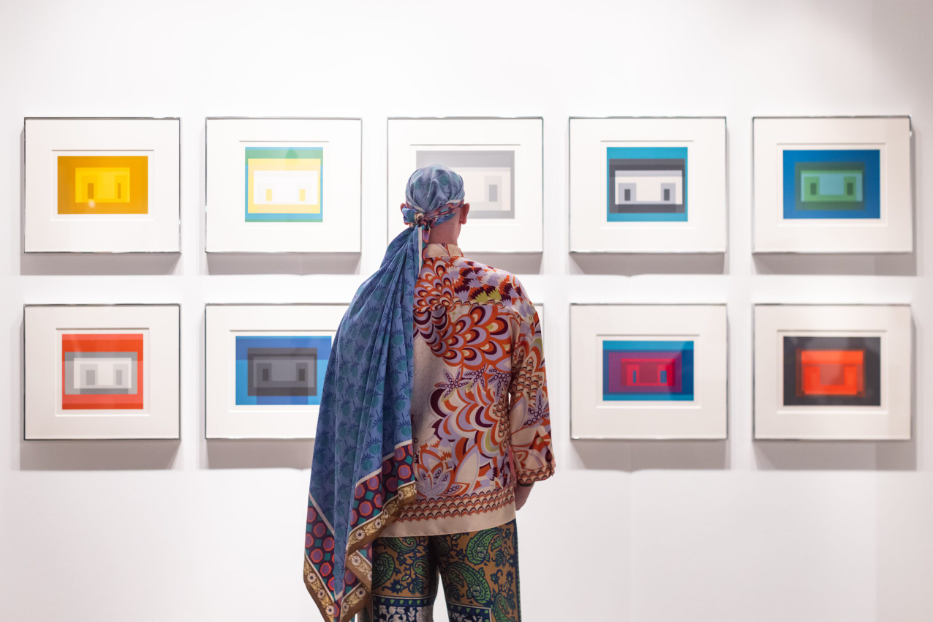 EXPO CHICAGO 2022
CCM: How can a new collector best explore EXPO?
"A newer collector has a great opportunity to see a high volume of work and galleries in a condensed period of time.  They should take advantage of it and talk to experts, visit galleries and explore pricing.  I suggest the following approach: Put on comfortable shoes!  Walk the halls of the fair in a logical manner.  Take pictures of things that speak to you.  Record the name of the galleries and booth numbers with work you like. Return to those places and engage with the gallerists, learn more about the artists and work.  Keep a list of your favorites or eliminate some things depending on your budget." 
"Take a break, go to dinner or sleep on it.  Think about it, talk about it, go back.  Think practically about whether a piece will fit in your space.  Do your research, then after the fair you can always speak to the galleries again, as well.   Younger collectors should also pay attention to the Emerging Galleries and Artist section.  The work is cutting edge and within reach!"
CCM: What do you like best about the Chicago art scene?
"The artist population in Chicago is incredible and diverse.  We have a fantastic arts community that is engaged with the city via public installations and works.  It is wonderful for all residents. Local, well-established galleries are at EXPO.  But those that aren't at the Fair have related events going on.  It's a fully immersive experience in Chicago.  The EXPO team also gives space to non-profit arts groups within the city to expose their work to wider audiences."
Watches and Wines are just two of more than 50 collecting categories at Heritage Auctions.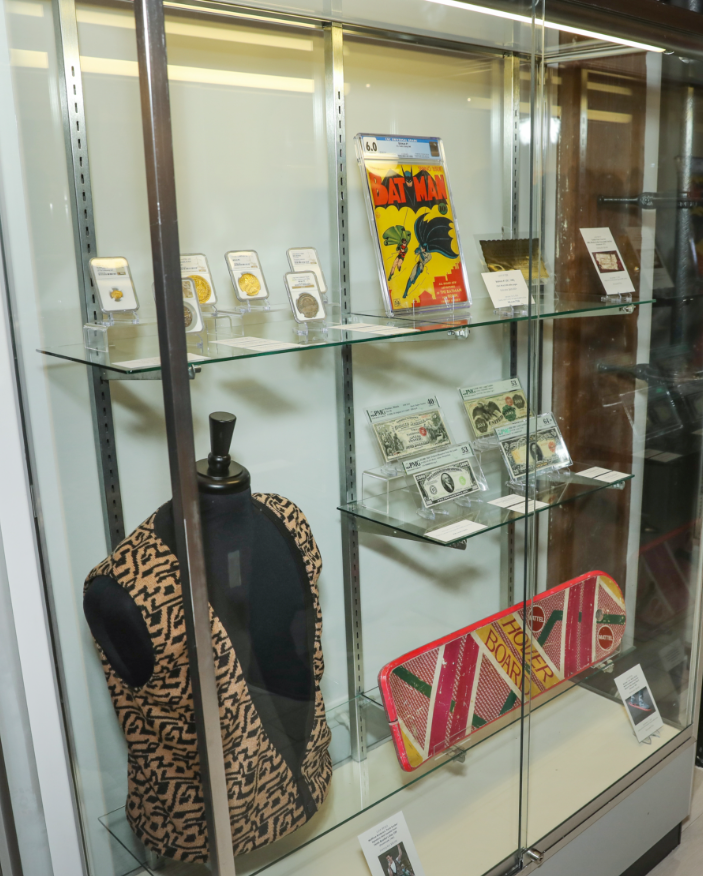 Hollywood memorabilia, including Marty McFly's hoverboard and Ferris Beuller's sweater vest, make appearances at the Heritage Auctions holiday party, along with covetable coins and rare comics
Luxury accessories from the Heritage Auctions Boutique tempt guests Alison Weiss and Sam Sherman
CCM:  How will Heritage be participating in the Fair?  
"Heritage Auctions is the third largest auction house in the world and the largest auction house founded in the US, so we do have a unique perspective and position at EXPO.  Guests visit EXPO from all over the world.  Because our expertise is broad and deep Heritage Auctions Chicago welcomes visitors in many ways. For example, I will participate in panels, including a talk about Philanthropy and Collecting titled 'Shaping a Collection's Legacy.'  Michael Madrigale, director of Fine and Rare Wines, will host three wine tastings during EXPO both at the Northern Trust Anchor Lounge and at the home of a private collector. In our River North gallery, we host collectors and donors visiting from other places, such as a luncheon for a group from Crystal Bridges – the American art museum founded by Alice Walton in Arkansas.  Highlights from Heritage Auctions upcoming Modern & Contemporary sale will be will be in our gallery for EXPO guests to visit and enjoy during the EXPO Gallery Walk."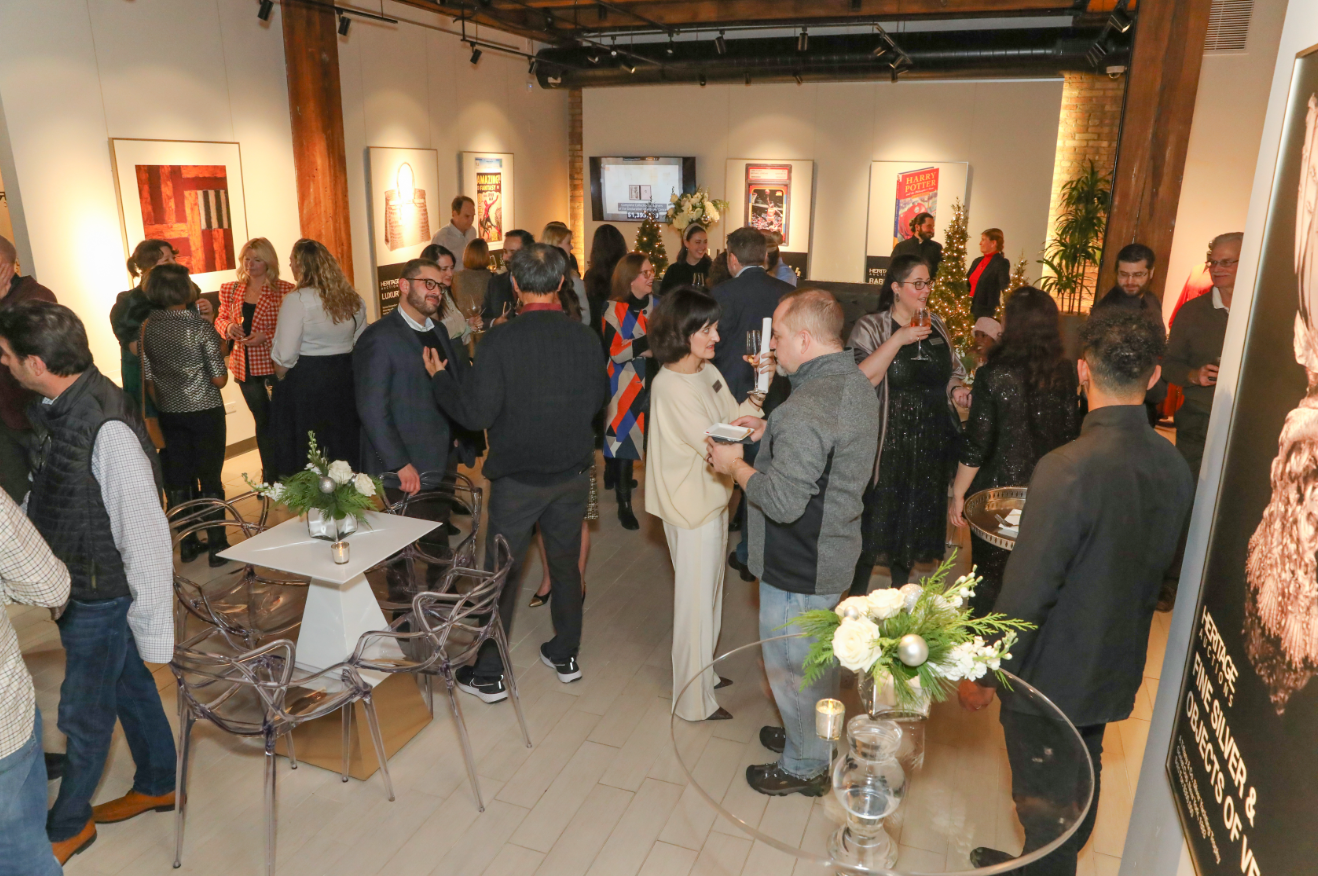 The Heritage Auctions gallery in full swing for a lively event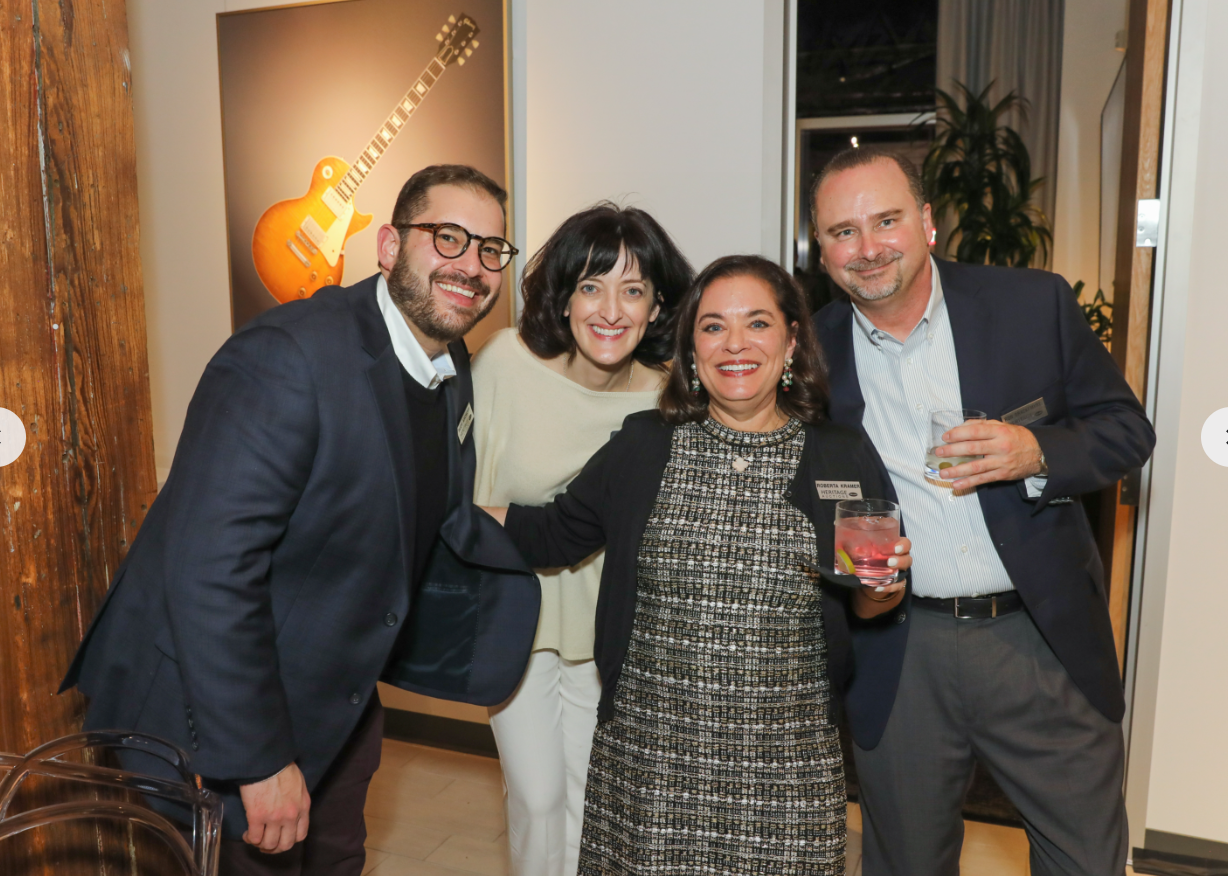 Rudy Aronoff, Heidi Calkins, Roberta Kramer and Ron Brackemyre enjoy an evening at Heritage Auctions
Kramer and Heidi Calkins, who manages business development and Chicago relationships at Heritage Auctions, love the variety of their work.  "I enjoy finding just the right person in the Heritage Auctions network to answer the very niche questions of our clients or guests.  It's a pleasure to help people decide how to handle their precious item or collection," Calkins said. 
During the week we spoke, Calkins reported: "Earlier this week we hosted a Photographs preview, but the week before that we held a Comics preview."
"Auctions are driven by what we have to sell, which is an important piece of our business development. Unlike a museum or trade show, when a guest enters our gallery they have access to category specialists and decades of experience." 
Comics specialist Matt McGee speaks to an audience about rare, golden age comics
Mike Schmidt, Fine Watches and Timepieces specialist, views pop culture lots and learns about emerging auction trends
We asked Calkins what are top sellers?
"Some categories are eternal such as coins.  In 2021, Heritage Auctions sold what is possibly the world's most famous and rare coin for more than $9 million – a 1787 New York-Style Brasher Doubloon. Sports Memorabilia continues to be highly popular. In 2022 Heritage Auctions set the record for the world's most valuable sports collectible – a 1952 Mickey Mantle Rookie Card for $12.6 million. American Art is an important category for Heritage.  In 2021, Norman Rockwell's 'Home For Thanksgiving' from The Saturday Evening Post, sold for $4.3 million.  We have expertise in more than 50 categories."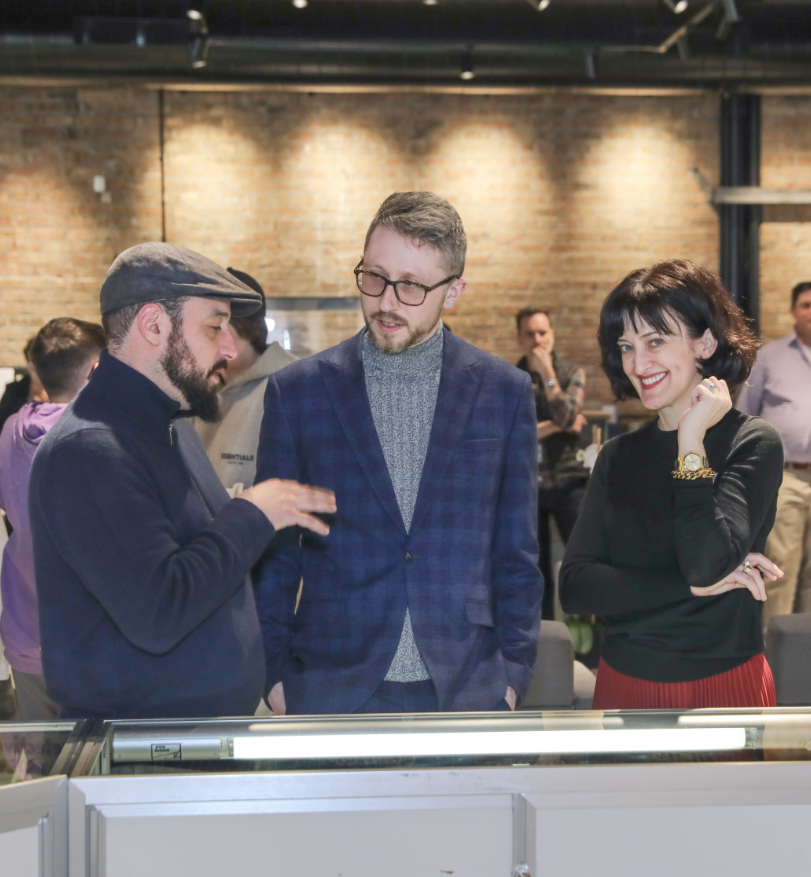 Xavier Chavez and Heidi Calkins of Heritage Auctions host guest Christopher Philips at a Salon Series evening
April and May's auction previews show the breadth of Heritage Auctions' collecting categories and include: Modern and Contemporary Art (April 10 – 14); Fine Jewelry and Luxury Accessories (April 18 – 20); American Art (April 27 – May 2); Salon Series: St. James's Palace – Royal Residence Revealed (April 27); and Rare Watches and Fine Timepieces (May 16 – 18).