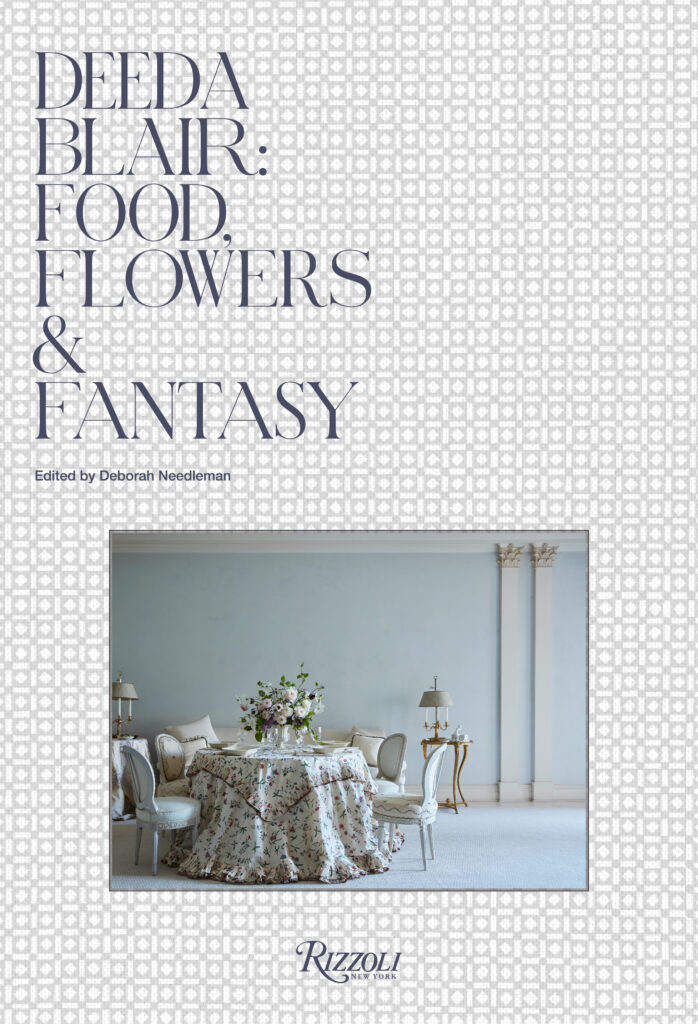 By Megan McKinney
Especially in Chicago, everyone is reminiscing  about the former Catherine "Deeda" Gerlach.  It was here  she was born, raised on the Near North Side, educated at the Convent of the Sacred Heart,  came out at a Christmas Eve 1949 Racquet Club tea dance and married—but oh so briefly—on August 2, 1952 at St. Clement's Church, with a reception following at the Saddle and Cycle Club. The last was a quickly and wisely swept away  episode.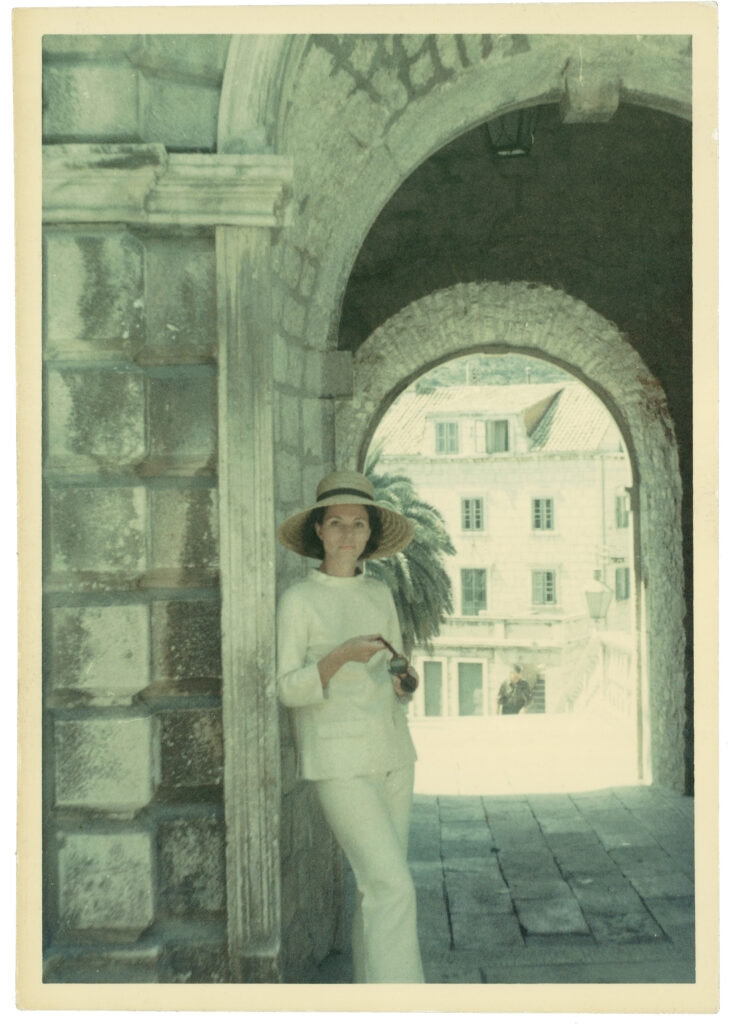 A "snapshot"  of Deeda, clicked by Cecil  Beaton on the Dalmatian Coast during the1960's
Anything but quickly swept away was Deeda's 1961 marriage to William McCormick Blair, Jr.,  one of the most visible and eligible Chicago men of his time; this marriage endured 54 years, until his 2015 death at 98. The book is a delight, but it can also be viewed as a textbook on visual and gastronomic taste by the woman to whom the word so often accompanies.  Her lessons quickly launch into "the question of whether one is born with taste or whether it is acquired, My view," she writes, "is strongly that one is not born with it. It is the result of careful consideration and observation. It is partly a question of exposure, of seeing beautiful things, but more important are the qualities of openness and curiosity. Taste, I believe, comes from being open to the influence of other people and of art, books, travel, gardens, rooms, and houses."
There you are: a book displaying a full range of photography—much of it by Ngoc Minh Ngo—exposing the reader to Deeda's Taste. 

The Junior William McCormick Blairs were photographed in the embassy residence in Copenhagen, where he served as United States Ambassador to Denmark from 1961 to 1964 and together they impacted the collective international consciousness with their photogenic charm as a globally engaging couple, who fit neatly into the Kennedy era. The portrait of Deeda above the sofa is by René Bouché,  a popular painter of the "beautiful people" of his time.
Those who enjoy tables skirted in floral fabric—well, who doesn't—will love this book.  Although the book's images cover a full range of great interiors, we are focusing on her skirted tables.  
"Except on rare occasions," Deeda writes, "every meal I serve now is an intimate affair with two to four or, at most, six guests at the table. I find small gatherings where people can have a relaxed easy evening more pleasurable and interesting than a large party. " She continues, "When my husband, Bill, and I moved to New York in 2004, I did not even consider a typical dining room in our apartment. In my living room, I have a fifty-inch round table set in front of a window overlooking the East River with four French armchairs around it, and an additional two chairs against the wall, in case they are needed." 

Now, here is an approach that has never occurred to us nor to anyone else we know.  But  what  a delight it is once one has identified an appropriate fireplace in the dwelling .

The  Fantasy of the book's title refers to fantasy meals, in which Deeda puts together marvelous settings—perhaps from memory—with her own menus. The above is  LUNCHEON AT CHÂTEAU DU JONCHET, country home of the late French couturier Hubert de Givenchy, a dear friend.  "In the 1970s, Hubert told me that he had fallen in love with a maison de campagne, and that it was the house of his dreams. Le Jonchet was a remarkably beautiful seventeenth-century château with a large forest along a river." The menu for the fantasy is Deeda's Iced Cauliflower Soup with Crisp Croutons.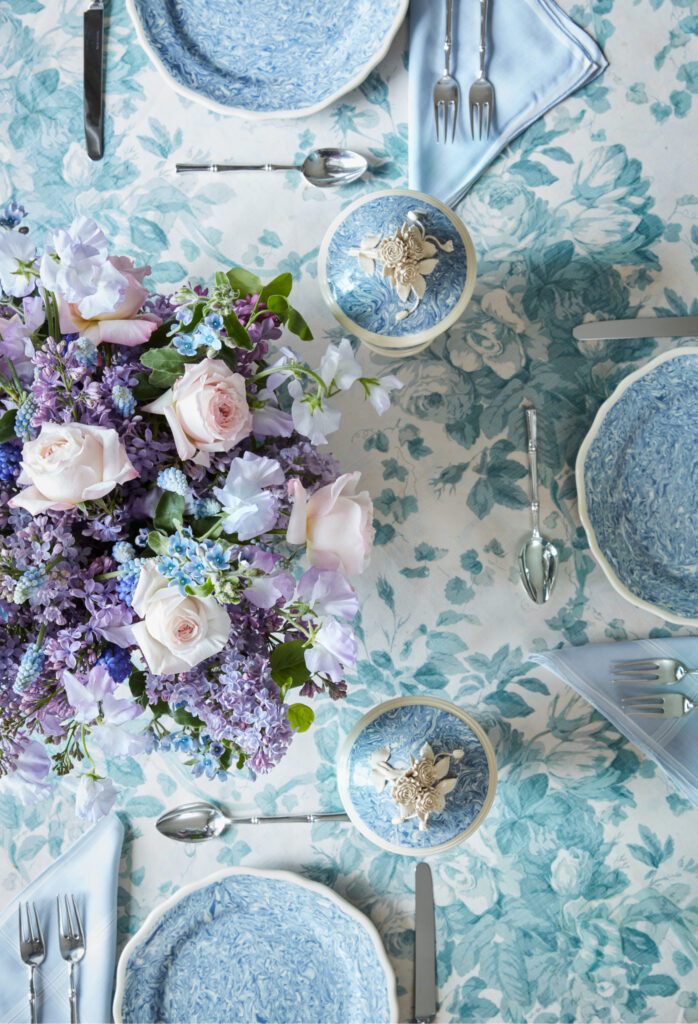 This fantasy meal was "inspired by Deeda's memories of the colors of Sweden and the light and airy atmosphere of Haga Pavilion." Photo Credit: Ngoc Minh Ngo   
Author Photo: Robert F. Carl