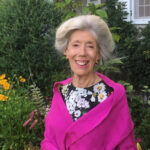 By Judy Carmack Bross
When executive Chef and owner Jenner Tomaska of Michelin star- rated Esmé in Lincoln Park opened the restaurant in September 2021 he and his wife and partner Katrina Bravo decided to take pairings to a beguiling new level. Chicago's top chefs are famous for the food and wine they pair, but Tomaska's tasting menu and alluring plate ware go beyond, matched with works by different artists each season underscoring the former Next chef's role as culinary innovator. 
Currently, Amanda Love, bookbinder, artist and environmentalist, fascinates patrons with her work, some replicated in Tomaska's 12 to 15 piece tasting menu. From the first, Tomaska and Bravo, who he describes as "the real storyteller," have supported important causes. One of the early installations was done in connection with Kitchen Possible, a Chicago cooking school offering lessons for children ages 8 to 12 in underserved communities. "Our menu was a syllabus and one of our plates was a ceramic lunch tray," Tomaska said. "We like to play the right music as well.  For that installation it was late '90s pop culture."
On a recent afternoon when sun streamed in Esmé's wide windows and students from Francis Parker School across Clark Street burst from school with book bags slung over their shoulders, we saw Love's central installation, the floating sculpture entitled "Word Matter".  Made up of 4000 dismantled hardbound books with pages ripped from covers and then adhered to strips that move like curtains, the work speaks to book suppression. "It is all about the book and its power, and what happens when we remove books," Love said. "I see books as revered pieces. I cannot understand book banning."
 "When you see libraries in Ukraine destroyed by bombs, when you hear of the courage of librarians there rushing to rescue these books, it is all hardcore tragedy. In Timbuktu in 2013 entire libraries, with centuries-old books, were destroyed by fires lit by Al-Qaida," she said.  "I have a new installation piece I'm creating called Tigris, inspired by journalist Robert Fisk's quote about book destruction in the Baghdad: 'the Tigris ran black with the ink of books'."
Love studied design in college and first worked in that field.  "I did an independent study in bookbinding my final semester in undergrad, I was hooked. As a designer first, working with typography, it seemed natural to then get my MFA in bookbinding, letterpress and papermaking at Columbia College," she said.
In addition to making books herself, Love realized that another act of creation could come from dissembling books.

"The process of creating in this manner was integral to the work of art itself: the loving act of taking books apart, the repetition of ripping them, the sorting and categorizing of parts. A visual language emerged in the process. Though a rip may be attractive in and of itself, it often evokes disparate things of equal interest," she said.   
When Love first met Tomaska during the restaurant's opening week they bonded around the word Esmé.  Love had named her daughter for J.D. Salinger's character in "For Esmé with Love and Squalor".  "The name represents light. In the short story, the character signifies the hope that so many soldiers felt after World War II: after all that darkness, so much light.  I personally felt that way in the midst of the pandemic, with so much political chaos, when I came to the restaurant for dinner and felt that Esmé light."
| | |
| --- | --- |
| Photo by Emma McGregor | Photo by Suzette Bulley |
"Jenner is incredibly curious, kind and playful.  He has a wicked sense of humor," Love said. "He is always working to keep things fresh and he values art.  Every vessel for his food is executed in insane detail. I have been lucky to dine there and although every detail is so gorgeous, it is approachable, it is not intense like many fine restaurants are, there is something wonderfully humble about it."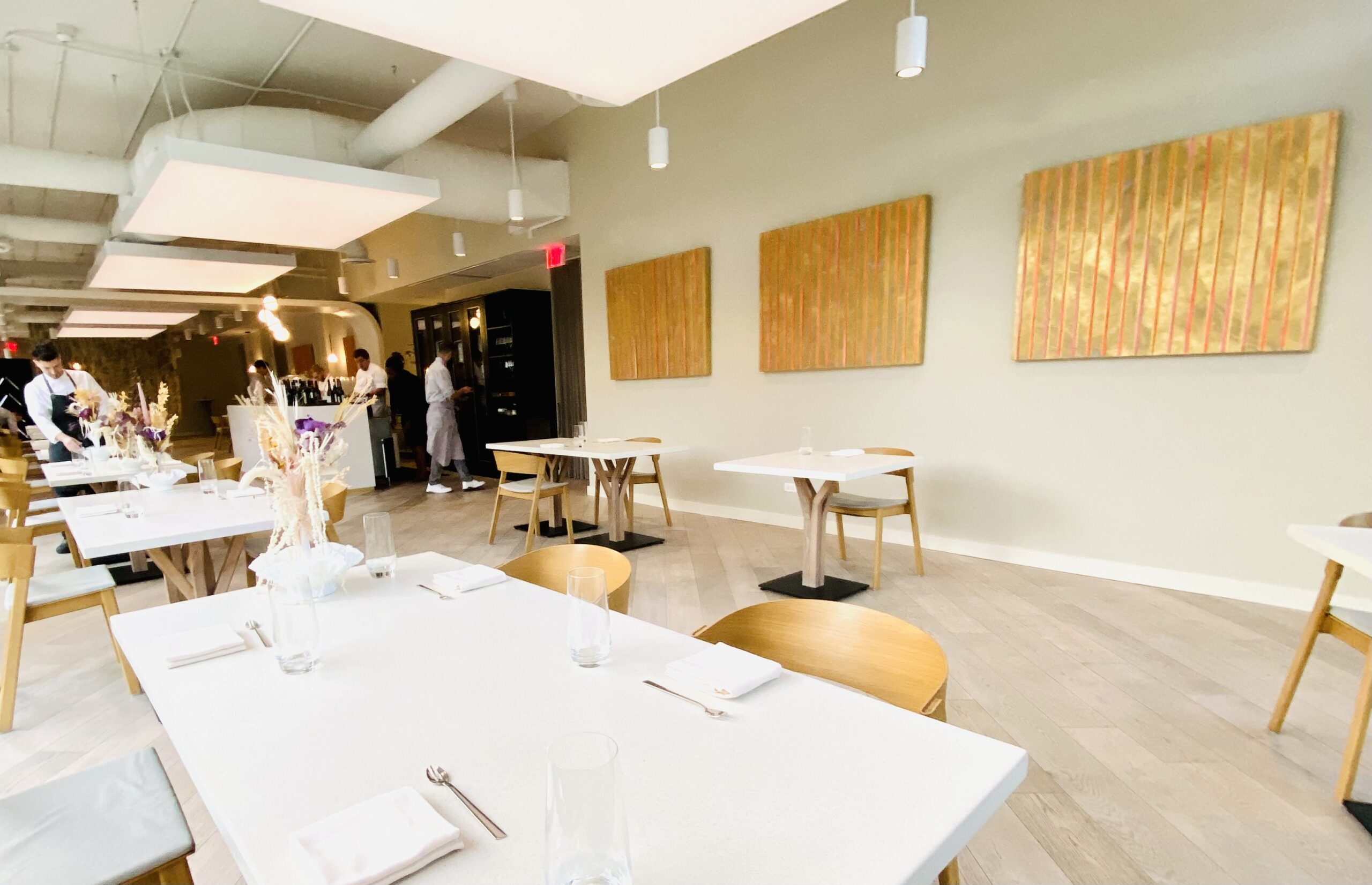 Works by Love on several walls at Esmé reflect that golden light described by Salinger.  "The gold is like a color memory of the short story, a beacon and a light.  I was fortunate to have large sheets of gold leaf which I obtained from a Japanese papermaker in Osaka.  At one time I had eight four by eight feet sheets which I have now used."
Love, who returns to Esmé this week from her home in Granville, Ohio to meet with collectors, clients and art buyers, spent two decades in Chicago exhibiting sculpture and art books, collaborating with other artists and musicians. She founded LoveLeaf Press, a design firm offering fine binding and a letterpress pieces. 
An environmentalist leading a community tree planting initiative, 1500 Trees, Love is donating proceeds from the sale of her works on display at Esmé to this effort in Ohio.  She recently completed a year-long artist residence at The Dawes Arboretum. Inspired by prehistoric and endangered species, the Metasequoia,  Love is executing a large indoor/outdoor installation drawing attention to climate change forecasts on view at Grange Insurance Audubon Center this spring in Columbus, Ohio.
With several of her works at Esmé speaking to current events around book suppression, Tomaska carries this out in a striking presentation piece.  Love and Tomaska worked together to create a serving piece where a burned book is encased in resin.  Fish is smoked at the table on these pieces.
"We kept our walls neutral so that they can be a platform for others thus mirrored in art, fine dining with intentionality," Tomaska said. "We are continuously re-inventing ourselves, making music and beverages relate as well. We want to give people a reason to come back."
Tomaska says that "the artists are part of the dialogue, and relationships can be built through the conversations." At several points while the work is on display at Esmé, artists meet guests and tells the story of their works. All work on display is for sale.
Esmé, offers season tickets for dining, and starting March 1, the focus for dining and art will be on Latin America with Mexican-American artist Salvador Dominguez being one of two artists.  Going forward, there will be three installations by different artists yearly.