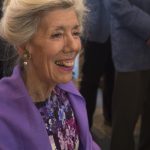 BY JUDY CARMACK BROSS
New York Times bestselling author and Chicagoan Elizabeth Wetmore begins her debut novel Valentine with a crucial metaphorical question that puts us right in the middle of what we are being asked to do today: What can you do when a stranger comes to your door and asks for help?
If, like the book, it's 1976 in Odessa, Texas, opening the door can set off an explosion similar to the force of the oil patch gushers that dictate the lives of families on the plains of West Texas. Valentine is the story of Mary Rose Whitehead who opens her door to rescue Glory Ramirez, a 14-year-old who has been beaten and raped by white cowboy. It is also that of other Odessa women who make it their business to get involved, with all the courage and compassion needed.
Wetmore's powerful writing style allows each character to open her door to the reader as well. Whether it's the school teacher dreaming of the student to be reached by literature or the Tupperware and Avon saleswoman trying to avoid her past, each steps forward to tell her own story.
We talked with Wetmore via Zoom about how women open doors and get involved. It may have taken her 16 years to finish Valentine, which begins on the day after that romantic holiday that holds no meaning to any of the book's characters, but readers and critics are saying that the timing couldn't be better. Writer Ann Patchett describes the book as "moral urgency, told in breathtaking prose."
Mary Rose, a pregnant rancher's wife whose husband is traveling, may have a shotgun under her arm when she goes to the door, not knowing who's on the other side, but it is how she responds with compassion that helps us all.
"As a middle aged white woman, I grew up in an era of casual racism. People worked hard but didn't wrestle with this original sin. They were flawed for sure but came from a place of ethics and caring," Wetmore explains. "I think we are now at a moment of reckoning to determine who we are. Glory is from a migrant worker family, and my book deals directly with violence and race through how justice is defined. It asks the question of what do we do when someone reaches out to us for help."
A graduate of the Iowa Writers' Workshop, Wetmore followed the advice she now gives other writers who want to learn from her: "Honor your own life experiences. Center your work deeply in a place and time, and read everything you can about it."
More than most places, Texas divides people into those who go and those who stay. Wetmore choose to leave but has returned often both to research her book and "re-frame" her experience there. "Although I have lived half my life in Chicago," she says, "I haven't been called as yet to tell Chicago stories. I have been compelled to tell my West Texas stories. Odessa is a blue-collar town that follows the boon and bust oil cycles. There is tension between transients who follow the booms and the residents who built their lives there."
"It is important to not romanticize it," she continues. "Larkspur Lane, the street in the book where most of the action takes place, was my street. I grew up on stories that my mother and her friends told after supper over drinks on porches during the long summers. There weren't a lot of little boys on my street so my time was spent with girls and women."
From her street, Wetmore and Debra Ann Pierce, the Valentine character who most resembles the author, can see the bookmobile and the strip club that occupied the same parking lot. "The only library was downtown and since my parents both worked, I had to wait until they had time to take me. I would take out the five or six books they would allow and then read them in two days. I still remember hurrying across that gravel lot to the bookmobile. It was a life-altering place for me," she says.
Wetmore recently talked West Texas on "TODAY" with co-hosts Jenna Bush Hager, who is from Midland, Texas, and Hoda Kotb. Hager has chosen Valentine as one of her book club picks, writing, "Elizabeth really developed these characters that I felt like I knew. I found myself missing them when the story was over. The women are complicated. They are a lot of things at once."
Wetmore explained that Midland is an oil industry center, much different than working-class Odessa. "Jenna is terrific. We bonded over the fact that her grandmother and my four grandparents are all buried in the same cemetery halfway between Midland and Odessa," she shares.
A current fascination for many is what might be found in the bookshelves behind TV anchors and celebrities broadcasting from home. When we asked Wetmore to share her favorite books, she reached behind her to show us several, many of them set in the West: "My choices are usually books about love, empathy, and compassion. Luis Alberto Urrea is one of my favorite authors. I recommend The House of Broken Angels about a Mexican-American family and Devils Highway, dealing with one of the most dangerous border crossings and U.S. border policy. There are some steely-eyed characters, but I learned so much. A favorite is Paulette Giles's The News of the World, set in Texas in the 1870s. Oscar Casares uses strong moral imagery in his Where we Come From, which focuses on ordinary people in Brownsville, Texas, facing extraordinary circumstances."
"I think it is also important for writers to read poetry, the musicality of language is so important," she adds. "I have been reading Jericho Brown recently."
As she edited her book and brought forward new characters, Wetmore returned to Odessa with stories "rolling around" in her head. She read many old newspapers, listened to its people, and drove and drove. "I love that epic sky, the little critters, and that beautiful flat earth. In the 1880s there were high grasses. They were all overgrazed and never returned. It is very open and very difficult to hide in," she describes. "My heart always returns to Texas."
For more information about Elizabeth Wetmore, visit elizabethwetmore.com.