By Judy Carmack Bross
"The Salveo Sisterhood lives out my mission to help women to live their most vital lives and to truly thrive.  Not wearing blinders, but finding happiness that comes with being truly self-aware. It is about reaching a place where you have agency over your life and express gratitude for it."  Elizabeth Cole, wellness innovator, volunteer, teacher.
Salveo, defined as "to be well", is a word lived out daily by Elizabeth Cole, who began her inspirational program eight years ago. When I started it was more focused on nutrition and exercise and based primarily on six pillars:  hydrate, nourish, move, sleep, breathe and love.  I guess I am moving more towards love, to that connection with ourselves, others and to something higher than ourselves."
 How she shares with others: through her Salveo Sisterhood formed during the Pandemic, lectures, women's trips to places with serious spiritual connections and fun in all sorts of healing ways makes her a go-to person to master adjustments in our daily lives. Cole's warmth and wisdom combine to develop a wellness roadmap. 
Checking in on where she is on that road seemed just the right inspiration to share with others. Her ideas around sisterhood are applicable for others who might want to start a sisterhood combining learning, camaraderie while having lots of fun as well through varied in-person and online events. Bringing in experts on challenging topics combine with trips to a wide range of events and fun physical activities.  "We presented a doctor speaking on relationship therapy, had a class in cyber security. Chef Kendra Peterson gave a cooking class and explained how to navigate a farmer's market," Cole said. "It is so much about growth.  A group of our members went to a presentation by Dr. Andrew Huberman, on this book The Brain Body Contract which focuses on science and science-related tools for mental and physical health."
Formed during Covid, the Salveo Sisterhood is "a no-judgment safety zone and a good way to deal with the Instagram world.  It is a place where you can say I am struggling with certain situations we face as we reach mid-life."
"I love alliteration, maybe that was part of the name's origins. Salveo has been with me from the start and sisterhood gets to my belief that when someone has your back it is much easier to navigate life. I am 53 and this is a time of real transition for women. Children are growing up and maybe you are not as busy.  I see women my age with challenges–possibly their parents' illnesses, or their own or their husband's, menopause, possibly divorces or maybe difficult teenagers.
"I grew up with so many good relationships with women, and went to an all girls high school.  I was lucky to grow up in an incredibly supportive family," she said.   "Although the Sisterhood is not about addiction we are like AA: we want to have a spot where you can share vulnerabilities and know that you are not alone.  Like AA, it is a calling of people into service as well."
Because people are traveling much more these days, Cole recommends if you are starting a group to offer varied in-person and online events.
Cole speaks effectively about how we can make adjustments in our daily life that address stress among other issues.
"We may never get rid of stress, but we can make steps to manage it by developing daily rituals. Each morning I walk my dogs to the lakefront to have quiet time in nature where I can express my gratitude.  At night I take an Epsom salts bath which is healing and always helps you sleep.  Throughout the day I work with my breathing: two intakes in then two breaths out.  That takes you back to more of a balance and helps you ground yourself."
Trips with her sisterhood to sites with a spiritual side around the world began several years ago when Cole and Shawna Owen, CEO of Huffman Travel and an expert in adventurous luxury travel, decided to offer trips to the seven manmade wonders of the world.  
| | |
| --- | --- |
| Chable Yucatan – Exploring and visiting the magica cenotes | Iceland – Blue Lagoon in Reykjavi╠ük. |
| | |
| --- | --- |
| Dolomites Views | Cotswolds Retreat at Dayelsford Farm – Cookery School |
"We hiked the Inca Trail on the way to Machu Picchu and had plans to visit each of these wonders because of our belief that wonder inspires wisdom," Cole said. Covid intervened to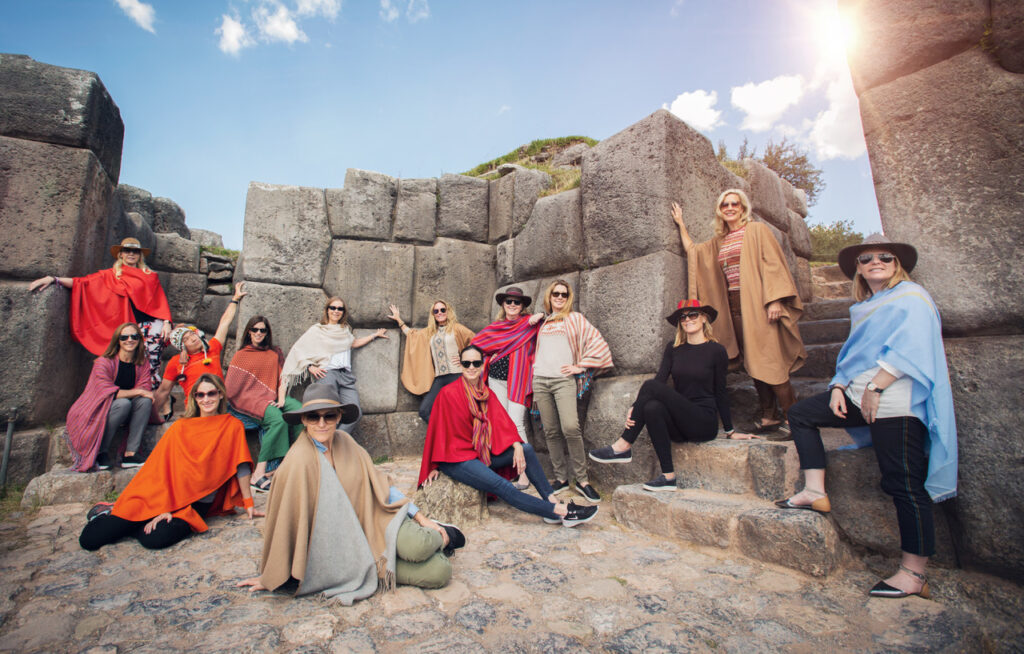 cancel these trips but we have been visiting places of wonder like the Dolomites for hiking, the Yucatan, Hawaii, a Cotswolds retreat, and Rwanda  to trek with the gorillas. And we definitely infuse elements of adventure and fun in all our trips."
Closer to home, Cole counts community service as a vital part of her day.  The mother of one son and three daughters, she reports that all family members are involved with Big Shoulders and she is a longtime leader, along with her mother Ellen O'Connor, on the Woman's Board of the Chicago Boys and Girls Club. 
"What is happiness–is it a feeling?  I think there is evidence that is  a combination of satisfaction and purpose, how you combine faith, family, friends and work in your life. And it is aligned with giving back to others."
And for those feelings of stress?
Cole reminds us:  "All you have is this moment right now. And everything is ok right now."