By Samantha Schwalm
This Sunday, Easter is upon us.  Children will be placed in their best spring outfits.  Christ will rise and be celebrated.  The Easter Bunny will leave eggs filled with chocolate and other fun goodies.  While all of these traditions are happening, there are also traditional foods to be served.  What are these traditional foods one might ask?
Ham is often served at the Easter table.  The holiday food comes more from the timing of Easter rather than a religious meaning.  Years ago, pigs were slaughtered in the fall and cured throughout winter months.  Due to the holiday of Easter falling in the spring, this celebration was a cause to use the last of the winter-cured meats.  This is why, even though Jesus was a Jew, and wouldn't himself eat pork, most Christians do eat ham for Easter.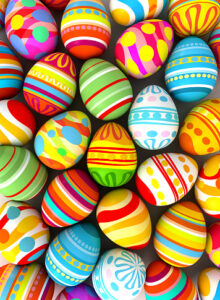 Eggs are a big part of the Easter tradition.  Not only for children to hunt them, but for eating.  They are traditionally connected with rebirth and immortality.  Eggs were also, during early Christian days, forbidden during Lent.  So after the 40 days of not eating them, Easter was a welcomed day to eat eggs once again.
Since this is maybe the first Easter in awhile, full families are gathering, please find a traditional Easter menu with recipes below:
Glazed Ham:
Ingredients
1 fully cooked 15 to 18 lbs ham (save the bone and leftover ham for white bean soup)
1 can of regular Coke (you need the real sugar)
3 cups of brown sugar
1 tablespoon of Chipotle Chile Pepper
3 tablespoons of Apple Cider Vinegar
1/2 tablespoon of Dijon Mustard
1 jar of whole cloves
Directions:
Preheat the oven to 325°.

Score the surface of the ham in a diamond pattern about 1/8-inch deep. Place cloves in the middle of each diamond.  Place the ham in a large roasting pan with a rack, tent it with foil, and

Bake for 2 to 2 1/2 hours.

Heat the brown sugar, mustard, vinegar, and soda in a small saucepan until bubbly. Cook until reduced and gets a bit thicker, about 15 minutes.

After about 2 hours of baking time, remove the foil and brush the glaze on the ham in 20 minutes intervals (put the ham back in the oven, uncovered, in between) until it's nice and glossy. Remove from the oven and allow to rest 15-20 minutes before carving.
Scalloped Potatoes:
Ingredients:
3 tablespoons of butter
1 small white or yellow onion, peeled and thinly sliced
2 large garlic cloves, minced
1/4 cup all-purpose flour
2 cups of chicken stock (room temperature)
2 cups of whole milk (or half and half)
1 & 1/2 teaspoons of Kosher salt
1/2 teaspoon of black pepper
1 teaspoon of nutmeg
4 pounds of Yukon Gold Potatoes, sliced into 1/8-inch rounds
3 cups of freshly grated sharp cheddar cheese – (1 cup left out for sprinkling on top)
1/2 cup of freshly grated Parmesan cheese
Directions:
Preheat oven to 425°.

Grease an oven safe casserole dish.

Peel potatoes, and with the slicer attachment, put to your food processor. Thinly slice the potatoes.  Place potatoes in a bowl of salted water and set them aside.

In a dutch oven, melt the butter and place the onion & garlic in the pan. Sauté them on medium/high until translucent.  Stir in the salt, pepper, and nutmeg.

Turn the heat down to medium/low. Add the flour on top and mix together.  While stirring constantly, add the chicken stock to make a roux (mixture will thinking).  Next, add the milk or half & half to the mixture.  Melt in the sharp cheddar cheese and parmesan.

Drain the potatoes from the bowl of water and layer them in the casserole pan. Pour the melted cheese mixture over the potatoes.  Bake in the oven for 425° covered with foil for 30 minutes.  The sauce should be bubbling.  Remove the foil, and cook uncovered for another 20 minutes, until the potatoes are knife tender.  Sprinkle the remaining cheddar over the top and melt in the oven for an additional 10 minutes until the cheese is fully melted.
Roasted Asparagus:

Ingredients:
1 to 2 bunches of asparagus
1 package of cherry tomatoes
1 teaspoon of salt
1 teaspoon of pepper
Directions:
Preheat oven to 375°.

Trim the ends of asparagus.

Place on a greased baking sheet.

Toss the tomatoes in the olive oil, salt, & pepper. Pour tomato mixture over the asparagus. Bake for 15 to 20 minutes.  The tomatoes will burst to create a sauce over the asparagus.