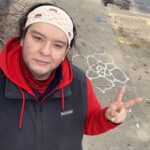 Photo taken by Adrian Naves
As the sun sets earlier in the fall, the color of the leaves change, and the weather begins to chill – that means only one thing – it's time to let the ghosts come out and play! Nothing sets the tempo quite like a good old fashion scare. But it's almost certain that most folks don't want any old haunted house that feels formulaic, walk in one section of the room and boom! Jump scare. Go the next section…rinse and repeat, in a short amount of time. A paint by the numbers hunted house with an uninspired set design, sounds in all honesty quite boring.
Fortunately, there's an independent attraction that has built their haunted house from the ground up. The Dungeon of Doom is a haunted house for horror fans, made by horror fans. Each section of the attraction carefully designed, not only for an effective scare, but as well as to help establish a kind of backstory and also a vibrant theme. Along with an amazing crew and performers, crafting their art with passion and as much detail as possible, performers who are committed into their roles and always staying in character…giving a chilling and mesmerizing performance from each actor.
| | |
| --- | --- |
| Photo taken by Adrian Naves | Photo taken by Adrian Naves |
What sets the Dungeon of Doom apart from the competition is the sheer size of the haunted house, clocking in about 60 minutes to experience everything in the main attraction. Each section carefully crafted, slowly sucking you into their house of madness. The actors giving an unnerving performance that will stick with you long afterwards. If being scared isn't your cup of tea, Dungeon of Doom offers other attractions like Edge of Escape and buried alive. Edge of Escape is a unique escape room for up to 8 guests, where the main objective of the game room is to solve puzzles and find keys to the next room before time runs out. Each room is unique and both share a steampunk theme. Tunnels Under London room resembles a retro nuclear fission room; The Time Machine room resembles a mad scientist's workshop and study area. A nice change of pace for a group of friends and to those who want to test their wits.
| | |
| --- | --- |
| Photo taken by Adrian Naves | Photo taken by Adrian Naves |
Co-owner of Dungeon of Doom, Anthony Relken, wanted to stand out from other haunted houses, not just in terms of size, but with distinction and passion. "No other haunted house does what we do, the design sets of the others lack inspiration and come off as simplistic. Their approach to training their actors demonstrates their lack of commitment and it shows when people go in and fail to scare them. I have a great crew who worked on the sets and really captured the horror of each section, amazing actors who took their roles seriously and have passion to their scary personas, I couldn't be prouder of the work they have done," said Relken.
| | |
| --- | --- |
| Photo taken by Adrian Naves | Photo taken by Adrian Naves |
"I really hope people will love what we have done here and have a good time, that they keep coming back for more. I plan to expand the Dungeon of Doom and put more scary sections and other attractions. When people fill out the surveys after finishing up the haunted house, it gives us insightful feedback as to what parts of the haunted house they love or hate, where else we can improve on and how we compare to other haunted houses. We're always highly rated among other haunted houses in Illinois, we do horror in a classic old fashion way and we do it right," said Relken.
Photo taken by Adrian Naves
The Dungeon of Doom is located at 600 29th St, Zion, IL 60099. For more information on dates and ticket prices, please visit dungeonofdoom.com and edgeofescape.com.