by Jill Lowe

"DIY GRRL is focused on helping women and girls learn the tricks of all those things our brothers get taught", so says Summer Lambert, the founder and creator of DIY GRRL. The grassroots not-for-profit collective partners with experts willing to teach their trade.
At Arnold Electric this past May, the 20 girls and women standing in front of electrical breaker panels and displays of conduit, with talk of amps, voltage, watts, current and static electricity had varied skills and knowledge.
An "electrifying" experience at this Basics of Electricity Skills Workshop for SUPER CHARGED DIY's, a good proportion of attendees were wanting to train in the electrical trade, and some already had a very good knowledge of electricity, but desiring of hands-on skills for the home and safe practices. Such principles of GFCI outlets and reasons for not overloading circuits, or when a licensed electrician is needed, was also included.
What is the motivation for experts being willing to teach their trade?
In the case of Arnold Electric, Jack Arnold is hoping by partnering with DIY GRRL, to elevate the status of skilled trades and to entice women to train in the electrical trade.
Too, some participants were already customers of Arnold Electric, and the core values of the company, including their valued 32-point SAFETY & MAINTENANCE CHECK, can attract more customers from participants in the workshops.
May 2023 workshop participants with Jack Arnold (top right) and Summer Lambert (next to Jack)
This was a HANDS-ON workshop
POWER is the product of CURRENT plus VOLTAGE
Amps, voltage, watts, power, current and static-electricity were explained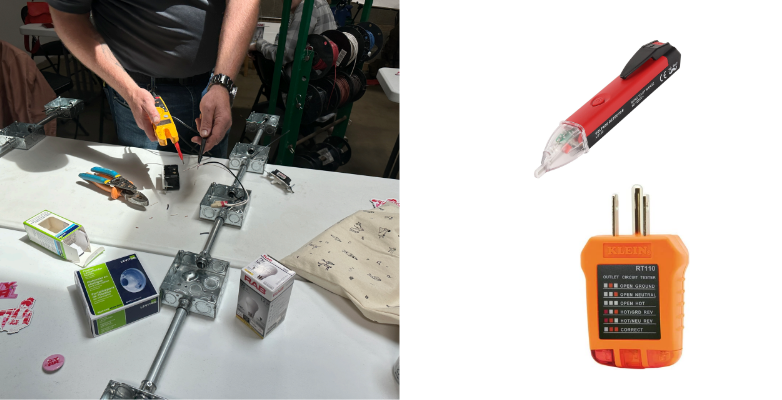 Tools such as outlet testers, voltage meters, circuit tracers, needle-nosed pliers, wire strippers were all explained and demonstrated.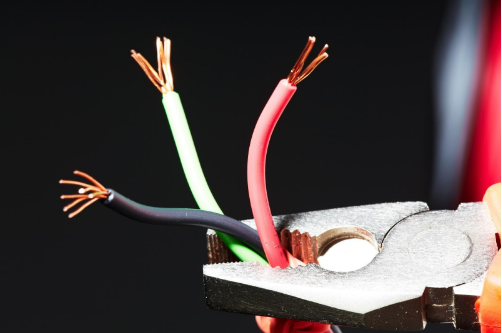 Wiring in the home
All wires in the home, regardless of the electrical wire color code, could potentially carry electricity at some point. Therefore, it's critical to treat each and every color with caution.
i.e Voltage does not care if wire is green, black or white, irrespective of code.
DIY GRRL always partners with quality companies and with Arnold Electric more workshops are planned in 2023 to include tasks such as rewiring a non-functioning lamp and installing a new light fixture.
DIY GRRL was created in March 2022 and workshops are provided in all walks of life: how to change and repair a tire, changing the oil in the car, bicycle safety, woodworking, operating power tools, audio production, fixing a sticky door lock, 3D printing are offered.
Yes there are Youtube videos offering similar skill-based learning, but there is no comparison to hands-on training.
Women who were not raised to learn these traditionally masculine skills are invited to learn to Do it Yourself, i.e DIY.
Partnering with Gearhead Workspace tomorrow evening June 12th is a workshop on Changing the oil in the car and July 17 will be Securing the catalytic converter to prevent theft.
Gearhead Workspace is a fully equipped DIY garage for car and motorcycle enthusiasts, and by partnering with DIY GRRL it further expands its mission.
Summer Lambert grew up in Richmond, Virginia and graduated from Richard T. Robertson School of Media and Culture at VCU with a degree in creative advertising. Her job is in marketing and she is looking to expand the platform to Virginia. Already, expansion has occurred to Austin, Texas where workshops have commenced.
Most workshops are free with a low administrative fee of e.g $10. Some others may charge a fee so as to pay instructors. At this point there is continued evaluation of the platform's potential. Do contact DIY GRRL to be included in their mailing list for upcoming workshops or for further information, to be a workshop instructor, if you have event space available, and to donate dollars.
The aim is to "ignite grrl's' potential with life changing skills" to bring positive change and make a lasting impact in our community.
Notes and Links
Photo of Jill : Joe Mazza Bravelux inc.
Photos copyright © 2023 Jill Lowe. All rights reserved
Images with Shutterstock license
DIY GIRRL
DIY GRRL contact
Arnold Electric