By Jill Lowe
In Zagreb in May 1927, as the equestrian statues The Bowman and The Spearman, sculpted by Croatian artist Ivan Meštrović, "left the foundry on a cart drawn by six horses, the people of Zagreb came out of their houses to bid them farewell, as if it were a funeral." The 17 feet high sculptures traveled by train to Trieste and were placed on President Wilson to New York, then by train to Chicago in four huge crates, to be situated on opposite sides of Congress Parkway at the entrance to Grant Park.
The prolific and revered architect and sculptor Ivan Meštrović was commissioned to design the equestrian statues by the Ferguson Fund, which was managed by Chicago Art Institute Directors, who knew Meštrović and whose chair was Potter Palmer.
The motivation of Meštrović, in sculpting the monumental mounted American Indian warrior statues was to spotlight the native American Indians fight for survival, and to commemorate them, so it was perplexing that in 2021 the statues became included in the list of monuments and memorials in Chicago singled out for misrepresentation of American Indians. Croatian officials in Chicago subsequently met with Chicago City Council and have assured that it is unlike the statues would be removed, although undoubtedly Croatia would gladly take them back.
The figures are lean and muscular, tensed for the actions of hurling a spear and releasing an arrow. Meštrović has heightened the forcefulness of these gestures by making viewers use their imaginations to supply the missing weapons. Although they are modeled in-the-round, the equestrians are viewed to their most monumental effect as relief silhouettes against the sky.
Images license Shutterstock
Brief modern history of Croatia.
For more than a century-from 1814 until the end of WW1, Croatia was part of the Austro-Hungarian Empire. It was folded into the new nation of Yugoslavia in 1929, and following a brief return to Italy after WW2, it became one part of the six part Socialist Federative Republic of Yugoslavia until Tito's death in 1980. 
Between 1980 and 1991 saw the breakup of Yugoslavia with many, many conflicts, and massacres in the Balkan wars. June 25th, 1991 saw Croatia declare independence from Yugoslavia, the capital being Zagreb.
This trip could more accurately be described as a taste of Croatia. It omits the spectacle of Dubrovnik. It does include the islands of Hvar, Brač and the Dalmatian coastal city of Zadar with a trip inland to the Plitvice Lakes National Park: part of Unesco World Heritage.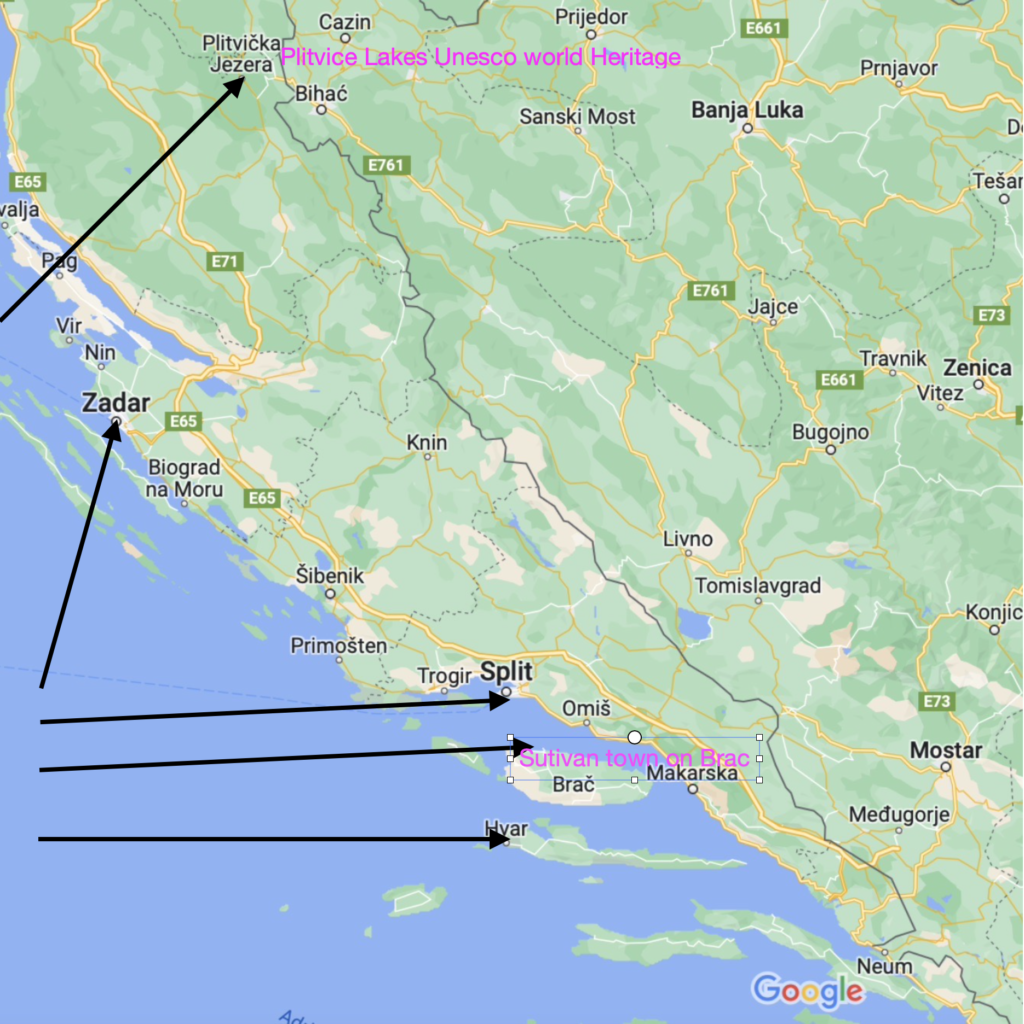 Split was our port of entry, arriving in the modern Restock airport, 14 miles from the city. By boat, directly from the airport we traveled the 50 miles to Hvar island arriving at the Palace Elisabeth, with the imposing Venetian fort, Fortiza or Spanjola in the background. The name, Palace Elisabeth, is an homage to a generous Austrian Empress Sisi, a patron of the hotel's construction in 1899, when the Palace was rebuilt.
Not simply a heritage property, but a historical landmark: the property occupies a late-19thcentury building on the site of a residential 13th-century ducal residence, on the main town square which is also the largest in Dalmatia. Throughout the hotel are homages to Sisi.
Hvar is an island in the Adriatic Sea, located off the Dalmatian coast, lying between the islands of Brač, Vis, and Korčula. Hvar town is walled, and carless. Charming small pedestrian streets with bright magenta bougainvillea delight.
| | | |
| --- | --- | --- |
| c | caper flower | c |
| | | |
Visits to other Hvar towns: Stari Grad, Vroboska, Jelsna can take one past growing lavender and capers. Lavender is prolific on Hvar but very labor intensive to harvest as it grows in hilly areas and not in lavender fields as one may see in Provence or New Zealand.
Secluded private cloistered ponds, special entrances to buildings, were facilitated by Tours by Locals. They can provide customized tours by car and foot in so many countries in the world. We have never been disappointed. Meet Jelena, one of our guides from Tours by Locals:–
"For me, there's just one attraction in being a tour guide: doing a job I love and equally sharing my energy and passion, helping visitors to Croatia discover more by creating beautiful hand-picked experiences and moments that people will never forget!"
Look at her credentials! Is it any wonder we were so impressed!
Master's degree in English language & literature and sociology, University of Zadar 2000
Cambridge English Proficiency Certificate, London 2001
Licensed tour guide for Split-Dalmatia County 2015
Licensed tour guide for Šibenik-Knin County 2016
Tourism & Travel Services Management Course, Faculty of Business & Tourism, Split 2019
Roman Architecture Course, Yale University on Coursera 2020
Sommelier Course- Level 1, 2021
Member of the local guides' association
Wonderful dining in charming locations
Arriving by ferry from Hvar to Split, this view of SPLIT above and its harbor clearly shows the DIOCLETIAN Palace with the north wall in the foreground intact. Diocletian's Palace is an ancient palace built for the Roman emperor Diocletian at the turn of the fourth century AD, which today forms about half the old town of Split, Croatia.
Within the Palace, a monumental court, called the Peristyle, formed the northern access to the imperial apartments.
The ground-floor halls of Diocletian's Palace (more commonly called the Basement), were originally the supporting substructure of the Emperor's residential quarters, and, consequently, as they are an identical projection of the upper-floor halls, which are not well preserved, is well worth visiting to get some idea of the original structure. Elevating the Emperor's Palace above the sea level, meant that the big porch of the southern facade could be adequately exposed to the sun and summer breeze.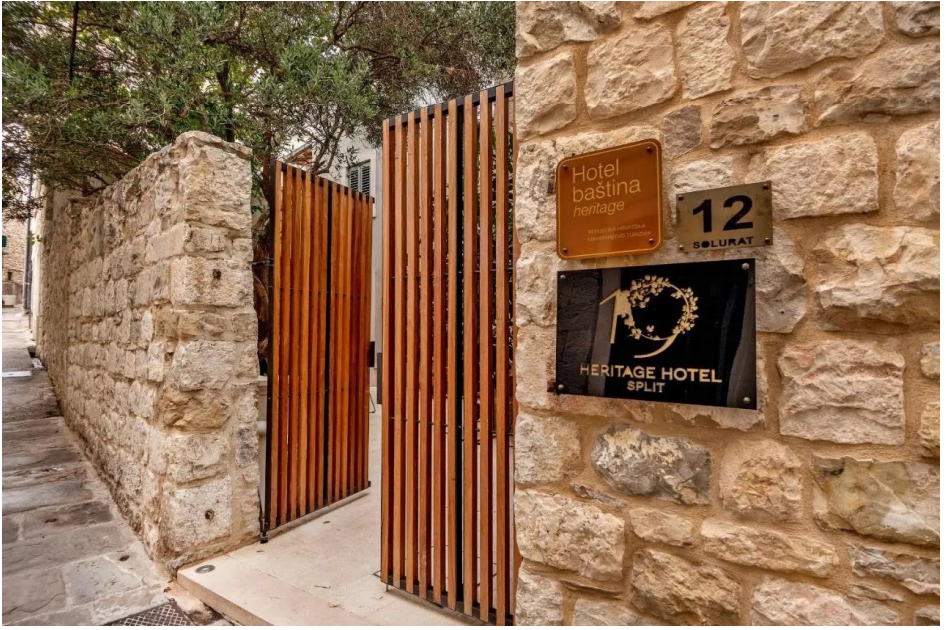 Heritage Hotel 19is an intimate boutique hotel in a converted 19c. townhouse set in leafy courtyard dominated, by a large olive tree and orange shrubs, all illuminated. It is tucked on a quiet cobble-stoned street on the edge of the old town of Split.
Leaving Split, we drove the some 60 miles to Zadar, a city on Croatia's Dalmatian coast, known for the Roman and Venetian ruins of its peninsular Old Town.
The arrows above point to 2 installations which we found absolutely delightful.
The Zadar Sea Organ (2005) and Greeting to the Sun (2008) are 2 urban installations designed by the architect: Nikola Bašić, built right on the seafront so as to be in direct contact with the sea, the islands, and the sun.
Helped by devices that transform the energy found in nature into sound and light, they are hugely popular in this city which is more than three thousand years old. The movement of the waves pushes air through the pipes, and makes them whistle. 35 Pipes are hidden in marble staircase, each one is tuned differently, and sometimes can be very loud.
Greeting to the Sun, a 72 feet circular plate a remarkable installation made out of 300 photo-sensitive glass plates absorb daylight and transform into a wondrous light show at night.
The Almayer Art and Heritage Hotel was our abode for some days in Zadar's old town. On the premises of the former monastery of St. Nicholas, dating back to 1042, the initial building of the nowadays hotel was built as an annexe of a military hospital and barracks.
Its attached Corte restaurant, in the style of an Orangerie is surrounded by a lush mediterraneum secret garden.
Images: Almayer hotel website
Dining in the Corte Restaurant, we experienced an exquisite gastronomic journey through modern Mediterranean Dalmatian cuisine
Then a short drive to the Plitvice Lakes National Park, Croatia's largest national park: a Unesco Heritage Site. The waters flowing over limestone and chalk have deposited travertine barriers creating a series of some 16 beautiful lakes, caves and more than 90 waterfalls. The fluorescent liquid turquoise is apparently supersaturated in calcite. The fine floating particles absorb and scatter sunlight that gives the blue-green color.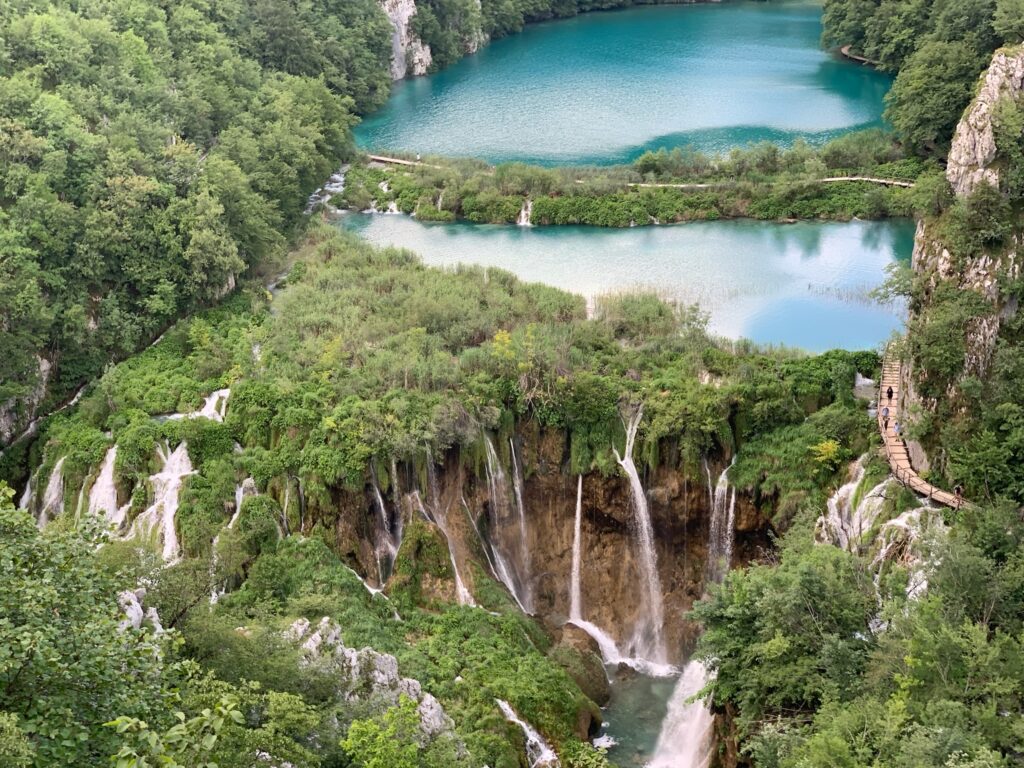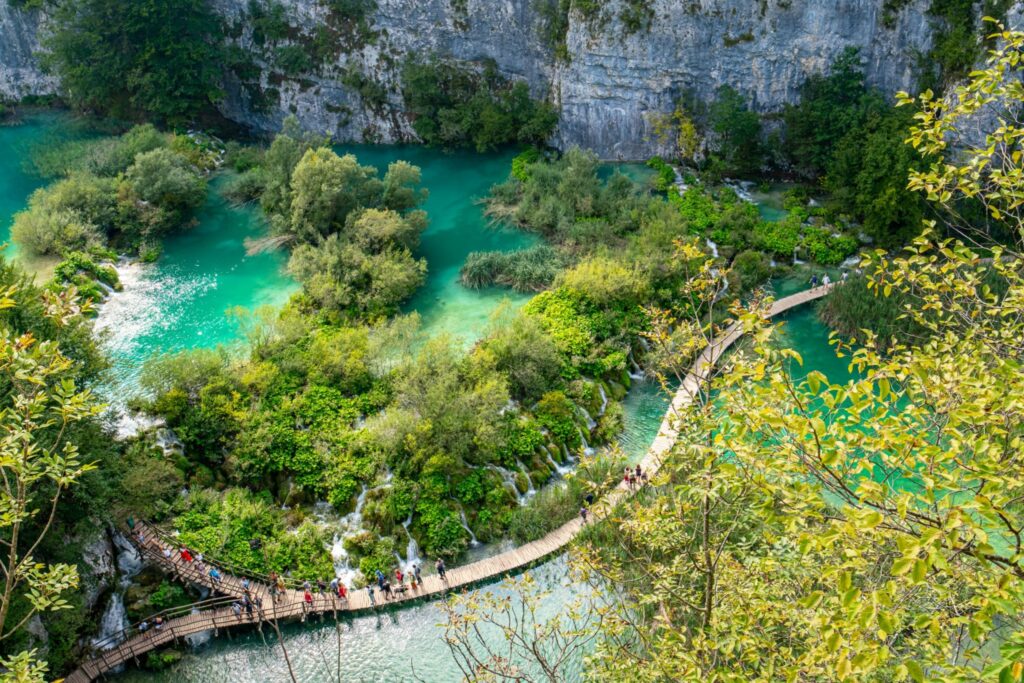 How glorious is this liquid turquoise!
Images Plitvice lakes : Earthtrekker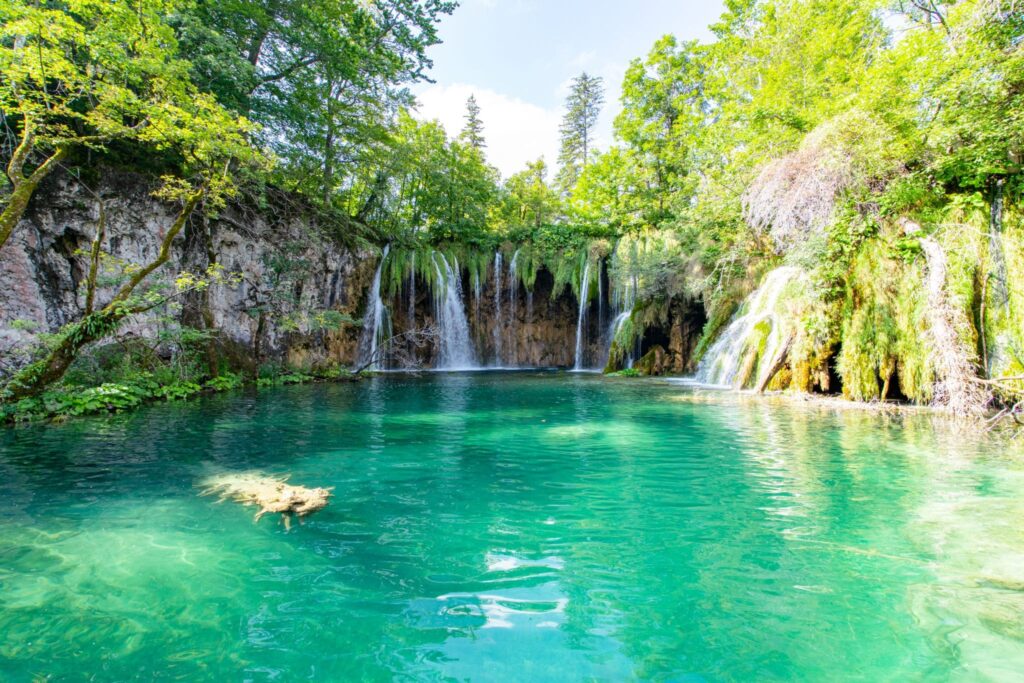 By far the most prolific ferry company in Croatia is Jadrolinija. The company dates from 1947 but the first ferry transport was introduced in 1963. Today the company is a vital ferry link, foot and car, connecting major centers along the Croatian coast and many of the countries 1000 islands with the mainland. It also operates international routes linking the country with Italy.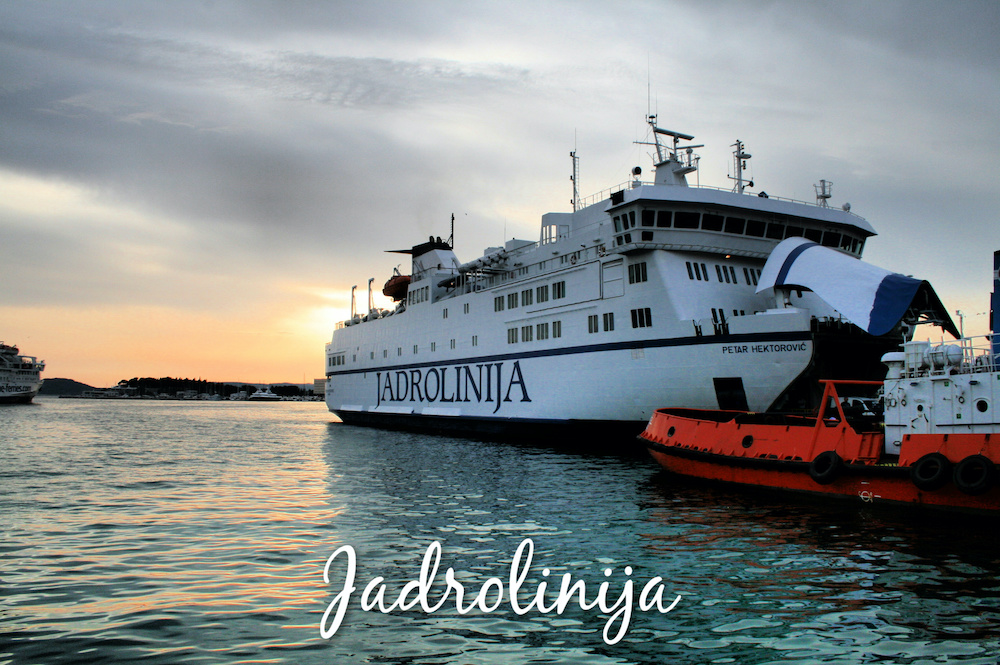 Arriving in Brač, via the ferry from Split, we centered ourselves in Sutivan, once a small fishing village and today with some 700 inhabitants. Brač is the largest island in Dalmatia at 150 square miles. Its proximity to Split makes it easy to reach, and is very popular.
Sutivan in Brač has plentiful restaurants, with seafood and lamb dominating, wonderful dining settings, amazing wines. It offers idyllic swimming, hiking and biking. Kayaks, and sailing boats abound. Beautiful sunrises and sunsets illuminate the vibrant flowers.
Chicago has a large vibrant Croation population with immigration since mid 19th  century peaking at various times in the last century, settling in neighborhoods of Pilsen, Englewood, Rogers Park, centred especially in St Jerome Croatian Catholic Church, in Armour Square neighborhood of Bridgeport.
The current head of Archdiocese Chicago Cardinal Blasé Cupich is of Croatian descent. Former Ald. Edward Vrdolyak, wrote about his Croatian roots.
Former Mayor Michael Bilandic served as Chicago's mayor for 3 years after the death Mayor Richard J. Daley in 1976, and went on to serve as Chief Justice of the Illinois Supreme Court. Mayor Bilandics's mother, known as Minnie, came from the island of Brač as a young adult, and met Mayor Bilandic's father in Chicago. He had come from a small unpaved town in the hills near Split, where dried meat and cheese were prevalent, contrasting with Brač which saw more fresh fish on the menu.
There is a proliferation of Croatian fashion designers such as Igor Dobranicand items using washable taffetas and fine voiles are available
in US stores. Keep an eye out for such.
The words that evoke Croatia are flowers: especially bougainvillea and lavender, olive oil, amazing restaurants with abundant seafood, lamb and vegetables, gorgeous, delicious, crystal clear waters of the Adriatic in which to swim, small beaches, sunsets, cobbled streets, a rich, long history with preserved archeology sites, fishing and fishing nets, architecture and vibrant living for the friendly, interesting and interested people.