By Daniel Bender
Berlin is a bustling city of artists, museum, restaurants, palaces, and of course, Christmas Markets. The Ku'damm is back in fashion and the Mitte has everything a tourist would want. But this time I decided to explore some of the old East German neighborhoods that have been experiencing a revival over recent years, and I landed in Prenzlauer Berg, where I rented an apartment for a few weeks.

A panorama of a popular Prenzlauer Berg street.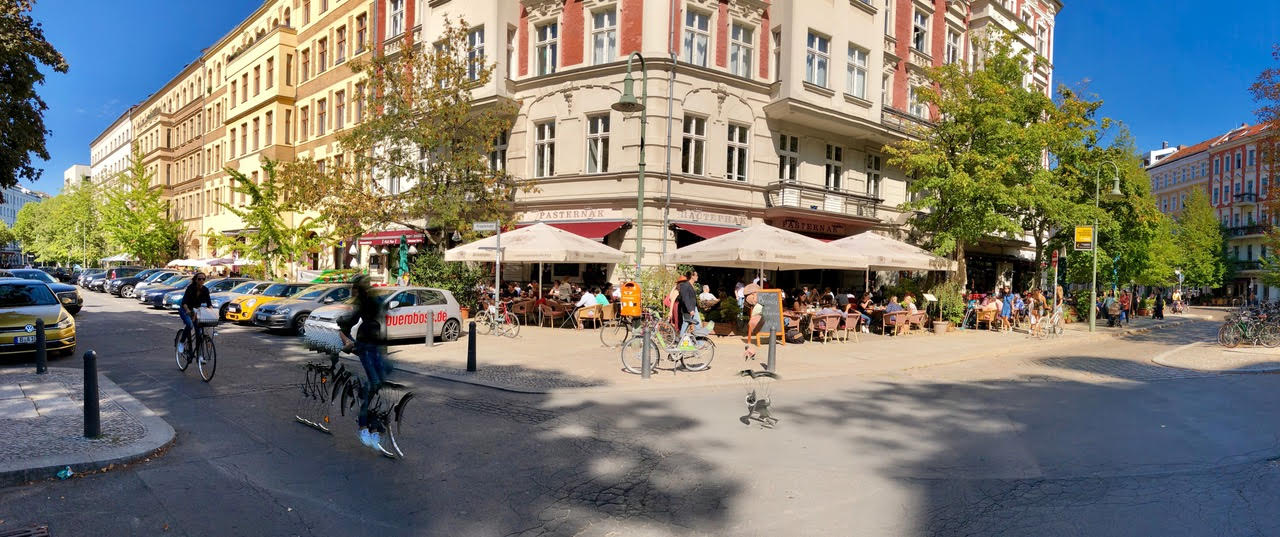 Prenzlauer Berg is filled with restaurants and cafés.
Just 15-20 minutes by Tram 1 or 12 from the Museumsinsel or the Galeries Lafayette on Friedrichstrasse, Prenzlauer Berg was the hipster artist colony of the 90's and 00's. One can still see the graffiti-covered building with banners proclaiming squatter's rights and alternative "experiences" for all. A monument to Karl Marx and an outdoor Berlin Wall museum walk are there to remind everyone of their not too distant past as part of East Germany. Today, these "memories" are surrounded by renovated buildings with apartment offerings going into the seven-figure range. Yet, somehow Prenzlauer Berg has managed to recapture its 19th-century charm with tree-lined streets filled with outdoor cafés and restaurants. One need only stroll down Knaackstrasse, past Kathe Kollwitz Park, to experience the depth of the restaurant offerings: French bistros, Turkish Kebab houses, endless Schnitzel, and on Sunday mornings, brunch specials are everywhere. The hustle and bustle of the city melts away as you eat a fresh croissant while sipping an espresso in a sidewalk café–you might think you have stumbled into a charming neighborhood of Paris.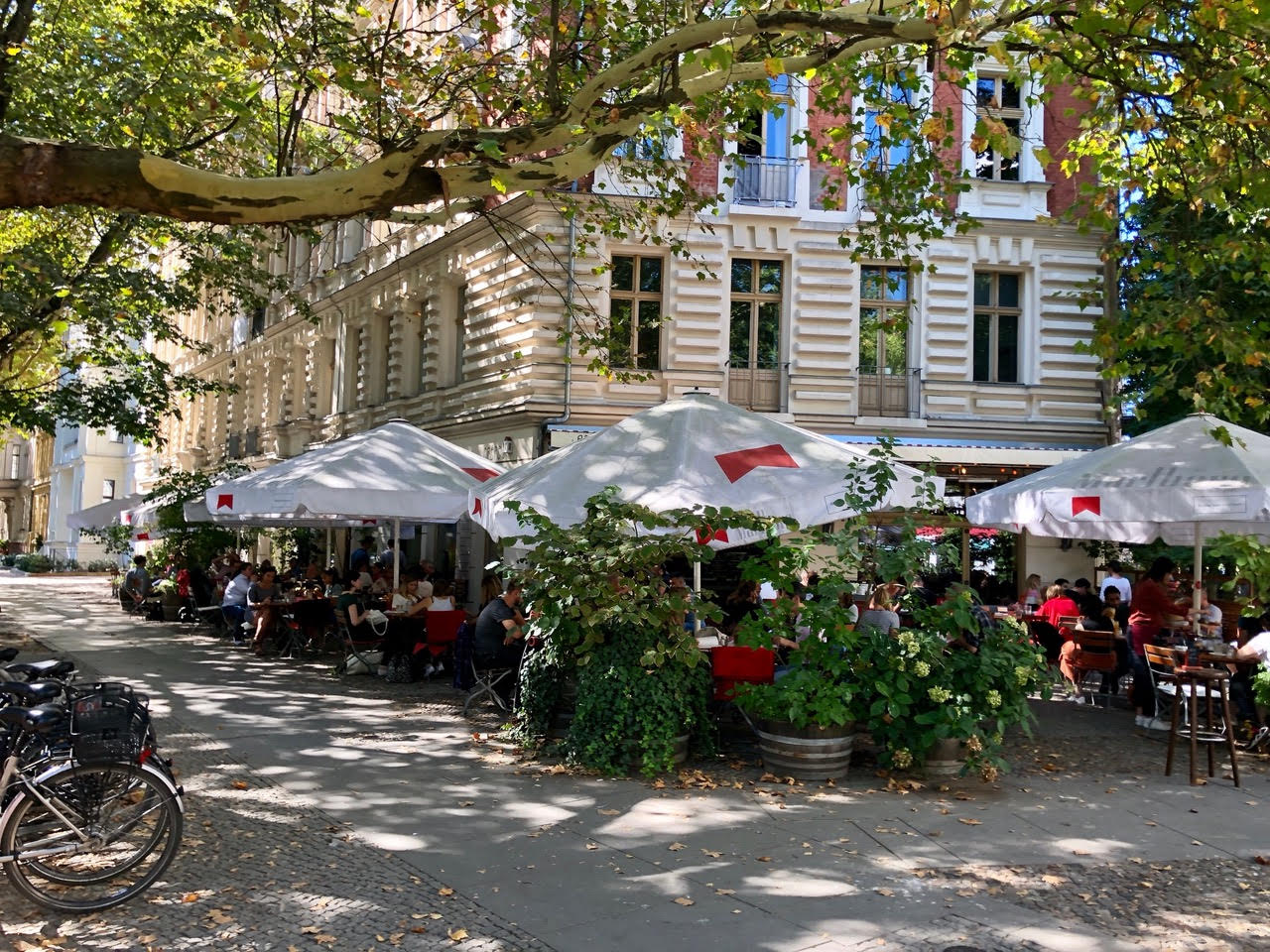 Prenzlauer Berg has many outside restaurants and cafés, which are popular not only with tourists but with locals as well. 
The Kulturbrauerei, an old brewery now serving as a cultural center, theater, cinema, and museum of the "Everyday life in the GDR," opens its courtyard on Sunday afternoons to the food truck craze that is now sweeping Europe. Here you can mingle with the locals sitting at picnic tables, eating everything from Angus Beef Burgers to Mexican, Korean, Indian food, or even an authentic German Wurst. After indulging at this multicultural feast, one can ease one's feelings of guilt by hiring bicycles right there for an afternoon ride, or walking down to Museum Pankow housed in the turn of Volkshochschule Pankow, a school of higher education.  There one can see the latest exhibit and visit the old Jewish Cemetery or Käthe Kollwitz's peace sculptures along the way. Of course, for the more idle afternoons, there is always sunbathing at the Wasserturm, a former water tower turned prison turned luxury condominium building.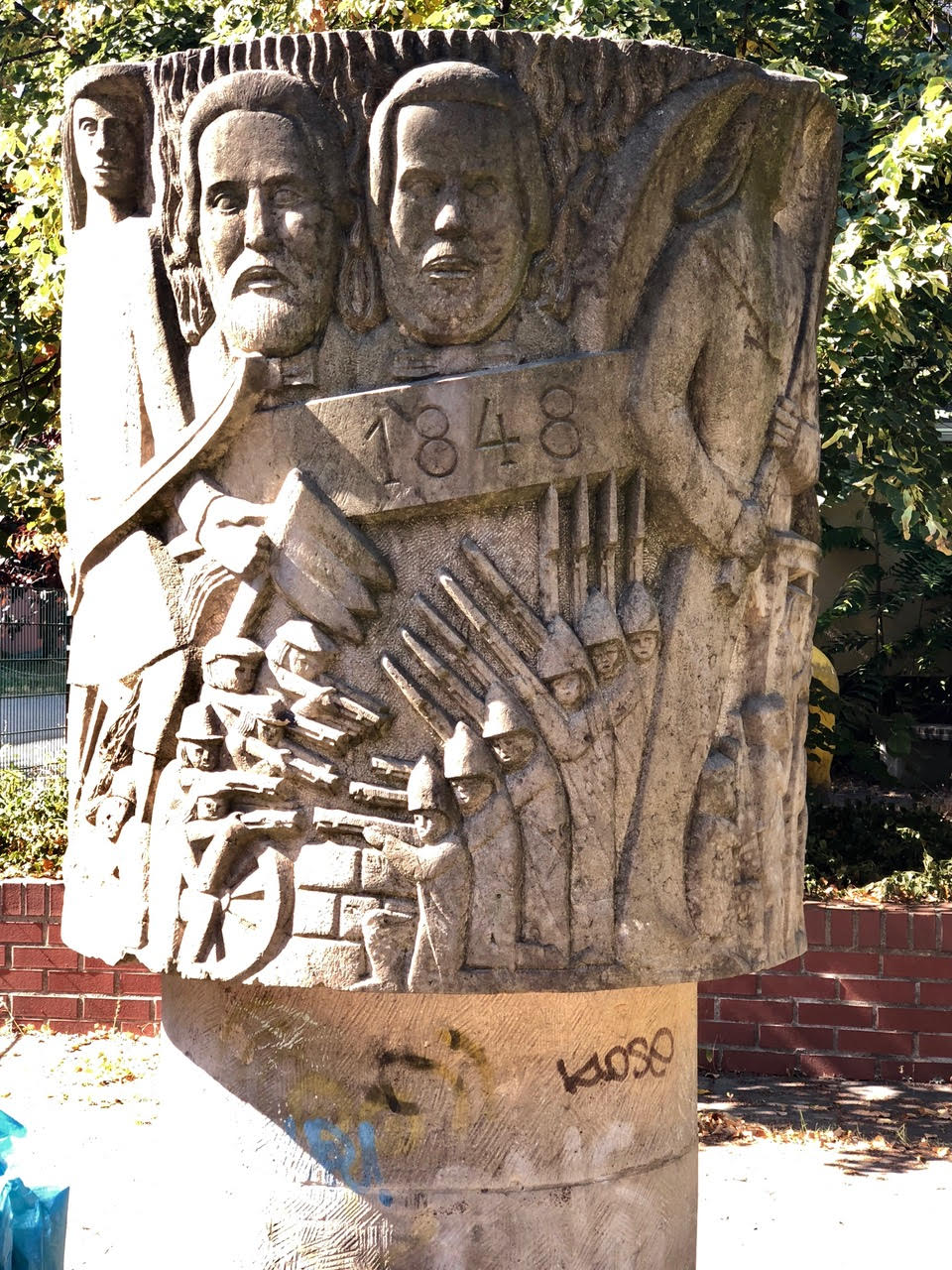 A sculpture of Carl Marx and Friedrich Engels commemorating the publication of the Communist Manifesto in 1848, located in front of the Grundschule am Kollwitzplatz on Knaackstrasse. 
Homemade baked goods.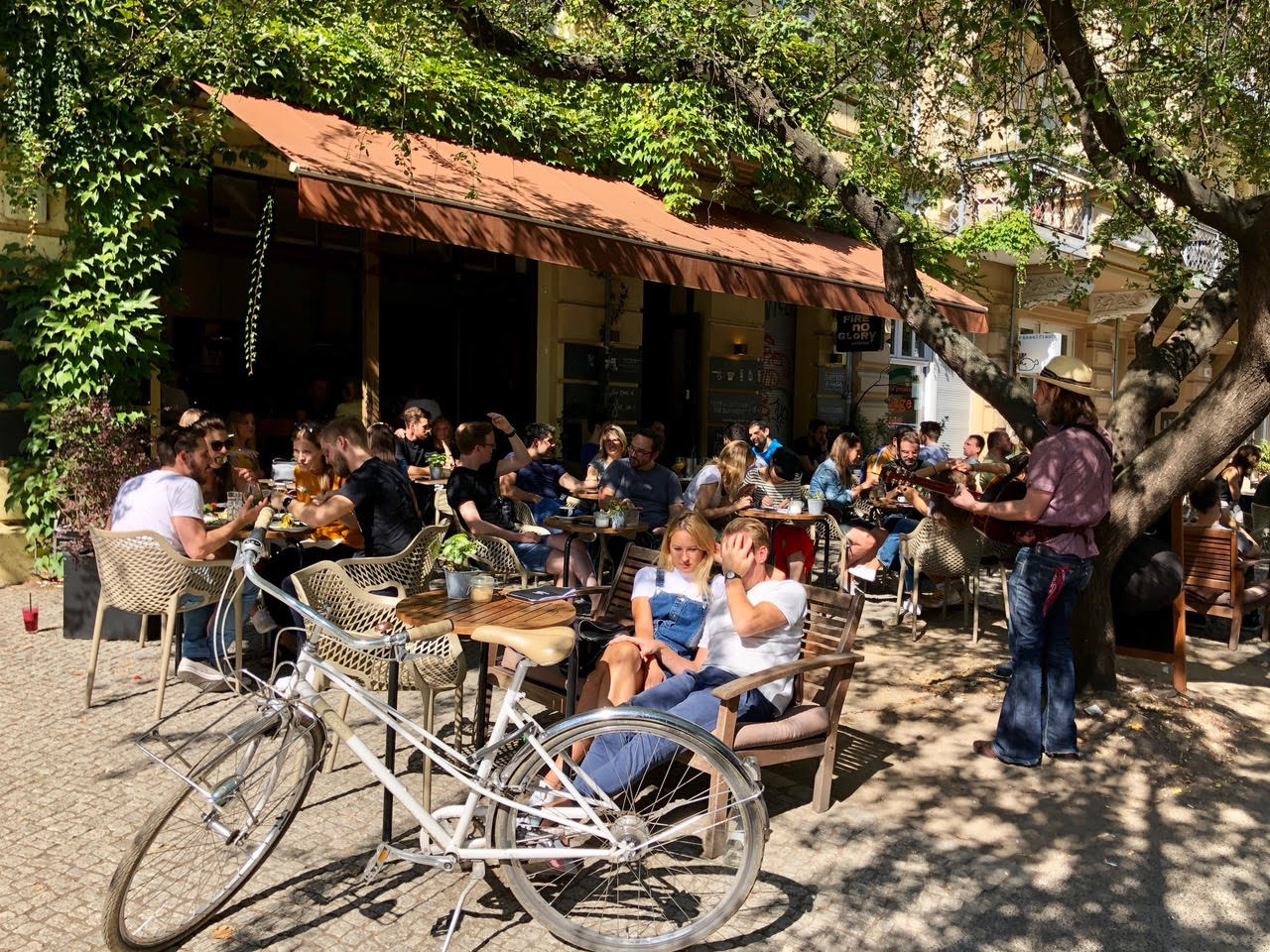 Prenzlauer Berg offers tourists and locals many places for leisure. 
I was so enchanted by the offerings in Prenzlauer Berg that I rarely felt the need to escape to a more well-known ground in other parts of the city, but on the recommendation of a high school friend, I did venture out to Kreuzberg to experience Felix Austria. This charming local restaurant seats 48 at small, wooden tables covered in red and white checkered tablecloths. The menu is not large but the food is all homemade and truly authentic. As its name suggests, the couple running this restaurant specializes in Austrian cooking with some local specialties snuck in. The Maultaschen (ravioli from Schwaben) is outstanding, as is the Käsespätzle, and the wild game dishes. All are seasonal but the bedrock of this little gem of a restaurant is the veal Schnitzel. Truly, it is one of the best I have ever had in the world. Go with a group so that you can try everything and go hungry, as the portions are large and filling. There are no frills here but the neighbors know a good thing when they have it, so reservations are definitely needed for any weekend dining.
Felix Austria is a charming restaurant with homemade and authentic food. 
Spandauer Zitadelle – a fortress in Berlin, Germany. It is one of the best-preserved Renaissance military structures of Europe.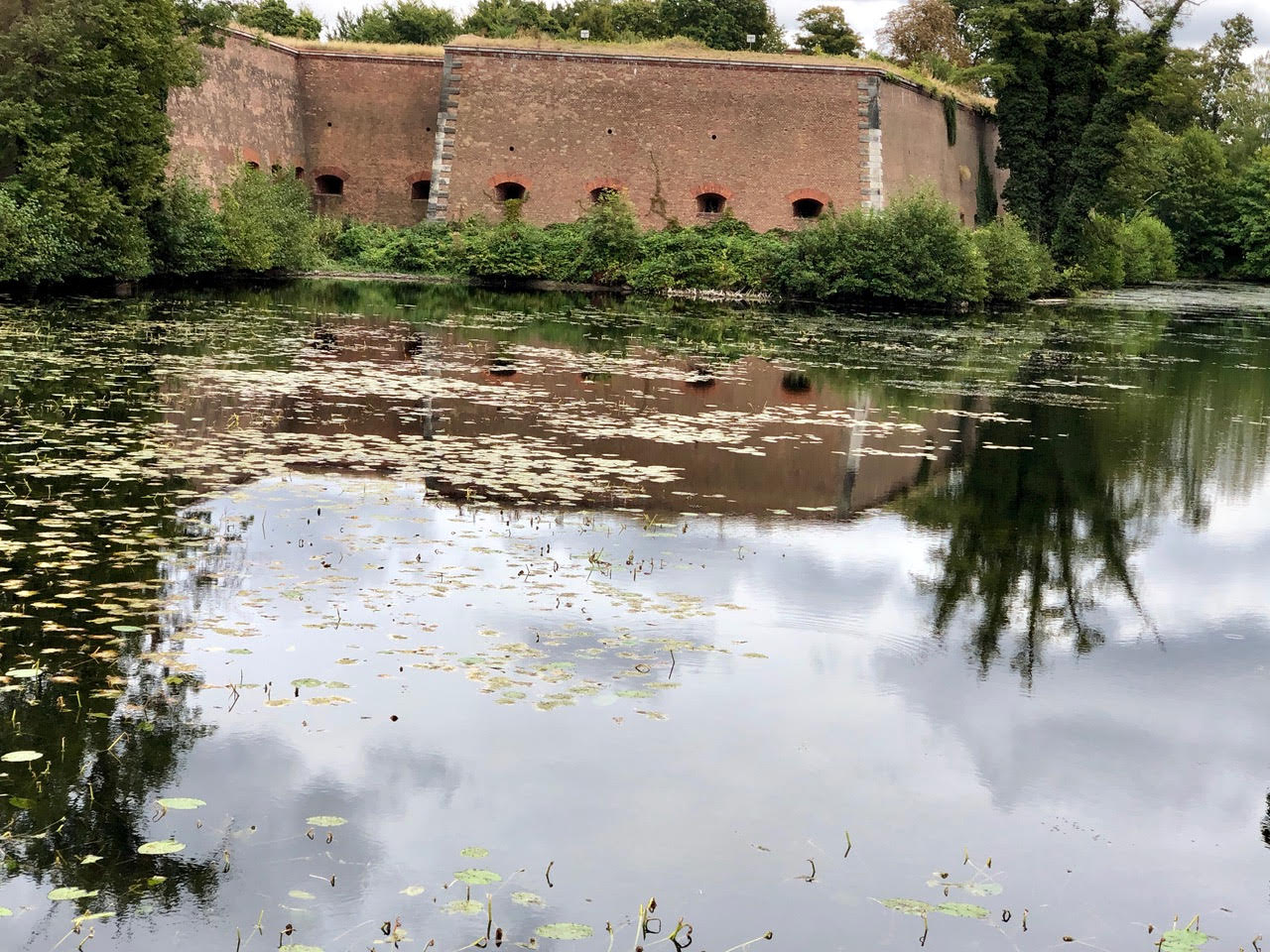 Spandauer Zitadelle was built from 1559–94. It was designed to protect the town of Spandau, now part of Berlin.