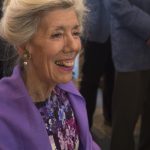 BY JUDY CARMACK BROSS
With 3,100 guests celebrating Dance for Life at its recent 28th annual performance at the Auditorium Theatre recently, the organization created in response to the HIVAIDS crisis proved it celebrates Chicago dance like no other.  The over $300,000 raised broke records as well for the Dancers' Fund, which assists members of the dance community facing critical care issues.
Co-chairs Tom Ferguson Gomez and Mark Ferguson Gomez moved the evening's reception to after the performance this year with great results. Over 650 guests mingled and dined with the evening's dancers who had donated their time, energy and artistry to support their fellow dancers.
During the performance, Robert Neubert, board president of Chicago Dancers United, the organization that produces Dance for Life, introduced new executive director Kesha M Pate. Together, they welcomed AIDS Foundation of Chicago President and CEO John Peller and American Cancer Society Executive Director Peter Steele to the stage to announce a new partnership. The three organizations will work together to increase philanthropic support for the Dance for Life fundraiser and the Dancers' Fund's ability to provide financial assistance to dance professionals in times of need.
Neubert told the audience:
"Dance for Life began in response to the HIV/AIDS crisis, in partnership with the AIDS Foundation of Chicago. Throughout the years, we have increased our support to include all critical health issues, and this partnership with the American Cancer Society is a great next step in expanding our ability to fulfill our mission here in Chicago. We could not be more excited to have ACS join the Dance for Life family."
The performance featured the Dance for Life partner dance companies, Giordano Dance Chicago, Hubbard Street Dance Chicago and The Joffrey Ballet which were joined this year by Chicago Dance Crash, Chicago Human Rhythm Project's Stone Soup Rhythms, and Ensemble Espanol Spanish Dance Theater, all presenting short and vibrant pieces.  A first look at a work in tribute to the late dancer, choreographer and instructor Claire Bataille, choreographed by Robyn Mineko Williams and a finale choreographed by Randy Duncan, using dancers from all around Chicago, capped a tribute to our dance community like only Dance for Life can present.
For more information visit chicagodancersunited.org