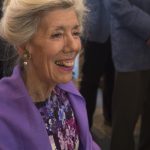 BY JUDY CARMACK BROSS
Do you want to treasure hunt at the Newberry Book Fair—otherwise know as the biggest book binge ever?  From July 25-28, almost 160,000 donated books and other items in over 70 categories will be available, some for as little as $3, throughout the beautifully renovated first floor of the Newberry.
How to find your heart's desire?
Dan Crawford, the event's mastermind for the last 24 years and our city's courtliest wit, took a break from labeling sales tables and shared a plan of attack for his "book palace" with Classic Chicago readers:
"In addition to volumes in all categories we offer vinyl records, puzzles, CDs, DVDs, posters, plus collectables galore.  Admission is free so my recommendation is to keep coming back.  We will be replenishing all categories throughout the sale.  We have 150 volunteers who help with this.
"You can also strategize beforehand instead of ad-libbing it, by reading on our website what's to be in each room.  For example, Room 4, which used to be a locker room and is now a gallery, shares children's books with humor, Chicago, and records.  We give special thanks to that anonymous donor who dropped off seven boxes full of 45 records, including a first pressing of Why Do Fools Fall in Love?
"Room Two is a very popular one, with art, cookbooks and collectables—we have more than 1200 of each category.  The Field Museum's Department of Invertebrates donated their cookbook with recipes for oysters, shrimp and much more.  It is not only a fascinating book, but also a fine example of how to get even with the creatures you work with daily.
"People line up two-thirds around the block on July 25 when the sale opens at noon, so come a little later.  On both Thursday and Friday it is open until 8, on Saturday and Sunday the hours are 10 am until 6 pm.
"If you are a Newberry Associate, having given $100 a more during the past year, you are eligible for the Preview on July 24 from 4 until 8 pm. There's still time to make a donation on line or call us.  Don't line up at midnight as many have done in the past, come at 10 am and take a number.  Come back at 3:00 and line up."
We asked Crawford–who began working on sale 35 years ago when his aunt headed the project–what's new this year?
"With the restoration of the Newberry, the lighting is now great and you can actually read the titles.  We have a new section: LBGTQ in room Three, many more books in the Young Adults section and treasures galore. In the mystery section I was pleased to see an increase of Earl Stanley Gardner. A signed first edition of Arthur Miller's Death of a Salesman is very special. It was just dropped off in a dog-eared bag."
Crawford gave a special salute to the donor of three boxes filled with postcards which he describes as a "hungry market".
What is something most unusual in the sale?
"From the estate of one a former staff member we received a Midwinter horn, which is a small Swiss mountain trumpet to use during the holidays. It was surely a surprise."
Throughout the year, donations pile up and Crawford examines each and every item.  His calm demeanor endures the deluges which he welcomes with gratitude although he has been known to cast a stern eye at medical textbook from the 1950's, books where the author's signature has been excised, and boxes of jigsaw puzzles with the wrong pieces.
"Books arrive at a fairly steady pace throughout the year, but I have noticed that the pace increases before a major holiday.  I think people want to impress their families that they are actually capable of getting rid of some of their book collections."
Following Crawford's blog on the Newberry Library site leads to further Book Fair happy hunting.  For example :
"It may or may not be obvious when you stroll (at top speed) into our Book Palace, that we try to arrange things in rooms so they KIND OF go together. We can't suit everyone's notions of association, of course. No two people see book categories the same way. When the floor plan changed a dozen or so years ago, one loyal customer complained bitterly because Music was no longer in the same room as Humor.
"But we do try to help out in that way, however little sense it may make to some customers. Some people read both mysteries AND science fiction, while others growl at the customers over in THAT section. Room 1 is a descendant of the old "Cheap and Easy Room" as one of my volunteers used to call it. Mystery, Science Fiction, Romance, Military Fiction, Graphic Novels…everything she would have called light reading is in there. This year we have shoved Large Print and Games in there as well, but it isn't TOO much of a stretch to see how they go together."
All donations help further the Newberry mission to build and care for the extraordinary collection and share it—free of charge—with thousands of people.  Books that do not sell at the Fair are distributed to a variety of charities including schools, homeless shelters, and prisons.  "We love to see them in use," Crawford said.
For further information about the Fair, to become eligible to attend Preview Night, and to read Crawford's insightful blog, go to newberry.org