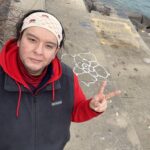 For about 10 years, the Zion Missionary Baptist Church in West Englewood has been home to the Crushers Club, founded in 2013 by executive director Sally Hazelgrove. The humble beginnings of the nonprofit Crushers Club went from mentoring a few kids, to employing and mentoring about 70 teenagers in the community. Young people's lives are being improved in the program – Improved academically and keeping the adolescents out of the juvenile justice system. The nonprofit's mission statement is "Be the strongest alternative to gangs by providing acutely high-risk boys & young men with the support and skills needed to restore their lives & improve their neighborhood," said Sally Hazelgrove. "We harness the same tactics used by gangs, to redirect & support underinvested youth rather than incarcerate them."
Clashes of billiard balls echo the rec room, clicks and clacks are heard nearby as one of the boys use the laptop to edit music. Encouraging messages can be seen all around the walls "you are worthy of so much recognition," along with a collage of photos of previous and current Crusher Club members. In a faint distance, the loud thumps of the ring mat travel with the clangs of the ring turnbuckles clashing with each step from Coach A., sparing with two of the boys as he firmly shouts "one, two…one, two," in rapid succession. While the club sounds similar like any typical community center, there's a sense of a family-like atmosphere. "Socialization is an overlooked aspect that some people don't address," said Hazelgrove. "When the boys go outside, they face some dangers and quite often the only socialization these kids encounter is the gang structure."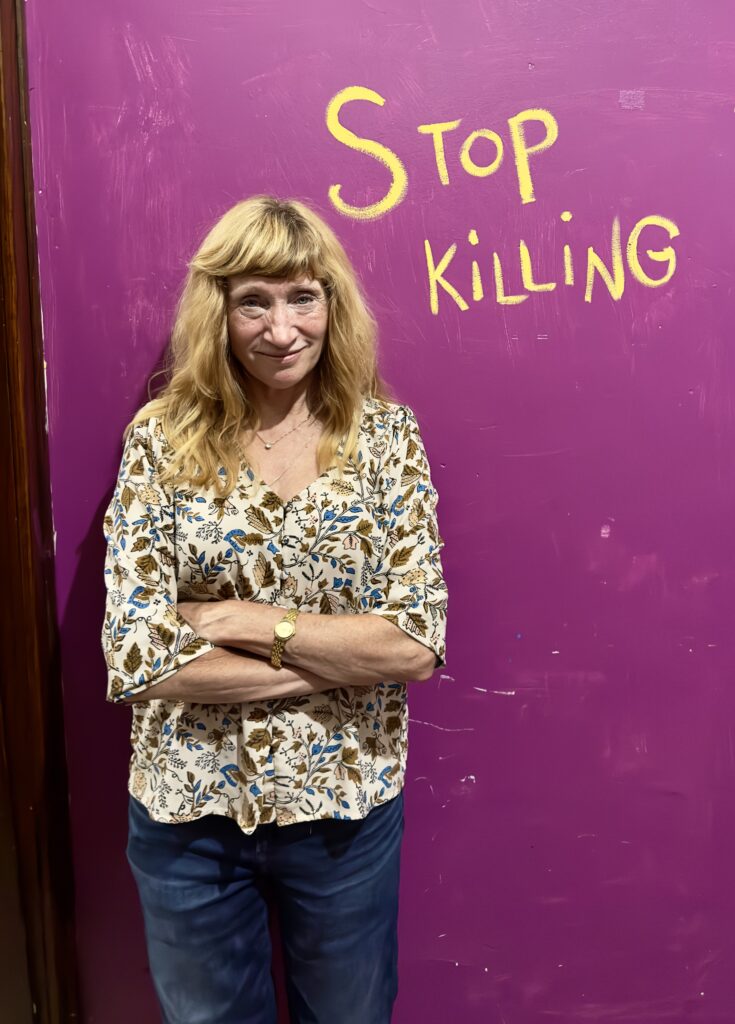 Founder and executive director Sally Hazelgrove. Photo by Adrian Naves.
Open five days during the week, the boys are regularly welcomed after school and work on themselves or with each other. They're sparing in the ring, creating music, socializing with one another, cooking, and creating clothing. The nonprofit is also teaching them life skills in catering and construction careers to name a few. The Crushers are typically employed by the local neighborhood, with each member earning $15 an hour, and some businesses take the youth onto their own payroll – helping to support the program.
A good portion of the kids are from the Englewood neighborhood. Some have previously spent time in juvenile detention, but all are welcome to the club. The Crushers Club follow rules that all members must adhere by: gang affiliations are left at the door, no cursing, and no fighting. Punishment can vary from dollar fines or a set number of push-ups, and at times, expulsion from the program. "They're putting in the effort to make progress and not be out in the block, or doing something that will put them in jail or anything like that – they're being productive and encouraging," said Cory Chapton – board chair and mentor of the Crushers Club. Chapton grew up a block away from the Crushers Club in Englewood, appreciates the kind of support and impact that the nonprofit can have to a child growing up in the community, "it's like family in here, wish we had something like this when I was growing up," said Chapton.
Teneshia Lindsey is the program director, and she helps keep the boys stay on top of everything they need to progress. "We're like life coaches, we make sure they're on time to work and school, check on them as soon as they enter the building and get a good sense of their mood. You can feel when they're happy to be here, it's like family in here," said Lindsey. "I say don't judge the cover of these kids, these kids are smart and genuinely kind, it's important to present them in a positive way, it does take a village," said Lindsey. The Crushers Club therapist, Arraina Thomas, makes sure there's always someone who will listen to the day-to-day hardships these boys go through, "we make sure there aren't any outbursts and checking on them reaffirms to them that someone cares, nobody is born violent," said Thomas.
Sally Hazelgrove felt the obligation to move to Englewood with her children from Uptown and help volunteer. She went on and founded the nonprofit Crushers Club, which became a dedicated space inside the church for the boys. "We try to provide a support system for those yearning for a better life that doesn't involve drugs and gangs," said Hazelgrove. "Even as we compete with the gangs in terms of recruitment, they also help and work with us, since they understand what we're trying to do here and how we're trying to create positive outcomes for the youth in the community…some of the gangs also have friends and loved ones in the club, that also helps."
The Crushers Club youth violence prevention and reduction program has been instrumental in terms of reducing recidivism among the club members. Hazelgrove mentions that the investment cost of a Crusher accumulates to less than $7,500 a year vs. the $200,000 it costs Cook County for juvenile detention. "Some of the kids here that come in are labeled as 'high-risk' and I think that makes people misunderstand the fundamental issue at hand. I prefer to refer to them as 'disproportionately underinvested youth,' since gangs are not the only thing we are going against – poverty is the main driving force of crime in low-income neighborhood," said Hazelgrove. "It's not only important to invest in these kids, but in the community as well."
"I would love to expand our program throughout the country…the world! But before we get there, we would love to have a building or center of our own to accommodate the kids we have now and those that want to join in the future. This program works! Right now we are gearing up for a Crushers TV channel, so the Crushers can flex their creative muscles and help encourage them to take risks. Every year we go out and try to rise funds, making sure these kids have a place to better themselves or just to hang out…Maybe even create a club for the young girls in the future, one can hope," said Hazelgrove.
After getting to know the Crushers Club wonderful staff, mentors, and the kids – a sense of family and community propels them to achieve and accomplish goals that might seem unattainable in an environment where one feels left behind and overlooked. But programs like the Crushers Club are a reminder of appealing to our better angels, to help support future generations of a meaningful life, to quote Kurt Vonnegut, "Of all the words of mice and men, the saddest are, 'It might have been.'"
The Crushers Club is located at Beautiful Zion Missionary Baptist Church 1406 W 64th St, Chicago, IL 60636. For more information about the Crushers Club and how you can help, please visit crushersclub.org.