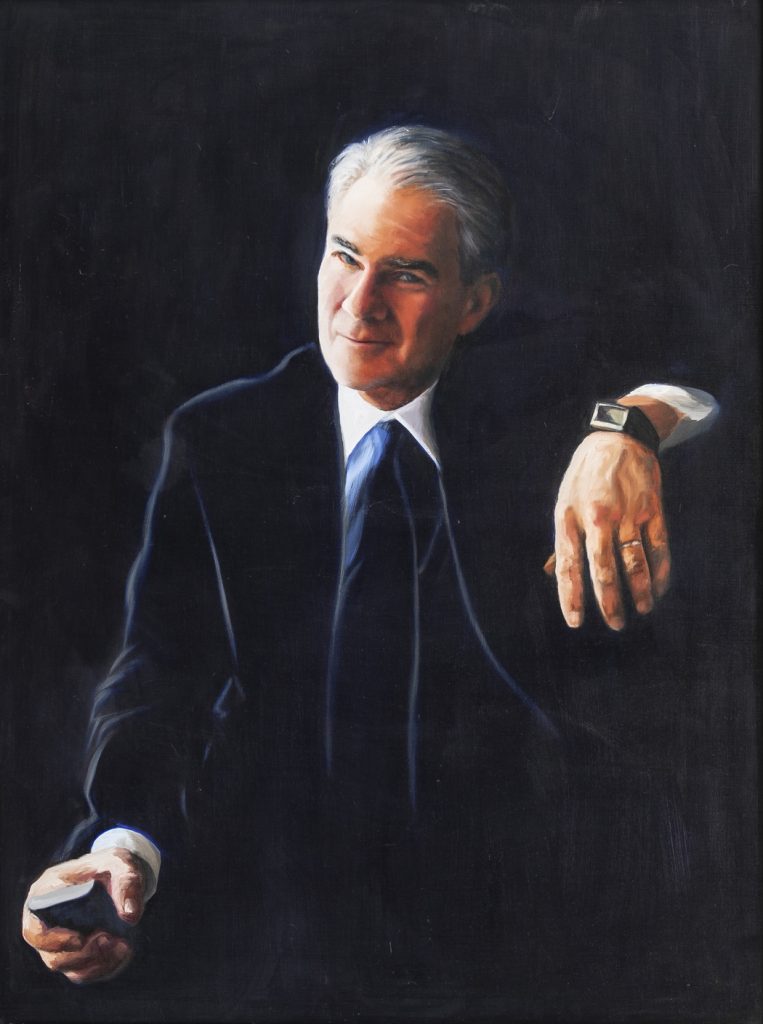 Chicago Artist Ann Ponce captured the essence of television's genial Jay Levine in this charming portrait.
By Megan McKinney
What a delightful way to reward yourself—or a loved one—after spending a year with a covered face. Now is the time to break out of those inconspicuous months and appear at your best on canvas. When you commission an artist to capture a likeness, it can be whatever you wish. The image may convey dignified formality, an easy casual quality or many levels in between. We have collected a range of styles and a variety of painters from which to choose.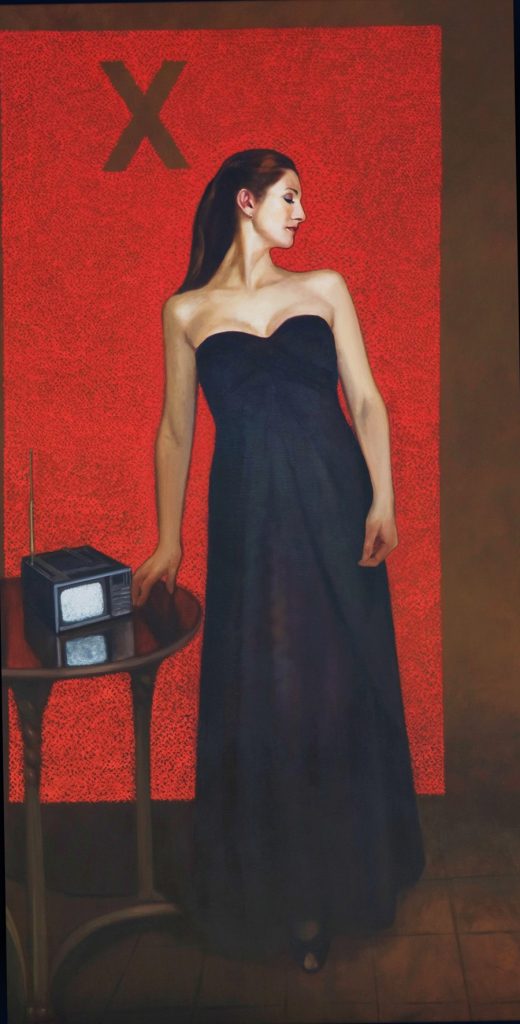 This modern Madame X, by Ann Ponce, is Anna Davlantes.
In these busy decades, portrait artists often work from photographs of the subject, but not always. "Depending on the circumstances," says Chicago painter Ann Ponce, "I use different types of reference. Least common is the live sitting where the subject poses as I draw or paint them. This way of working is definitely the most inspiring―and a likeness is easier to achieve when the subject is in front of me, talking and interacting. There are built-in disadvantages, however: the model inevitably moves or shifts position and must take breaks, and scheduling posing times can be demanding on sitter and artist."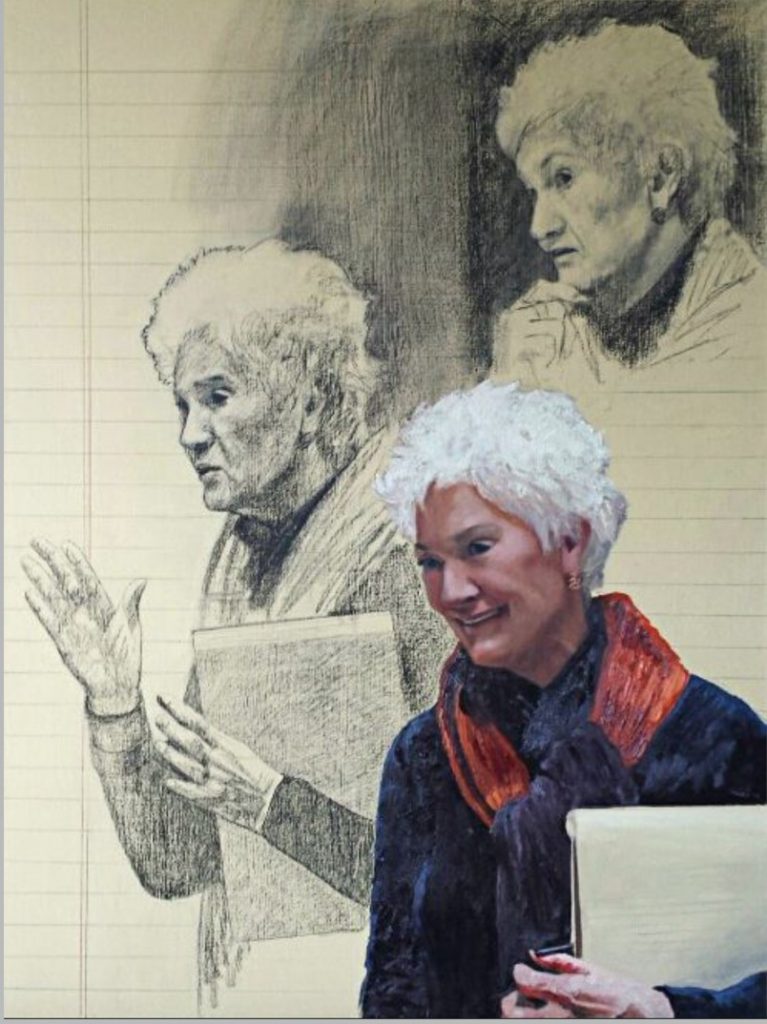 Lester Munson commissioned the above Ann Ponce portrait of his wife, the late law professor Judy Munson, as a 50th anniversary present. Ms. Ponce says, "The portrait was to be a surprise. Her husband gave me a handful of snapshots of her teaching a class, and I used all three.  Since she was holding a legal pad, I first painted the canvas to look like a giant legal pad and made two charcoal drawings and a color oil painting over it.  This gave the portrait a fun and active quality, and they were both delighted.  It's an example of how even a casual snapshot can be made into a work of art."
This was Ann Ponce's powerful view of television's Warner Saunders, who died in October 2018. 
Regarding the dimensions of the finished work, Ann Ponce says, "The person commissioning a portrait usually decides on the size, although I make recommendations.  Life-size is traditional, but many people prefer the impact of a larger-than-life portrayal, as in the portrait of Warner Saunders, who was known as the 'gentle giant,' or alternatively a small jewel-like panel.  So much depends on the place the portrait will hang. "   
The above painting, 7 Happy Fishermen—the ultimate in casual ease—is by Susan Kuznitsky, who says, "The painting of the fishermen was the most fun and unique. It was commissioned as a retirement gift for one of the men in the painting." We didn't ask Ms. Kuznitsky about the impressive size of the pair of fish each appears to have caught. As we wrote earlier, a commissioned painting can be whatever you wish.
Portraits/Chicago Inc. founder Kathleen Van Ella represents a spectrum of artists who may be engaged to paint a portrait. The above image of Dr. K. Michael Welch, former President of Rosalind Franklin University of Medicine and Science, was painted by John Boyd Martin.
Also by John Boyd Martin is this portrait of Rosalind Franklin University board member Ruth Rothstein.
The above oil on canvas portrait of David Van Zandt, Esq. was painted by John Boyd Martin while the subject was serving as Dean of Northwestern University Pritzker School of Law, from 1995 to 2011.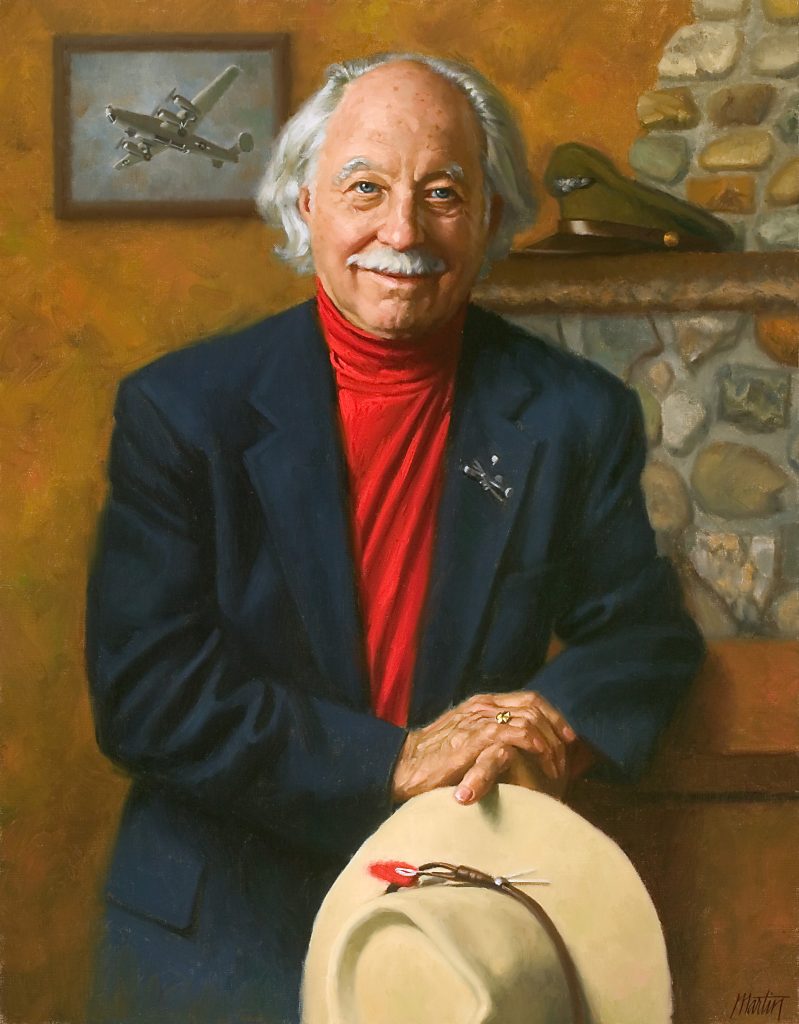 John Boyd Martin's Sherwood is as informal as its name. This commission is in a private collection.
Also in a private collection is the lovely 30 x 40 oil on canvas, Jennifer, painted by Gay Riseborough in 1996.
Gay Riseborough was creator of this portrait of Margaret Lurie, a board member of Evanston Township High School.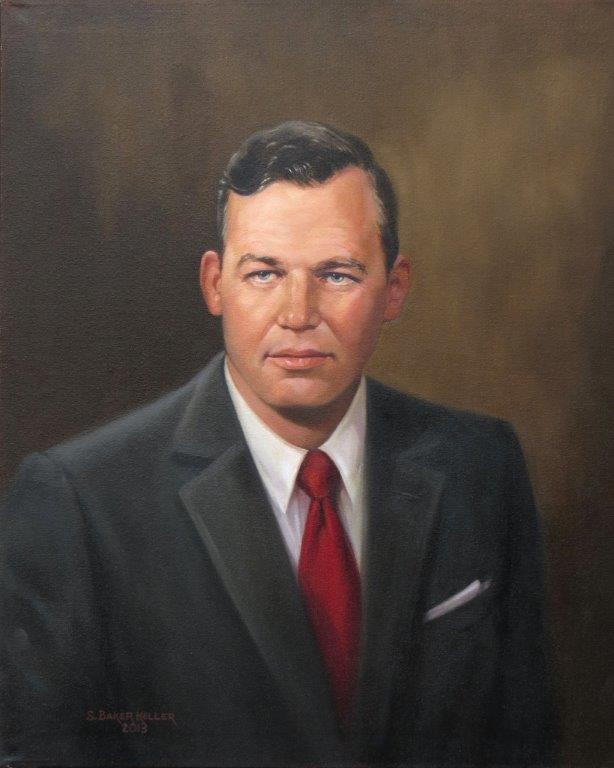 Sally Baker Keller was commissioned by the law firm Baker & McKenzie to produce a posthumous portrait of John McKenzie.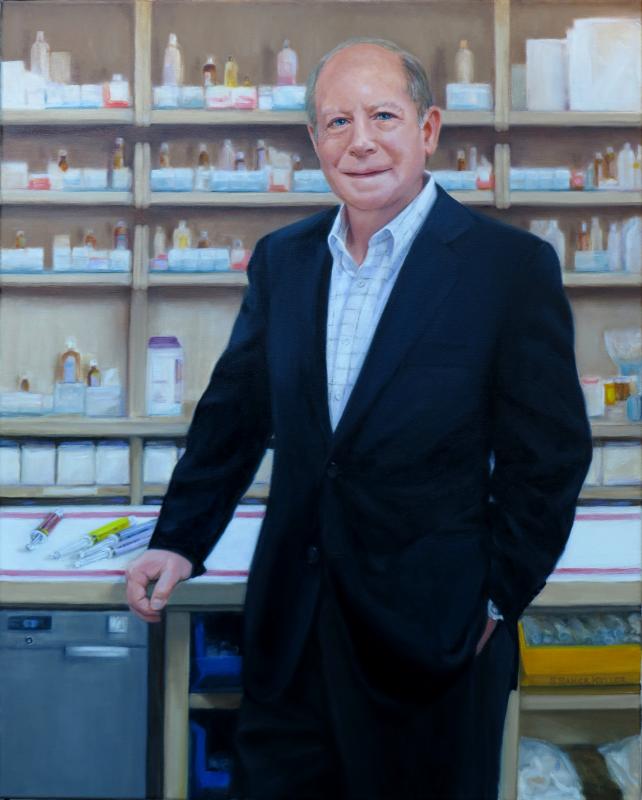 PharMEDium Healthcare's David Jonas was captured in this environmental portrait by Sally Baker Keller. 
Carol and Roy is a Sally Baker Keller enhanced drawing in a private collection.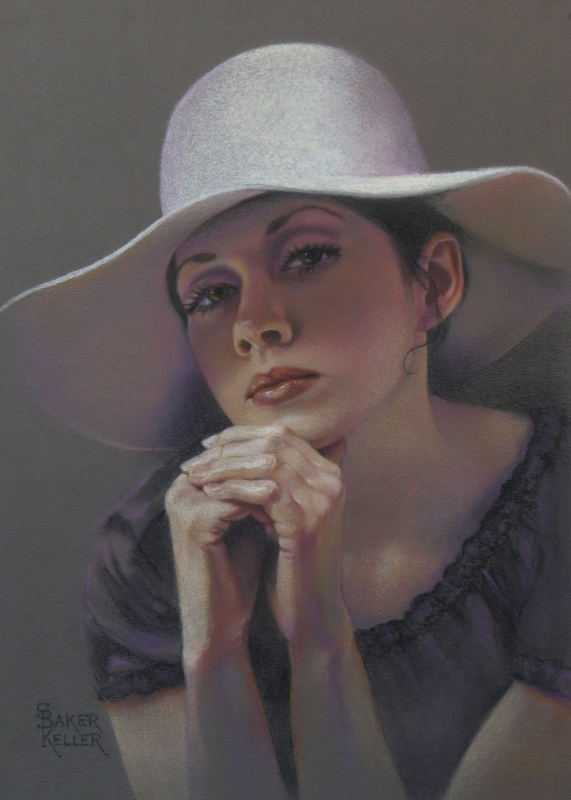 Sally Baker Keller refers to this pastel on paper self-portrait as "vintage".
What you see above is merely a detail of Bruno Surdo's portrait of Jerome and Leslie Blair. There are also images of two children in the full 60 x 90 canvas.
My Friend Barb, a 20 x 16 oil on stretched canvas painting by Linda Kollacks, was awarded an Honorable Mention by The Portrait Society of America.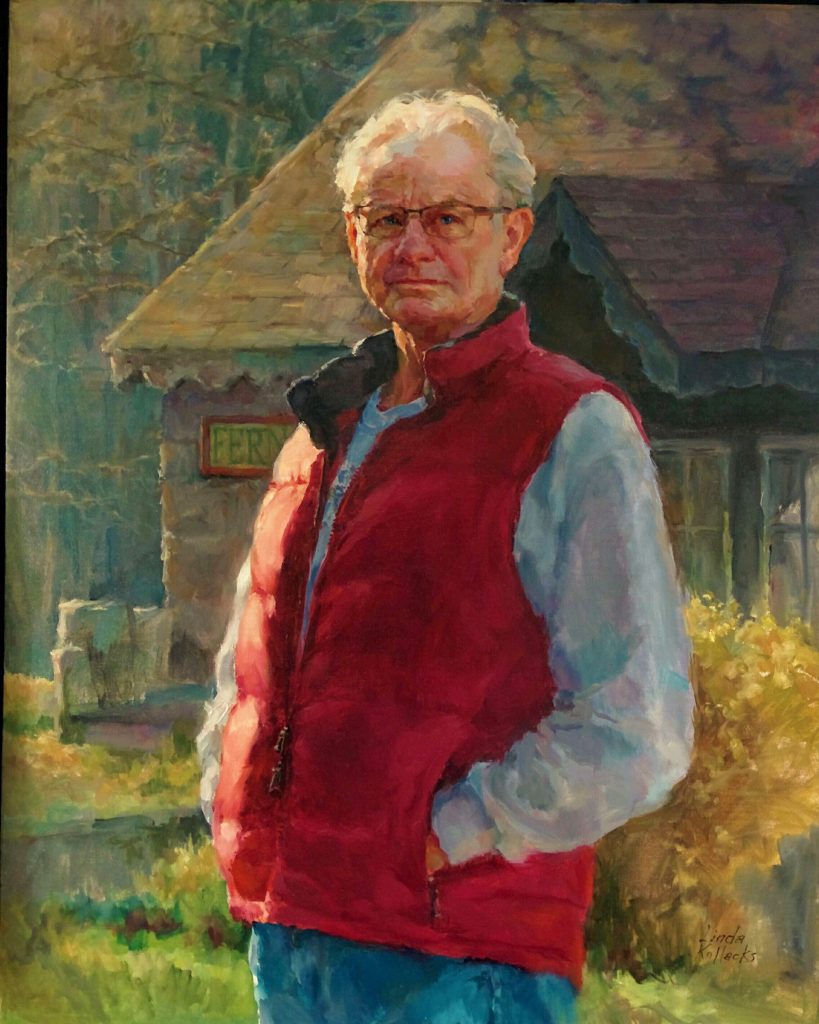 Wolf in a Red Jacket is a 24 x 30 oil on canvas by Linda Kollacks.
Linda Kollacks' 60 x 48 Solo Chef was commissioned by The Shanty Restaurant in Wadsworth, Illinois, where it hangs for diners to enjoy.
Our viewers may learn more about artist Susan Kuznitsky, who painted 7 Happy Fishermen, through her website, www.susankuznitsky.com. The Kuznitsky website section on Commissions displays further examples of her work and presents available portrait styles, with costs.
The other painters, including Ann Ponce, may be contacted through Portraits/Chicago, Inc.'s Kathleen Van Ella directly through her website at www.portraitschicagoinc.com  or directly at kve@kathleenvanella.com or 312-485-3030. 
Edited by Amanda K. O'Brien
Author Caricature by Tom Bachtell