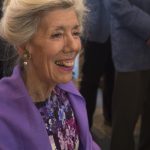 BY JUDY CARMACK BROSS
"I call it rightsizing, not downsizing," Claudia McLaughlin explained this concept recently over tea on the Gold Coast, not far from where she once was part of a posse of "Elm Street Girls" including Hopie Paul, Barbara Steinhauser, and Kathy Welch, spending summers with their kids on the lawns and tennis courts of the Saddle & Cycle.
Animated and auburn-haired, McLaughlin uses her empathy to dispel fears and her design talent to create beauty, relating to people at all stages of their lives, from young parents settling into first homes to seniors moving on from the places they've called home for decades. Founded in 1999, her company CMFTO has expanded over the past two decades to gracefully handle a diverse set of home-related needs.
"We are a full service company-there's really no one else doing what we do," McLaughlin says. "We do interior design from gutting to move in, prepping for market and for inspection, and moves to much smaller spaces. We think of the little things, like getting that extra set of pressed sheets, and larger ones, like recreating the millwork and curtains that a resident loved in her familiar home surroundings. We have worked with clients in several stages of their lives and know everything from their keypads to their dogs' names."
She continues, "You really have to listen to people's fears and anticipate bad things that might happen. For example, that dining room table that has always stood pristinely beautiful in the middle of the room might actually have dry rot when you try to move it after 60 years."
Not having enough time is usually the common denominator of her clients: "I am currently working with Lincoln Park lawyers who have a move date at the end of the month, whom I met to prep their home for market. It sold very quickly, and I am helping them on each end of the move as well as with their interior design. With the market being very soft, sometimes people have such a quick turnaround they need instant help."
Rightsizing is a particular specialty for the innovative designer and her team. "Nowadays we go from kitchen table to bedroom or out the door. No one is coming over to use the dining room and people don't sit in the living room. Still, people do have a great fear of leaving their home of many years," she explains.
Thus, she says, "I usually begin by addressing their collections, whether its art, china, books, or clothes. For a woman moving to a senior community who has five children, I displayed her collections on long tables in the dining room, only bringing out the good stuff. Other things were sold or given away. The children all came out for a week and had the best time with their mom choosing which things they would like."
"When the owner wants to sell—and of course all of the money brought in goes to the client—I work closely with auction houses and top venders," McLaughlin shares. "I have my china and silver people who appraise. I have noted that auction houses want only the finest Meissen and Royal Crown Derby: Minton, Staffordshire, and Herend are coming in at lower values and those once popular Himmel figures aren't selling at all."
McLaughlin says that there is one constant in rightsizing: "I go back the second day after a person has moved with a little bouquet to see how they are doing. Almost without exception the client tells me that they should have done this years ago."
Client and longtime friend Margaret Mary Stoetzel shares, "Claudia McLaughlin has been a friend for over 30 years—I've always loved her energy and positive attitude. She has taken those personal traits into her business, which is all about service, compassion, and efficiency. Moving is one of life's the most stressful experiences, but Claudia and her team took all the anxiety out of a recent move. Downsizing adds to the complications of moving—that is exactly where her compassion came in."
She describes her experience working with the designer as simply "perfect": "We planned a move from a 5-bedroom home into a 2-bedroom apartment. The CMFTO team packed the day before the actual move. We left the house at 9:00 am and arrived at the apartment at 6:30 pm.  Everything was unpacked, pictures hung, clothes in the closets, and there were no boxes in sight. This took a lot of advance planning with her CMFTO, and it all worked beautifully and was amazing." And this was all accomplished with 6 inches of snow descending on the city.
Stoetzel adds, "Claudia's business provided us with a much-needed service, taking the stress out of downsizing. Together we edited a lifetime of accumulation into a beautiful new home full of the most important memories and treasures."
We asked McLaughlin to share specifics with our readers, whether they are looking to downsize, searching for a new home, or simply seeking a new look.
How can a home improve upon, or negatively effect, one's wellbeing?
I believe that each room should have a purpose for the homeowner. It's about not wandering through spaces you don't use, which I have found can have a negative impact on the psyche. In our experience, maintaining spaces that are no longer needed often is a drain on the homeowner, emotionally and financially. We have found that one's home environment absolutely impacts the quality of their life, whether positively or negatively.
How should a person approach a move?
Creating a timeline, starting with the move date and working backwards, ensures one will have enough time to meet the deadline with enough days factored in to meet the potentially unseen challenges that happen during every move. Because of our experience, doing more than 1000 moves to date, we can alert a client to pitfalls and also support them in making important decisions when making their move and/or planning for their future environment. One key question that is always asked is: do I really want to keep that piece of art or furniture or these accessories?
How does a homeowner highlight the best of their home to a potential buyer?
Since today's buyers shop online first, before they ever make an appointment to see the property, a clean, curated, and edited home will always be most appealing. This approach will easily reveal and highlight the best features of any home. It will also allow the buyers to envision themselves, and their belongings, in the home before they ever walk through the front door. Hint: using a good interiors photographer is also key for this step.
Are there specific tips for instant fixes for someone who already has their house on the market and feel interest has flatlined?
The quickest and easiest fix is to edit the home and paint the interior with a neutral palette. Keeping in mind the exposure of each room, we suggest different complementary colors. We are currently using Balboa Mist and Alaskan Skies by Benjamin Moore. Presenting a move-in ready home is always optimal. We see homes that we have recently prepared using these techniques selling, even in the current market.
You do beautiful interior design. Tell us about your process.
Collaboration is always the first step, regardless of the scope of the project. Developing a positive working relationship is key to the success of any home project. If it's a renovation or new construction, we collaborate with both the client and architect. If it's interior design, we collaborate with our client, trades, and vendors. To that point, one of the hallmarks of our business is our ability to design and create custom pieces for our clients, such as lighting, art, and furniture.
What are your color theories, particularly when working with a person who thinks they might sell at some point fairly soon?
Keeping the palette neutral using various complementary hues and adding accent colors in personal accessories, paintings, pillows, and glassware, is the least permanent way to use color in your interior in any room. Bonus: It can be changed seasonally.
Do you have a favorite room to design?
I love designing homes people can live in. While the living room would be the quick answer because it sets the tone for the entire home, my focus is to create an inviting atmosphere throughout. A well-designed home makes both guest and homeowner feel welcome in any room.
How did your business evolve to where it is now? What type of work did you do before?
I have always been in the personalized-service business, from my early retail years at Bloomingdale's in New York to the last 26 years with my design business. Adding the various real estate-related services over the past 20 years has rounded out our offerings. My mission has always been client-focused: to offer them the support and resources they need to enjoy a higher quality of life. A well-designed home, just like a well-designed wardrobe, can do just that.
Are you from Chicago originally? Is there a "Chicago style" of interior design? I know that you have a Los Angeles office—do you find many differences between the two cities?
Originally, I'm from Valparaiso, Indiana, but moved to New York City after college, where I pursued my love of design. Ultimately, however, the Midwest called me home, and I've been in Chicago ever since. I don't believe there is a specific 'Chicago style' of design, per se. Historically, there have been stylistic differences unique to many regions around the country, but those lines have been blurred in recent decades.
Design, in my viewpoint, is dependent on the client's vision. Our clients are incredibly sophisticated and look to us to give them an aesthetic to which they relate that is not geographically based. For example, it is common today to see elements of a Santa Barbara style in a Winnetka kitchen or a pre-war Gold Coast co-op, just as it is to see a Lake Michigan great room in the California hills.
What have been your biggest challenges and greatest joys?
My biggest challenge is finding more associates to meet my growing needs. Since we have a very trusted and intimate relationship with our clients, I am very particular about hiring, and CMFTO employees are the best, going to all lengths to make our clients feel satisfied, which is the best part of what I do.
Knowing we have relieved our clients of a stressful situation, hearing them say how grateful they are, or how we have exceeded their expectations, is why we do what we do. Personally, my favorite thing is answering the phone and setting up an appointment to meet a potential client for the first time. I know that I will be able to answer the questions that have been keeping them up at night, and there is nothing better than that.
What is the best way to seek out your diverse services?
The majority of our clients are referral-based and come to us through realtors, friends, colleagues, and other satisfied clients. The easiest way to contact me is through email or phone, and I am glad to offer a one-hour complimentary consultation to discuss any potential new client's needs.
***
For more information, visit cmfto.com.