Thank you for all of your DateBook submissions so far this year. We look forward to upcoming fall & winter events as summer begins to wind down.
For event submissions, email aedelfosse1@gmail.com or judycbross@aol.com with the following details:
-Calendar date, day of week & time of event
-Sponsoring organization
-Name of event
-Event details / schedule of event components 
-Location of event
-Contact telephone, email and/or website
November 2023
November 02nd – 05th, 2023
Hubbard Street Dance Chicago
Fall Series: Of Peace
Originally premiered by Hubbard Street in March 2022, Darrell Grand Moultrie's stirring full-company piece, Dichotomy of a Journey, aims to energize with movement that embodies perseverance and celebrates life. As the season opener, Fall Series: Of Peace welcomes audiences back to the Harris Theater with a triptych of sweeping, celebratory works to lift your spirits and warm your soul.
Harris Theater, 205 East Randolph Street, Chicago
Tickets here
November 06th, 2023, Monday, 07:00 p.m
The Black Arts & Culture Alliance (Formerly African American Arts Alliance)
23rd Annual Black Excellence Awards Gala
The Awards were established in 2001 to honor outstanding artistic accomplishments of Black artists across genres including theater, dance, music, film, literature, visual art and digital media. This year, the event will also honor the inaugural Black Arts Hall of Fame inductees. Hosted by Melissa Duprey, the event will feature performances by Chicago Poet Laureate avery r. young, Sam Thousand and The Soul Vortex, Forward Momentum Chicago, Perceptions Theatre and DJ Rae Chardonnay.
Black Ensemble Theater, 4450 North Clark Street, Chicago
November 09th, 2023, Thursday, 06:00 – 07:00 p.m
Art Institute of Chicago
Lecture: Pliny, Pigments, and Painters in the Ancient World
Sit down with conservator Giovanni Verri, curator Katharine Raff, and historian Hilary Becker to learn what Pliny the Elder can tell us about the use of pigments in ancient Rome and the traces of ancient color in our collection.
Fullerton Hall, The Art Institute of Chicago, 111 South Michigan Avenue, Chicago
Register here
November 10th, 2023, Friday, 06:00 – 11:00 p.m
PAWS Chicago
Fur Ball
A pet-friendly black-tie gala. The event features a red carpet, elegant dinner, dog buffet and pet spa, silent and live auctions, dancing, a raffle, a photobooth and more!
The Drake Hotel, 140 East Walton Place, Chicago
November 10th, 2023, Friday, 06:00 – 09:00 p.m
Under the Same Sky
Third Annual Starry Night Soirée 
An evening of food, drinks, art, design, entertainment, and a lively paddle-raise to support the American Foundation for Suicide Prevention's Healing Conversations Program.
Ivy Room, 12 East Ohio Street, Chicago
utsscharity.org/starry-night-soiree 
November 12th, 2023, Sunday, 02:00 p.m (Runs through 11/16/23)
Lyric Opera of Chicago
Jenůfa
Janáček's Jenůfa is a dark and stunning masterpiece, both musically and dramatically. Performing Janáček's magnificent score at Lyric Opera of Chicago will be an enthralling cast led by two of the finest dramatic sopranos of our time: opera's newest superstar, Lise Davidsen, and the legendary Nina Stemme, Lyric's sensational Elektra in 2019. Czech maestro Jakob Hrůša will bring unique authenticity to this unforgettable music, leading Claus Guth's mesmerizing production. Sung in Czech with projected English titles.
Lyric Opera House, 20 North Upper Wacker Drive, Chicago
https://www.lyricopera.org/shows/upcoming/2023-24/jenufa/ 
November 15th, 2023, Wednesday, 07:00 – 10:00 p.m
The Renaissance Society at the University of Chicago
A Bowling Fundraiser for the Ren
Please join the team of the Ren and our host committee of seasoned bowlers— GIAMPAOLO BIANCONI, JIM DEMPSEY, B. INGRID OLSON, JOHN HENDERSON —for an evening of strikes, spares, suds, and sliders as we raise money for the Ren's exhibitions and programs. All ticket buyers will receive a Ren bowling shirt and the opportunity to bowl on a team. Lane Sponsors can bring their own teams. Don't bowl? Just join us to watch the competition and cheer on the tournament! All proceeds from the evening will provide critical support for the Ren's exhibitions, performances, and concerts. Single Ticket ($500) includes game for one, Ren bowling shirt, food, beer + wine. Lane Sponsor Ticket ($3,500) includes a game for 8, Ren bowling shirt, food, beer + wine.
Seven Ten Social Bowling Alley, 1055 East 55th Street, Chicago
www.renaissancesociety.org OR 773-702-8670
November 16th, 2023, Thursday, 06:00 p.m
Smart Museum of Art, University of Chicago
Poetry is Everything Artist Talk: Bethany Collins
Join the Smart Museum of Art as we welcome exhibiting artist Bethany Collins for a talk on her series The Odyssey (2018–ongoing) and her broader practice of engaging language and poetics. Presented in conjunction with the exhibition Smart to the Core: Poetry is Everything, where The Odyssey: 2000 / 2017 is on view, with support from the University of Chicago Humanities Collegiate Division.
Gordon Parks Arts Hall, Griffin Auditorium, The University of Chicago Laboratory Schools, 5815 South Kimbark Avenue, Chicago
Register here
November 16th, 2023, Thursday
The Royal Oak Foundation
Royal Oak's Annual Benefit 2023
This event takes place at a private club in New York, though we thought some of our Chicago readers and friends might be interested. Featured speaker: Robert Sackville-West, 7th Baron Sackville.
Ticket sales TBA, for info contact Alison Dichter at ADichter@royal-oak.or 
November 16th, 2023, Thursday, 06:00 – 09:00 p.m
Ann & Robert H. Lurie Children's Hospital of Chicago
Winter Wishes
A holiday cocktail celebration benefiting the Founders' Board commitment to the Lurie Children's Heart Center and the Chicago Institute for Fetal Health. Co-Chairs: Eleni Griesemer, Mimi Murley, Marion Rice and Alicia Waters.
The Casino, 195 East Delaware Place, Chicago
RSVP here
November 16th – 18th, 2023, Thursday – Saturday
The Women's Board of Northwestern Medicine Lake Forest Hospital 
Holiday Boutique
The Holiday Boutique kicks off with an opening night party you won't want to miss on Thursday, November 16! Tickets are $60 for one or $100 for two. Tickets for this year's Shopping Days on Friday, November 17, and Saturday, November 18, can be purchased at the door. The entrance fee is $10 for adults and $5 for older adults. There is no entrance fee for students, Lake Forest Hospital employees and physicians, teachers and City of Lake Forest employees.
Lake Forest Recreation Center, 400 Hastings Road, Lake Forest
Tickets here
November 17th, 2023, Friday, 05:30 – 11:30 p.m
Hyde Park Art Center
2023 Gala & Afterparty
Meet Chicago's thriving community of artists, experience their work, socialize, and even bring your creativity to play. Co-Chairs: Kimberly and James Elbaor, Wendy and John Minor, & Angelique Power. 
Hyde Park Art Center, 5020 South Cornell, Chicago
Tickets here
November 17th, 2023, Friday, 07:00 p.m
CAN TV
40th Anniversary Gala
The gala will be co-hosted by CAN TV on-air talent including Andrea Zopp, host of Chicago Newsroom 2.0; Hugo Balta, host of 3 Questions With; Darius Caffey, host of The Table On Air; and Robbie Smith, host of Having Your Say. Throughout the night, CAN TV will honor civic and corporate leaders – including Cook County Board President Toni Preckwinkle – for their commitment and dedication to work aligned with CAN TV's mission.
The Geraghty, 2520 South Hoyne Avenue, Chicago
More information: www.cantv.org OR dwright@cantv.org 
November 18th, 2023, Saturday
The Magnificent Mile Association
32nd Annual Wintrust Magnificent Mile Lights Festival
The memory-making festivities include The Wrigley Building tree lighting on Friday before Saturday opens with free family-friendly activities at Lights Festival Lane (Pioneer Court). During Saturday evening's parade, musical star-power including Sister Sledge, the Sugarhill Gang, The Funky Bunch and Colin Stough entertains. Over 40 parade entries include delightfully-oversized helium balloons, four visiting high school marching bands, illuminated floats, the returning Petoskey Steel Drum Band and Swiss Noggler Carnival Band, and even Santa in his sleigh usher in the holiday season for the nation. The Wintrust Fireworks Spectacular over the Chicago River provides a beautiful conclusion to the event.
Complete schedule and location list here: www.themagnificentmile.com 
November 30th, 2023, Thursday, 06:00 – 09:30 p.m
Driehaus Museum
Gilded Gala 2023
Start the evening with cocktails in the Nickerson Mansion and enjoy the opening of From Glass to Garden: Tiffany Inspired Floral Designs. Then, head to the newly renovated John G. Murphy Memorial Auditorium, now part of the Driehaus Museum campus, for dinner, dessert, and a program to honor philanthropist, activist, and preservationist Sunny Fischer. Co-Chairs: Zachary Lazar and Gary Metzner.
Driehaus Museum, 40 East Erie Street, Chicago
events@driehausmuseum.org OR Information here
December 2023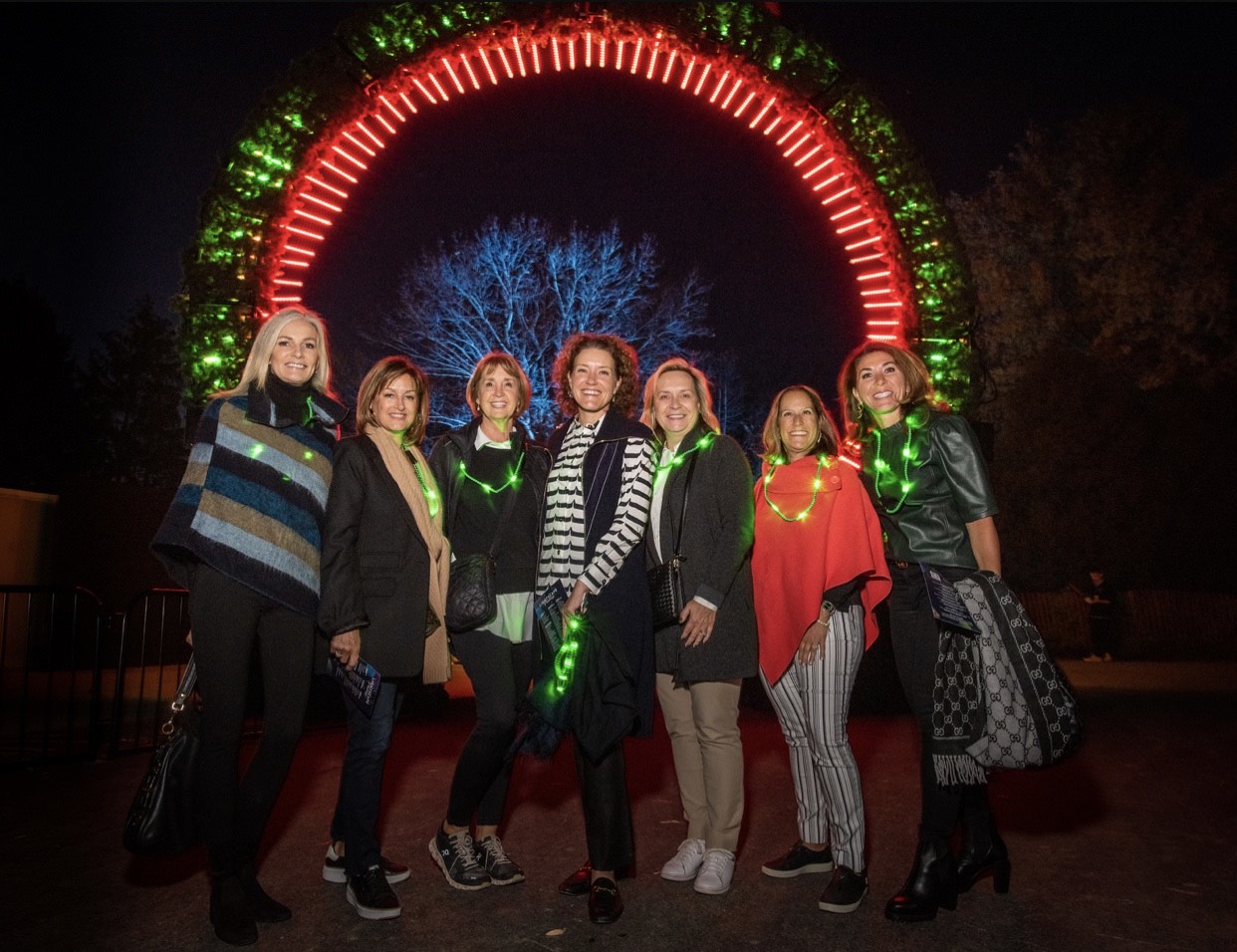 December 01st, 2023, Friday, 06:00 – 08:00 p.m
Chicago History Museum
Annual Members' Holiday Party
This holiday season, get in the spirit of the Jazz Age at our annual Members' Holiday Party! Get dolled up in your most dapper Roaring '20s attire and head to CHM for a fashionable, wintry evening complete with a Classic Gin Fizz, passed appetizers, a special display from our Museum collections, live jazz music, and more. Each RSVP includes 2 drink tickets, which can be redeemed for any non-water drink. Water is complimentary. Additional drink tickets will be available for purchase in cash at the bar.
Chicago History Museum, 1601 North Clark Street, Chicago
RSVP here
December 02nd, 2023, Saturday, 02:30 p.m
A.B.L.E
A.B.L.E.—Artists Breaking Limits & Expectations—a Chicago-based nonprofit that creates theatre and film for, with, and by individuals with Down syndrome and other intellectual and developmental disabilities (I/DD), is thrilled to return to present an original theatrical event this holiday season. The A.B.L.E. ensembles will share a personal and heartfelt piece in partnership with The Museum of Contemporary Art of Chicago. This one-time-only performance—Twists and Turns—will feature the work of 42 members of the A.B.L.E. community including 24 performers with intellectual and developmental disabilities. 
The Edlis Neeson Theatre at The Museum of Contemporary Art Chicago
220 East Chicago Avenue, Chicago
Tickets here
December 02nd – 27th, 2023
Joffrey Ballet
The Nutcracker
This holiday season, The Joffrey Ballet celebrates the return of Tony Award-winning choreographer Christopher Wheeldon's magical production of The Nutcracker. Set in Chicago's World Fair in 1893, The Nutcracker highlights the rich cultural heritage of Chicago and the wonder of the season. A beloved Chicago tradition for the entire family to enjoy, The Nutcracker will be presented at the historic Lyric Opera House in 25 performances
Lyric Opera House, 20 North Upper Wacker Drive, Chicago
Tickets here
December 5th, 2023, Tuesday
The Service Club of Chicago
Holiday Luncheon
Union League Club, 65 West Jackson Blvd, Chicago
Details TBA
December 08th – 10th, 2023
Hyde Park School of Dance
30 Years With The Nutcracker
Celebrating 30 years of training, performance, and community, Hyde Park School of Dance brings together fans of ballet, modern, and hip hop with its annual presentation of Tchaikovsky's The Nutcracker. The performance, featuring more than 200 dancers, is staged by HPSD's founding Artistic Director August Tye, longtime ballet mistress for Lyric Opera of Chicago, along with 11 choreographers.
Mandel Hall, 1131 East 57th Street, Chicago
773-493-8498 or hydeparkdance.org/nutcracker 
December 09th, 2023, Saturday, 10:00 a.m & 01:00 p.m
Music Institute of Chicago
Duke It Out! Nutcracker
The Music Institute's Ensemble-in-Residence Quintet Attacca and Braeburn Brass team up with Dance Chicago in a family-friendly, one-hour version of The Nutcracker that alternates between Tchaikovsky's original score and the jazz version by Duke Ellington and Billy Strayhorn. An interactive musical instrument petting zoo for children takes place between the two performances.
Nichols Concert Hall, 1490 Chicago Avenue, Evanston
nicholsconcerthall.org OR 847-448-8326
December 16th, Saturday, 07:30 p.m
Music Institute of Chicago
Tammy McCann: A Jazz Christmas
Jazz vocalist and Music Institute Artist-in-Residence Tammy McCann brings together an all-star ensemble, featuring guitarist Fareed Haque and a lush string orchestra, to combine jazz and rhythm and blues for a spirited performance of holiday favorites plus a few surprises.
Nichols Concert Hall, 1490 Chicago Avenue, Evanston
nicholsconcerthall.org OR 847-448-8326
December 17th, 2023, Sunday, 06:30 p.m
Black Girls Dance
Mary, A Holiday Dansical
Black Girls Dance, which empowers young women of color to pursue professional dance, presents Mary, A Holiday Dansical, choreographed, written, and directed by Founder Erin Barnett. Mary returns for this one night only.
Reva and David Logan Center for the Arts, 915 East 60th Street, Chicago
Looking Ahead
We already have some events lined up for next year! Feel free to send us your 2024 events.
February 29th, 2024, Thursday, 05:30 – 11:00 p.m
Landmarks Illinois
Preservation Forward
Next February, Landmarks Illinois will be hosting the 3rd annual Preservation Forward fundraising event. More details to come later this fall.
The Old Post Office, 433 West Van Buren Street, Chicago 
April 10th, 2024, Wednesday, 07:00 – 10:00 p.m
The Renaissance Society at the University of Chicago
RenBen 2024
Event details and location TBA
May 01st, 2024, Wednesday
Facets 
Screen Gems Gala
Honoring Jacqueline Stewart
The Arts Club of Chicago, 201 East Ontario Street, Chicago
More Info TBA
May 08th, 2024, Wednesday, 11:30AM-2:00PM
The Ryan Licht Sang Bipolar Foundation
18th Annual Chicago Bipolar Medical Briefing Luncheon
The 18th annual Ryan Licht Sang Bipolar Foundation's Chicago Medical Briefing Luncheon welcomes a panel of experts in the field of bipolar disorder – including Randy D. Blakely,  Ph.D. (executive director of Florida Atlantic University Stiles-Nicholson Brain Institute), Robert Shulman, MD (associate chairperson, Department of Psychiatry and Behavioral Sciences, Rush Medical College), and Sara Schley (author of Brainstorm: From Broken to Blessed on the Bipolar Spectrum) – for an informative and inspiring discussion and Q&A on scientific advancements, clinical best practices and individual and family challenges. 
The Casino, 195 E. Delaware Place
888-944-4408, ryanlichtsangbipolarfoundation.org