By Lucia Adams
We just thought people in Yorkshire hated everyone else, we didn't realise they hated each other so much. —  David Cameron.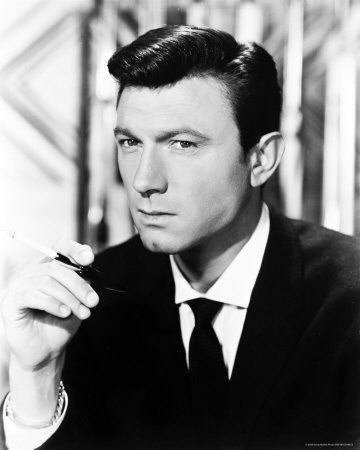 Laurence Harvey.
The quintessential upper class English toff with a pukkah accent throughout much of his career, Laurence Harvey metamorphosed into The Other Class in the two films that made him a star, Room at the Top and Life at the Top, both from Romulus Films, London.  U or non-U,  no other actor so perfectly inhabited his characters with such intensity and even fierceness, not stagey Olivier, nor DeNiro, a caricaturist, nor too cool Redford, nor self-consciously mannered Streep. Laurence Harvey IS Joe Lampton the protagonist in both celebrated films.
He was born in 1928 as Laruschka Mischa Skikne in Joniskis, Lithuania of Jewish parents, his Hebrew name Zvi Mosheh. In 1934 with emerging nationalism and a disturbing increase in anti-Semitism the family moved to Johannesburg, South Africa where he grew up. Young ambitious Harry Skikne, moved to London in 1946 and attended RADA then began his career in legitimate theater quickly catapulting into movies.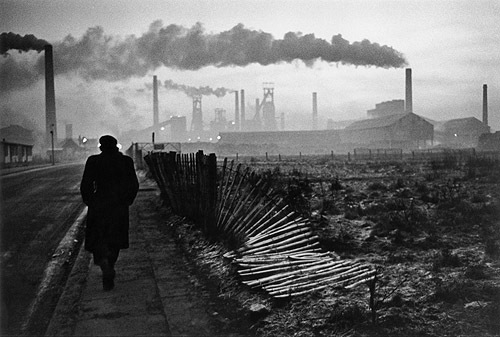 Bradford 1960.
Room at the Top set in 1946 and appearing in 1959 takes place in class stricken England, with Yorkshire POW Joe Lampton returning from the war determined to escape from Dufton, the wrong side of the wrong city of Bradford the poorest, most dreary industrialized city in Britain. Harvey, drawing from some deep well of existential alienation, is incandescently angry at the ruling class at the top yet is intent on joining the ranks of the enemy.
Based on the novel of John Braine, who along with John Osborne was one of the original Angry Young Men, Room at the Top was the first of the British New Wave of Kitchen Sink Realism dramas. (Remember Finney in Saturday Night and Sunday Morning?)
Braine was a defiantly working class Bradford lad, the desolate wasteland more Orwellian than Wigan, all mills and smokestacks and poverty and row houses with loos in the backyard. I lived in the north of England in the 1960s and passed Bradford on the way to Leeds at a time when 4% of the population owned 86% of the land and dominated the professions, when the lower class lass lads and lasses I taught in a comprehensive school had little or no chance to move up to the top floor of anything and seethed with a contempt for The System. Unlike Joe Lampton they were too apathetic to do anything about it.
He starts his journey up from basement to his new digs on the top floor and a job at the Borough Treasurer's office where looking out the window one day he sees an Aston Martin convertible driven by the mill boss's daughter Susan Brown. He barks he wants that, he'll have that, but his friend reminds him not to dream about rising from your station.  Abe Brown, Susan's father, the industrial magnate of the mill town is a  gruff working class lad who made it out of Dufton to the posh town of Warnley where Joe bloody well intends to live.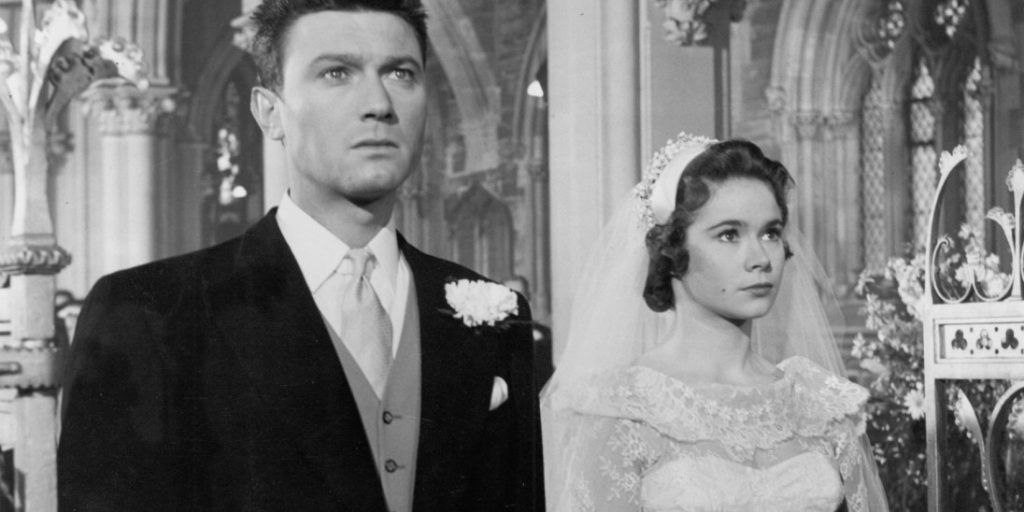 Joe's marriage to Susan, acted by Heather Sears in Room at the Top.
Before his quest gets underway things go off the rails when he  falls for an older married woman, an unattractive, coarse Simone Signoret who won an academy award for best actress as of Alice Aisgill, but to my mind was terribly miscast, utterly impossible to believe that handsome witty Joe would desire such a hefty frump. Vivian Leigh the original choice for the part would have been far more believable.  When he gets Susan pregnant he bolts from Alice who accuses him of not being true to himself, and selling out to the enemy. I for one was relieved he married Susan and escaped his lover's clutches and the wrath of her husband.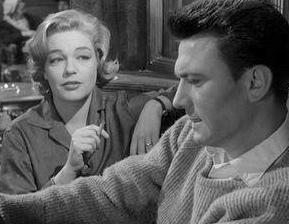 Simone Signoret and Laurence Harvey.
In Life at the Top, debuting in 1965,  Joe is ten years older, and a bit of a snob now with a manor house, a little ponce of a son in public school, and a spoiled rich girl wife played by Jean Simmons. He is still in enemy territory in the class war and he hates his life and the people around him. When elected as a conservative to the Warnley town council he votes his heart in solidarity with the working class catching the eye of a London journalist Norah Hauxley (pitch perfect Honor Blackman) covering the council wars.
He throws away his life at the top for her, moves to London where there's no place for the cocky north countryman with no letters of introduction and no proper education, no Rugby or Winchester, no Oxford or Cambridge. The most painful scene in both films is the job interview set up with an old Warnley contact where the elites quickly suss him out with a lot of eye rolling and sniggers.
Joe and Susan, Jean Simmons in Life at the Top.
Norah throws him out when he can't find a job, a broken man en route to becoming an alcoholic but Susan still loves him, takes him back and he retrieves his fancy management sinecure for life back. True to Braine's socialistic idealism he has permanently lost his soul but to anyone who has been to Bradford, a small price to pay to escape. Both films are trenchant examinations of Britain's intractable class system which still thrives though permitting the divine Kate Middleton, sportsman Mike Tindall and the American television actress Meghan Markle to sprint to the top through marriage. Like Joe Lampton.
In real life Harvey achieved fame and laurels but died at 45 from illness induced by his defiantly indulgent life of excess. (His daughter the bounty hunter Domino died of an overdose at 35.) Many of his fellow actors like Jane Fonda or Kim Novak disliked him and his flamboyant selfishness but Elizabeth Taylor loved his wounded spirit.