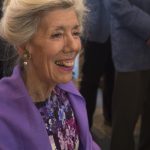 BY JUDY CARMACK BROSS
Cindy McCain's calendar for the coming weeks signals her significance at center stage. On April 27 Penguin Random House publishes Stronger: Courage, Hope & Humor in My Life With John McCain, an autobiography sure to instantly hit bestseller lists everywhere. And then on May 11 she will keynote the Woman's Board of Rush University Medical Center's first virtual spring luncheon benefit with participants registered from across the country for what has been known for nearly three decades as a signature of the season.
Recognized for her clarity, compassion, courage, and her lifelong dedication to improving lives around the world, Cindy McCain is keeping a promise made to the Woman's Board in the depths of COVID last April when planners realized they had to postpone the 2020 spring luncheon, where she was a highlight of the day's program. "What a message Cindy McCain has for all at this pandemic time," Rush Woman's Board Chair Cindy Mancillas shares. "Her new book highlights all the ways she has gained strength through the ups and downs of a life well lived." McCain will share these secrets to her own inner strength at the upcoming virtual program.
The Board is working with the Rush Medical Center's technology department to enhance all of Zoom's features to make sure guests feel as though they are right there together while sharing their screens from all over the world. And as a fun bonus, all guests will receive hand-delivered gift bags filled with surprises, including (at a certain level) a copy of McCain's book.
And going virtual has its benefits: "Put on a pretty top if you'd like, but keep your fuzzy slippers on too! We are having guests register from all around the country, people connecting from their vacation spots as well as friends here who have been hesitant in the past to take off work for a longer lunch hour. Kelly Lynch from our Woman's Board office has done a great job coordinating with Rush's excellent tech staff," says Mancillas.
Since the luncheon's beginnings, the Board has brought forth vibrant voices with powerful messages to sold-out audiences every spring. From the first luncheon, featuring fashion editor Grace Mirabella, to speakers throughout the years including Madeleine Albright, Doris Kearns Goodwin, Laura Bush, Sherry Lansing, Nora Ephron, and other enlivening legends, the Rush Spring Luncheon bursts forth each year as the event to inspire.
This year, in addition to McCain's much-anticipated appearance, Megan Mawicke, a Rush Woman's Board member who worked for more than 20 years as sports reporter for CBS 2 Chicago, will also join in on the fun, handling the program's Q & A portion.
The much-anticipated spring social event, where guests get to pull out cheerful floral prints and pastel suits from the backs of their closets after a long winter and connect with friends returning from warmer climes, always has a profound underlying purpose. Next month's luncheon will underscore Rush's determination to study and pilot new models of care delivery for cancer patients. On average, cancer patients have to wait almost a month for first treatments to begin and then struggle to navigate the complexity of care. This project aims to reduce patients' time to first treatment and create value and reduce costs. The Board aims to raise $500,000 towards this goal.
Their dedication to this principal project, The Woman's Board Fund for Precision Oncology Research, convinced luncheon chairs Brooke Kuehnle and Katie Frekko to extend their chairmanship for an extra year when the 2020 luncheon was postponed. "It is called Precision because the research is directed to finding a cancer treatment that is tailor-made for each patient. The technology the researchers are developing with be a big game changer," says Kuehnle. "This is also a time to celebrate all that Rush has done during the pandemic for some of the patients sickest with COVID who were transferred there and for the community surrounding our hospital."
Frekko adds, "We are determined to create the perfect experience for all cancer patients, which they so deserve: coordinated, cost-effective, and highly compassionate. These should be extra special services that let people know how much the center cares about them. There has been cancer in my family and learning how effective and precise this research program will be is amazing."
Funds raised by the 2021 Spring Luncheon will be directed to Rush Medical Center's education, research, and community service programs, as well as to the Precision Oncology Research project. "We are so grateful to our donors, sponsors, and to the Women's Board, which has adapted to all the pandemic changes," Mancillas explains, citing friends and partners Hindman Auctions, the Segal Family Foundation, Carlette McMullan, William Blair, 2×2 Health, Clover's Garden, The Book Stall, Illinois Tool Works, and Graystone Consulting. In honor of the event and its important cause, The Book Stall in Winnetka is offering ten percent off all purchases of Stronger made at their store to customers who mention the luncheon or the Woman's Board.
Stronger: Courage, Hope & Humor in My Life With John McCain will focus on the author's much-beloved husband, their nearly 40-year partnership, and the "trials and triumphs of a singular American life," per publisher Penguin Random House.
Of the late United States Senator and heavily decorated Vietnam veteran, she has said: "My husband, John McCain, never viewed himself as larger than life—but he was. He had more tenacity and resolve than anybody I ever met. Being with him didn't hold me back—it gave me flight, a courage I never would have felt on my own."
As the chair of the Board of Trustees of the McCain Institute for International Leadership at Arizona State University, she oversees the organization's focus on advancing character-driven global leadership based on security, economic opportunity, freedom, and human dignity. McCain also chairs the Institute's Human Trafficking Advisory Council, working to end human trafficking and supporting victims in Arizona, the United States, and around the world. Through her work with the McCain Institute, several partnerships have been formed with anti-trafficking organizations working on solving various aspects of the problem. McCain also serves as co-chair of the Arizona Governor's Council on human trafficking and on the Board of Directors of Project C.U.R.E, the advisory boards of Too Small To Fail and Warriors and Quiet Waters. The mother of four chairs her family's business, Hensley Beverage Company, one of the largest Anheuser-Busch distributors in the nation.
Author, philanthropist, and businesswoman, McCain continues in the tradition of the Woman's Board Spring luncheon presenting leaders with something riveting to say.
For further information on the May 11th Virtual Spring Luncheon, and to purchase tickets, click here.