Coffee, Hockey & World-Famous Women
Irene Castle

By Megan McKinney
This writer first came upon the McLaughlin dynasty while writing about Chicago's newspaper Medills, a clan that extended to include the Chicago Tribune McCormicks and the New York Daily News and Washington Times-Herald Pattersons.
Cissy Patterson, future owner of the Washington Times-Herald 
At the time we wrote, "The Pattersons' Astor Street mansion provided a superb setting for Cissy Patterson's presentation to Chicago society. She dazzled her parents' friends and the young men of her generation at her coming-out party, the first of several debuts over the next few years. Among her admirers a favorite was Frederic McLaughlin, whose entrepreneur father had built a prosperous coffee empire, and for that reason Nellie, Cissy's mother, objected to the romance, remembering the imposing William F. McLaughlin as a mere delivery boy. Nevertheless, it was a great young passion on both sides, and Freddy, future owner of the Chicago Blackhawks hockey team, would reappear in Cissy's life through the years before—and after—ultimately marrying international dancing star Irene Castle."
Dynasty Founder W. F. McLaughlin
And so that sums up the McLaughlins: coffee, hockey and world-famous women in a dynasty founded by a delivery boy turned Rush Street mansion nabob. Well, almost.
William Francis McLaughlin was born in County Laois, Ireland in

1827, the child of parents who had the means to send him through college almost two centuries ago, when few boys anywhere went as far as high school. And the name Manor House, McLaughlin's flagship brand was not arbitrary; it referred to the rather grand C

ounty Laois house

in which young William was raised.

The McLaughlins kept the pretentious name going into "modern" times, below. 1940.

However, when young William wound up in Chicago, the college graduate began by selling coffee beans from a wheelbarrow and then from a wagon.

  
What happened next is a guess, as it is with so many of the city's 19th century companies because the 1871 fire destroyed
business records. The guess is that W. F. McLaughlin's company was established in 1852. It is known that by the 1860's he was in partnership with a Richard B. Woolford in a store specializing in teas, coffees, spices, and other wholesale goods at 119 South Water Street.
The South WaterStreet Market
The four X's in an alternate McLaughlin  Coffee brand name was probably from  a brewing tradition with  X's, from 1 to 4, indicating strength of of a beer or ale and consumers have always gravitated toward strength in coffee.
The  XXXX Coffee quickly became popular with grocers and their customers locally; however, according to Castle McLaughlin,  PhD, a family historian, its larger success "was really predicated on the expansion of markets made possible by the transcontinental railroad."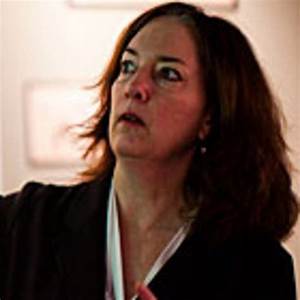 Dr. Castle McLaughlin
In the late 19th century, the company also owned several coffee plantations in South America, which gave it a direct route to the marketplace.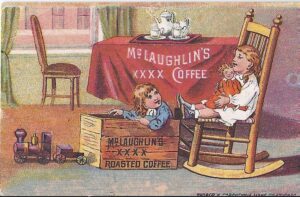 Although the McLaughlins marketed XXXX as a quality brand, the "Best Coffee on Earth," its  own Brazilian plantations made it possible to under-price the competition.
McLaughlin trade cards popularized the brand with images of adorable children who were surely not coffee drinkers; unless they were "drinking on the job." Of the 310 people employed at a Chicago McLaughlin warehouse in 1895, 107 were children and, when an order required it, young boys might be packing coffee for McLaughlin as late as11:00 at night.
Where can you buy McLaughlin's XXXX and Manor House coffees today? You cannot. In the mid-20th cntury, as Manor House was reduced to a four-state Midwest marketplace, it was increasingly overshadowed by General Foods' Maxwell House and Proctor and Gamble's Folgers-products with immense companies supporting them. Finally, in 1967, the National Dairy Products Corporation acquired all of the assets of Chicago's W. F. McLaughlin & Company. 
The great company is now remembered for those personalities and their surroundings of which we wrote at the beginning of this segment and to which we will return in a future article.
Classic Chicago Publisher Megan M cKinney will soon report on Blackhawks Hockey owner Frederic McLaughlin and his World-Famous wife, Irene Castle.