credit: lucienlagrange.com
The Blackstone Hotel, Michigan Avenue and Balbo Drive
By Megan McKinney
What a great new hotel The Blackstone was in 1910, bringing together such  legendary figures as hotelier brothers Tracy C. Drake and John Drake, Jr. with the superb residential architect Benjamin Marshall and his then partner Charles Fox. The Blackstone is now on the National Register of Historic Places.
The name honored Timothy Blackstone, president of Union StockYards and prominent Chicago railway executive, whose mansion had previously occupied the site.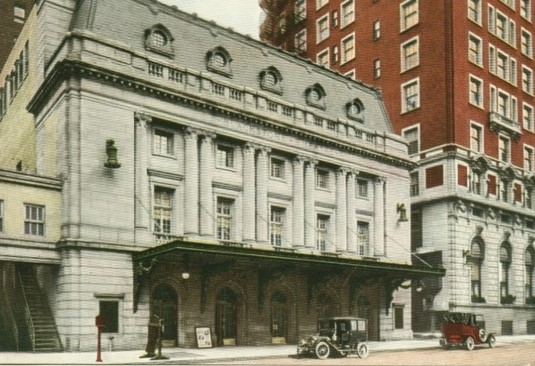 .                        Credit: cinematreasures.org.
Next door, also new in 1910, was the Blackstone Theatre 
                                                                                 broadway.com
Merle Reskin 
In 1992, the Blackstone Theatre was renamed Merle Reskin Theatre for the Chicago area actress who starred in the Broadway production of South Pacific.  Although it remains on Balbo Drive next to the Blackstone Hotel, the Merle Reskin Theatre is now a part of DePaul University.  Sadly, we lost Merle earlier this month at age 93. Classic Chicago will remember her more completely in our annual Those We Lost section this December.
                                        tripadvisor.com
The Blackstone'Hotel's stunning Crystal Ballroom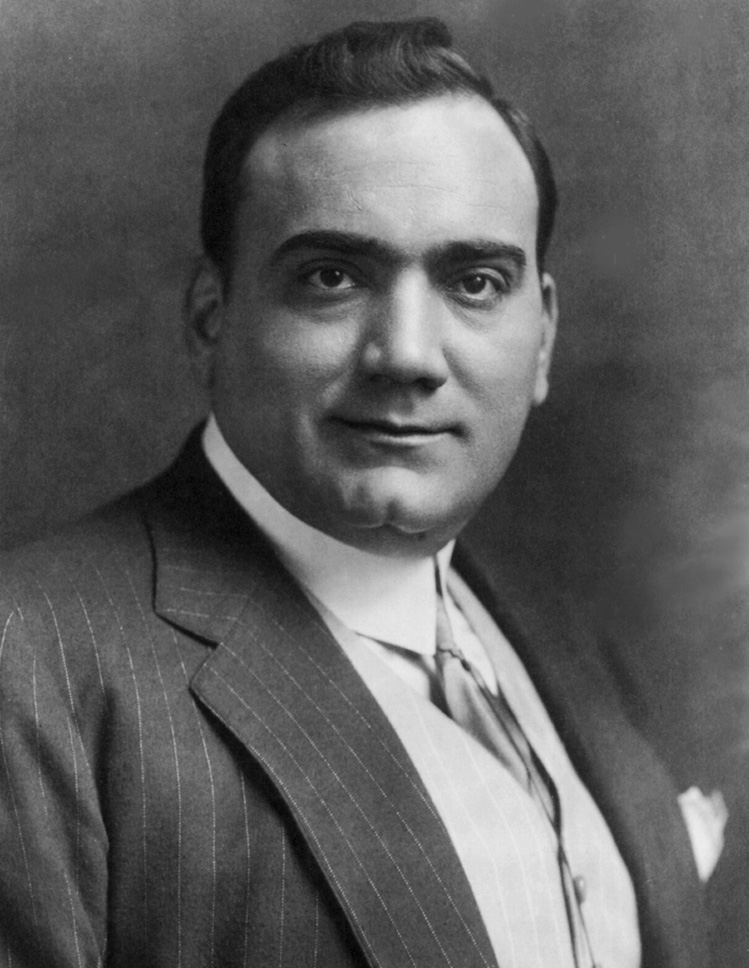 biografia
 Italian opera legend Enrico Caruso starred at the hotel's opening ceremony on April 16, 1910.   
                                                                                reddit.com
F. Scott Fitzgerald
The Blackstone has been through a great deal in the past century plus. In Scott Fitzgerald's day, it was the only  place that Ginevra King and her "Big Four" socialite beauty quartet,  Courtney Letts, Edith Cummings and Peg Carry, would consider holding a tea dance.
                                                                                thefamouspeople.com
Al Capone
 Lake Forest, yes. But, on  the other hand, The Blackstone was also a favorite mobster hangout. The  windowless barber shop was where Al Capone stopped in regularly to hold meetings while having his hair trimmed.
                                                                         lcanvascom
Charles "Lucky" Luciano   
New York's Lucky Luciano hosted the "first ever" Crime Convention in the lovely Crystal Ballroom in 1931 to establish a board of directors for his "National Crime Syndicate". 
The Blackstone's greatest fame came from its political focus. Above is the storied nineth floor "smoke filled room" in which cigar smoking Republican bigwigs "brokered" the nomination of little-known Warren G. Harding during the 1920 convention. It's part of a three-room suite overlooking the Lake, which you can book today.
                                                                           britannicacom
FDR in 1940     
Political fame continued when in 1940 Franklin Delano Roosevelt's third nomination was "signed and sealed" at the Blackstone.
                                                                                                                 Posterazzi
Harry S Truman, 1944       
Where was Harry S. Truman staying  when he learned he had received the vice presidential nominaton in 1944? The Blackstone, of course.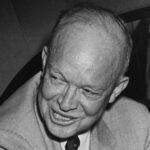 newsmax.com
Dwight D. Eisenhower     
And former General Dwight D. Eisenhower was in his suite at the Blackstone when he learned of his presidential nomination on the first ballet at the 1952 Republican National Convention.
                                                                       Credit: Philip Blower
Rudolph Valentino   
Even Hollywood's "Latin Lover" made The Blackstone his Chicago home; here's a headline from February 25, 1923:
Lolling Luxuriously at The Blackstone Hotel, Chicago, Valentino Announces He's Financially Broke
Well, not really. It was a puff piece pulling  together a contemporary film superstar and the sumptuous Chicago hotel for a juicy fake item.
savetheflower–1967.tumblr.com
Beatles friend and Transcendental Meditation developer Maharishi Mahesh Yogi bought the property in 1995, but soon sold it to Rubloff, Inc., which in  2001 planned to convert to condominiums. That didn't work; now it is again a hotel following a major renovation. 
But what  a political history!
Author Photo: Robert F. Carl
Cover: Forestdweller18285