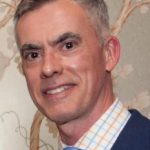 By Philip Vidal
"La Cage aux Folles" (1978). Photo courtesy of Dwight M. Cleveland Poster Archive.
I ended part one of "Chicago Movie Theater Memories" talking about the shared experience of movie going – the pleasures and perils of going to movies with friends.  At some point in high school, I decided I needed to fly solo, to experience foreign films, which were predominantly then called 'art' films.  Think Bergman, Buñuel, Fassbinder, Fellini, Truffaut, Resnais, and Rohmer.  As luck would have it, the nearby Parkway Theater (1911), 2736 North Clark, provided a terrific education.  I even trekked down to Hyde Park to the University of Chicago's Doc Films, considered the oldest student film society in the U.S.  I saw the original French version of "La Cage aux Folles" (1978) at the Cinema Theater (1929), 151 East Chicago Avenue. The Chicago International Film Festival and FACETS (1517 West Fullerton) were then and still are each a treasure trove of foreign films.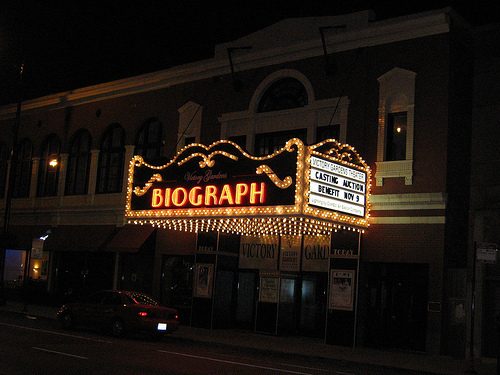 Biograph Theater, now Victory Gardens Theater, at 2433 North Lincoln Avenue. Photo courtesy of Cimarron via Cinema Treasures.
But I preferred and still prefer going to the movies with others.   The mother of a friend I mentioned in part one spent WWII and the early 1950s in Rome.  She remembered going to hear operas in the ruins of the ancient Roman baths.  When she heard that the film version of "La Traviata" (1982) starring Teresa Stratas and Placido Domingo was playing at the Biograph Theater (1915), 2433 North Lincoln Avenue, she insisted that a group of us go to see it.  We had a great time.   John Dillinger didn't do well at that theater.  The gangster met his end in 1934 just outside the Biograph.  It's now home to Chicago's Victory Gardens Theater.
"Risky Business" (1983). Photo courtesy of Dwight M. Cleveland Poster Archive.
When a cousin from Bavaria came to visit, I took him to the Lincoln Village Theatre (6101 North Lincoln Avenue) to enjoy a slice of the American movie-going experience and see "Risky Business" (1983).  The crowd went wild during the movie because so many of the scenes were shot in and around Chicago, and were recognizable to the audience.  And under Chicago too… remember the scene on the CTA subway car?
"The Breakfast Club" (1985). Photo courtesy of Dwight M. Cleveland Poster Archive.
The last movie I saw with my younger sister was "The Breakfast Club" (1985) at Water Tower Place theaters.  By then the movie theaters at Water Tower Place had moved from the mezzanine level to street level (175 East Chestnut), which had originally been the Drury Lane Theatre (now in Oakbrook Terrace).  The space is again a legitimate theater, the Broadway Playhouse.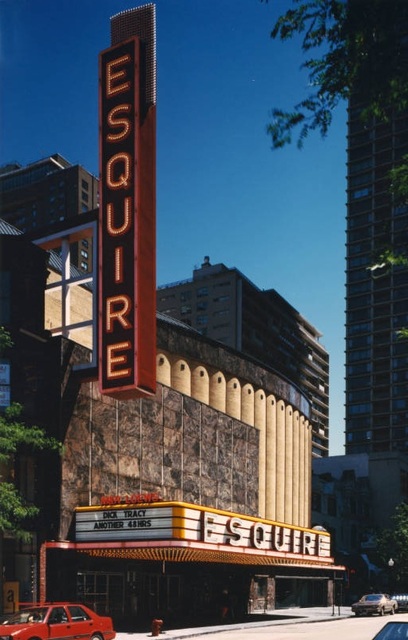 Art Moderne Esquire Theatre located at 58 East Oak. Photo courtesy of Granola via Cinema Treasures.
On a windy, frigid, winter evening, two friends and I went to see the tearjerker "Shadowlands" (1993) at the Art Moderne Esquire Theatre (1938), 58 East Oak.   After we left the Esquire, we headed east to Michigan Avenue.  An elderly man was struggling to cross Michigan and Walton, one of the windiest intersections in Chicago.  We helped him cross Michigan Avenue.  He thanked us and said, "You must not be from Chicago."  All three of us are native Chicagoans so we laughed even though the implication was that Chicagoans are too pre-occupied to help an elderly person across the street.
"Babe" (1995). Photo courtesy of Dwight M. Cleveland Poster Archive.
The reviews for "Babe" (1995) were great so I went to a weekend matinee screening at the Three Penny Cinema (1912), 2424 North Lincoln Ave. Watching the kids in the audience react to the movie was as much fun as watching the movie.
"Titanic" (1997). Photo courtesy of Dwight M. Cleveland Poster Archive.
At some point big one-screen movie palaces were no longer economically viable.  Large theaters were divided and the multiplex theater started to sprout up, but there's something about seeing a movie on big screen. "Titanic" (1997) is meant to be seen a a big screen.  I saw it on the big screen at the McClurg Court Theatre (330 East Ohio).  I also saw a revival of "Vertigo" (1958) there.  I think it was the first movie I attended where people applauded at the end.
AMC River East 21 located at 322 E Illinois St. Photo courtesy of Jeterga via Cinema Treasures.
I recall taking a good friend to several movies at the AMC River East 21 multiplex theater.  She was always fashionably dressed and made trips to Paris to purchase clothes, so when "The Devil Wears Prada" was released in 2006 we made a date to see it.  With the recent passing of Queen Elizabeth II, I was reminded that the last movie we saw together was "The Queen" (2006).   It also reminded me that there was a very vocal anti-monarchist seated a few rows behind us.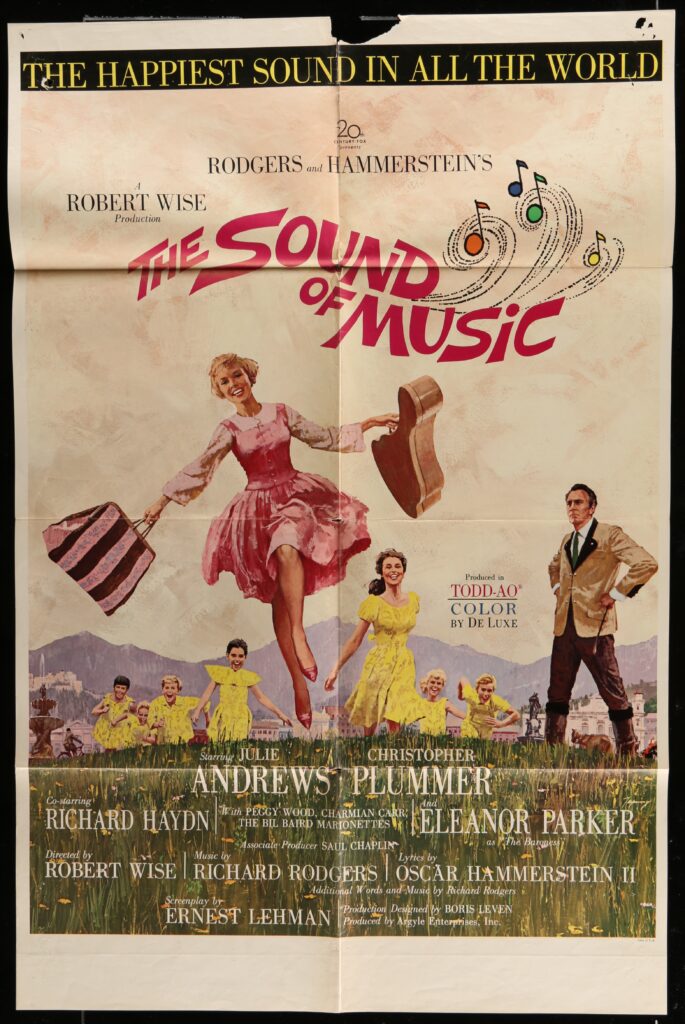 "The Sound of Music" (1965). Photo courtesy of Dwight M. Cleveland Poster Archive.
I'd seen many movies at Music Box Theatre and, if I was lucky, there would be a rousing pre-movie organ recital, but for years I avoided their very popular, interactive "The Sound of Music Sing-A-Long"" fearing that my voice would shatter the lens on the projector.  My good friend Doris Timmen finally persuaded me and a group of friends to go and to also enter the costume competition.  The only thing I had was an Austrian loden overcoat so I didn't dress up.  My friend Mitch Weston wore lederhosen and another friend, Susanne Sedlmayer, who's Austrian, wore a dirndl.  She won a prize. That was in November 2019.  I think that was the last movie I saw in-person at a movie theater.
One of several North Side movie theaters that are now closed. Granada Theatre, 6427 North Broadway. Photo courtesy of Josh Hord via Cinema Treasures.
My stroll down movie theater memory lane gets a bit patchy as my memory fades, but I can still recall several North Side movie theaters that are now gone. The Chestnut Station Cinemas (830 North Clark) were in a repurposed Art Deco post office.  I have vague memories of the enormous Granada Theatre (1926), 6427 North Broadway, and Nortown Theater (1931), 6324 North Western.  Memories of the Carnegie Theater (1026 North Rush), which hosted the first Chicago International Film Festival in 1965, the Playboy Theater (1204 North Dearborn) and Sandburg Theater (1024 North Dearborn) are dim.
Despite the success of  The Second City as an anchor, Piper's Alley (1608 North Wells) always seemed to struggle as a shopping and entertainment arcade.   I have murky memories of going to movies on the second floor of the mall in the 1990s.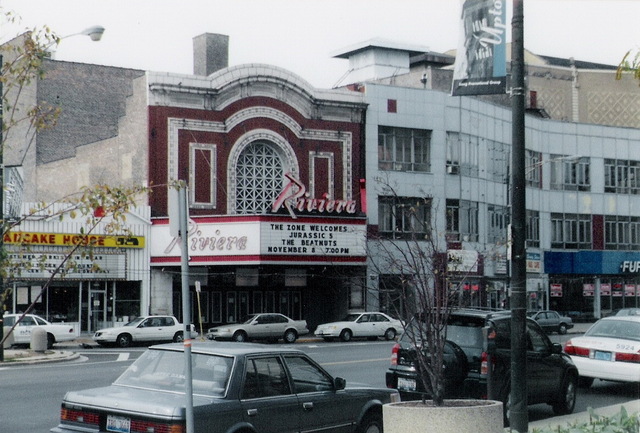 Now a live music venue, Riviera Theatre at 4746 North Racine. Photo courtesy of Norman Plant via Cinema Treasures.
Though some are gone, others have been repurposed.  I remember taking a friend and her younger siblings to a Disney animated movie at the Riviera Theatre (1918) at 4746 North Racine, just before it was transformed into a live music venue in the 1970s.
I recall my mother and a neighbor taking me to see a James Bond movie in the 1960s in the Spanish Baroque splendor of the Century Theater (1925, originally the Diversey Theatre), 2828 North Clark.  After the theater was gutted and turned into an indoor shopping mall in 1970s, I worked at two shops there.  The top floors were later converted into a Landmark Theatres' Century Centre Cinema.
Formerly known as the Oriental Theatre, the James M. Nederlander Theatre regularly hosts Broadway shows. Photo courtesy of Norman Plant via Cinema Treasures.
The State-Lake Theatre (1919), 190 North State, morphed into ABC-7 studios in the 1980s. Apollo's 2000 Theater, originally the Marshall Square Theater (1917) at 2875 West Cermak, was repurposed in the 1990s as an event and live music venue.  I've seen musicals at the James M. Nederlander Theatre at 24 West Randolph, formerly the Oriental Theatre (1926).
I remember going to the movie theaters in the basement of 900 North Michigan Shops (originally the Avenue Atrium, 1989).  It's now the Equinox Gold Coast gym, and I see my trainer in that space. I used to see foreign films at the Studebaker Theater (1898) and the World Playhouse Theatre (410 South Michigan, Fine Arts Building). Those theaters were closed decades ago. The Studebaker Theater is now a venue for live performances.  I've seen several Chicago Opera Theater performances there.  The Esquire Theatre has been turned into retail and restaurants, but the "Esquire" sign still illuminates Oak Street.
Kevin Hickey, chef/owner of The Duck Inn, is one of the people behind the renovation of the Music Box's sister theater in Bridgeport, the Ramova (1929), 3528 South Halsted, into a music venue, restaurant and brewery.   Portage Park's Patio Theater (1927), 6008 W Irving Park Road, still screens movies, but it's also an event and music venue.
My German grandmother who visited Chicago frequently when I was growing up loved Lincoln Avenue.  I remember her taking me to Kuhn's and Meyer's delicatessens, and taking my family to lunch and dinner at one of the many German restaurants that used to line Lincoln Avenue.  She also loved movies, but I don't recall her going to see a movie at the Davis Theater (originally the Pershing Theater, 1918), 4614 North Lincoln, when it showed German-language films.  My German is almost non-existent so I saw only first-run American movies at the Davis.  The Davis still screens movies.
Uptown Theatre located at 4814-6 North Broadway. Photo courtesy of Norman Plant via Cinema Treasures.
The enormous 4,381-seat Uptown Theatre (1925), 4814-6 North Broadway, still languishes.  I recall seeing a movie there in my youth and being awed by the lobby.  Decades later, I went on an architectural tour of the theater.  It was and still is in very bad shape, but it's a reminder that Chicago pioneered the movie palace concept and had some of the biggest, grandest movie palaces in the world.
Just as TV did in the 1950s, streaming and the pandemic have taken their toll on movie theaters.  Cineworld, the world's second biggest movie chain, filed Chapter 11.  A recent article in the New York Times said that there are currently about 40,700 screens in the U.S. and Canada, but there should be only 25,000-35,000.   For now you can see the latest releases at your local multiplex, and you can still see art-house films at venues like the Alliance Française, Chicago Filmmakers, the Chicago International Film Festival, FACETS, the University of Chicago's DOC Films, the Gene Siskel Film Center, the Landmark Century Center Cinema, the Logan Theatre (1915), and the Music Box Theatre.
Just as movie theaters in the 1950s tried to lure patrons with Technicolor®, Cinemascope®, and stereophonic sound, many movie theaters now offer food, alcohol and comfy reclining seats.  I wonder with multiplexes on the decline, if we might go full circle, and theaters with one big screen will again make a comeback.
I'm very much looking forward to once again 'going to the movies' in an actual movie theater.   Last fall I joined a film group and all of the films we saw were online.  Our first film of this season is "Tár," which is exclusively in theaters.  Fellow group members who've already seen it report everything from a half-dozen people in the theater to a sold-out screening, so it looks like Chicago movie theaters are still in transition.
I can't wait to create more Chicago movie theater memories.
Many thanks to Dwight Cleveland for allowing me to include photos of movie posters from the Dwight M. Cleveland Collection and Dwight M. Cleveland Poster Archive.  Cleveland is the author of "Cinema on Paper," (Assouline).
Many thanks also to Ana Baca who curates the photos and images for all of my articles for Classic Chicago Magazine.  I want to thank her especially for her patience with my last-minute changes before she posts my articles.