By Donna McEwen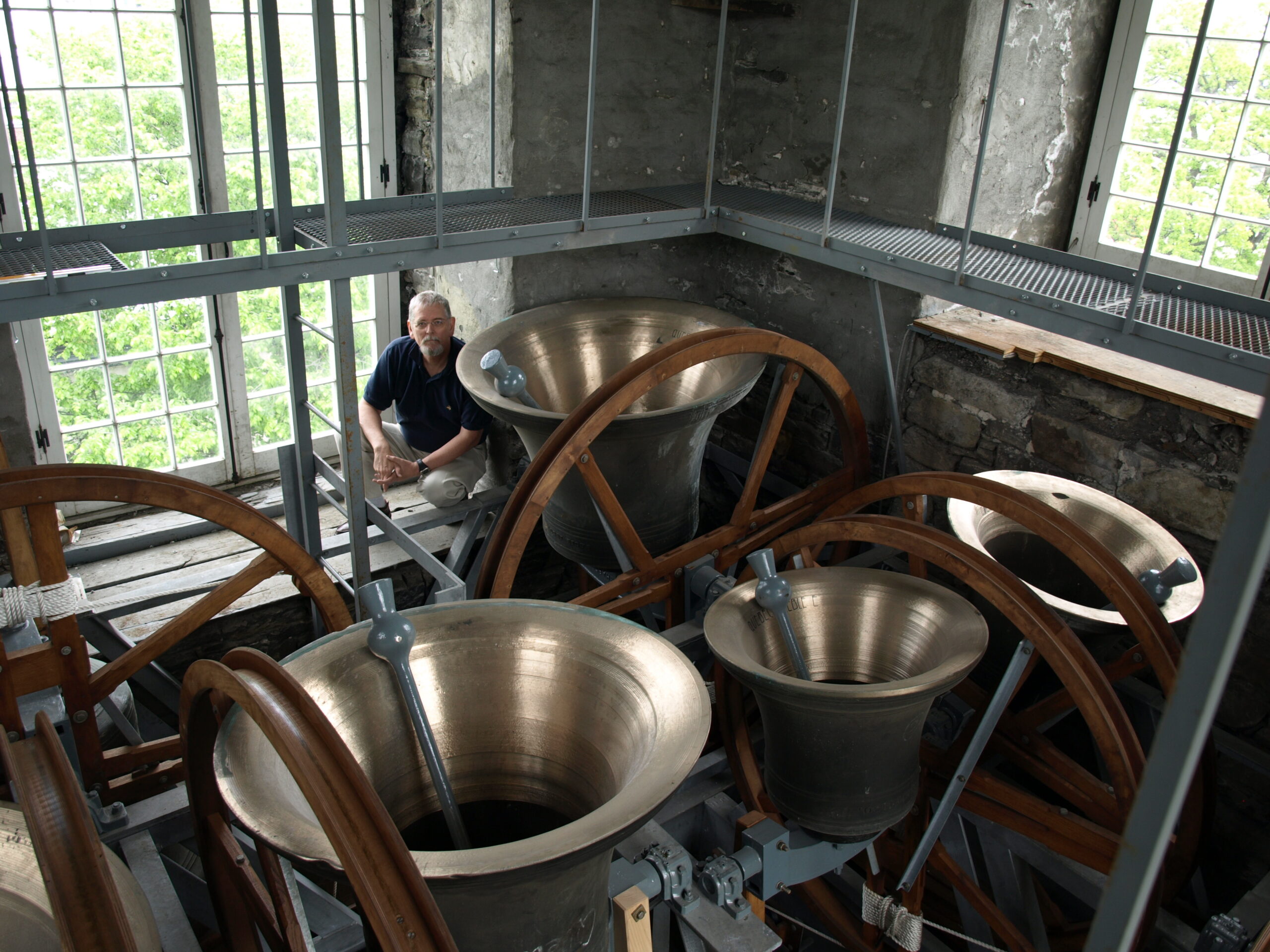 Douglas Kitson, ringer (photo by David Mendel)
On Sept 9, 2022, Tom Farthing from Chicago, as well as ringers from Great Britain, California and local Quebec ringers rang to commemorate the death of Her Majesty Queen Elizabeth II in Quebec City, Canada.
Bells are rung to celebrate joyous occasions such as weddings and celebrations of all sorts, but they are also rung to commemorate sad occasions like funerals or the passing of the Queen who has given 70 years of service. This is a picture of the bells of Holy Trinity Anglican Cathedral, the first Anglican cathedral built outside of the British Isles, constructed between 1800-1804 in Quebec City, Canada.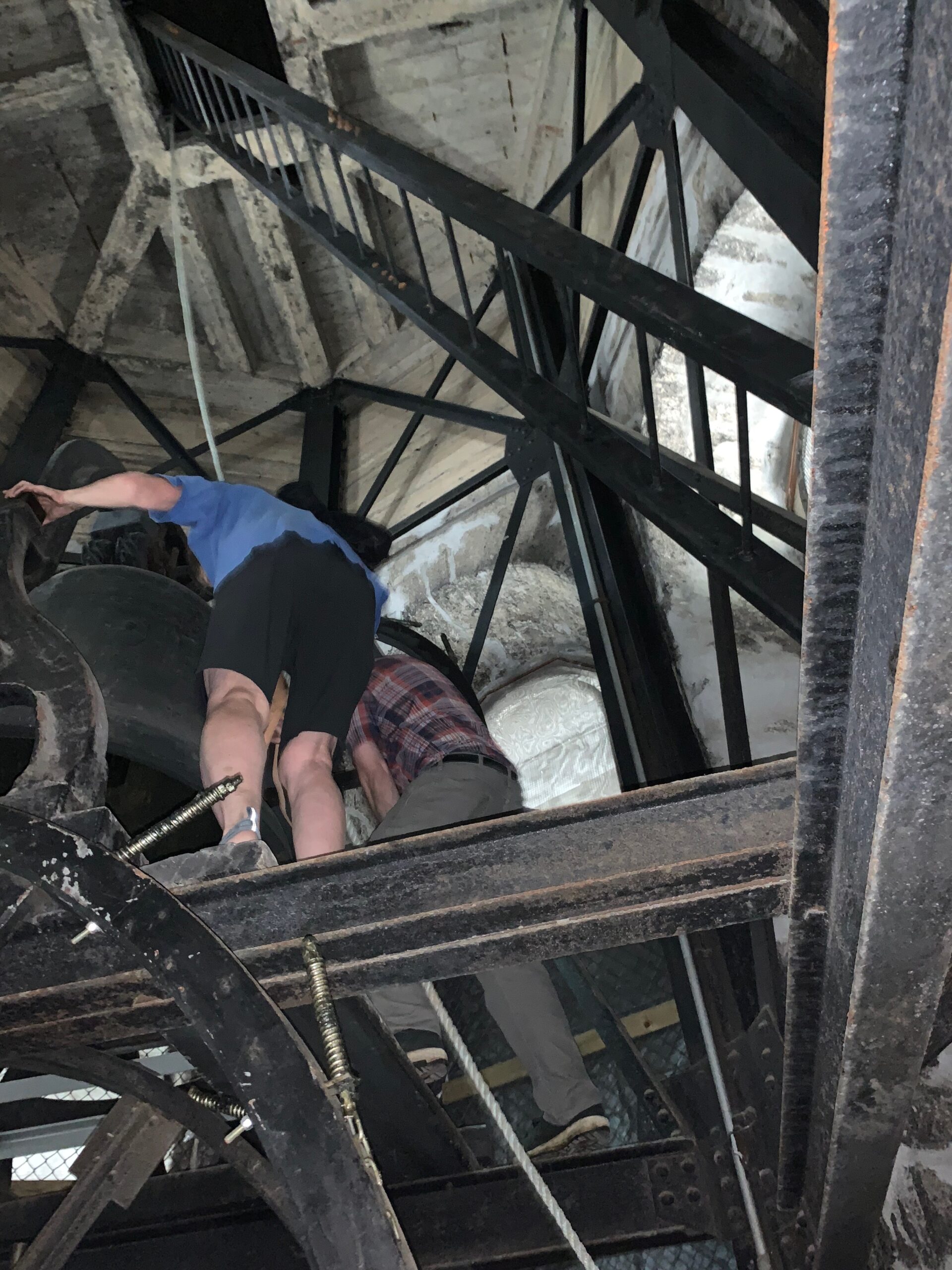 Patrick McGuinness, sacristan at Notre-Dame de Québec&Donna McEwen, tower captain (photo Mendel)
Recently, there was an urgent message sent out to bell ringers all over the world from the Central Council of Change Ringers in the United Kingdom. Ringers were asked to be on standby to ring since Her Majesty Queen Elizabeth II's health seemed to be waning. Suggestions about when to ring, according to the time of her possible death, were carefully set out. Ex. If her death occurred before 4:00pm, ringing would happen at 6:00pm. Afterwards, ringing would take place on the following day at noon. (Click here for the full document: https://cccbr.org.uk/wp-content/uploads/2022/05/220521-GN-Operation-London-Bridge.pdf ) Ringers all over the world started making plans, seeing who could ring, dusting off their muffles to be placed on the bell clappers in the event of the Queen's passing.
Patrick McGuinness, sacristan at Notre-Dame de Québec&Donna McEwen, tower captain (photo Mendel)
Half muffles are placed on clappers mostly for funerals or for Remembrance Day ceremonies. The muffle creates an echo effect when the bell is rung: BONG bong BONG bong, indicating to people all around that a funeral is about to take place. Normally a muffled bell is rung nine times for a man, six times for a woman, and three times for a child. Then there is a pause and the muffled bell is rung the number of years that the person has lived. For example, six blows would indicate a woman, and 50 blows following the pause would indicate to all those listening that a woman, aged 50 years old had passed.
In the case of a monarch's death, full muffles are put on the clapper, so that the ringing is very subdued indeed. The last time double muffles were needed in the United Kingdom was in February 1952 when George VI passed away. Double muffling is so rare that many churches only have half muffles. Ringing fully muffled (or half muffled) bells will be the norm for the 10 days of mourning before the official funeral.
The Quebec City Guild of Bell Ringers is lucky because we have a full set of double muffles AND an older set of half muffles.
However, the Anglican Cathedral bells are not ring-able at the moment because the bell tower masonry is being restored. Quebec Anglican Bishop Bruce Myers quickly contacted his Catholic neighbors in the old city at the Catholic Notre-Dame de Québec Basilica. There has been a long history of collaboration between the Catholics and Anglicans here. In fact, Bishop Bruce lived with his Catholic counterparts in the Seminary when he first became bishop because the bishop's residence was not yet available. In these sad times, Cardinal Lacroix and Rector Jimmy Rodriguez generously offered to 'lend' the Anglicans their bells to ring muffled for the ten days following the Queen's death. Ringing muffled bells is not normally part of the Basilica's tradition.
 Patrick McGuinness, sacristan at Notre-Dame de Québec&Donna McEwen, tower captain (photo Mendel)
Donna McEwen, tower captain of the Quebec City Guild of Change Ringers, was contacted about making a trip up into the Basilica's bell tower to attach half muffles to the three giant automatic bells. After going through several hidden doorways and up many metal ladders to reach the level of the bells, she was able to attach the Anglican tower's leather muffles to the three clappers of the Basilica's bells. The automatic switch was turned to manual during the hour-long ring at noon on Sept. 9, 2022, and the old city was able to join other towers around the world in ringing to honor Queen Elizabeth II and her 70 years of dedicated service. The muffles will remain in place for all ringing for the following ten days until after the funeral of Her Majesty on Sept.19.
leather muffle being attached to one of the enormous bell clappers (photo Mendel)
Luckily Quebec City, formerly capital of British North America, has two bell towers in town with English change ringing bells. English change ringing bells are different from most bells where the weight of the bell decides the speed the bell rings. With English bells, the bell is rung upside down to start. In the perpendicular position, a ringer controlling the rope, can decide the speed of the bell, by waiting with the bell upside down to let another bell ring first or by pulling faster to ring before another bell.
Guillaume Soucy Ross, Basilica guide, Donna McEwen, tower captain, Jimmy Rodrigue, Rector of the Basilica (photo Mendel)
So after attaching the half muffles to the Basilica bells, the tower captain headed to La Bibliothèque Claire-Martin, formerly St Matthew's Anglican Church, where there is another English change ringing tower. At the library, some ringers put double muffles on the bells in preparation for some special ringing which would also take place at noon on Sept.9, 2022.
 Donna McEwen and Tom Farthing, ringing on line with Pittsburg ringers (photo by Bill Cumming)
Tom Farthing, an expert bell-ringing teacher from Chicago, is on a three-week ringing holiday in Quebec City. Tom, along with local ringers, a British couple and two ringers from California rang call changes into Queens (135246), a ¼ peal of Grandsire Doubles and rounds to commemorate the death of Her Majesty Queen Elizabeth II.
bell Liz Watson, Donna McEwen ,Andrea Falk, Tom Farthing, Robert P Watson, and René Moisan (photo by Laura Kang Ward) 
¼ peal rung in memoriam Queen Elizabeth II & in honour of the beginning of the celebration of life of Lucie Marois, mother-in-law of #6
For readers in Chicago who are interested in trying out English change ringing or in learning more, please contact Tom Farthing at ringers@uchicago.edu.