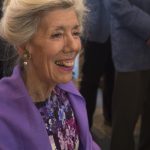 BY JUDY CARMACK BROSS
Editors Note: How have Chicago artists translated the pandemic and this time of social unrest through their work? Over the next two weeks, we will share their creative process and powerful results.
With their latest creations we learn more about how gifted artists Keven Wilder, Tom Rossiter, and Daniel Sullivan are impacted by the current context of COVID and its isolation and uncertainty and the Black Lives Matter movement. They inspire us through their responses.
Noted for large abstract compositions of flowers and landscapes in magnificent color, painter Keven Wilder combines direct community commitment with her love of bold compositions. A force for change in our country, she encouraged us to learn more about how artists can influence us now.
What can an artist tell us right now?
Artists have the power to move viewers and make emotions, thoughts, and movements tangible. These images can be healing and/or stir viewers to join together to affect societal change. In the last few weeks, we've seen powerful images of signs carried by protesters who have succeeded in galvanizing a nation and the world into a far-reaching movement demanding racial justice.  
How is your art responding to the current context?
I'm definitely responding to these unsettled times through my artwork. In one painting, COVID clusters appeared surreptitiously out of nowhere. In 'Torn Apart: Shattered but Whole,' the sense that the fabric of our country is being torn apart emerged as I started making the shapes in this painting during the recent protests. Because all the torn parts are still contained in a 'whole,' perhaps the painting conveys hope for us as a nation.
Has creating art helped you get through the pandemic?
Being able to work on my art has definitely helped me get through this difficult time. Like many others, I've found that taking a break from the relentless news cycle is important to maintain one's mental health. For artists, it is often art making that provides a restorative way to cope with the uncertainty and isolation we face. 
Before the time of COVID and this period of political unrest, I generally worked abstractly on larger canvases in oils/acrylics and outdoors with other materials like pastels, Posca pens, gel pens, watercolor pens, etc. In the studio, I would usually work from photos I had taken of gardens and landscapes using those images as a starting point to develop an abstract composition. I've also enjoyed working en plein air—these quick sketches often inspired subsequent paintings.
Since participating in the 2017 Women's March and increasingly during the time of COVID, the quarantine, and the current political turmoil, I've found it difficult to concentrate on doing larger paintings. I've ended up working on smaller paintings on Yupo paper, which is a wonderfully versatile archival surface. It's a plastic paper that can easily accept a wide variety of media. It's very forgiving too. When I'm not happy with how a painting is developing, I simply hold it under the faucet to wash away most of the image so I can start over again.
For me, art making is a form of meditation that provides a welcome mental escape. Working on these small paintings has a calming effect, and I love sharing the images with friends and fellow artists on Instagram. It's therapeutic to be part of a social media collective of artists generously sharing their work, their materials, and their process on the IG platform.
Has anything about your art surprised you?
A surprising change I've noticed is that the process of making these pieces has begun to resemble doodling, which is a great stress reliever as well as a creative problem solving exercise. Once I start playing with paint on Yupo paper (dripping acrylics or inks on the surface), surprising shapes appear and then lead to a composition which is often reflective of what's going on around me.
What will you use of this period going forward?
I think will stick with me is the importance of play which can lead to surprising results and 'happy accidents.' Hopefully I can incorporate more elements of 'play' into larger artworks too.
"Commercially I have been fortunate to photograph many important buildings for architects and was the photographer for Building Ideas: An Architectural Guide to The University of Chicago," explains photographer Tom Rossiter. "I have been working for years now photographing great buildings of the world in a series called Architecture Revealed. Using techniques developed at the Ecole des Beaux Arts in the 19th century, I have been cutting buildings open photographically to reveal things about them and the cultures that they exist in."
Rossiter graduated from Rhode Island School of Design with a focus in architecture. But it was in 2006 that his passion for photography took off. "In about 2006 I took my son to Yellowstone National Park for his high school graduation. My little point and shoot camera fell off a cliff the first day of the trip. Will had a sophisticated digital camera and showed me what he could do in Photoshop with the images. I was hooked. I returned from the trip and purchased a professional camera set up, a laptop, and Photoshop. This began the journey from film photography in college to professional digital photography," he shares.
How would you describe your current projects?
I have concentrated on things I can see from my home—paying attention to what is right in front of me. My exploration of shooting the moon or moonlight during this time has really been heightened.
My Habitation Mountain project fortuitously was started prior to COVID but has really been impacted by the pandemic. The work is a meditation on eight billion people on the planet. Cities cannot exist without the wild places that support them with fresh air, water, material. What has been made graphically evident is how connected all people on the planet are to one another.
The urgencies for addressing climate change have never been more profound. I am working with a group out of London that is looking for concrete ways to address the changes globally across 14 different work areas including culture, faith, economics, water, wastewater, arts and culture, etc. Clearly pandemics impact the neediest populations more than others and it must be addressed. 
So the cityscapes will see the impact of COVID through the compositing I am doing. The sky will become the Milky Way imagining a future where maybe we can turn all the lights out to invite the night sky back to cities and reduce our carbon footprint.
The entire project will result in a video painting where the viewer will see every day of the year without prejudice for 'the beautiful ones'—simply a moving painting where each month we will see a night sky/moonlight image to mark the months passing. We will see the sun moving north and south as the seasons change. We will see the city deluged with water as we imagine the polar ice caps melting. We will see the sky turn into virus images moving as we have all witnessed its impact on emptying the city.
Are you responding to these times consciously or subconsciously through your work? 
The unconscious part has been just appreciating the privilege of living in a place with access to fresh air, water, night sky etc. Additionally I doubled the size of my rooftop vegetable garden, which in addition to providing food has provided a profound sense of joy. I made a photograph that I put in a folder titled Shaken Black and White. It was a direct emotional response to the George Floyd murder. I was shaken and I just went to the roof to make a picture. It has a fractured and unsettling quality. It is black and white.
What can an artist tell us—perhaps better than anyone—about how to respond to uncertainty and isolation?
I think this is done through the work itself whether it is dance, music, painting, sculpture, performance, photography, video, etc. I think the work should do the talking.
Raised in Philadelphia in a family of visual artists, Daniel Martin Sullivan's own work focuses on abstraction, emphasizing a wide range of materials. His work appears in national and international private and public collections.
In addition to being a working artist, Sullivan also teaches courses and workshops at the Evanston Art Center, all on top of his successful marketing career. "When I'm passionate about something, I want to share it with others," he says. "Art is one of those things that the world needs and it really is universal. There is something inspirational about seeing others have as much fun with art-making as I do. That is a big part of what I miss in this timeframe of isolation, the shared joys of seeing colors mix and messes being made."
Tell us about the evolution of your work.
My studio practice has intensified since 2017 and with that has come experiments and breakthroughs that allow me to work without caring about the outcome. I've been represented by The Art House Gallery in Chicago since 2018, and for every piece completed and put up for sale with them, there are three or four pieces that may never see the light of day.
I have struggled with anxiety my entire life, and that has been a predominant emotional theme in the majority of my work. Depression and post-depression are elements that are recurring themes because they interest me. I would almost say mental health is a material in my practice, as much as the paint or other supplies I utilize.
My current work seeks to connect with an evolving exploration of material through line, form, and color. Throughout the process, painting is my teacher, showing me possibilities and potential. This process examines how an entire painting can change with just one mark. Through frustration and self-evaluation, I can achieve my goal to arrive at a harmony with chaos.  
How would you describe your art in the framework of COVID and the political climate right now?
Prior to the current state of the world, I was working on more figurative work, with an emphasis on abstraction and surrealism. I started playing exquisite corpse, a drawing game that originated with the Surrealists in the 1920s, with some friends and even began a collaborative piece with another artist at the Greenleaf Art Center where I have my studio. COVID-19 has clearly nixed the more collaborative pieces for now but also the daily news and callous response of some people has burned me out on some of my current figurative work. I have been working a lot with paper lately, not just to warm up, but also because of its versatility.
COVID definitely snuck into my work. Tension and stillness have become a dramatic duality in my current pieces. How many people feel like they are holding it together at this time but know, if something else happens . . . well? For me currently, it is surprisingly easy to capture that feeling in a painting because art can capture a moment but if that moment is about to fall off the page, it is unsettling in a satisfying way.
Have you had any revelations during this time about your work or process?
What has surprised me is how much more structure I needed to build into my routine to stay focused. I needed to focus or I would be aimless. I have more time to plan and less time to actually be 'in the moment,' so when I am in my studio I factor in some spontaneous time. Sometimes that time is filled with starting a new piece or practicing with a new supply. Others it could be cutting rags or cleaning. A few times it has been just me sitting in the stillness of the space. 
How else have you been able to use this time or been affected by it?
I have been able to catch up on some projects I had put off. I have an extensive collection of art books to read, and I am watching artist interviews and videos that I had marked as 'watch later.' That is what is inspiring me now. Hearing it directly from the mouth of the artist is such a great experience. I also rediscovered a love of Gustave Courbet – his work was so controversial and revolutionary. I have always been attracted to work that is about difficult subjects. Personally, I try to find the beauty in something ugly.
After September 11th and Charlottesville, I made personal work about what I was feeling. I generally keep these pieces to myself, but it is predominantly because I can't see the beauty in the subject matter. Leon Golub, Kara Walker, and Rashid Johnson can all say it better than me and that is perfect with me. Their work shows the beauty of the worst parts of humanity. 
As an artist, what is your perspective on how we can best respond to what's happening?
I am constantly trying to learn more about myself: what makes me tick and how can I be 'better.' Generally, I feel there is such a stigma about mental health in the 'real world' as opposed to the 'art world.' Artists are usually more understanding and tolerant of so many things because so many artists try to work out their problems on the canvas, sculpture, performance, or writing. My worldview changed when I became a parent. Subjects and styles became more or less interesting but most importantly, keeping my mind clear and focused became a priority. Making art became a priority. With a background in teaching and training, I try capture the joy of being childlike when I can. If I must teach math or science to my kids, I want it to be fun.
I don't know if it is being an artist that is solitary because in a studio class you have others around you. I have music to accompany me while I work. I have demons I need to exorcise in the studio. I have art history with me. I have ghosts of past paintings in the studio with me. A studio practice is very much a safe space, a place where you can do whatever you want and good or bad, the outcome will still be interesting. It is tough to explain that the studio becomes a place that time doesn't matter, kind of like the Blursday that most people seemed to get into while sheltering-in-place.

Has being an artist—and the creation process—helped you get through the pandemic?
100% yes, but that comes with a cost because art is so much of a social thing even when it isn't. I enjoy teaching my passions, and I hate to see people dying preventable deaths. I choose to isolate myself from the news and only check it at specific times. I gave myself a routine to keep focused because it is very easy to lose sight of goals and even what day it is. When you think about all that goes into creating art, something of a blessing is when you look at two colors next to each other and they create this harmonious feeling inside you that resonates. It's a reason to keep hope.
***
For more information on Keven Wilder, visit kwilderart.com or find her on Instagram @kwilderart.  To learn more about Tom Rossiter, go to tomrossiter.com or @tomrossiter13 on Instagram. More on Daniel Sullivan is available on his website d-sullivan.com, on Artsy, or on Instagram @daniel_m_sullivan. 
***
Next week, we will feature interviews and works by Chicago artists Shenequa Brooks, Melanie Parke, and Janet Trierweiler as the second part of this series.