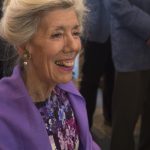 BY JUDY CARMACK BROSS
Changing Worlds: How could an organization's name better suit today's times?
As we report how galas turn virtual with amazingly creative results, we share tips from Chicago non-profits on raising necessary programmatic funds through online events. Offering auction opportunities like Liz Phair, the Indigo Girls, and Ben Folds to perform virtually for you and your friends is just one of the clever ideas for the recent virtual gala Many Stories, One City held by Changing Worlds, exhibiting its impact on inclusion and artistic learning in our schools and communities.
In just 60 days, Changing Worlds Executive Director Alicia Vega and her teammates transformed the in-person gala they had planned into an event that told—through a series of musical performances, awards to students for excellence in the classroom as described by Changing Worlds resident artists, chat rooms, and updates by staff and board leadership—the key messages of a powerful artistic organization.
"Changing Worlds exists to foster inclusive communities through oral history, writing, and art programs that improve student learning, affirm identity, and enhance cross-cultural understanding," Vega explained. "We offer artist residency programs in Chicago Public Schools, and we have now brought these programs online. At past events we always offered learning opportunities for our guests because that is what we are all about. This was something we knew that we had to keep."
Guest host Sharon Krome, whose cat dropped by for most of the party, welcomed guests from her living room, and DJ KinSolo, masked and grooving, who must have loved watching those in attendance on Zoom dancing to his music. Both raised the bar for making guests feel a part of the action.
We asked Vicki Samuels, a past president of the board of Changing World who began 15 years ago as a volunteer in the classroom and has also served as benefit chair, what she would recommend to those planning an online gala: "The program at the heart of the benefit was modeled on the program portion of past years. However, the video, which was superb, enabled it to start and end on time and eliminated the need to get people on and off stage in a timely way. Also everyone had great sight lines and could hear everything really well."
Teaching artists and some of the staff were in breakout rooms during the event where guests were able to interact and chat with them in a meaningful way as in the past. People who would not ordinarily have an opportunity to mix and engage with each other were able to connect serendipitously. And many liked the freedom to listen to the music and dance at home with family members and pets.
"I observed in at least two or three in-school sessions a year before we all went virtual and look forward to seeing the students and teachers engage live in the future," Samuels added. "For now the virtual classes give a good idea of how Changing Worlds' work impacts Chicago youth. Changing Worlds' mission to foster inclusive communities and spread cross-cultural understanding through oral history, writing, and arts programs that strengthen personal identity resonates for me. It is the path to stronger communities and a more peaceful world."
Vega shared, "We have been approved as a CPS remote learning partner, so we are back in the schools virtually where we were pre-pandemic, offering dance, story telling, writing, poetry, theater and our other classes, supporting families across Chicago. Our families need to learn to cope in situations when they are not able to control outcomes. In our communities of color we have a disproportional number of people dealing with trauma who need our social and emotional support."
In addition to artist residencies in the schools, Changing Worlds has offered Family Nights to enable families to discover unexpected connections through the celebration of family history, culture, and heritage. Incorporating writing and story-telling experiences, each family creates a project that is meaningful to them. Past family night activities have included book-making, community dance, mural making, and family storytelling.
These interactive experiences are continuing for families online with great titles such as the Funky Feelings Finder, where artist resident Susan Hostetter leads a movement class encouraging students to express their our own style by applying their feelings to their dance. Story Telling With Mama Edie (Edith McCloud Armstrong) explores cultures from around the world as the children also become storytellers, singing along with their instruments at home. Among several classes using art, music and drama, this programmings reaches kindergarten through 12th graders. Materials needed are simple, including just a little space to move around.
"We have to remember that, for all of us, art was our first language before words," Vega said. "Even the youngest can act it out, sing it, watch others doing the same, and not feel alone."
To learn more about Changing Worlds, visit changingworlds.org.