By Judy Carmack Bross
Mrs. Glessner's 1906 Calendar
No one's calendar has looked like this since 1906, and Glessner House's Bill Tyre is calling it his prized possession. 
Bill Tyre holding his calendar
Exterior of the Glessner House
 Board member, Programming Committee Chair, and Collections volunteer Deneen Marie Bryce told us about the surprise gift for Tyre, Executive Director and Curator, at a party celebrating his 15 years with Glessner House, the National Historic Landmark, designed by noted American architect Henry Hobson Richardson and completed in 1887. An internationally-known architectural treasure in Chicago, Glessner House represents a radical departure from traditional Victorian architecture and an inspiration to architects such as Louis Sullivan, Mies van der Rohe, and the young Frank Lloyd Wright, helping to redefine domestic architecture.
Pages from Mrs. Glessner's diary
"Frances Glessner's Monday Morning Reading Class planned a special gift for her 58th birthday on January 1, 1906.   The gift was a large leather-bound calendar, containing pages from family, friends, and members of the class," Bryce said.   "The pages featured poems, drawings, photographs, musical quotations, and heartwarming notes.  After much thought as to what type of gift would be most meaningful for Bill, the calendar came to mind. It is one of the most important items in the collection and has always been a favorite of Bill, who writes about the pages and their contributors in his bimonthly newsletter."
More photos from Mrs. Glessner's diary
The secret project began with researching book makers who might re-create Frances Glessner's original calendar as closely as possible, including the size and construction of the leather bound book and its presentation case.
Bryce told us of their selection:
"In 2021, Tykhon Verygyn, who lives in Kyiv, Ukraine was identified as the perfect person for the task.   Tykhon is a self-taught craftsman whose passion is handmade leather items.   There is one considerable difference in the calendar. On the inside cover of Bill's calendar is a handmade picture in leather of the exterior of Glessner house with a favorite quote from Frances Glessner: 'For all its granite, the home is wonderfully elastic. You can squeeze as many as you want into it'. 
"Throughout the year, as the date approached for Bill's anniversary party, family, friends, architects, authors, docents, musicians, and political leaders including Mayor Lori Lightfoot and Alderman Pat Dowell, contributed over 125 notes, poems, pictures of years gone by and well wishes, and many expressions of gratitude to Bill.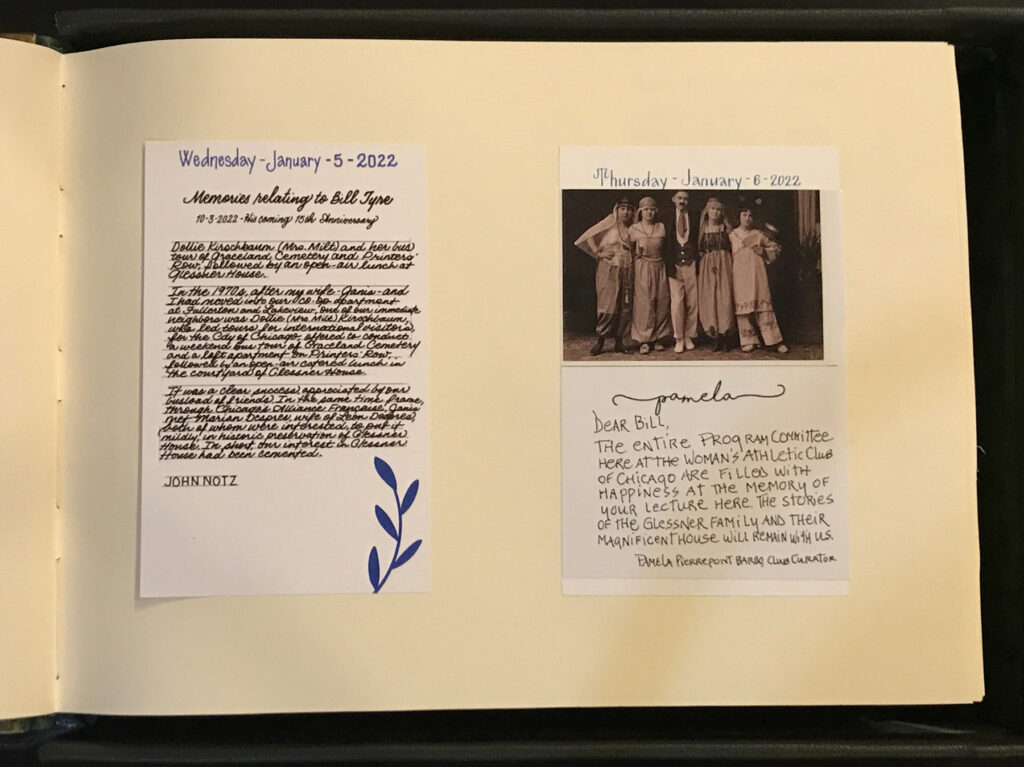 Messages to Bill Tyre in his calendar 
Bill Tyre with David and Lee Langstaff
Glessner great grandchildren David and Lee Langstaff came in from Maryland  and were among the guest speakers. They announced that Tyre had been made an honorary member of the Glessner family.
Francesca Peppiatt, Development Manager for Glessner House, served as MC of the tribute to Tyre. Other speakers included Tori Simms, President of the Glessner House Board, Anne Belletire, who volunteers with Tyre at the historic Second Presbyterian Church nearby and heads its restoration efforts, and Cari Dudich, new Docent Council Chair. Speakers noted that Tyre, a former accountant, assists in all aspects of running the house "down to the size of the scoops of ice cream served".  
Simms noted Tyre 's comprehensive research. "He knows every wallpaper, color, contractor or craftsman, and every place to put a bucket in a major rainfall," she said.  "He is a hoarder of all things Glessner and makes sure things are in better condition than ever before."
 Amy Cole came in from Massachusetts to sing special words to the song from Les Miz, "I dreamed a dream" which became "He Dreamed a Dream" about Bill's very first experience at Glessner House on a school trip in 1981 when he was 16.
Peppiatt reported that:

"A large number of guests made a donation to help support the  project designated for the 15th anniversary celebration: restoration of the Isaac Scott designed chest of drawers in Frances Glessner's dressing room."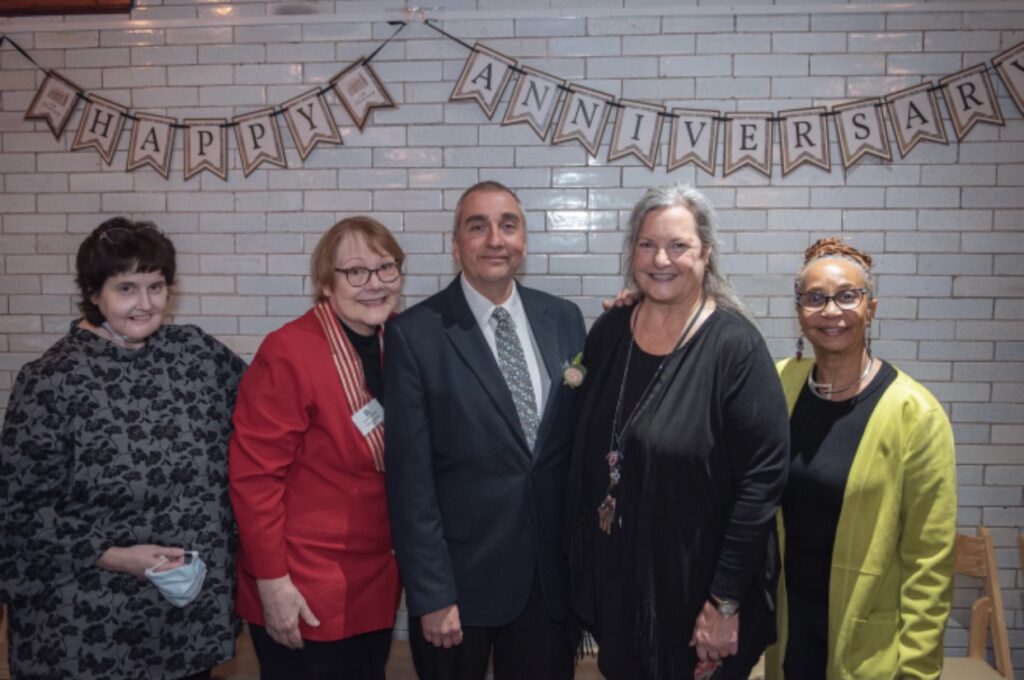 Deneen Bryce with Francesca Peppiatt, Bill Tyre, Kathy Cunningham and Gwen Carrion
Ann Belletire, Jane Tiffen and Susan Burian
Deneen Bryce, Francesca Peppiatt and Bill Tyre look at the calendar
"I had the great pleasure of working on this project from start to finish which allowed me the first peek at the heartwarming messages that were being submitted. We all knew that Bill has impacted all walks of life regarding Chicago's history and architecture, but the messages came pouring in one after another confirming even more than we knew," Bryce said.   "There was a comment made at his celebration that it is hard to imagine 'one person' being gifted with so many talents, – author, historian, executive director, curator, musician, and researcher –a top researcher who finds every detail about anything!   The list goes on.   
"Bill's 2022 calendar displays the genuine soul of an Executive Director and Curator that has touched so many of us on different levels throughout his tenure, and before, at Glessner House. And it confirms how many people are committed to the 'granite fortress' on Prairie Avenue, and how its stories continue to resonate to this day. "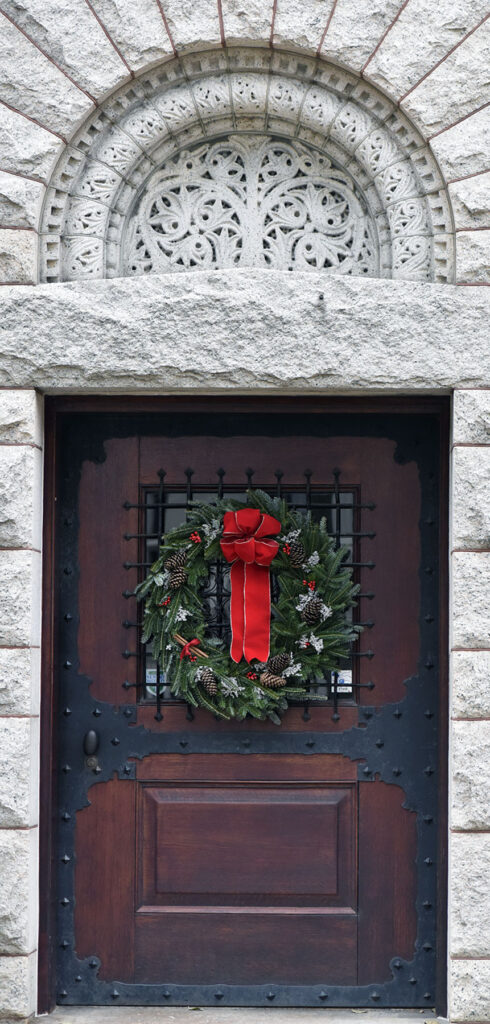 Front door of the Glessner House 
"As Bill has often mentioned, he sees himself as the butler at Glessner House, keeping an eye on things while the Glessners are away," Bryce said.   "Undoubtedly, if they were to return today, they would be most pleased with the many ways in which Bill has maintained and transformed their beloved home, sharing it with thousands of guests each year."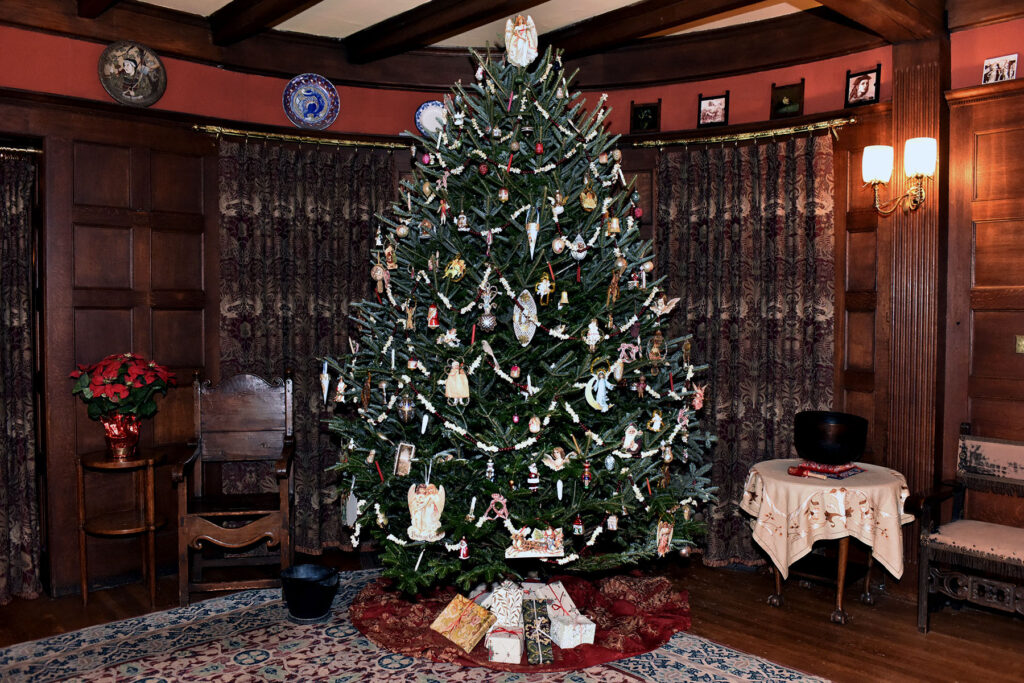 Christmas tree in the main hall
Holiday celebrations abound at Glessner House where decorations are as they were in Frances Glessner's time.  This weekend's gingerbread making event and Mrs. Glessner's Christmas luncheon  prepared by chef Mattie Williamson were sold out almost from the beginning, but there are still places for Glessner House holiday tours December 10 and 11 and the following weekend, December 17 and 18.
Original  Glessner House ornament
These special one-hour docent led tours will highlight Christmas customs as observed by the Glessner family. The house features elaborate decorations from the late 19th-century including a live 10-foot tree decorated with period ornaments, toys and holiday crafts, Christmas music performed on the Glessners' Steinway piano, and the dining table set for an eight-course Christmas feast. After the tour, complimentary hot cider and cookies are served.
The 1906 calendar will be on display at the New Year's Day reception from 3:00 to 5:00 p.m. on January 1.  Make your reservations now for this popular annual event which is also the 175th birthday of Frances Glessner who was born Sarah Frances Macbeth on January 1, 1848 in Urbana, Ohio. In the 19th century, New Year's Day was the preferred day of the season for visiting friends and hosting receptions at home. This will be the last opportunity to see several figures from the miniature orchestra Frances Glessner Lee presented to her mother as a birthday gift in 1913. 
Curator William Tyre will showcase yet another of his many talents, playing a few selections on Frances Glessner's Steinway piano, and share highlights of birthday celebrations from the early 1900s.
Photos by Collin Porter
For more information visit glessnerhouse.org