An Influential Non-Profit Is Dedicated to the Proposition that the Answer Is Yes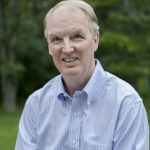 By David A. F. Sweet
The second-highest property taxes in the nation. A credit rating that was downgraded 13 times in five years. A pension crisis that is the worst in the United States.  Residents fleeing to Florida and elsewhere.
That's the state of the state of Illinois. But Matt Paprocki, president of the Illinois Policy Institute, is optimistic the Land of Lincoln will bounce back.
"The amazing thing is who's staying and fighting for Illinois," said Paprocki, who heads the privately funded, nonpartisan think tank. "The people who have stayed and fought in the past have changed the history of the world."
Paprocki believes there are three main reasons people are leaving Illinois – high taxes, corruption and weather. High taxes and corruption can be fixed with more able politicians in charge, but how can you change frigid winters? Paprocki believes he can persuade residents to stick around.
"What do you leave behind when you move to another state? Your family, friends and community," the Chicago resident said. "At first, they feel great – the weather's awesome, they're playing golf. Our take here is that family, friends and community are so much greater than better weather."
No doubt there are spurts of good news, such as when Standard & Poor's upped the state's bond rating in July – the first time that has happened this century. Last year, voters handily rejected an amendment increasing taxes, realizing that giving spend-happy politicians more money in a debt-ridden state was no solution.
Paprocki is heartened that for the first time ever, more than 50 percent of Illinois residents agree that we need pension reform to fix unfunded liabilities exceeding $200 billion.  The University of Notre Dame alumnus noted even he will receive a pension from the state, since he worked on a legislative staff in Springfield – yet he never paid one penny into his own pension. People like a school administrator who was fired this year will receive a pension above $400,000 annually – "even though he was fired!" an amazed Paprocki noted — paid for by taxpayers.
The Illinois Policy Institute – which boasts nearly two million people who have chosen to receive its e-mails — is championing an amendment that it hopes to place on the 2024 ballot to stop the pension bleeding. It would preserve workers' earned benefits yet change unaccrued benefits and eliminate the unsustainable 3% compounding automatic annual benefit increases.
"We also have to change interest from compound to simple," Paprocki said. "That would save us billions of dollars."
Illinois Policy Institute is also engaged in letting parents choose better schools. Paprocki shared a story about an 8-year-old girl on the South Side who watched her friend get shot at school. The non-profit helped her attend the private Josephinium Academy of the Sacred Heart on the Northwest Side instead through the Illinois Tax Credit Scholarship Program, which was launched in 2017 and is funded by donors. Today, she is in college, studying to be an anesthesiologist.
"We're going to fight to grow this tax-credit program," Paprocki said. "Public pressure already extended it a year. There are 10,000 people on the wait list now. They should always have a choice of schools."
Paprocki cited a recent report in the Chicago Tribune that the black population in Chicago has dropped 10 percent in what the newspaper called a reverse migration.
"They feel they have no place for opportunity here," he said. "One woman on the South Side's dream was to own a home, and she bought one for $315,000 and raised her kids there with her husband. Twenty years later, the value of her home has dropped to $215,000, and her property taxes have jumped."
Paprocki dreams of not only stopping the outflow of residents – but making Illinois and its biggest city a destination again.
"Imagine if all that wealth was coming here. We'd pay less taxes and create more jobs," he said. "Chicago truly was the birthplace of the American dream. The idea was you could gain dignity and prosperity through work.
"People are clamoring to figure out, 'How do I save this thing?'"
Unsung Gems columnist David Sweet is the author of Three Seconds in Munich and Lamar Hunt. He can be reached at dafsweet@aol.com.