Northwestern Graduate Poised to Nab Record Amount for Jordan Debut Ticket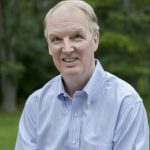 By David A. F. Sweet
On Oct. 26, 1984, thousands of empty seats greeted the Chicago Bulls during their season opener in Chicago Stadium. No surprise, given the team's woeful 27-55 mark the season before.
One bright spot was the play of a man name Michael Jordan, who was making his NBA debut. He scored 16 points and dazzled fans with a behind-the-back dribble. Though Jordan — who performed brilliantly in that summer's Olympics — no doubt attracted some of the crowd of about 13,000, he hadn't even been the top pick in the draft: big men Hakeem Olajuwon and Sam Bowie were chosen before him.
Northwestern University student Mike Cole attended the game. He wasn't interested in Jordan or even the Bulls – he was a fan of their opponent, the Washington Bullets (now the Wizards). Given two tickets by a Bullets' executive who was a family friend, the freshman couldn't persuade anyone else to take public transportation with him to the game. After picking up his two seats at the will-call window, the other ticket sat in his shirt pocket that evening before being tossed in a folder with other sports memorabilia that traveled from apartment to apartment and house to house for decades.
Today, that full unused ticket — the only known one from Jordan's first NBA game — is golden. Heritage Auctions in Dallas has placed it up for auction, with a bid of $250,000 as of Feb. 14. Given that a mere ticket stub from that game sold for $264,000 in 2021 — a record for a sports ticket for a game already played — the price for this one could easily clear $300,000 and set a new mark by the time the final bid is tallied on Sunday, Feb. 27 at 10 p.m. CT. (Cole does not have the stub he used to reach his seat. About two dozen are known to exist.)
Ironically, falling asleep during a Thursday Night Football game this past December woke Cole up to the ticket's value. He watched the Los Angeles Chargers take a seven-point lead over the Kansas City Chiefs before dozing off. He opened his eyes in overtime, and he wondered how the Chargers had blown the lead.
Past midnight at his Connecticut home, he logged onto ESPN.com and saw a headline announcing that a Jordan ticket stub from his NBA debut had sold for a record amount.
"I checked if full tickets are more valuable than stubs. I found out that they are," Cole said. "When I woke up the next morning, I said to my wife, 'I have some interesting news. In our home, we have probably the most valuable sports ticket in the world.'"
Cole reached out to a handful of auction houses and e-mailed each of them a photo of the ticket.
"Literally within a minute, my phone started ringing," he recalled. "I was getting calls from area codes I didn't recognize."
Cole – who works as an admissions director at Quinnipiac University — considered his options. He reached out to his sister Pamela Cole, former director of the East Asian Art Department at Christie's. Her advice: If you hold it for five more years, will the price double? The reality is, no one knows. With the impact of Covid-19 leaving people with money to spend and realizing at 55 who knows what tomorrow might bring, "The thought of holding onto it didn't make sense," Cole said. "Let's enjoy whatever we can get from it." (He and his wife Kristen plan a guided bike tour in Italy this fall, which Cole had always shied away from because he thought it was too expensive.)
Soon after he struck a deal with Heritage Auctions, an armored car rolled up to his house. Out popped two guys wearing bulletproof vests. Cole handed over the 38-year-old ticket, still in superb condition. Did he ever consider selling it outside Chicago Stadium that evening? Not at all.
"The guy sitting next to me may be unhappy what he paid for it or may be a mass murderer," he explained.
Cole has one memory from the game: Jordan trying to dunk over Jeff Ruland, half of the Bullets' Beef Brothers duo with Rick Mahorn. Jordan dropped onto his back without being able to break his fall. He stayed on the floor for more than 20 seconds.
"The place went silent. Literally, you thought he was dead," Cole said. "It was like Bulls' fans thought, 'We're going to be bad for another 20 years.'"
As a 6-foot-6, 180-pound student at Northwestern — where he earned a bachelor of arts degree in radio, television and film along with a master's degree in journalism — Cole was often asked how tall he was. His response? "I'm the same height and weight as Michael Jordan — without the talent," he'd joke.
Today, Jordan's talent and the serendipitous saving of an unused ticket is bringing Cole to previously unknown heights.
The Sporting Life columnist David A. F. Sweet is the author of Three Seconds in Munich. You can reach him at dafsweet@aol.com